The Hottest New Indie Hip Hop to Warm Up Your Weekend
Happy Friday Fellow 88ers. Just came back from a fantastic vacation in GA and North Carolina. Got some time away from heat and flatlands and got a taste of Mountain Hiking in 30 Degree weather. A truly amazing experience that sent me back to Miami with a head and heart full of inspiration and ideas for growing our platforms in 2022. As our audience continues to grow (We are now averaging over 25 Viewers a broadcast, and over 150 Reads per Article), we will continue to provide you with the best in Indie Hip Hop Music, News, and Exclusive Interviews. For all my Miami and Broward heads, WVCC Radio will be live at ART OF EXPRESSION: BACK TO THE MUSIC Tomorrow night to rep CIPHER IN THE CIRCLE and support CHOCO VALENS and PRINCE DIVINE as they rock the stage. Any MCs and Producers looking to network with other creatives in the So Flow Hip Hop Scene are encouraged to come out and be a part of this historical event that launched so many of our careers back in 2008. Salute to L.O.X. The Rippa and Mr. Alvarez for bringing this platform back, and forever live the memory of NAME BRAND & JOHN WILSON, two of its biggest supporters and contributors who wouldve been over the moon that we are all getting together under the AOX flag once more. This ones dedicated to you brothers. Flyer is below for all who are local and interested in Real Indie Hip Hop in South Florida. Now to the Bag….enjoy.
Homeboy Sandman – There In Spirit (EP)
Homeboy Sandman has graced us with a new collection of head nod inducing poetry by the name of "There In Spirit" on the Music Industry Indie Artist Sanctuary known as Mello Music Group. The production by close friend, DETROIT MI native ILLINGSWORTH, is as bright as the subject matter and theatrical enough to set the perfect scene for Homeboy Sandman's charismatic delivery as he encourages everyone to be themselves.
The Queens native continues to find new inspirations that make each project stand out from the rest. Homeboy Sandman's new album There In Spirit carries a powerful message of individuality and self-actualization. For Sand, making this project was about breaking away from the mold, letting go of mediocrity and fear, and holding himself to a higher standard.
Following his acclaimed projects Don't Feed The Monster, produced by Quelle Chris, & the Aesop Rock-produced Anjelitu, There In Spirit finds the Homeboy Sandman joining forces with Detroit beatmaker Illingsworth. Homeboy Sandman describes working with Illingsworth, "Illingworth beats are a particular, one of a kind, sonic energy, that my molecular structure responds to in a way it could never respond to anything else." He continues, "Illingsworth is one of the greatest producers to ever live. Anyone who denies that is completely in denial."
This album is a must have for any SAND Fan and Hip Hop Fan of Dope Lyrics, Dope Beats and being ones self. Today is BANDCAMP Day which makes it the perfect change to support the artist buy copping the album on the day where they get 100% of the proceeds. https://homeboysandman-mmg.bandcamp.com/album/there-in-spirit
VIC MONROE & TONE SPLIFF – WORDS TO THE WISE
Following the success of their 2021 EP "Marinade", Chicago based lyricist Vic Monroe reconnects with Los Angeles based DJ/Producer Tone Spliff and releases a brand new album titled "Words to the Wise".
Featuring some fire guest appearances from GQ of 9th Wonder's Jamla Records, Recognize Ali of Greenfield Music and female vocalist THE ONE Lavic , WORDS TO THE WISE is full of the type pure core boom bap we are used to receiving from TONE SPLIFF with the jewel heavy bars we've come to expect from VIC MONROE. If MARINADE was a main course album, WORDS TO THE WISE is the after-dinner convo that sparks community actions. A Must Purchase today on BANDCAMP DAY!!
https://tonespliff.bandcamp.com/album/words-to-the-wise
RZA x DJ SCRATCH – SATURDAY AFTERNOON KUNG FU THEATER
The following Write Up comes courtesy of HIP HOP LIFERS mod Anthony L'Italian aka DEXTER PRICE, who does an awesome job of moderating the Group and making sure Real Hip Hop is spread to all who have a taste for it. Thanks for the quick turnaround on this review DEX!!
The leader of the legendary Wu Tang Clan returns to the Mic full time for the first time since 2008/2009 and this time he recruited DJ Scratch ( of EPMD and Flipmode Squad fame) to handle the production so Bob Digi could concentrate on just the lyrical side of the project. They take us all on a quick 6 song ( 7 if you count the Intro ) journey into the battle between the 2 alter egos The RZA and Bobby Digital. The production is very familiar and somewhat comforting to a big Wu Tang fan like myself. Takes me back to simpler times. The RZA definitely brings it with the rhymes and storytelling throughout the tracks. I know he's not everyone's cup of tea on the mic but he really delivers here for sure. My favorite 2 tracks are Fate Of The World and Kaiju but all of them are worth your time and ear. I suggest you give it a go and decide for yourself though
Make sure you submit your request to be part of the private HIP HOP LIFERS FB Group and dont sleep on the biggest show going down in MASS this Month. The first HIP HOP LIFERS Live Show MARCH RAPNESS going down 3/13/22 (Flyer Below)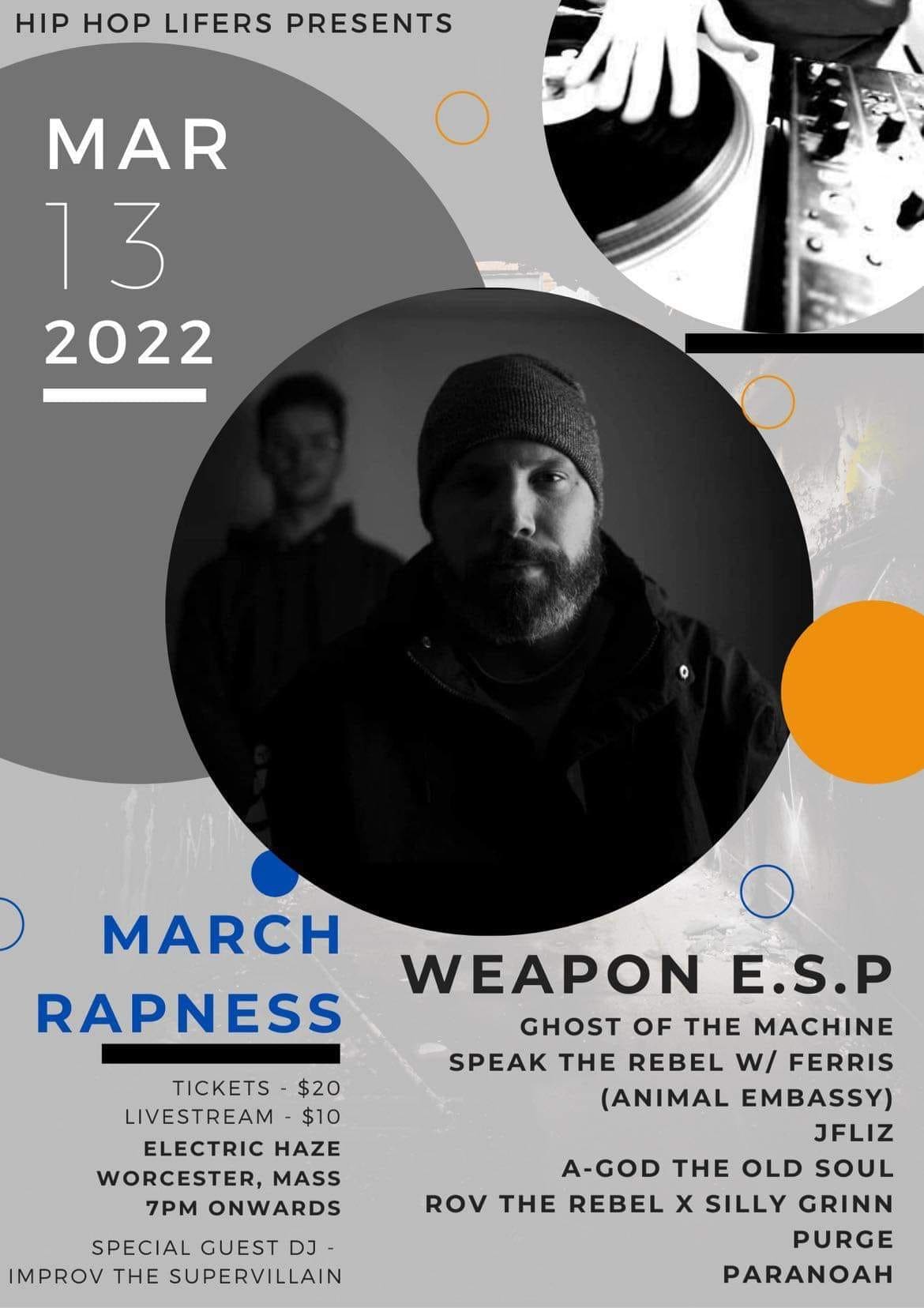 ---
YOUR OLD DROOG – YOD WAVE
The album starts with the DROOG singing "I've Been Awayyyyy Too Long", but has he really? It seems like we just covered his WOLF OF WALLSTREET 2 EP, and now YOUR OLD DROOG is back over NICHOLAS CRAVEN productions on YOD WAVE. Ofcourse he invites long time cohorts THE GOD FAHIM & New Super Star On The Block MACH HOMMIE on the album (check out MACH's rendition of RICHIE VALENS's "OH DONNA" on "SCOOBY SNACKS"), but the spotlight stays firmly on the YOD GAWD through out the 7 track EP. Once just a mysterious figure talked about in Underground Hip Hop Convo's, YOUR OLD DROOG is making sure his name comes up in a lot more conversations.
BODEGA BAMZ – VIVIR
BODEGA BAMZ has been steadily releasing solid project after solid project over the last couple of years, and now not even a month after his "The Lost Pack" offering with V Don, he's back with a new album titled "Vivir…" where he is trying to make you see, "That Sports Car you been dreaming about, can be yours" This whole shit go hard but don't miss "Nicky Warlord," "Handball," and "Tears." – Jordan Commander
---
King Author x Haleem – Through And Through
Words from the Artist – This is a collaboration of 2 men, from 2 different cultural practices, coming together for one common cause. The project was created for those that were looking for something like this and could not find it, as well as, those who didn't know they needed it. King Author and Haleem seen what needed to be done and did it.
R​.​I​.​S​.​K & KHEYZINE " LOST SOUL II "
[bandcamp width=400 height=373 album=843729531 size=large bgcol=ffffff linkcol=0687f5 artwork=small]
Our Fam from Bordeaux France, Producer KHEYZINE keeps his catalog growing like Audrey 2, the Alien Plant from Little Shop of Horrors. Having started the year with projects staring M DOC DIEGO ("FAMILIAR RENAISSANCE"), and GENERAL BACK PAIN ("VICEROY"), KHEY is now back with the sequal to last year's LOST SOUL featuring R.I.S.K.. On LOST SOUL 2, R.I.S.K. takes full advantage of KHEYZINE's haunted arrangements to waltz into the underground with "Angels and Demons With um / Infiltrating the whole ecosystem". He invites some twisted individuals to the seance like "Professional Hitman" JOHN DUTCH who "hustles infront of the brownstone of the Huxtables" on NIGHT NIGHT, or O FINESS who comes "From the Era of White Powder and Fight The Power" and adds fire to the already scorching HOT CORNER. R.I.S.K. handles the gatling gun on the dolo on CANT RELATE over KHEY's Off-kilter drum pattern and hypnotic Piano riff. Then POSTMAN L & EDDIE JAMES step in the fiery circle on the Drill feeling RADIATION where R.IS.K. spits "No Vaccine, We All Sick/ Stack Green and Blow Zips / Try to pass me, You gone Trip / Wind up in a whole Ditch". On COLD NIGHT, Guest Shooter PROFIT DINERO "looses his mind, like he caught a head shot", while R.I.SK. closes the project with a Hitchcock Mastery of mystery on the short but potent LEVELS. R.I.S.K and KHEYZINE compliment each others energy throughout the project, both adding dark ominous hues to the macabre audio painting the crafted. We at WVCC RADIO approve of this recent installment and can't wait for the next addition to the LOST SOUL series to add to our collection of KHEYZINE works of art.
#CYPHLYFE #SINGLEFILES
Mo Rukuz – The Most Wicked Ft. Bad Seed & Weapon E.S.P (Prod. MindOverMatter)
The Skumking has returned after dropping one of the hottest crew albums of 2021 with GRIMEWAV: LEGENDS DIE. Now MO RUKUZ is back with a jaw breaking single "THE MOST WICKED" featuring the unmatchable pens of THE BAD SEED & Mr.Automatic WEAPON ESP. MO is used to rolling with carnivores, being that he was "the Black Wolf of the Pack, My Family didnt Have Sheep". The BAD SEED slides in "loading clips the size of Emanual Lewis, & taking the heads of Judas's". GENOSHA RECORDS Home Run hitter WEAPON ESP plays closer on the track recalling being wicked "since the days of eating the yellow snow and using rookie cards on 10 speed bicycle spokes". Each of them terrorize the beat by MIND OVER MATTER, and make certain this will be banger played over and over again by underground DJ's world wide this March.
SHOTTIE – 10K
Over the past year, SHOTTIE x TEV95 have been causing havoc in the Underground with their MOSKVITCH series. Now the MC / Producer Duo team up with Miami's DIRTY LEN5 to deliver the official visuals for 10K off of MOSKVITCH 3.3. Listen and watch as SHOTTIE breaks down his rise from the dirt where he put in his 10 Thousand plus hours of work to be the expert that can charge top dollar for a feature with a clear conscience. He's Earned the right. As a little added bonus, here below is the MP3 for JORDAN RULES, his latest single featuring SKYZOO, which has been sent to all our Indie Hip Hop DJs internationally. Its MOSKVITCH Season, and anyone still complaining about Hip Hop is in for "A Moshpit Beating".
---
ROB GONZALEZ-WE BOTH CHANGED prod by DJ PROOF
PHEONIX AZ Emcee ROB G aka ROB GONZALEZ fka BORN ONE came across our radar yesterday when ROB G hit me up and said he was referred to WVCC RADIO by none other than "South Florida's Apollo Brown", DJ PROOF. Since then I have been diving into his back catalog (You know a brother gotta make sure his producer is working with Quality Spitters…lol). I was not disappointed, and after you get a taste of his latest single with DJ PROOF, WE BOTH CHANGED, you will be happy we put you on. Make sure you take the time to support the brothers BANDCAMP page on BANDCAMP DAY so he can get 100% of the funds he created his music for. Real talk tho…You can tell just with one listen that its not just about the money with this Emcee. This dude has an obvious love for Hip Hop and has supported WVCC RADIO after tuning into our show only once. We will always reciprocate that type of love.
https://robgmuzic.bandcamp.com/
OSKEPTICAL x D'SHON EL VILLANO – COLOMBIAN BASQUIAT (Official Video)
A couple of weeks ago we shared the newest single from OSKEPTICAL & D'SHON EL VILLANO who is on a mission to drop a single a month in 2022. The Parceros have wasted no time in turning around a steaming hot video for COLOMBIAN BASQUIAT, which gives you the feel for how we get down in "The Bottom". Press play, crack open a cold one, and get your Spanglish swag on as OSKEP & D'SHON turn the party up.
CHOCO VALENS – MIAMI ESTATE
Miami's CHOCO VALENS has been releasing scorching singles at a breakneck rate since the start of 2022. When you are putting out that amount of work, with a total disregard for pop trends, and an obsession with being 100% authentic, you are going to start growing a fan base and a group of haters. It's a sign that you are doing something right. After getting some less than favorable feedback from a couple of Youtube Review shows, CHOCO stepped into the kitchen to bake his critics some humble pie, which he happily force-feeds them on his New Banger MIAMI ESTATE.
Link Tree – https://myalias.page/@chocovalens
DILES – GOLD MINE feat EKYM 1536
Albuquerque New Mexico, and NM State Hip Hop as a whole is cranking out some consistent heat. This week we were introduced to DILES of Burque, who joins forces with EKYM1536 of NATIVE SLANG to deliver us some audio gold. Take a trip into the GOLD MINE and get yourself some feel-good vibes.
DILES – Linktree
https://linktr.ee/VisceralView
EKYM1536 – @Ekym1536
SOUTHERN COMFY (8ch2Owens x Glibstylez) – I DO THIS
After forming a bond over a mutual love of Boom Bap & Soul, a passion for sharing New Hip Hop with their audience, and constant support of each other's platforms, Alabama's DJ GLIBSTYLEZ The Soul Keeper, and Miami's 8CH2OWENS have hooked up to form SOUTHERN COMFY. With GLIBS on Production and Cuts and 8CH on the mic, they are here to show and prove on their 2nd Single I DO THIS. Stay tuned for the upcoming SOUTHERN COMFY lp dropping later this month featuring guest appearances from HOMEBOY SANDMAN, WHICHCRAFT, MIKE TITAN, SHOTTIE and more.
IG – @dj_glibstylez & @8ch2Owins
NONCHALANTLY ZAY – MATRIX feat JFLIZ, & ISIS ASET
[bandcamp width=100% height=120 track=1688661118 size=large bgcol=ffffff linkcol=0687f5 tracklist=false artwork=small]
Boston spitter NONCHALANTLY ZAY dropped an introspective gem today featuring fellow Beantown emcee JFLIZ and the javelin voiced ISIS ASET. MATRIX, produced by YOUNG PRODIGY is the type of joint you spark one to and ponder over. JFLIZ dedicates his verse to his seeds, and takes us through the cycle of birth, growth, and then giving birth and helping our children to grow. As the world around us looks more and more like the MATRIX of the Silver Screen each day, lets not forget that our original purpose on this planet is simply to be human to one another, and make sure that a shred of that humanity survives in the future.
As a little added bonus, here is the latest single by JFLIZ. Coming on the heels of his THE GIRL EP released a couple of weeks ago, BANG BANG is a rah rah track produced by KNUCKLE DRAGGUZ, UGLY JON off the upcoming album UGLY PEOPLE. Let the warped sample beat make your head nod while JFLIZ makes your face screw up with the bars.
[bandcamp width=100% height=120 track=3454807220 size=large bgcol=ffffff linkcol=0687f5 tracklist=false artwork=small]
#BottomOfTheBag #RareFinds
COOL KIDS – BEFORE SHIT GOT WEIRD
I havent heard the COOL KIDS name in years!!! I only got to hear the first song while writing this and it sounds like a good balance between Modern Wave Flave, and Hipster Indie Hop. I'll be listening closer throughout the weekend and will tap back in with my 2 cents later.
LORD JESSIAH x BRONZE NAZARETH – TIME WAITS FOR NO ONE
Salute once more to Tony L'Italian aka DEXTER PRICE of the HIP HOP LIFERS for the great work on the following write-up. There is tooooo much good hip hop out there for one man to cover on his own, and it means alot to have comrades in this battlefield you can call upon for backup.
I wasn't too familiar with Lord Jessiah as an MC before this, but Bronze Nazareth is one of those artists that I trust to never work with someone who is wack. I put him in that same category as Apollo Brown where they get the best out of whoever they work with. I know I'll be looking back at Lord Jessiah's full catalog now because god damn can he spit flames. I'm loving the whole vibe of this record. Bronze is really an elite beat maker. Lots of soulful piano and violin samples laced over some hard hitting boom bap drums. The features are very impressive as well. My favorites being Ty Farris, Recognize Ali and Bub Rock. All these tracks are excellent, but the real standouts for me are Sermon On The Mountain, God Hour, Designer Cloth and Rotten To The Veins. Overall I'd rate this as a solid 4.5 Mics and an early entry to the Album Of The Year Candidate. Yup….it's that dope.
DJ GLIBSTYLEZ – BOOM BAP SOUL MIX VOL 137
For anyone who missed the Morning Mix this Friday Morning. Here is the Glibstylez Boom Bap Soul Mix of the week. If you havent Subbed to Glibstylez on mixcloud.com yet, you are sleeping and need to wake the fuck up. This is the best Weekly mix out now.