Quick Coverage of Special Releases dropped on 2/22/22.
Happy Twenty Twosday Fellow 88ers. Special Day, Special Bag, with some new music from some artist we find to be pretty special in their own right. Tune in to WVCC Radio tonight on TWITCH to hear singles from all the releases below. No Show on THURSDAY so get your Fix Tonight!!! CYPH LYYYYYYFE!!!
WHICHCRAFT x The Dead Poet'z Society Presents Generation Life
[bandcamp width=400 height=340 album=686796465 size=large bgcol=ffffff linkcol=0687f5 artwork=small]
Indie Hip Hop's "witch doctor" has had a prophetic vision. At the perfect time, he has teamed up with Philadelphia Production Duo THE DEAD POET'S SOCIETY to deliver the message he saw with his 3rd Eye to the masses thirsty for truth and transparency. Of course, we are talking about NY/NC Emcee WHICHCRAFT, who joins THE DPS Bro's to deliver a moving mission statement by the name of GENERATION LIFE. From the album opener, "A MOTHERS RAGE", CRAFT is setting off alarms to wake those still slumbering at this late an hour in the game. He proves he has earned the right to warn his fellow neighbor and worthy of being heard on GENERATION MIC, one of WVCC RADIO'S Favorite singles of 2022 thus far. The follow this up with BROTHERLY LOVE NEVER SLEEPS, featuring one half of THE DEAD POETZ SOCIETY, Emcee/Producer V8, who murders the first verse in the name of his home town Philadelphia, while CRAFT brings up the rear with a stellar verse about all the era's he was able to experience in NY, Good, Bad and Sad. This is when the album becomes really special to me, as the last 2 cuts on the album hit close to home. DAUGHTERS EYES is a sweet, yet hard hitting track about WHICHCRAFT's experience welcoming his daughter into the world, and raising her at such a young age. FATHER TIME, the album closer, WHICHCRAFT describes as his process of mourning. A song about losing loved ones and how he has managed to deal with it. In an era where we have all lost so many close to us, this seems like a perfect album closer for an EP that speaks to more than one generation in more than one spot on the map. Just got my copy at https://whichcraft.bandcamp.com/album/the-dead-poetz-society-presents-generation-life
J FLIZ – THE GIRL EP
[bandcamp width=400 height=307 album=1897530037 size=large bgcol=ffffff linkcol=0687f5 artwork=small]
In 2021 we saw Boston MC J FLIZ go nuclear dropping a number of Singles, Eps and Albums that marked his return to the Indie Hip Hop circuit. He resurfaces in 2022 with a concept album that plays out like a well-written novel. THE GIRL EP produced by MEKKANIC is 5 tracks of samples you may have heard flipped in a different manner before, which only makes each song that much more catchy. Take for instance THE BOY with its Classic BLACK SHEEP baseline. J FLIZ has a story to tell, and many of us who have been through broken homes will be able to relate to it. Sit down with your favorite Pipe and put THE GIRL on play, and let the drama unfold. Support J Fliz at https://jfliz.bandcamp.com/album/the-girl-ep-2
LEO CASEENO – MARTIAL ARTIST
[bandcamp width=400 height=373 album=3275764663 size=large bgcol=ffffff linkcol=0687f5 artwork=small]
On MARTIAL ARTIST, Brockton Mass. spit kicker LEO CASEENO invites us all to visit the Dojo where he has learned discipline, forged his strength, and seen first hand the benefits of never quitting ("A Black Belt is just a White Belt Who Never Quit"). On his 1st full-length album (which is more of a long ep at 7 songs) LEO pays tribute and respect to his deceased Mentor, Universal Arts Founder, Soke Paul Curtin; his Martial Arts Academy, Eclectic Karate; and the rich history and traditions of the Martial Arts he has trained in.
UGLY JOHN produces a proper score for CASEENO's dissertation on Asian history. Every beat a perfect stage for LEO to film his Verbal Karate Flicks on. From TAMAHAGANE, giving you a well-informed lesson on the forging of Samurai Katanas, to SAMURAI & SHINOBI which give you break down in great detail the history of both legendary warrior factions. The only Feature comes courtesy of Florida's own S.B. The Anomaly, who is a seasoned Martial Artist himself, on top of being one of the Illest MC, BBOY, Beat Boxer, Actor, Hand Model Multi Threats. When I saw LEO CASEENO recruited the homie S.B. for the tape, I knew this brother was serious about doing a concept album that paid proper respect to the Arts that were once taught as a way to protect China and Japan's citizens from its invaders. LEO holds this code of Honor and using our gifts and strengths to protect those who are weaker throughout the album. That's up until WRITTING LYRICS where he takes off the sparring gloves and goes at weak mc's like IP MAN on a makiwara board. As a full concept album, this was a risky move for LEO CASEENO, seeing that it's difficult to keep the audience interested in the same vibe throughout a whole album without topics switching quicker than IG Reels. However, its CASEENO's strong writing, evident knowledge on the subject, and obvious love for the Martial Arts that make this album worth listening to. LEO makes a song about training at the dojo sound like RASS KAS's NATURE OF THE THREAT, that's more impressive than chopping through a brick of ice in my opinion. Support LEO CASEENO – MARTIAL ARTIST here. https://leocaseeno.bandcamp.com/album/martial-artist
---
ES – YOU WANT A PIECE OF ME?
We love everything ES drop. You can bet this new video is going to be on Rotation on WVCC Radio. Here is ES explaining the video in his own words.
1st single and title track off the album entitled "You Want A Piece Of Me?" I went futuristic on this one. Ha! Forever embracing my past and present but keeping my eyes on the future. This is the title cut, so you know I had to give you a BIG piece of me. Had to talk about my humble beginnings and my inspirations for becoming the man I am today. "Shout out to mom and pop dukes, they supplied the keys to the doors that I walk through". These sound bytes reflect a bit of who I seem to be.
Follow ES at @HGmonsterEs
C RAYZ WALZ – BAILAPHOBIA prod. by DJ READY CEE
My Twin MIC MOUNTAIN is on the newest cut from C RAYZ WALZ. BAILAPHOBIA prod. by DJ READY CEE feat. MIC MOUNTAIN, BISHOP, INTENTION, 12 GAUGE PHAZE, MS.PRFCT, GUTZY COLLINS, BARNEY CRUMBLE, FRED BEEN STONED & RES LAUREN http://www.crayzwalz.net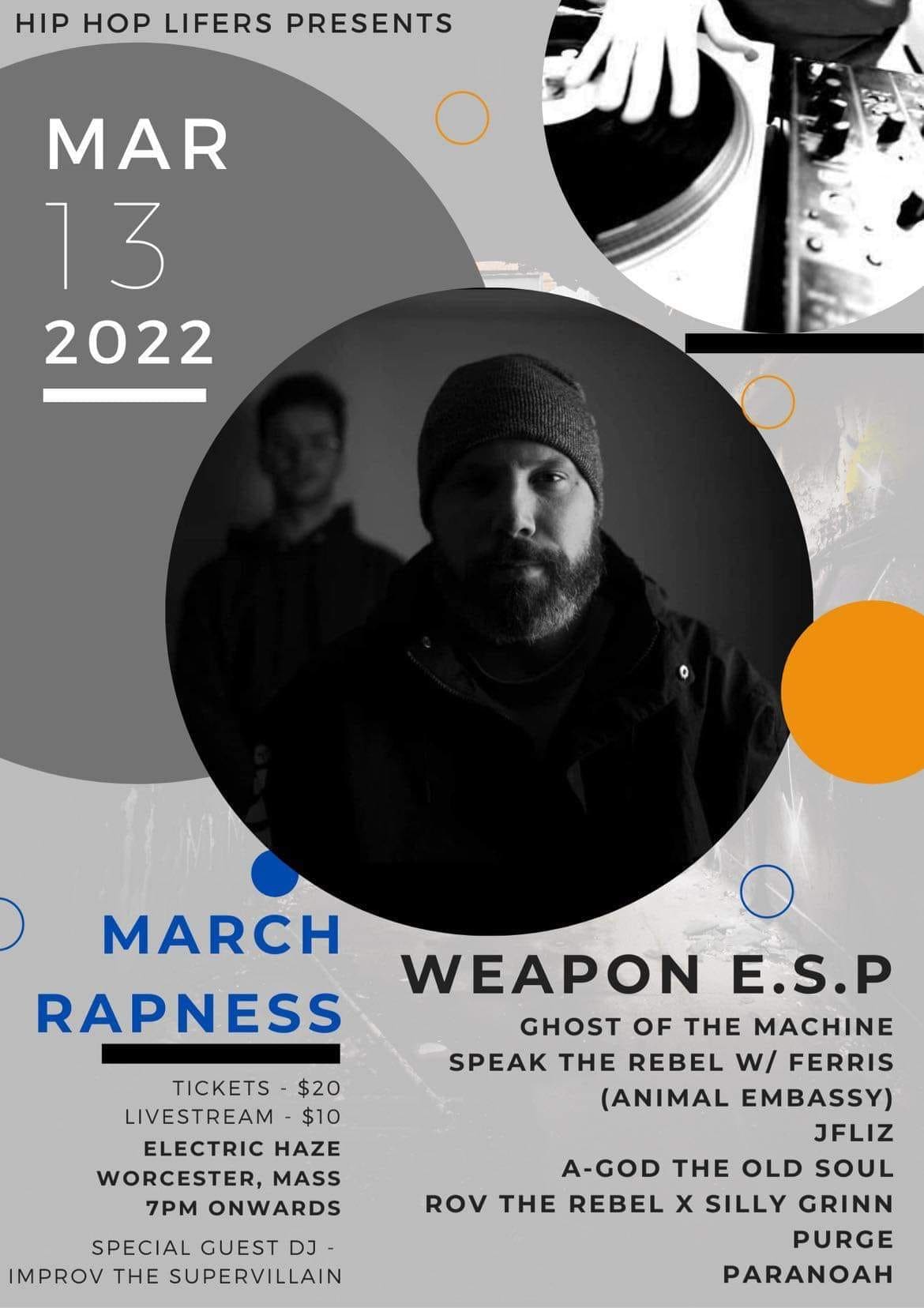 LU CHIN CHEN – NA MEETING
[bandcamp width=400 height=472 album=3806922697 size=large bgcol=ffffff linkcol=0687f5 artwork=small]
I Shamelessly jacked this from the HIP HOP LIFERS post by ANTHONY L'ITALIAN. Thanks for the fire write up Tonezy!!! I hope this helps get it a few more reads and puts more people on to this dope album by LU CHIN CHEN.
In a modern Hip Hop landscape full of quick 20 – 30 minute EP's of just random songs thrown on there it's refreshing to know that some artists are still willing and able to take the time to make albums such as this one right here. It's great to see that storytelling and concept albums are alive and well. I'd even go so far as to say this is a modern day I Phantom ( Mr. Lif ) or A Prince Amongst Thieves ( Prince Paul ) which are my 2 favorite concept albums of all time. It is a story as old as time with some new age twists thrown in. Family man ( Alex ) is working hard to make ends meet when life decides to toss him a screwball which alters that path forever. We get to follow Alex's journey through the world of addiction, crime and depression. The listener gets insight into his life through him speaking to an assembled crowd at a local NA Meeting ( hence the name of the album ) It is so unbelievably well sequenced and well performed it's going to have many many years of replay value which is another rarity nowadays. I think after you listen you will also feel the same way 
Here's my breakdown of the Album:
Lyrics/Flow/Content:
Creativity/ Originality:
Beats/ Production:
Features:
Overall:
Favorite Tracks:
Hardly Workin ( ft. Lyric & DJ TMB )
Short Nights ( ft. Nine, Ruste Juxx & DJ TMB )
H.I.T.A. ( ft. Streetsmartz, Blaq Poet & Dystrakted )
End Of The Line
Nothing Matters ( ft. Craig G, Masta Ace & Kia Jeffries )
Least Favorite Tracks: None of them. They are all great and necessary to tell the story of Alex. No skipable tracks on the album. You just hit play at the beginning and let it ride until the end.
Lyrics/Flow/Content: Top notch writing and subject matter throughout. All flows float over the different banging beats in a nearly effortless manner. Tons of deep and thought provoking verses that fit perfectly with the story unfolding in front of us.
Creativity/Originality: As I stated above, this is such a throwback to the days when cohesive concept albums focused on specific subject matter and told a story were the norm. I'd put this up there with some of my favorites from that time easily.
Beats/ Production: Another one of the many strengths of this album is non stop banging beat after banging beat. The best part of the production is how it fits the mood of each layer of the story being told throughout the album. It truly enhances the quality of the journey you have embarked upon and none of them feel out of place in the sequence of events that is unfolding.
Features: All of the spitters really came with their A game here and every guest feature fits seamlessly with the song and theme of the track they were commissioned to bless with their talents. It's a who's who of legendary MC's from the past and present. The ones who personally stand out to me are Planet Asia,Nine, Ruste Juxx, Rockness Monsta, AG and Masta Ace.
In closing I really just can't say enough about how amazing this album is and what a ride it takes you on from start to finish. Instead of just taking my word for it, I recommend you go find out for yourself 
– Anthony L'Italian.
KRS-One – I M A M C R U 1 2 (Full Album) 2022
KRS ONE dropping an MC Focused Album in 2022, on 22sday. WVCC Radio is here for it. Take a listen and let us know how you like it the Comments.
UPTOWN XO x SNYPA B – BUMPY X
From the Greats to be, to the Greats that Raised us, to the Greats that are currently Holding Down the Underground, this weeks Special Bag is packed with great music. Enjoy this latest vibe from 1/3 of DIAMOND DISTRICT, UPTOWN XO, and new face SNYPA B over AB THE PRODUCER beds. It's called BUMPY X and its a smooth vibe 2 songs in. Enjoy and let us know how feel it in the Comments.