What do you call it when a song is so good it makes you make "that face"? I'm sure a lot of you Hip-hop fans know exactly what face I'm talking about. I call it the stinky face (Be sure to let us know what you call it in the comments). Whatever you call that face, I had it throughout the entire day of listening to this album, THE PARISIAN, by BOUTY JOHNSON & MANNCHYLD. These raps are raw, grimy, & ruthless over impeccable production. The dynamite duo of Mannchyld and Bouty, bless us with 10 tracks of that traditional boom bap with their own style and flavor. Welcome to THE PARISIAN, do you have a reservation?
Listen to THE PARISIAN EP by BOUTY JOHNSON x MANNCHYLD aka THE PARISIAN
THE PARISIAN, not only the name of the Album, but also the name of the Duo named after "the cheapest hotel we could find on South Beach" where BOUTY JOHNSON and MANNCHYLD would link up for weekends of beachfront debauchery and album creation, is 10 tracks of back to back Nose Punches.  Starting w/  "America the Ratchet", perhaps one of the better opening tracks I've heard in quite some time, BOUTY's mastery of cadence and beat riding are immediatly evident. This track sets the stage with a delicate violin followed by intense rhyme patterns and serious subject matter as the beat drops.  The perfect introduction to what these two emcees are made of.  Try to listen to this song without feeling guilty about our complacency as a nation while bobbing your head, I dare you.  Ain't gonna happen, and this is just the 1st Beer before the Appitizers and Main Entree's come out of THE PARISIAN Kitchen.
The well travelled BOUTY JOHNSON tells us he has spent the majority of his life moving around the country, even spending some of his time in South Florida (West Palm Beach) and The OZONE in Central Florida.  He attributes his multiple rhyme styles to this constant change of scenery, claiming that he always had to keep his cadences evolving to match the sounds of that region to fit in with whatever Hip Hop or Rap community there was whereever he was living at the time. From the rapid fire delivery of "AMERICA THE RATCHET", to the grimey Boom Bap slapper CHUPACABRA where BOUTY owns up to his past problems with Heroin Addiction, and his current compulsion with devouring wack rappers over instrumentals as he raps "So I guess there's been some anticipation/ I'm the man programmed for Amazement/ But my heads been slammed to the pavement/ with a Pipe in my mouth and a gram where my veins went/ Yeah I rap about Heroin a lot/ I did Heroin a lot, it was my theraputic Doctor/ You cant prepare a man to stop/ bullshit, I inherited a lot, but I'm more Rare than Chupacabra/".  On "MY MOMMA WANNA RAP" he gets to barking on Pop Rapper Wanna Be's who have gotten excellent at immitating what they see on Youtube, but are horrible at being original.  He gives his personal perspective on the National Gun Control conversation on BANG BANG as MANNCHYLD chops up the classic Kill Bill vocal sample for the hook and plays it throughout the song like keys on a piano. Actually, upon closer listen, he is actually kicking 3 verses from 3 different ponts of view; that of Guns in the Hood, Guns in the Schools, and Guns in the hands of Angry Whites who arming themselves at an alarming rate, and are responsible for the majority of the Mass Shootings in this country. BeanTown Icon ED O.G. and Atlanta slow flower BOLDY JAMES join BOUTY on the insta-banger DEAD END, one of our favorite joints off the album. MANNCHYLD gets on his Billy Joel shit on THAT ROCK, tap dancing on the piano keys before he brings in some sharp violin strums that BOUTY goes straight BARbaric on. A huge contrast from the heart wrenching MY VALENTINE, a tale of a toxic relationship with addicton that is impossible for BOUTY not to reminisce about. This is followed by another one of our PARISIAN favorites, the triumphant sounding SICK WITH THE FLU, where BOUTY just tells it how it is, no filter, no mask, no make up. Life is ugly and he had to be just as ugly to survie it long enough to be sitting pretty in the present.  The album ends with BITCH, a recounting of BOUTY JOHNSONS run ins with the opposit sex, anchored by expertly sped up chop of the Hall and Oats classic "Sarah Smile", bringing a light hearted conclusion to an extremely dark, brutal, and honest album.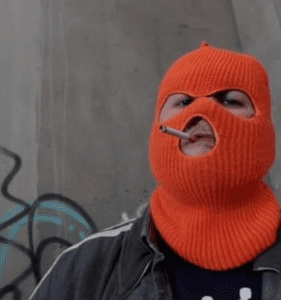 My personal favorite joint on the album is the inspiriational "THERES NOT MUCH TIME". The MANNCHYLD piano driven production gives you that wake up and make your dreams reality urgency,  and BOUTY talks that fight your inner demons talk which I can relate to completely.  Throughout THE PERISIAN you can hear the evidence of JOHNSON's lyrical prowess and his natural talent bleeds through every MANNCHYLD banger, but its his poingent story of survival and the struggle to stay sober and productive that really pulls the listener in.  You can feel the pain and past trauma in his voice.  His flashes of sarcastic satire and gooferie (the end of SICK OF THE FLU is hilarious) bring a bitter sweet smile to a face that mostly stays contorted like someone blew a horrible fart in my immediate vacinity throughout the 31 min listen. THE PARISIAN is definetly Stinky Face certified, and if this is the type of Gas MANNCHYLD & BOUTY JOHNSON are dealing in, I invite them to fart in our general direction more often.
We leave you with the latest single release from THE PARISIAN DUO, "I.D.G.A.F." which is catching fire on Paka The Plugs Youtube Page right now (See Video below).  If you like what you hear on THE PARISIAN, you can follow BOUTY JOHNSON on IG @bouty_johnson so you can catch his weekly Freestyle series where he has been blacking out as of late.  Top Tier Emcee shit going on his posts.  If you about them Bars…Follow this man. I'll leave the links below.
: https://music.apple.com/us/album/mann… –
https://thaparisian.bandcamp.com/albu… –
Listen to THE PARISIAN: I.D.G.A.F.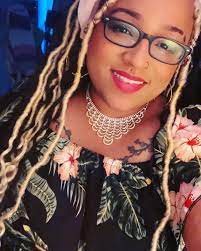 Written by Ms. Laura Michelle
MS. LAURA MICHELLE is a Emcee/ Vocalist / Journalist from Boston Mass, who has accepted the offer to come on Staff as a Writer/Contributor to the CyphLyfe Blog. Her passion for music and love for Hip Hop Culture is authentic. She is an experienced Singer/Song Writer, who understands the beat-selecting, writing, and recording process, and has presented her music to new audiences all over the country as she has spent the last few years touring the country with the FULL BLAST BOOKING team. She understands the need to share your music with new listeners and have it represented correctly. Her writing style is vivid and visual, her reviews are honest, and her taste in Hip Hop is vast.