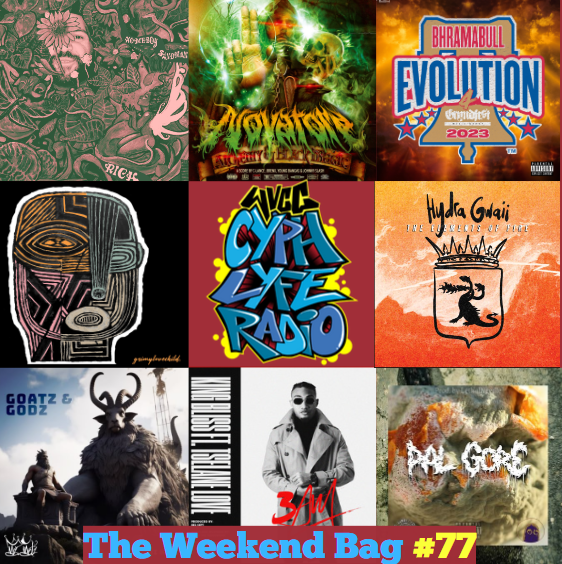 Your plug for New Indie Hip Hop News and Reviews.
Happy August Fellow 88rs. Summer is almost gone, but the heat aint giving up that easy. Not only is it hotter than MoFo throughout most of the United States, (Reports of water temperatures in the Atlantic Ocean off of South Florida exceeding 100 degrees, What the Pho??), but the Hip Hop landscape is heating up by the week as we pass the halfway mark of 2023. A lot of Top 10 Albums of the 1st Half of 2023 have been circulating. We are interested in hearing what has caught your ears and hearts this 1st half of 23. Engage with the Cyph Lyfe Staff and tell us in the Comments below what your favorite albums of the year have been so far. What's gotten the most play on your Spotify, Apple Music, Tidal, Bandcamp or Youtube Accounts? We hope some of the albums & Singles below find their way into your weekly rotation, because they are all adding to the rising temperature in the Underground.
HOMEBOY SANDMAN – "Rich"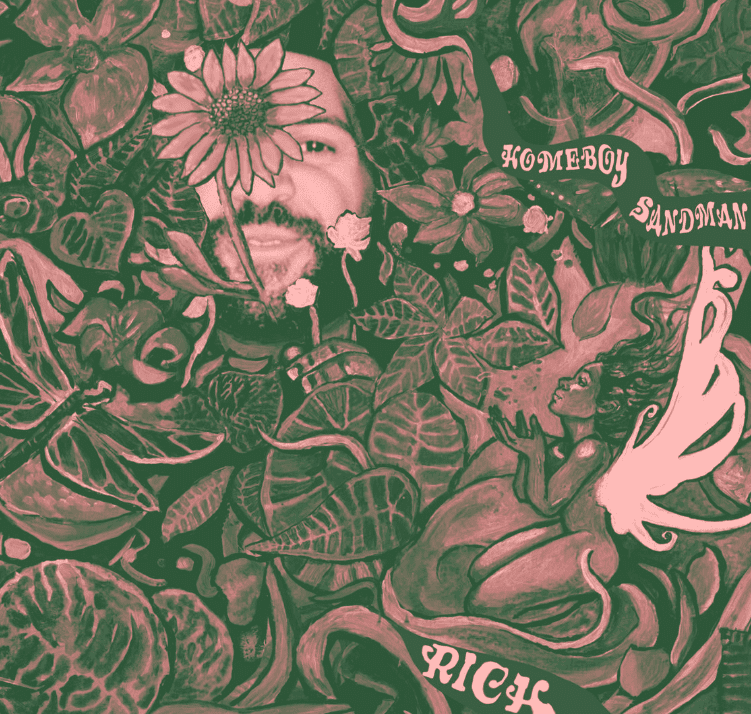 Our favorite Friendly Neighborhood Bar Slinger HOMEBOY SANDMAN is back spitting enough fire to change his name to HOMEBOY "GLASS" on his new Summer Sizzler "Rich". Produced completely by MONO EN STEREO, the 11 track "Rich" feels great like a clear skied, sunny Saturday morning. It's no wonder the NY born SANDMAN starts the carousel organ driven OFF THE RIP by saying "Yo, If It wasn't for rapping over MONO beats I would just listen to MONO Beats all the time". Thankfully SAND holds himself accountable and doesn't allow himself to get lazy, he does his part in bringing top shelf penmanship and his signature cadence work to the PotLuck, and what he and MONO EN STEREO serve up is "Rich" with flavor and texture.
Whether stretching out his vocal cords over the drum strum and background harmonies of the album opener "FINE", belting out "In New York is where I was placed / All amongst the Cops and the Toxic Waste/ I dont bring it up as a claim to fame/ But in these confines, I had to train my brain/", or sharing relatable truths like "Things will go down that can make you swear/ A lot of these folks want to make you scared / A lot of these folks got enough to spare / But a lot of these folks weren't taught to share/", HOMEBOY SANDMAN keeps it simple, and factual but never conforming. In an age of dark, slow tempo, single sample looping, drumless production, SAND seems to seek out the cleanest, brightest, zaniest, uptempo beats MONO EN STEREO had to offer, and performs word wonders over them that your average "Coke Rapper" wouldn't ever allow himself the liberty to even think off. As he describes on the lead single and video "THERAPY", "Hip Hop is such a weenie scene/ make me wanna summon the Candy Man from Cabrini Grene/ Media puts on everyone that flows wrong in the world / Go and put some close on Little Girl/". Honestly, who is saying that in Hip Hop nowadays? It's this carefully crafted yet careless originality that makes joints like "BOP" such a bop, and the smooth soulful "BIOLOGY" get under your skin as HOMEBOY SAND "Raps Real Real Good, Real Real Well, and Muy Muy Bien" with the coolest of rhyme rhythm swings. On track 6 he manages to deliver an upbeat break-up song on THEN WE BROKE UP, which could leave a smile on the face of any heart broken fool drowning in memories of the good times. Long time fans will be happy to know this song IS NOT about SAND's "Forever Love", Taty, who we have come to know & love through SANDMAN's recent discography and videos including the fan favorite "PARKS AND WRECK".
I asked HOMEBOY SANDMAN if there was message he wanted to convey to his audience through "Rich". He replied, "The message is, We're Rich. We are All Rich. Don't get distracted from that. Embrace It." As he does on "NEVERMIND pt 2" declaring, "It's all about the Papers, where the fakers pumping diesel at / Im about my maker, I'm a painter, where my easel at/ Santas' bout who nice, about who's naughty, I'm a Guardian, regardless of how People Act/ Attention as I check under the hood / True Expressions more important than being understood/". With well over 20 full length and ep releases under his belt, a full touring schedule that continually expands, a grass roots grown loyal fanbase, and a circle of superfriends to assist with the lifting, It seems HOMEBOY SANDMAN has really hit the jackpot. However, his aim is to remind us all, that we are just all just as "Rich", we simply need to ignore the background noise that makes everything and everyone sound and look the same, and pay attention to the people, talents and experiences in our own lives, that make us as original & Unique as a HOMEBOY SANDMAN song.
Get your copy of "Rich" at BANDCAMP, act fast and you might be in time to snatch one of the limited-pressed vinyls. https://homeboysandman.bandcamp.com/album/rich
---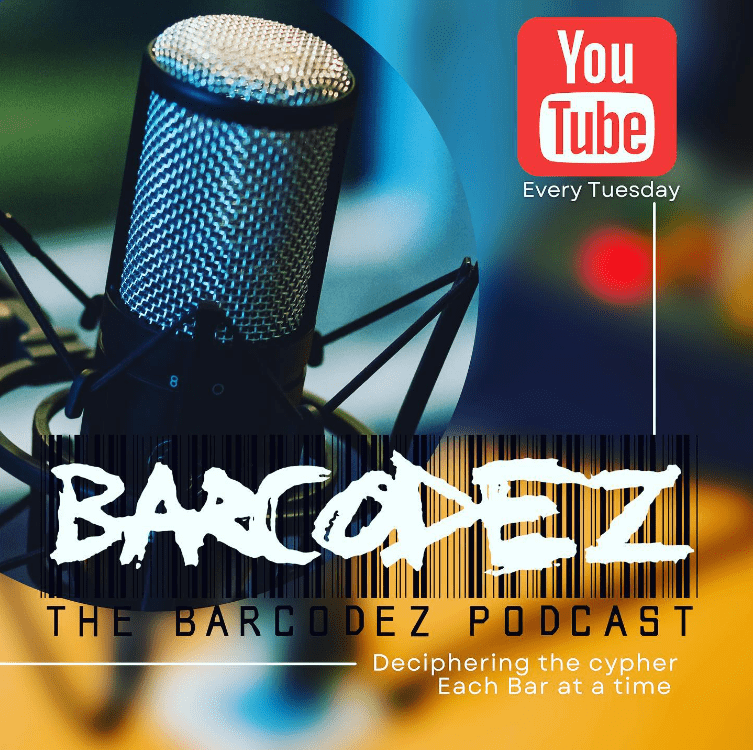 BHRAMABULL – EVOLUTION 4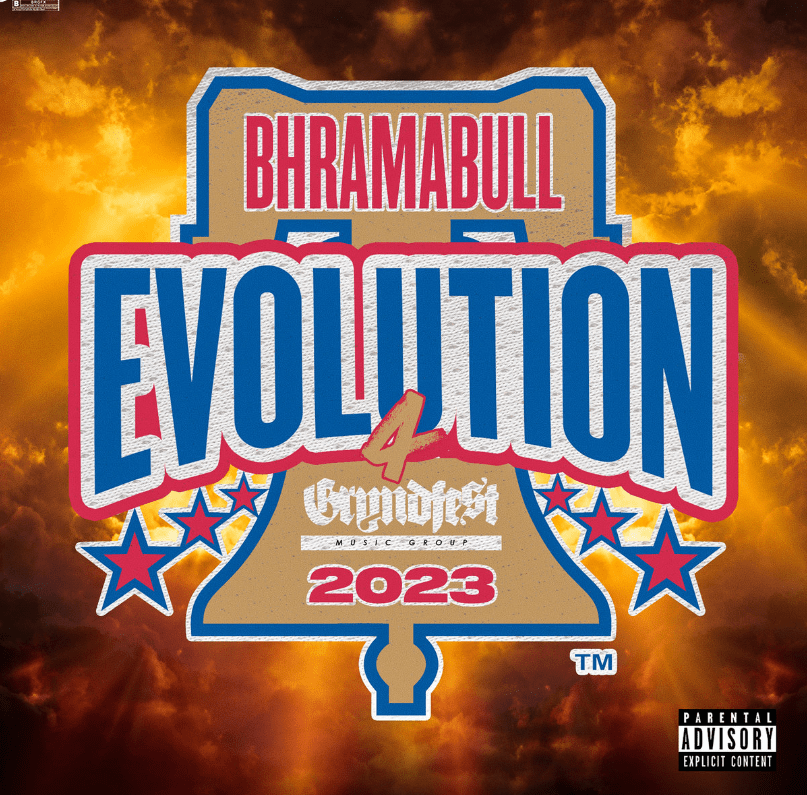 Written by MZ. LAURA MICHELLE
As the red cloth rises, a ferocious Producer charges in with an insanely dope project for us to hear. West Coast beatmaker BhramaBull just dropped a mixtape called "Evolution 4" which features a roster of emcees with bars as fierce as the beats they lay them on. I can tell you that each and every single track I heard on this album was immaculately created and I am honored to be able to cover such a masterpiece. The fourth edition of the Evolution series has no shortage of quality rhymes. With this edition, BrahmaBull brought the classic raw Hip-Hop style of boom bap that is both mellow and grimy at the same time. 

I see that BhramaBull is well-seasoned in the world of Hip-Hop. His level of production is reminiscent of the East-Coast Hip-Hop I grew up listening to. Those tracks that had my head bobbing at the bus stop, the very music that made me passionate about music as a hobby and eventually a career. His instrumentals are dynamic, well-built, and tastefully made to enrich and enhance the bars of the song. Not one single song on this mixtape is sub-par and the attention to detail shows in the final product he puts out. We have to give credit to all of the emcees that brought their dope lyrics to these BhramaBull beats: 3wayslim, Vic Spencer, Rome Streetz, Monday Night, Guilty Simpson, ReadyRockDee, Daniel Son, Brian Knockin, Def Soulja, Sha Hef, J-Haze, Jayy Grams, Sy Mosquiat, ShowOff Stoner, and Knowitall. What a roster of heavy hitters! Some names I recognize and some I discovered through this project. That is the beauty of our underground music scene, the quality artist seem to find you when you are an active member. It all comes full circle.

Some front-runners of the track list for me are "Screen Pass" feat ReadyRockDee, "You" w/ Sy Mosquiat, and "New Jersey Drive" showcasing Knowitall. As hard as it was to pick any 1 favorite, simply because I really admire every track on here, these stood 3 out to me. The talent that exists within the underground Hip-Hop scene is simply mind-blowing. As an artist myself, to see other artists just putting out perfection gives me such a sense of satisfaction and hope. We keep this music alive. All the emcees on this project help fuel the genre. Our highly admired producer, BhramaBull, lays the foundation for the emcees to work and is the epitome of what Hip-Hop truly is meant to be. A sense of unity comes from this project. As we celebrate Hip-Hop this week for existing for 50 years, I can safely say that individuals like BhramaBull will be responsible for the continuation of Hip-Hop for centuries to come.

I raise my glass to you all on "Evolution 4" – go stream the project now on BandCamp! 

https://bhramabull.bandcamp.com/album/evolution-4-1
---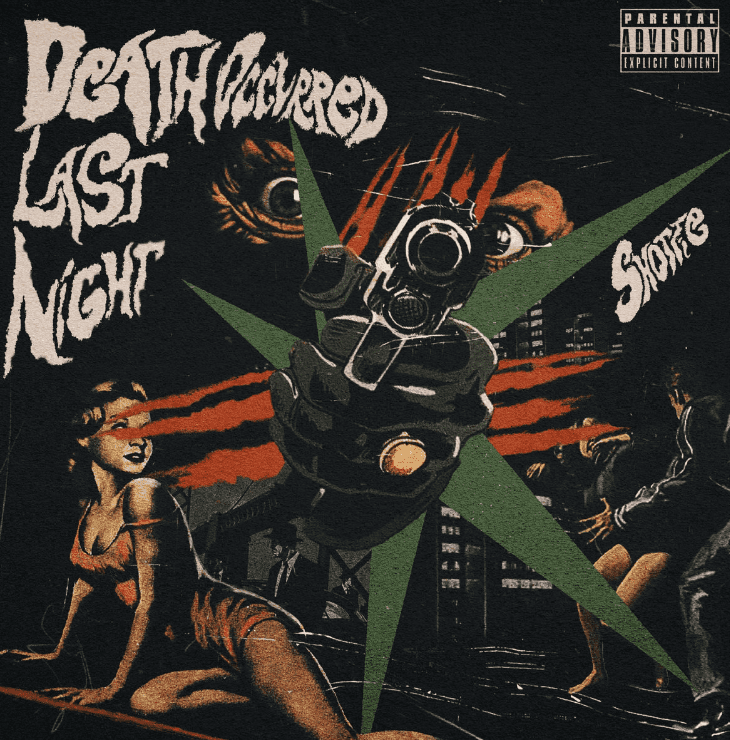 ---
RIZE-AGAIN – GRIMYLOVECHILD.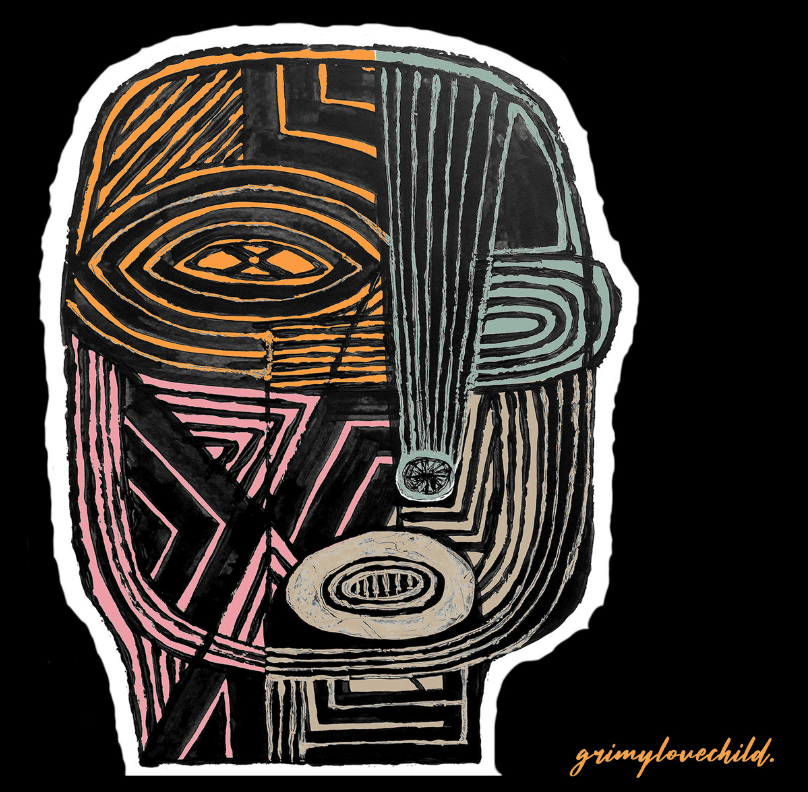 My South West brother EKYM1536 continually puts me on to fire artists who are grossly overlooked in the Indie Hip Hop Conversation. This week he put us on to Silver City New Mexico's RIZE-AGAIN aka REAL ISTIC, whose new album GRIMYLOVECHILD is one of the best New Releases we found on BANDCAMP this past BANDCAMP FRIDAY. At first glance, I was intimidated by the 31 song track list, but as soon as I pressed play and began to ingest the bars that RIZE-AGAIN is serving up, not only did the album fly by, it left me wanting a 2nd helping. That is why it is with great pleasure that I present to you, RIZE-AGAIN & the GRIMYLOVECHILD LP.
From the opening chants on WOODSTOCK 99′, the GRIMYLOVECHILD album opener, RIZE-AGAIN starts sparking fires throughout the full length album, similar to how disgruntled fans set the 1999 Woodstock fairgrounds ablaze before the turn of the century. Even though there is nothing on this album as hard and rowdy as LIMP BIZKIT's "BREAK SOMETHING", the Souful Sample Loops, Minimalistic Drum Pad work, and RIZE's barrage of Bars are all full of enough of energy to cause mini moshpits in our minds and souls as we listen. Joints like the New Retro DooWop Sampled GOD BLESS ft NIG BLACK, are soul wrenchers, as RIZE mourns the loss of friends who are either struggling with addiction or lost the battle with life and have transitioned to the other side. Or the saxophone reinforced DIG DEEPER, where RIZE admits "You want that feel, I can hand you it/ Like selling dope out of orphanage, I had to learn to deal with abandonment/ I hate rappers like a facist, with a Passion, you aint passionate/ They try to convince you you attracted it/ Give me a Beat I can Bleed in to/ Everyone seems to be out only for themselves so to my self is who I keep it to/". For all those that still ignorantly believe there is no good boom bap outside of the East Coast, Mid West, and California Underground, RIZE-AGAIN is a prime example that Hip Hop has not only touched people all over the world, but impacted some so deeply that they consider the foundations laid by our Hip Hop Forefathers as sacred, taking the practice of any of the 4 elements as serious as priest do sacred rituals. RIZE has taken his time honing his skills, both in the Cypher, On stages around New Mexico, and in the booth, and you can hear his experience shine on each track of the GLC LP. He also has an obsession with standing out as an Original. You can hear this on his delivery over the minimilistic loop heavy instrumentals that carpet GRIMYLOVECHILD. Even tho rhyming over these "drumless beats" has become somewhat of a trend in Underground Hip Hop this era, RIZE finds his own way of delivering sharp one liners and well schemed punchlines atop the instros, which produced all himself. Impressive? Understatment. Not only are all the beats smooth, relaxing and vibe inducing, but the quick intermissions all add fantastic flavor and flare to the album, gracefully adorning the project and making it a seamless listen rather than making it unbearably longer. One of my favorite beats is the simple accoustic guitar and harmony chop up of LOVECHILD (THEME), a soul bearing song about toxic relationships that we might be better off leaving behind us, even if they are hard to remove from our memory.
As I mentioned above, the album is 31 tracks long, but it only clocks in at around 45 min due to most of the songs running less than 2 min songs. The longest track on the album is the Bonus track Posse Cut FRIDAY NIGHT, featuring some of Next Mex 's nicest, TUG KEITH, ILLICIT, NATE JONES, the Disguting Duo DUSTY PAGES, and our Best Buddy from West EKYM1536 represening hard as fuh on the Organ and Big Band Trumpet laden bop. The other colab track that stuck out to me was the spirit lifting, I ONLY HOPE ft FERAL SERGE & MYSTIC BLU delivering a spoken word about Believing we will receive that which is still unseen. This album is 1 part Emcee Manifesto, 1 Part Diary, and 1 Part Spiritual Self Help Audio Book. Each subject being broken down into several smaller chapters for easy intake. If you are a lover of great writing, chill delivery (that is actually saying something more than how much drugs they cook, sell, or use), and chill beats that you can ride around town, do some chores or study to, or just enjoy during some downtime on the Weekends, you are going to be a fan of GRIMYLOVECHILD, and will be looking out for RIZE-AGAIN more closely in the future.
Here is the link to the album so you can pick up your own copy. https://realistic-de.bandcamp.com/album/grimylovechild
IG –@Rize_again
---
HYDRA GWAII – THE ELEMENTS OF FIRE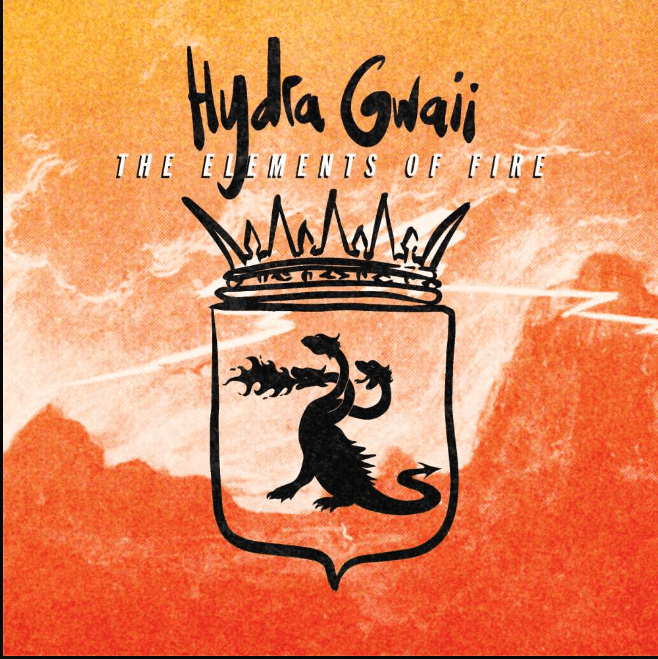 Written MS. LAURA MICHELLE
Out of all of the underground music I encounter, I have yet to come across a collaborative project as intricately prepped and planned such as. "The Elements of Fire". Hail Hydra Gwaii, the insanely talented trio that brought us this album. As the flames emanate from their mouths, the three artists show us that they are well-seasoned in all facets of Hip-Hop and music creation and for that I will extend my largest bouquet of flowers. I can't even begin to tell you how much fun this adventure was of listening and getting to understand this project as a concept, synthesized, and perfectly executed album.
So I can imagine you're asking the same question I did, who/what is Hydra Gwaii? Although I myself have only come to learn of them recently, I feel like I've known of them forever. What's in a name? Well the name Hydra Gwaii is a metaphor for the artists who help create this clique: Hydra being a three-headed mythological beast suggests that there are three members of this group: Cheese, Pot-C and Tycoon. All three emcees are more than just lyricists, they are producers and DJ's as well. To say this is a collaboration is an understatement. Each artist provided all of their talents and poured them into this album. Cheese and Pot-C are from Kagoshima, Japan. Our friend Tycoon hails from Haida Gwaii in BC Canada (hence the Gwaii portion of the group name). On this album, we hear rhymes from all three and the production for this project was done by Tycoon. Both Cheese and Pot-C provided the delicious scratches you hear throughout.  Can you see why I am simply fascinated by this project? We have yet to even dive into the track-list yet!!
Our friends Hydra Gwaii brought us twelve tracks on this project, each providing something incredible. The vibes Tycoon gave us with his addictive production screams G-Funk, Westcoast vibes. I get a sense that these three have been students of Hip-Hop for quite some time. I am thoroughly impressed by the lyrics as well. Some of my favorite tracks include "My God", "Sharp Shooter" and "Night". I can't forget to mention the stellar guest appearance from Tycoon's own daughter Noora! She programmed the drums on "N.N.D"! As a parent myself, it literally melted my heart to see a family affair within this album. One of the bars I heard that just resonated with me as a testament to the level of talent from these three artists was by Tycoon when he said:
"Work smarter, never slaving always gain knowledge so my mind never caves in. See me as the sunrise I'm just amazing"
These three men put together all of their talents, knowledge, and passion, and delivered us a perfectly crafted project that screams pure Hip-Hop. As we celebrate the 50th Anniversary of Hip-Hop this year, let's give artists like Hydra Gwaii the flowers they are working hard to earn. They keep the essence of this genre alive and are helping to keep it timeless and a staple in modern culture. A homage to our predecessors who created the lane for us to succeed, "The Elements of Fire" is a must-listen.
Here we go again, where's my dang fire extinguisher?
---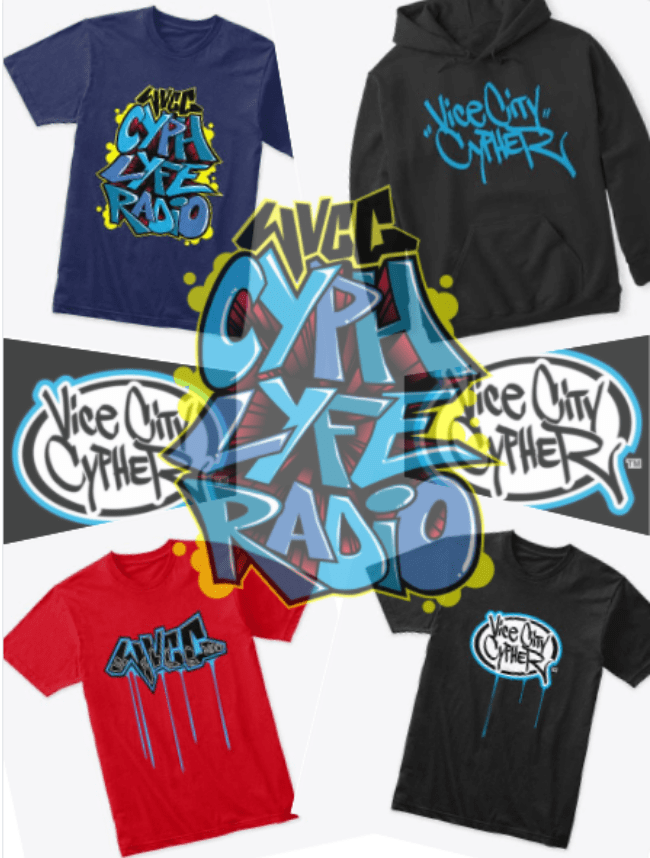 NOVATORE – ALCHEMY & BLACK MAGIC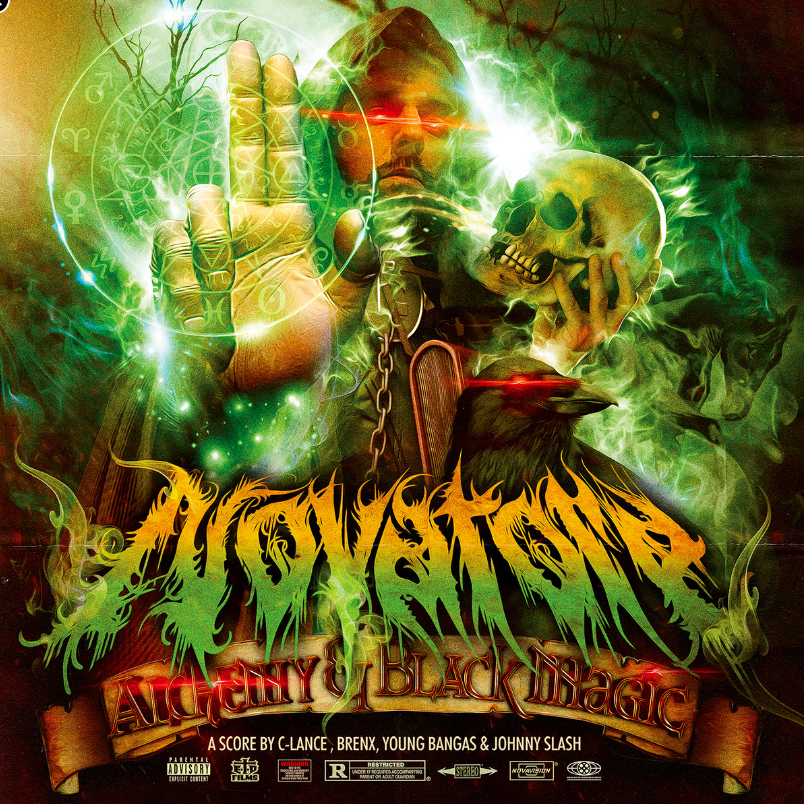 Chicago's dealer of Dark Rap Arts, NOVATORE, is back with his latest Hip Hop Horror flick, ALCHEMY & BLACK MAGIC. Billed as "A Score by C-LANCE, BRENX, YOUNG BANGAS (Son of STU), and the Homer Simpson sampling JOHNNY SLASH", the latest installement in NOVATORE's growing "Hard Gore" series brings us 11 New Bangers that further prove NOVATORE is a serious player in the Indie Hip Hop game. From the very 1st track he slaps you with an RJ PAYNE summoning encantation named REWIND, which repurposes the classic BUSTA RHYMES sample brilliantly. If this is how starts the album, you can only imagine what he has stashed away in the rest of the LP. Lets Find Out, shall we?
As NOVATORE wishes to convey in the Album Intro, he doesnt create music to be listened to once and then forgotten. He makes music that is worthy of being studied, disected and discussed for years to come. He doesnt do this for the fame or money, he does it for the love and obsession with the craft. His motivations are not those of regular rappers in training. NOVATORE has survived a sorted past, full of enemies and pitfalls, Himself being one of his greatest advesaries. This is what leads him to spit face crunching lines like "I couldnt face my fears without a case of beers/ Now I take my fears and place them in your ear/ A lot of wasted years, and now its clear/ I'm killing lyricist just as quickly as they appear/" and follows that with brutally honest "I'll put you in your coffin, and I talking Strep Throat/ Agoraphobic / If you see me hanging bitch my neck's broke/". Thus NOVATORE has made a name for himself indipendantly. Not riding anyones jock or shmoozing his way through the industry. He couldn't pull that off if he tried. He rather just make good music that real heads gravitate to, music that gets him in the same room with artist and producers he respects. Like LORD GOAT & ILL BILL of UNCLE HOWIE RECORD Legends NON-PHIXION who go psycho on the C LANCE produced "SUICIDE CHOIR", or KINGDOM OF CRIMINALITY Co-Conspirator A.M. EARLY MORNING, who joins NOVA in telling stories of their individual self distructive tendendcies on SELF DESTRUCT. Horror Core rep JACK PROGRESSO drops a lethal verse to match NOVATORE's "Homicide Hobby" on DARK WORLD 2023, and G-PAP seals his blood pact with NOVA as the trade bars back and forther over the BRENX produced BLOOD BROTHERS. NOVATORE swings jaw shattering punches with the best of them, but its in his macabre story telling that he shines "Darkest". Joints like THE LAST ILLUSION, and the Autobiographical HORSES OF INSTRUCTIONS shine light on NOVATORE's gift for penning lyrical litterature.
We are honored to say we have been following NOVATORE since his first EMBRACE THE DARKNES LP in 2020. We have witnessed his growth and evolution as an artist and brand in the Indie Hip Hop Market. His eye and mind for marketing is to be revered & studied as everyone of his last 5 projects have benefited from excellent presentation, which has only gotten better by the project. If you are as crazy as we are about his latest album cover designed by the amazing VINZO, you should seriously consider picking up one of his many merch packages which include, CD, Poster, or Tee Shirt, all flaunting the album cover for your friends to envy. When they ask you who the fuck is NOVATORE, you can play ALCHEMY & BLACK MAGIC for them and smile knowing they wont be able to sleep well for the next couple of months. NOVATORE just seems to have that effect on listeners.
Get your copy of NOVATORE: ALCHEMY & BLACK MAGIC along with the Merch Packs at https://infamouscrew1.bandcamp.com/album/alchemy-and-black-magic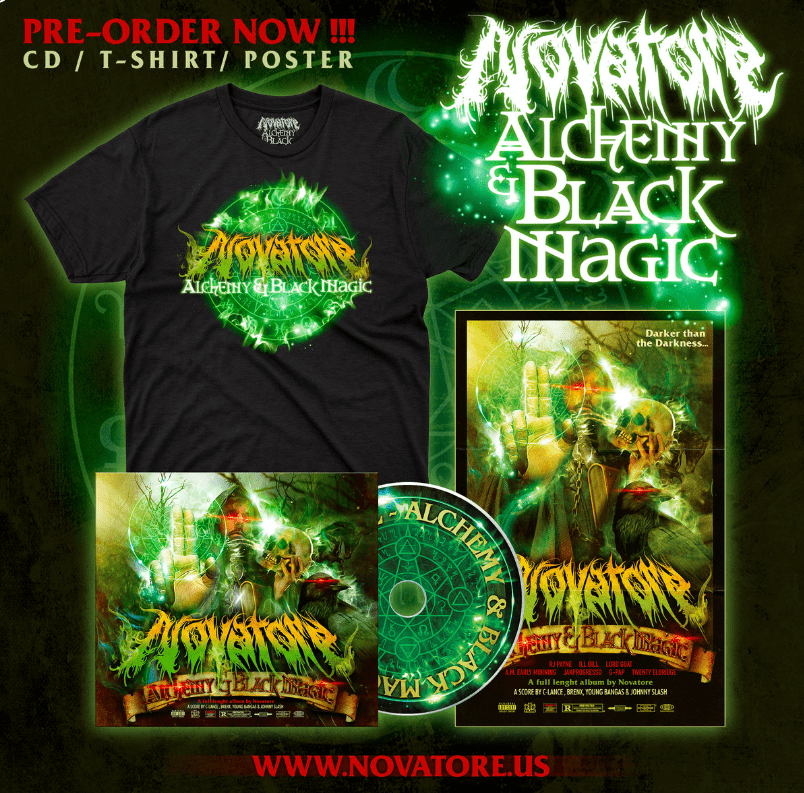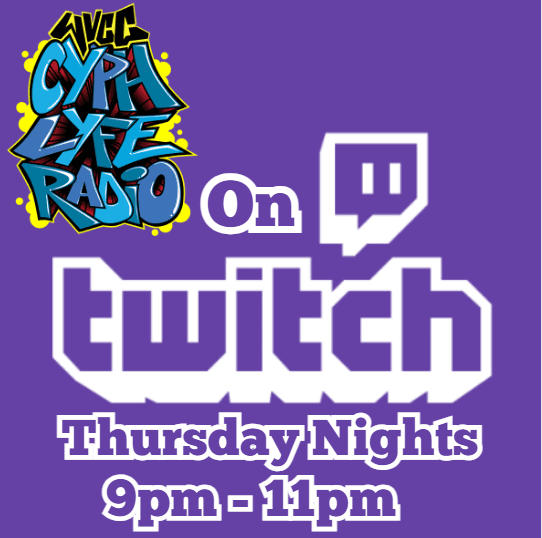 #CyphLyfe #SingleFiles
JIMMI HART – GOATZ & GODZ
Earlier this year, My team (4K PRO), had the honor of hosting the return of South Miami Hip Hop Legends, STREET LIGHT POETS to the stage. It seems the recent bubbling of the So Flow Hip Hop waters is gradually inspiring a re-awakening of Veterans throughout the whole So Flow landscape. One such Vet is the ever exuberant JIMMI HART, co-founder of SLP (STREET LIIIIIGHT!!!), who teamed up with South Florida's favorite female producer, MZ MELZ BANGERZ, for the release of the 2nd single off of her upcoming Producer Album, "CHOCO-LIT BARZ & STRING CHEEZE" due to release on 9/9/23. Over some amped up Chello Chops, MZ MELZ drops some double time drums and JIMMI proceeds to lay down a clinic on how to walk the fine line between GOAT & GOD. He has spent plenty of time being street and being board room, both hood and professional, so he knows a thing or two of enjoying the best of both worlds. One listen to this brothers 40 Yard Dash flow and you will instantly recognize why this man was part of one of the most feared Rap Crews in Miami History. You couldn't be weak and crewed up with the Late Great J PURE, and JIMMI HART displays the skills he developed sharpening his blade with J PURE, GOLD SAUCE, DIRTY RICH, WYE CEE and the rest of the SLP FAMILY. The Video shot by MR. BELEAF uses some awesome tricks of the trade to show you both sides of JIMMI HART's coin which he flips like TWO FACE, only to ask you to pick, GOATZ OR GODZ. Which ever you choose you are getting the best Miami has to offer.
Make sure you mark September 9th on your calendar and make plans to be in attendance at the Official CHOCO-LIT BARZ & STRING CHEEZE ALBUM RELEASE PARTY at LINCOLNS BEARD BREWING, hosted by 4K PRO, and featuring live sets by B DOPE, L CITY, & JIMMI HART himself, coming out to show the city that he still can rock a party like its no bodies business. As you will see for yourself when he is live on stage, this Veteran hasn't lost a single step.
---
SCHOOL DAYZE – MEN OR MICE RMX
Speak of the Devil and he appears. I just told you above about our next big party, MZ. MELZ BANGERZ Album Release Party for CHOCO-LIT BARZ & STRING CHEEZE going down Saturday September 9th. One of the headliners of the night will be none other than MZ MELZ Hubby, Kendall King B-DOPE, who always brings a hype show to the stage and a crowd ready for real hip hop. He's been growing this fanbase since he was 16 and young member of the then HighSchool group named SCHOOL DAYZE. Now over 30 Years later, SCHOOL DAYZE are back in action and still pushing their BACK 2 CLASS project heavily. With brand new visuals for the remix to MEN OR MICE off of the BACK 2 CLASS project, BOB'S HERE & SIM-E AUTO show they can get down over the drumless beats with the best of them. Catch um cooling by the pool with SIM's younger brother and Miami Hip Hop Rep in his own right, A FLY GUY, as they let off rounds that add enough percussion to the moody sample loop.
If this gives you an itch to hear what else these brothers have cooked up, take yourself over to their bandcamp and pick up the latest release, BACK 2 CLASS and get familiar with one of the longest running Emcee teams in Miami.
https://sim-eauto.bandcamp.com/album/back-2-class
KING BLISS – 3AM ft TSELANE LOVE
Written by MS. LAURA MICHELLE
The beat drops and I have this sudden urge to dim the lights, turn on some candles, and have a late night full of romance and passion. Too much? Well King Bliss came in with such a fiery, alluring track called "3AM" and I have to commend him for such a polished song. The throwback vibe of the beat coupled with his bars that just melt the listener are such a breath of fresh air. Out on all streaming platforms, feel free to immerse yourself and see what King bliss is made of.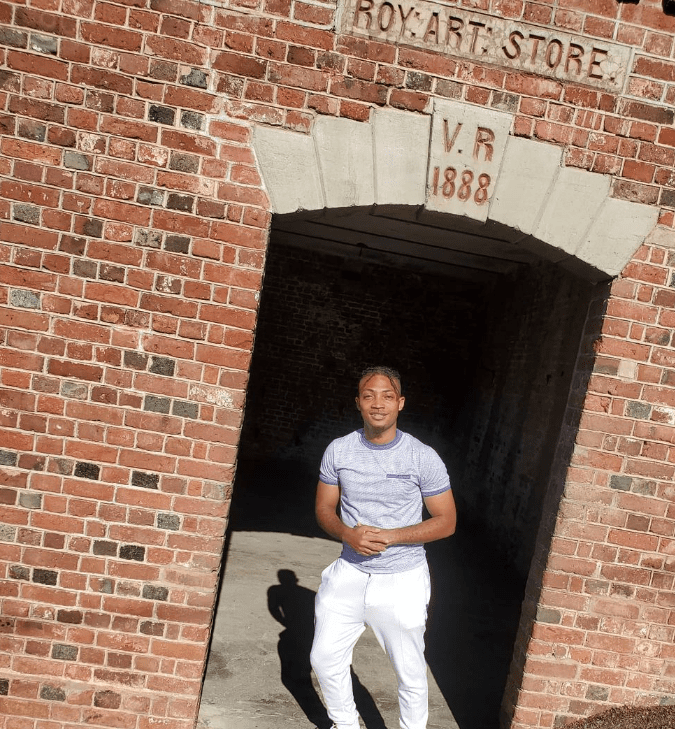 King Bliss hails from Toronto, Canada, and brings a unique sound and style into the underground scene. A seasoned emcee, he has toured worldwide hitting cities like Austin TX, and even Madrid, Barcelona, London and Rotterdam. What sets this artist apart from the rest is that he brings a combination of gritty bars with a soft tone that sets detailed scenes in each of his songs. It is no exception in "3AM". This track is abundant in interesting entendre and descriptions of his relationships and interactions out in the city. Just when you're fully immersed in his rhymes, the lovely California-based Tselane Love brings us that sultry sound to enrich the experience. Her beautiful voice rings in for the hook and sings like a siren in the distance, luring sailing ships. Calling out to the passengers of the boat, leading them to their demise. A beautiful allegory for the dating world today. 
The producer, Bes Kept, has a really incredible skill for putting together instrumentals. An 80's soul R&B style that brings me visions of the west coast, palm trees in the distance and a low rider cruising down a highway. It's so rewarding to hear these genres of music still around today. King Bliss finds a way of bringing a fresh new vibe and perspective to these established sounds. We are fortunate to have witnessed decades of music greatness. I believe that those of us who are currently create music have a sense of responsibility to pay homage to the music that paved the way for us. 
On a very distant shore, King Bliss is anhilating beats and we are all the way tuned in.
JR EWING – GO LADIES
Written by MS. LAURA MICHELLE
Ladies, this one's for you. "Go Ladies" by J.R. Ewing brings us a genuine, love anthem to conclude what has been an incredible summer for the underground scene. The beat he rhymes to has such a lovely bounce to it, and you already know just from the title I was all the way tuned into this one. He gave us something to dance to and to feel appreciated by his words and message. It kind of reminds me of that 90's music video scene where you see a beautiful woman and a man courting her as they walk. A time where chivalry was far from over and the romance you saw on TV and listened to in music was just divine.
When he said "My beautiful Black Queen working for her dreams", my heart pattered a bit. In this day and age, its so important when our emcees take their time to show the world what true love and admiration for your significant other entails. Love is lost at times, and sometimes we need to remember what power exists in a healthy, loving union. Overall, J.R. Ewing has a unique, classic style about his rhymes. Well versed in flow and cadence, he is maintaining the classic sound of Hip Hop and it shows in some of his other songs as well. 
J.R. Ewing comes from the rich Hip-Hop scene in South Florida. He has 15 years in this game and gained notoriety From his battle rap days in 2006, he's been perfecting his pen and craft by releasing some incredible music for us to listen to. "Keep Moving (Freestyle)" dropped just a couple weeks ago and is a really vibrant, mellow track to bump in your next car ride. He's also got a current project out, "Cold Summer (The Prequel) also realeased a few weeks ago. J.R. Ewing is on the grind bringing us really dope hits to vibe to. Check him out on streaming platforms and stream "Go Ladies" today!
I'll be sitting by my window, waiting for Prince Charming to come with a boombox held above his head…
TONES – PEACE (Produced by MATTY LITE)
It's been a hot minute since we had some New TONES & MATTY LITE to report on. As soon as we press play we are reminded why we always enjoyed covering their singles and LPs so much. These brothers are automatic with creating timeless Hip Hop in the modern era. Now they return with PEACE, A joint that MATTY LITE Admits was stashed in the Vault for while, but it sound brand spanking new to us at WVCC RADIO. 
On "PEACE", LITE lays down piano keys and interstellar sound effects to give TONES all the space he need to erect a sonic statue in memory of all those who smiled in his face while sliding the knife in his spine.  If you have followed TONES music for any amount of time, you know he is far from a pushover, but you get a sense of the Mature Mindset he's grown into as he forgives his traitors and wishes blessings and PEACE on them, even if they dont deserve it. He even shows mercy to the wack emcees who suffer from "Delusions of Grandeur" thinking they can out rap the Strong Island born Veteran.  TONES proves once more, wether on a Head Nodding Banger begging for hard PunchLines, or a meloncholy melody requiring deeper subject matter, he understands the assignement. It's no wonder MATTY LITE has calls on him again and again to lay the final layers over the masterpieces he creates.
TORCHINORPHANIJ – PAL GORE
There is a dark energy brewing in the swamps of So Flow. On the outskirts of the Florida Everglades, as south as you can travel on Krome Avenue. Before you cross the bridge to the Florida Keys, there is an area where reality is thin, time doesnt move linear, what should be isnt, and what shouldn't be is. This is the land of DUILT BIFFERENT, known by some as KROME CITY, the home of TORCHINORFANIJ (Pronunced – Torch An Orphanage. Sweet huh). You may recognize his raspy wicked voice from the new remix of SOULS OF MISCHIEFS 93 TIL INFINITY, the recently leaked 23 TIL INFINITY…by JOHN APOCALYPSE & QUEMA. The extraterrestrial entity known as TORCH visits us by way of Bogota, Colombia, and now calls Dade County his temporary home as he establishes the Kingdome of DUILT BIFFERENT on Earth as it is in whatever ever demension he is originally from. In the meantime you can join him "Smoking Blunts in Cemetaries, and trading punchlines with Dead Bodies" on his latest release on DUILT BIFFERENT Records, the huantingly fun, PAL GORE. He extends the invitation to "roll in packs, becoming ghosts knowing they will never come back" with bars like "I'll pull out a Nine Iron and Iron out your Brain til the ridges are flush/ Bout to be 99 Problems in this Bitch, which one yall want?". So Wholsome.
This song made its way around the underground DJ Curcuit this weekend and we got several replies at PROFRESH PUBLICITY asking if there is a new HORROR CORE RAP wave coming out of South Florida they should know about. I replied, "I'm not sure how to answer that, but I've heard you better "Get right with John". At least thats what the word has been out on these Streets. There is a Dark Energy brewing in the swamps of Krome City. TORCHINORFANIJ is one of its messengers, and he warns, The end is Bill Nigh. JOHN IS COMING.