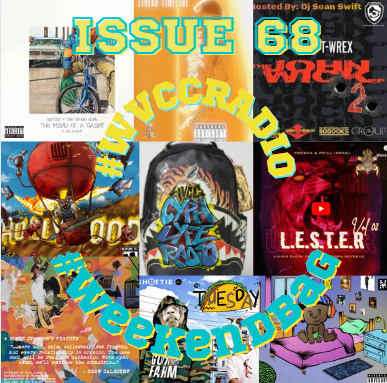 Your plug for New Indie Hip Hop News and Reviews.
Happy 2023 Fellow 88ers. Praying that you and yours had a peaceful Holiday Season/ End of 2022. It is Martin Luther King day and after taking the holidays off, we have started the New Year in full swing. We have tons of new music to report on so let me not hold you up with the intro. Enjoy the Reviews and Stream Links and make sure you follow the WVCC RADIO Spotify List to enjoy the playlist we comprised of the choise cuts from the projects below. Welcome to the 1st WEEKEND BAG of 2023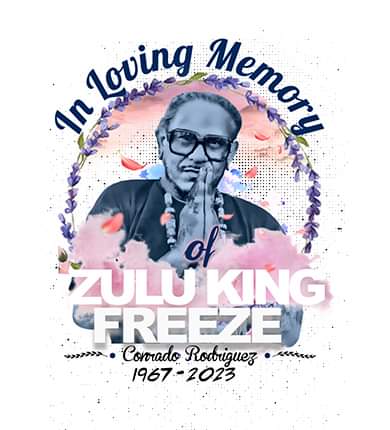 SKYZOO – THE MIND OF SAINT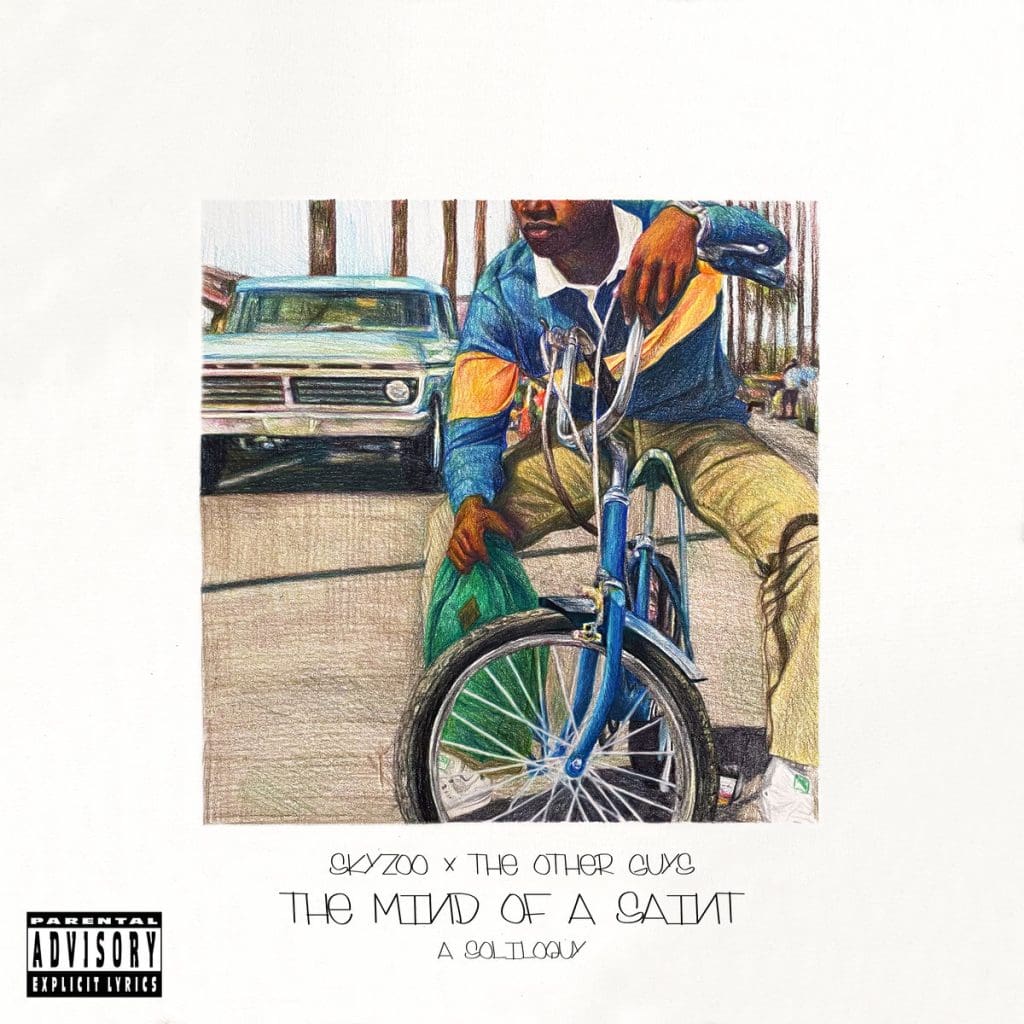 Skyzoo is one of the dopest, most consistent emcees of all time and he has a near-flawless discography (one of the best in the game) and he adds to it with the latest release 'The Mind Of A Saint'. Before we dive into the album review though, we want to give props to MC Till (The Boom Bap Review, Everybody's Hip Hop) who took the time to pen an incredible ezine which focused on the incredible collection of music that Skyzoo has graced hip hop heads with over the last two plus decades.
This latest release is a collaboration with The Other Guys handling the production, which sees Skyzoo taking on the role of a fictional character and addressing some of the issues surrounding the drug boom of the 80's and really challenging his pen game to create a narrative that is both entertaining, informative and authentic. As Skyzoo himself says "Using the 'Snowfall' series as a vehicle to delve into both sides was truly fascinating as an emcee. It's a project that is layered beyond measure. If you've never seen Snowfall, you'll think it's a really great album, but if you're an avid fan of Snowfall, you'll truly feel as if Franklin, the conflicted boy genius turned millionaire and career criminal, truly did pick up a pen and pad to write his life story over a bed of beats."
For ten tracks and almost 45 minutes, the listener is transported into a different world, through well placed skits and soundbytes, and of course really dope production and top tier lyricism and street poetry. The journey begins with 'Eminent Domain' which is a really jazzy influenced introduction and horns that sing out and resonate through the headphones as Sky gets to dropping knowledge early. 'Views From The Valley' sees Skyzoo talking game over a dusty, boom bap joint with dope vocal sample, as he discusses his change in perspective as he traverses different geographical spaces, before 'Panthers & Powder' steps the energy up a notch and really highlights the hip hop element as the soul-infusion is more subtle and 'Zoo speaks on revolution and change as the track title suggests.
The head gets to snapping when 'Straight Drop' hits the headphones, as the drums are really a focal point of the track and punch through the ethereal vocal sample. Skyzoo is on one with this joint too, really showcasing the growth in confidence that his character Franklin is experiencing with bars like 'I done made a crown out of dust'. '100 to One' uses crisp drums to bring that 80's hip hop vibe and Skyzoo flows all over the top of them, the audio journey continuing to develop the street narrative, but also standing alone as one kick ass track FILLED with poignant wordplay. Next we get a delightfully key driven number, robust and full of feeling which mirrors the verbals as Skyzoo laces the track with some of the 'Bodies!' that have been caught throughout the expedition, and then things get really funky on 'The Balancing Act' as The Other Guys really capture that lounge / after hours vibe through their soundscape and Skyzoo gets to addressing the double life required to make these moves.
'Brick by Brick' is an ode to the come-up, but delivered differently as Skyzoo often does, using a range of purposeful prose and seasoned vernacular to bring a unique and engaging insight into Franklin's journey sprinkled with just the right amount of bravado and confidence. 'Apologies In Order' is another crisp joint, underpinned with subtle and soulful (almost haunting!) vocals and it really digs deep into the bag to capture the narrative and emotion of the current situation like few can. The final track in this audio experience is 'Purity' and it's somewhat of a recount of the life that has transpired and Skyzoo continues to embrace Franklin, but tells the stories of other characters he has come across during this expedition. When the beat drops, it signifies the end of the 'story' but the album, continues with soundbytes from the 80's around 'Just Say No' and tells of the damage the coke-era did to people, a confronting yet veritable way to close out the album.
Bangers: Straight Drop, Brick By Brick, Panthers & Power, Views From The Valley.
Score: 10 / 10. Yet another stellar offering from Skyzoo who has really pushed the boundaries on the project, but has hit the mark with incredible accuracy and authenticity. Whether or not you have been tuned in to Snowfall, this album can stand alone as a dope street narrative of the ilk of Prince Paul's 'A Prince Among Thieves' or more recently Marco Polo x Masta Ace 'A Breukelen Story'. Skyzoo stays true to his sound as well, infusing that dusty boom bap with soul / funk / jazz throughout the project which ensures a captivating listen. This is worthy of more than the handful of run-throughs I have done so far, this is going to remain in the listening gear for a minute. – Brutus Maximus, RawSideHipHop.com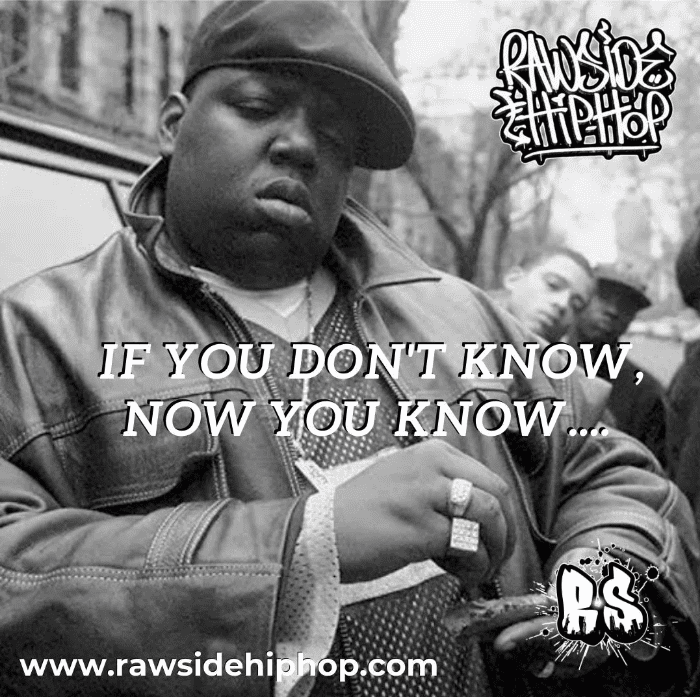 PSYCHO ASTRONAUTS – LINEAR TIMELINE
The trip down the PSYCHO ASTRONUATS: LINEAR TIMELINE begins with an electric charged guitar string & ominous bassline that sets the scene for the upcoming shoot out between 3 of North Carolinas sharpest shooters. SCOTTY J, SUNNIE KEIF, MTV G.O.A.T & DONNIE QUEST, have been rocking Mics and Cyphers in NC for decades, as solo artist and as the crew known as PSCYHO ASTRONAUTS. Now coming on the heals of DONNIE QUEST'S UNDER LAND SERIES vol 1, the ASTRONAUTS touch back down on the NC Hip Hop Scene and beyond with their 7 track EP, LINEAR TIMELINE, which displays each of these Extraterrestrial Emcees in their natural habitats, between the Southern Boom and Bap.
Joints like CHANCE OF A LIFETIME give me an instant Goodie Mob feel as SUNNY KEIF drops Down South Block Knowledge over the Bass Heavy BAILY DANIEL production. SUNNY Reminds us that time is precious and fleeting, dont waste it frivoulously, and never take those who are dear to you for granted because tomorrow is never promised. I love how he he shares that he "Found his Love while sitting in a Dialesis Chair". I cant wait for a chance to interview the crew to ask him for the details on that line.
He then invites you into the Carolina Kitchen where he and Canadian/Cackalackan DONNIE QUEST serve up some COUNTRY COOKIN over a BUCKS LERUCKS head banger. I think I found a New Producer to follow out of NC State. What the fuck is in the water out there?? Did you see that BEAT BATTLE Footage feat NOTTZ? DONNIE & SUNNY know exactly how to Pop & Lock all over the LERUCKS berner, "Like an Autobot" as KEIF would say. BAILY DANIEL brings back the deep bass on LOSIN, where we get our 1st taste of SCOTTY J, the "New Guy", who lays a catchy hook over some great Horns and Piano runs that all 3 of the ASTRONAUGHTS Moon Walk all over, These brothers are spitting gems. PSYCHO 1ST GEN comes in with a great whif of audio nostalgia with the doowop sample flip by PROGRESSIVE MUSIC, who lays a grandious smoothie that SUNNY KIEF, DONNIE QUEST & MTV G.O.A.T devour in one gulp, but it magically refills itself every time you press replay, which we do several times. WVCC RADIO Favorite SOLDIER/SARACIN is an instant party rocker feat the Raga Chants of KING YUSU. DONNIE QUEST uses the RAY SLAPPS space organs layed over a funk break to teach us a history lesson that is not included in our Public School text books. The album lands from its orbit with the BaseLine Heavy NEW GRITY, Produced by DONNIE QUEST himself, and featuring the street magician PRO LOGIC who will make a pencil disappear into your neck, and CANADIAN Hitman Man for Hire, LEN-DOR who SuperMan Lands on the second verse with bars like a Pimp Slapping Sasquatch in Kanye Boots. The track is pure Hardcore Boom Bap Braggadocio Badassary and we've played it weekly on WVCC Radio since the start of the year to our Audiences delight.
At 7 tracks long, the album is an easy replay and has something for boom bap lovers on every coast, West, East, North our South. The PSYCHO ASTRONAUGHTS defineteley bring enough skill and swag to the project to make their region proud, and all the right techniques to make fans across the map. Wether you grew up on Outcast and T.I. or Rakim, Nas or West Side Gunn, The PSYCHO ASTRONAUGHTS: LINEAR TIMELINE has plenty for your Hip Hop taste buds to enjoy. Just press play and take a trip out to the cosmos above North Carolina
You Can Purchase your Copy of PSYCHO ASTRONAUTS: LINEAR TIMELINE & Merch directly from the artist at their Website. https://www.pointbombmusic.com/lineartimeline
CHOCO VALENS – HOLLYWOOD BURNS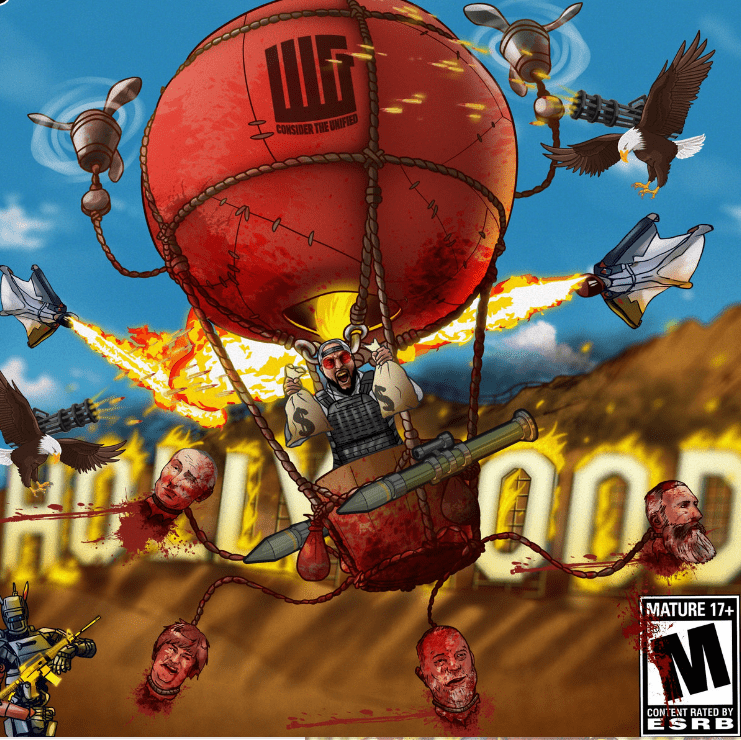 Colombian Super Vigalante CHOCO VALENS has returned to to punish the wicked and purge the art world of the satanic influences that have hijacked the soul of music in the name of entertainment. The Lone Wolf of the WOLFGANG UMBRELLA, CHOCO uses his tumbling terminology, Simile Stacking Style to rain anti propoganda pamphletes from his Missle Launcher equiped Hot Air Balloon. He packs each of the 14 tracks on HOLLYWOOD BURNS with earie insight on the sinister dealings behind the closed doors of the wealthy elite who seem control all media and world shaping corporations.
VALENS spent the majority of 2022 Releasing singles and Filming/Releasing official videos for half of the HOLLYWOOD BURNS album. Tracks like HEART OF EVIL, RAGE, the Doom Tribute MAD VILLAIN, the #SoFlow Posse cut BORN KILLERS featuring SERUM, DU IVAN, KING TETRUS, K LEJIND, and your Truley, jumping out of my Vegina with an umbilical cord made of Bob wire. The whole is just as disgusting as this one single, and with the other singles that have gotten nothing but love globally, such as the Orion Feature NO DAYS OFF, to FREE COUNTRY, from the M.I.Yayo filmed BLUEPRINT & the South Florida Mansion Classic MIAMI ESTATE, the album feels familiar in many plaes, but the joints that have yet to be played on the Underground Mixes, the Meat of the album, displays CHOCO executing so many different styles that you never get bored or tired with his delivery. Like a CIA Trained Expert at Torture, CHOCO uses many different cadences like tools to extract the attentuion that he wants from his audience, like it or not. NO MERCY, BLOOD SPORT, and the upcoming video single 7 CHAKRAS featuring cameos from XP THE MARXMAN, DOAM PEACE, BIG TWIN, & Queens Bridge Legend, RAPPER BIG NOYD. Cant wait til that video drops from the DIRTY LENS lab. This is 14 tracks of RAGE and REVOLT agains the powers that be, and if you arent happy with how things in the country are gioing, press play and let CHOCO VALENS become your favorite unmasked Anti Hero.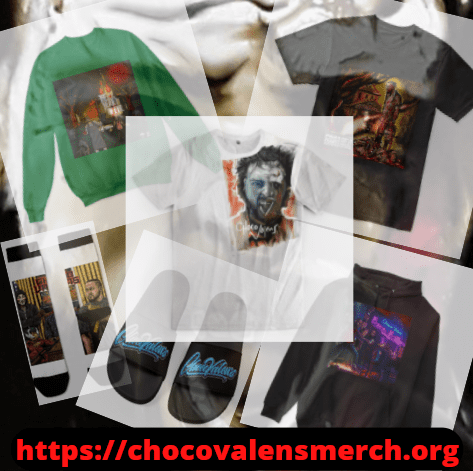 PHILL ISREAL & PRESHA – L.E.S.T.E.R. 2
Our Brothers, PRESHA & PHILL ISRAEL return with the L.E.S.T.E.R. Vol 2 LP. Representing their F.O.E. (FAMILY OVER EVERYTHING) Indipendant Imprint, PHIL & PRESHA go savage for 12 tracks of Gutter Graduate School discourse. Chicago's PHILL ISRAEL & West Palm Beaches PRESHA tell their tales of growing up with the goal of being Gangstas who had the Community's Fear and Respect and where that road led them. PRESHA is now serving his 23rd year of a 25 Year Bid. He has made the most of his time behind bars however, not surrendering to the darker tendencies that led him to a 6 x 8 Ft cell, but changing his life through faith, therapy and hard work on himself. He is now a published Author who we are lucky enough to have contribute to the WEEKENG BAG and CyphLyfe Blog on a weekly basis. His pen and production is on display on the L.E.S.T.E.R. vol 2 which was produced and recorded on a tablet in prison by PRESHA & FELONYUS MONK, a fellow inmate who is serving life in prison and produces on a tablet of his own.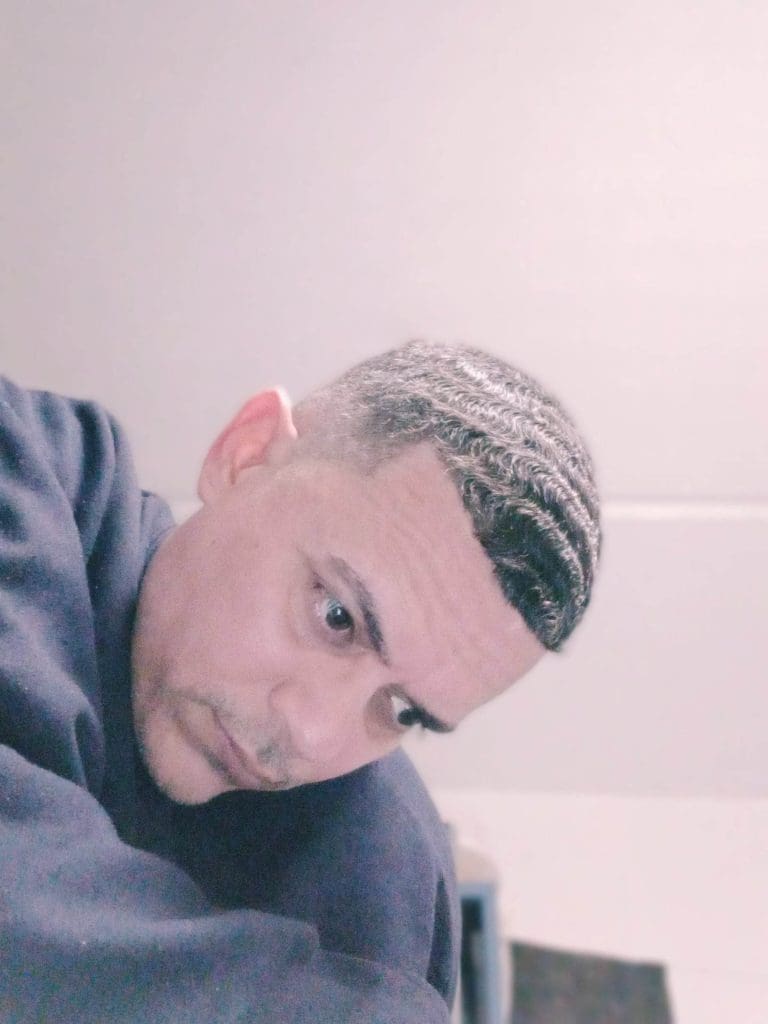 Receiving stems from his long time Friend/ Brother in Rhyme PHILL ISRAEL, the two have turned a box meant for human confinement into a vocal booth where they drop knowledge and game that could Free those who have never stepped a foot in jail. On Soulful joints like RUTH, they drop biblical coded quotes that plant seeds of faith in the soil of our hearts and mind. It's inspiring to hear PRESHA talking about serving up Filet Mignon from Ruth Chris while he is locked in an institution that at most might serve up salisbury steak and gravy, if he is lucky. He don't let the Bars keep his Bars restrained. On SHAWTY BAD he turns the Reck Room into a whole Club. These brothers can do the Radio, Street Corner, Back Alley, Strip Joint and Cypher styles with an ease and expertise thats impressive. Their verses are flawless no matter the topic (Check the Grimey NOVACAINE or the Smooth Motivator YACHT LIFE, pick your poison), and their ability to deliver a catchy hook is an instant attention grabber. They are very aware of their GIFT & CURSE and are intent on LIVING EVERY SECOND EARNING REVENUE ( Hence the L.E.S.T.E.R. achronym), how else will they enjoy the "LUXURIOUS" "OPPSHUNS" a 2nd shot at Freedom offers? L.E.S.T.E.R. Vol 2 is full of nothing but Decapitating, Head Flying Bangers, "This is DECAPI MUSIC". Don't Duck the brothers tho. The Life After Death they offer in every verse is worth the sacrifice of your old way of thinking. The irony that such messages of Freedom would come from a place that is built to take away the Freedom of convicted criminals is evidence that we can rise above the results of our bad choices and be better tomorrow than we were yesterday.
Follow the Homies PRESHA at https://www.instagram.com/still_presha/ ,
and PHILL ISRAEL at https://www.instagram.com/phill_israel_official/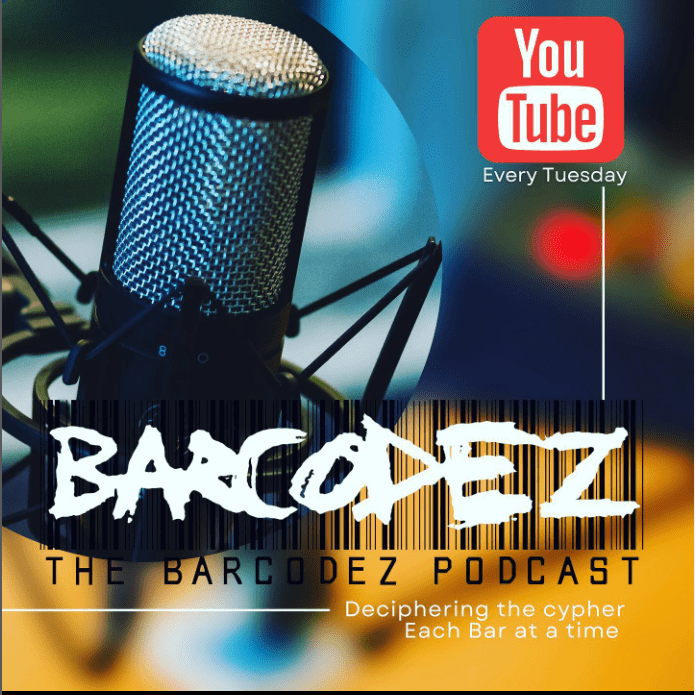 T-WREX – JOHN WICK 2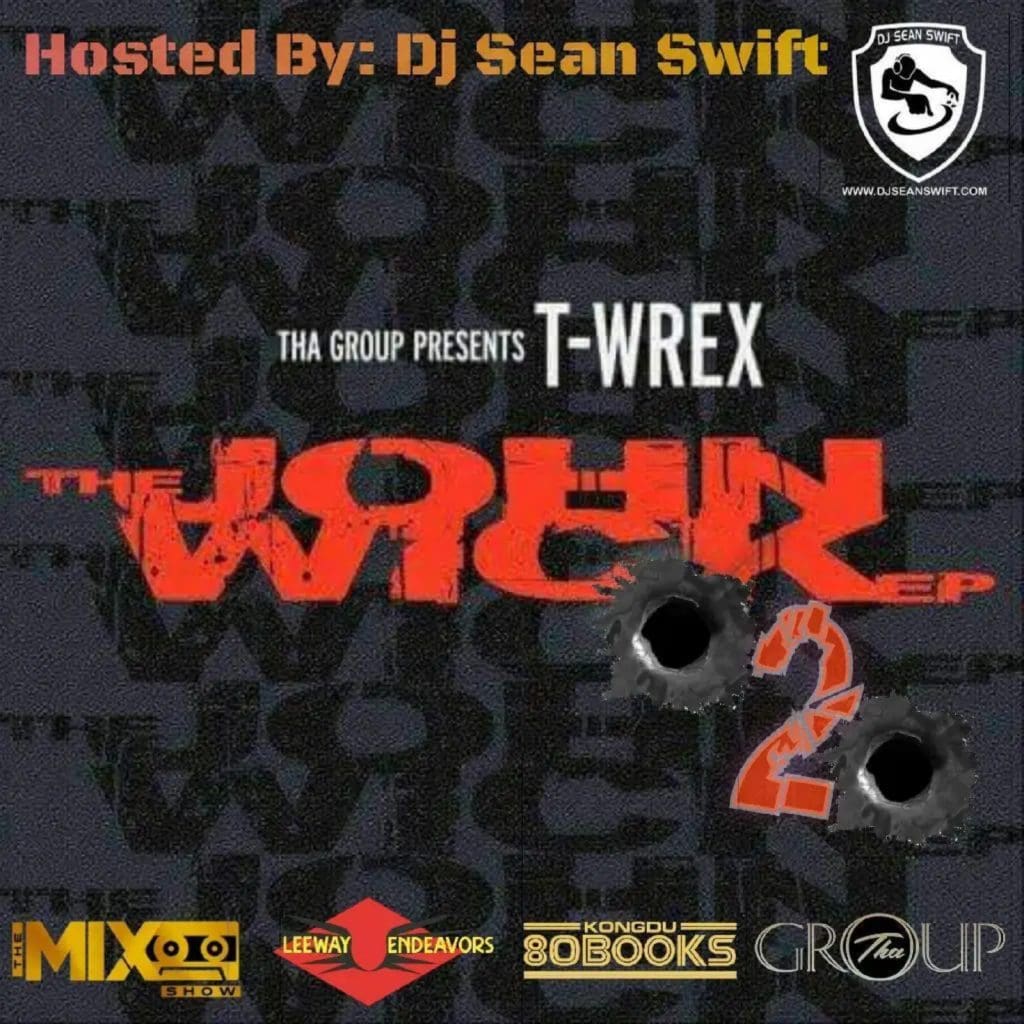 Our brother KAWON J of KAWON J MEDIA GROUP & RADIO has introduced us to a Dallas Emcee who is repping that Boom Bap to the fullest in the Lonestar State. On his 2nd short length release, THE JOHN WICK EP 2, the Dallas Hip Hop OG T-WREX shows he still has the aim of a trained assasin and the arsanel to deliver multiple kill shots. He packs 11 bullets in his JOHN WICK 2 clip and none of them are wasted as DJ SEAN SWIFT cuts between vocal glock bursts and makes the verses recochet back and forth like a trick shot. Joints like MUNDANE (anything but), and HIGH NOON EXCOMUNICADO have already gotten plenty of play on WVCC RADIO, but joints like WORK & EASY WALKING and PACK IT UP show a side of T WREX that could get the venue bouncing, while joints like THE LONE WOLF & BARWERK show this is not the dude you want to test in rhyme circle. As he says, "This is not that new new", this brother got the experience to take out a quarter of President Kennedys skull and frame Lee Harvey Aswald all in the span of 2 verses over a smooth reworking of the 70s Soul Classic "Day Yo". The bars a powerful enough to leave a hole in your head, but also potent enough to fill that hole with valuable knowledge. He walks through the crowded Hip Hop Underground with the confidence of a Made Man on BURN UNIT as he applies 3rd degree heat to the beat. Every shot is not all Bulls Eye tho, The bonus track PROCEED WITH CAUTION isnt a favorite, the vibe and audio quality arent up to par with the rest of the album, while THA SUNS OUT sounds like a reject from the G Unit Days. T-WREX has the skills to stand on his own with his own unique style, and doesnt need to cater to a generic commercial sound. Luckily the majority of the Clip are full of Hollow Tips that do enough damage to make us fans of the Dallas shooter, and leaves us looking forward to the next flim in the series.
To Stream the JOHN WICK EP 2 and get more info on Dallas Veteran Emcee T-WREX and more Indipendent Hip Hop Interviews, check out KAWON J MEDIA for the exclusive interview and more content. https://kawonjmedia.com/video-on-demand/
THE MAD TRAPPER & RUSTO REBEL – THE SOUNDTRACK VOL 2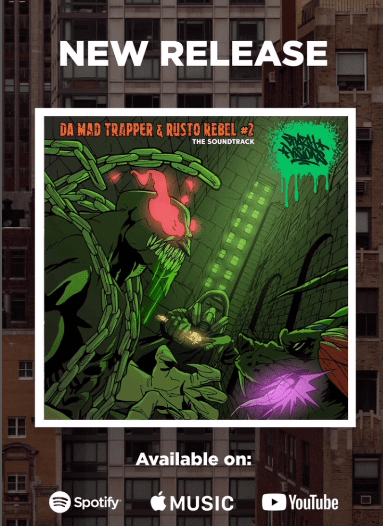 DIRTY DOE aka THE MAD TRAPPER & THE FILTH aka RUSTO REBEL are back in action ridding Miami Airwaves of the Commercial Scum that have plagued hip hop. On their latest soundtrack to the the 2nd Issue of THE MAD TRAPPER & RUSTO REBEL Graphic Novel, the 2 Graffiti and BBoy Enthusiest continue their dispersal of Zero Fucks Given Raps.
I have been working out to this album for the last 2 weeks and feel like an indiginous head hunter gladley pushing myself to the limits whenever tracks like ONLY ROOM FOR WARRIORS, & WAR READY come on. While I laugh at the two Boom Bap Vigilante curbing hoes on NO CUFFS & LONELY FANS. You can tell these dudes are true to the culture once again on joints like BANANA FAT CAPS, FUCK YOU PAY ME & REPRESENT. Even though the BPMs on the majority of the beats might be on the slower side, these dudes know how to pad the slow temp with Back Alley South Florida swag. They finally drop a higher paced break over the album closer GOTS TO BE FUNKY where they bless the bboy community with a great record for their next jam.
This album, and FILTHS & DOE's style might not be everyones cup of key, but they could care less. You are dealing with a pair of brothers who consider the defacing of your private property as Neighborhood Beautification. You will not see eye to eye with these two unless you were raised in the trenches of the Hip Hop Underground, but you will see them every where you look in the city of KENDALL as they leave their mark where ever an empty space on a wall may call their name.
You can place an order for your copy of the limited edition DA MAD TRAPPER & RUSTO REBEL Vol 2 at CRAZY VISION COMICS And follow M.I.Yayo Radio for the best & latest in South Forida and Nation Wide Hip Hop.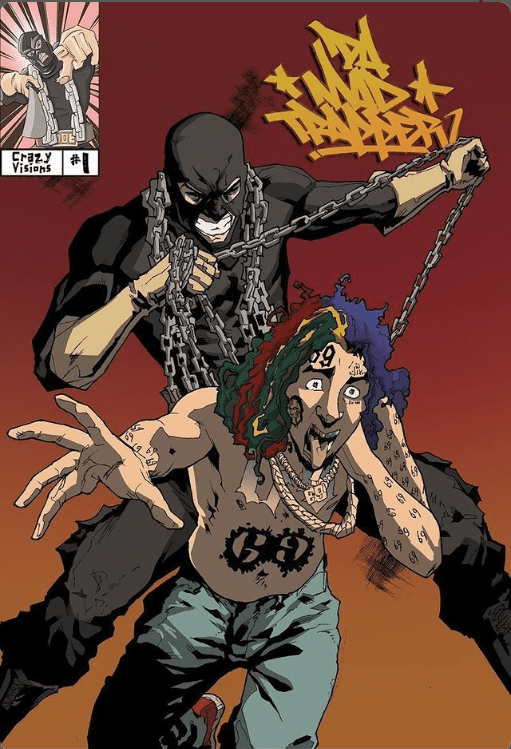 TGYE – MELLOCHROMATIC
Welcome to the future as presented by North Carolina New Wave Surfer TGYE. On his 1st EP, MELLOCHROMATIC the young vibe creator gives his audience music to get lit to. This is high energy music with heavy production. Being that I am of older generation, I wanted to get my StepSon's opinion on TGYE's new 6 track offering. After a week of digesting the album with his girlfriend, my Steps who is a huge Tylor the Creator, XXX Tentacion, and Travis Scott fan came back with the following critique.
"The album is a good listen. The production definitly sets the vibe and takes you places. This is music to Work Out to, Jump Around in a mosh pit to, and chase the bag to. The show is stollen on the project by the production tho, as most of the beats drown out TGYE's over AutoTuned vocals. The amount of effects on his voice make it difficult to keep up with what he is saying many times, and he opps for short verses with long repetitive hooks, basic mumble rap recipe. Tracks like FLY HIGH show TGYE is definetely influenced by the likes of TRAVIS SCOTT, while my girls favorite track, SELF DESTRUCTIONS gets us reminiscing on XXX (RIP). KYOT BEATS & ITWASASHY handle the productions and make the album sound like tunes bumping out of the subwoofers on a UFO. They definitely create a vibe, but the engineering of TGYE's voice could use some tightening up. I understand AutoTune is common on the radio now, but this is just over doing it. I'm sure TGYE got something to say that doesnt need all the extra special effects to get the point across. " – Kyle Chatel
I'm proud of my StepSons first review, and I am proud of the young North Carolina rapper TGYE dropping an album that sounds officially like something I hear bumping out of my Stepsons room every day. After playing the album several times while at the gym, I can agree with what Kyle wrote, If a 19 year old says you are using too much autotune, trust him. However the beats are full and beautifully produced, and TGYE finds melodies and cadences that hug each of the 6 tracks uniquelly. He is connected with OG's in the North Carolina Hip Hop scene like WVCC Radio Family KIL RIPKIN, JAH FREEDOM, and THE NATIVES. Moving in a circle like this, I dont doubt that his rough edges will be polished to the point where his Unique Voice and Personal Story stands out amonst the great production.
MICKEY DIAMOND – OROKU SAKI EP
2021/22 Rookie of the Year MICKEY DIAMOND is "back with the ooze feeling extra strong", while "Keeping 1 Eye Open like the Terrordome" on a TMNT themed concept album produced by RAL DUKE. Full of genius Ninja Turtle Referrences, MICKEY DIAMOND further solidifies his name in the Masked Villains Catagory which several have taken on in honor of the late MF DOOM. On 10 tracks, DIAMOND takes you back in time to the era of Saturday Morning Cartoons, & Afterschool Animation Marathons while eaiting a Slurpee cup full of cerial. Favorites so far are CHROME DOME, WOW!, MULTIVERSE, THE FOOT, & SHREDDER VS CASEY JONES, the lead single featuring MONDO SLADE & SWAB. The UMBRELLA Clan Representitive has been making himself one of the must check names in the underground over the past 2 years, and if he keeps up the level of output he maintained in 2022, MICKEY DIAMOND will be one of your favorite Masked Villains by the time 2023 is over.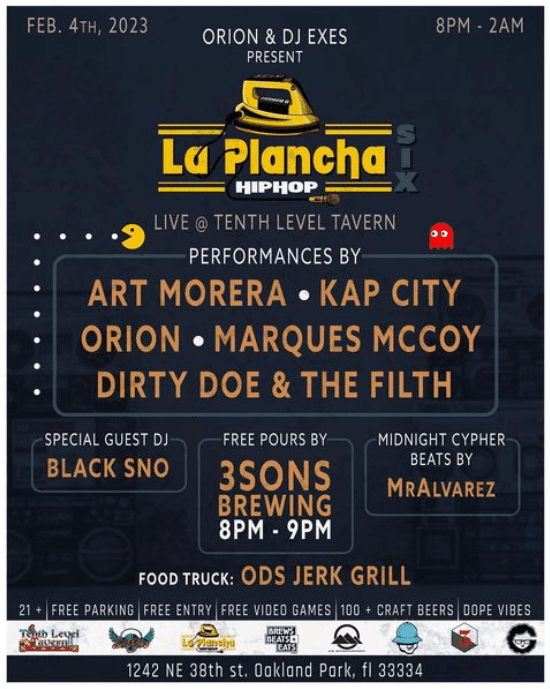 #CyphLyfe #SingleFiles
SHOTTIE x TEV95 – TACO TUESDAY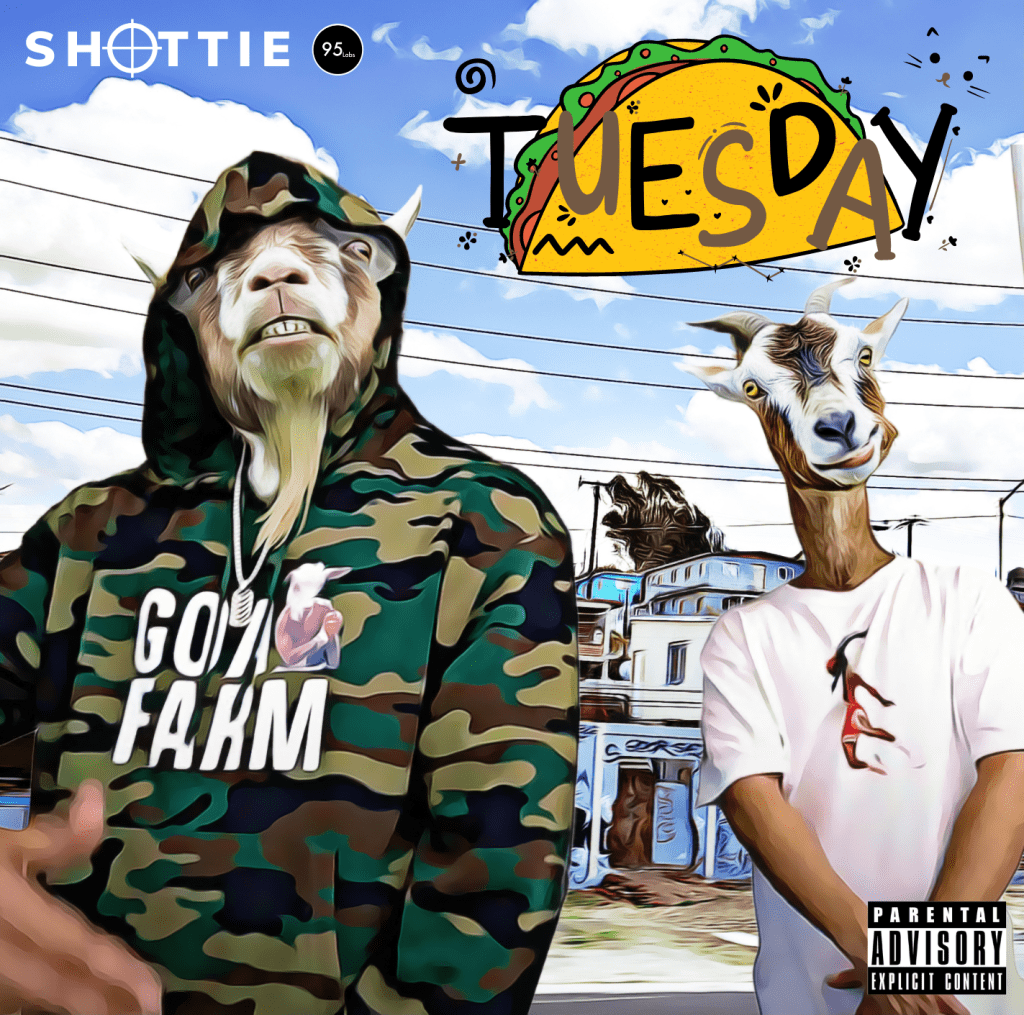 The latest single off of the New "Goat Farm" LP by the Miami Emcee & Producer Duo – Shottie x Tev95. This is a great track to serve up to either Friend or Foe, on Taco Tuesdays or any other day of the week. No Hot Sauce needed. This one is blazing hot as is.
The Official Visuals below show the "GOATS", SHOTTIE & TEV at work on the GOAT FARM with Miami Legand & GOAT COACH SIC VICK swinging the double machete. There is no stop to the GOAT Campaign as SHOTTIE & TEV just finished filming a vidoe for the next sinlge today, and trust me, it is a movie. Be on the look out for the visuals for "MY PLUG" off of the GOAT FARM Album, and make sure you get your copy and some merch at SHOTTIEMUSIC.COM or 95Labs.com . Now come get these shells.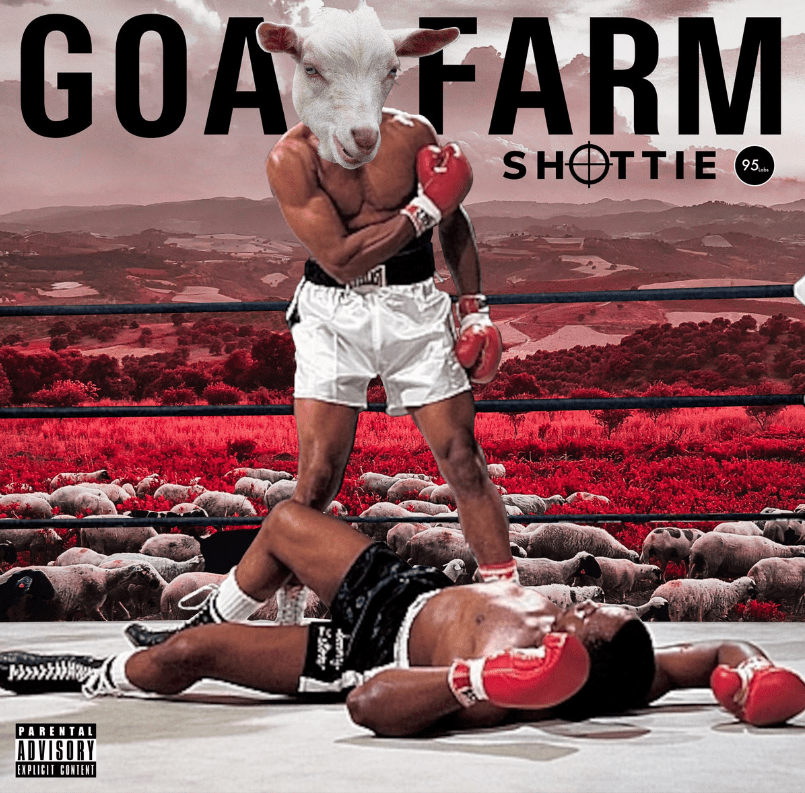 SHAW CALHOUNE – A HOUSE SPARROW'S FEATHERS
This joint has been on Heavy Rotation on WVCC RADIO for the past 2 weeks. Maryland Emcee SHAW CALHOUNE has been blessing us with heat for the past 2 years, but kicks off 2023 with an inspiring gem named A HOUSE SPARROW'S FEATHERS, which has bumped him up several notches on our radar. The smooth production by FOUR LIMBS makes this a perfect bop to play while your up late night, or at the first sign of day light. I have personally spun the record on both our Tues and Thurs Night and Wed & Friday Morning shows for the past 2 weeks and it always yeilds high praise from the Audience. I've even had DJs in my DMs asking me to forward them the MP3. Thats the sign of a good record. Its not only the jazzy instrumental but the verses SHAW and Guest Emcee BARRY MARZ lay over the track are highly relatable. The two go down a checklist of Goals/Dreams that they are breaking their backs to achieve, well aware that their desired futures will only become reality if they put in the hard work in the present. There are dues to pay before they can finally purchase their Moms the home "with the balcony and basement" and before they garner "enough awards to cover the wall", but the last few years have shown us that SHAW CALHOUNE has the talent and work ehtic it takes to make his dreams come true. As the 1st Single off of his upcoming full length "FLY LANGSTON", slated to drop later this month on BIG ELEANOR RECORDS, A HOUSE SPARROWS FEATHERS is a great appetite opener, and has looking forward to the rest of the album.
You can learn more about the album set to drop this coming weekend when we interview SHAW CALHOUNE this coming Thursday 1/19 to talk about his come up in the Hip Hop Game, and upcoming album FLY LANGSTON at 9pm on WVCC RADIO on Twitch.tv.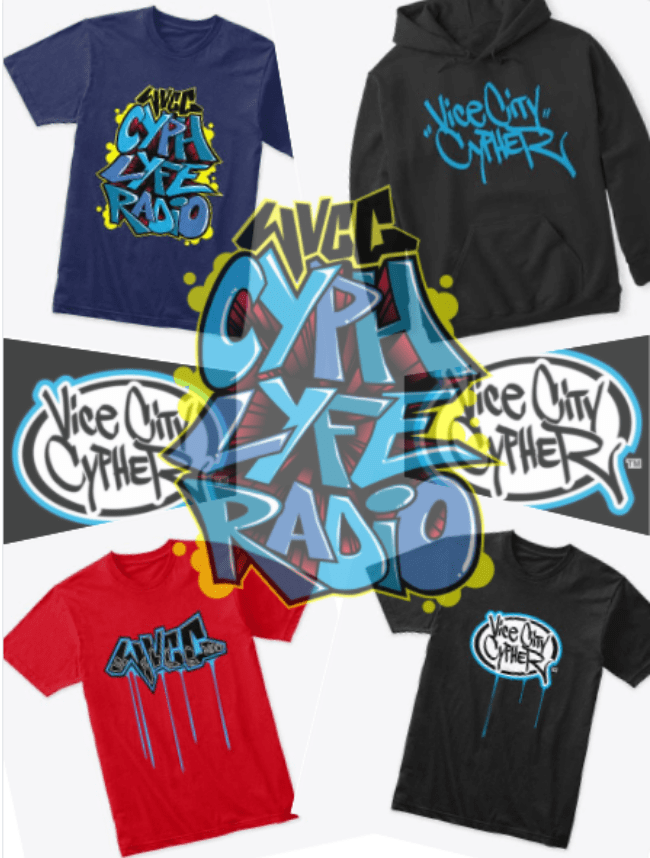 THOUGHT PROVOKAH – EAT TAPES
Allow me to introduce you to the latest addition to the PROFRESH Arist Roster, 845 NY Emcee, Thought Provokah. This brother spent 2022 growing his fanbase organically as he released 5 solid projects which displayed not only his work ethic and passion for the craft but also his ability to put out complete bodies of work with a wide range of topics and styles. On his latest release, "I Let My Top Rock Til My Tape Pop", Thought Provokah takes you on his journey from a Child raised on Hip Hop, to a Teen practicing Hip Hop, to an Adult releasing Quality Hip Hop for other fans to enjoy. On his 1st single release, "Eat Tapes", Provokah takes us all down memory lane to a time when rhymes were literally worth rewinding. We have only been pushing the single for a couple of days and it has already gotten some great press on Doombox.com, received rave reviews from the UK's LONDON'S GRIMIEST podcast, and the SUNDAY NIGHT GRIND, GRIND MODE CYPHERS Sundy Night Review show. We are sure you will enjoy it as much as these Hip Hop curators have.
Enjoy "I Let My Tape Rock Til My Tape Pop" on Bandcamp or on your favorite Streaming Site below.
IG – @thought.ems88
https://thoughtprovokah.bandcamp.com/album/i-let-my-tape-rock-til-my-tape-pop
https://tidal.com/album/270240112
https://music.apple.com/us/album/i-let-my-tape-rock-til-my-tape-pop/
PASSPORT SCOOB – BREATH
Fayetteville  Street Spitter PASSPORT SCOOB has stayed active since last we spoke. On the cusp of dropping his new ADWERDZ album, he drops his latest single BREATHE, produced 4ORD which shows just why SCOOBs name has been getting recognized from Brooklyn to North Carolina. The production gives PASSPORT SCOOB the perfect rough head nodder to spit his Corner Huslter over, as well as invite TSUNAMI EAST to join him on the plug corner where they are serving nothing Breath Stopping Hip Hop.
Be on the look out for SCOOB's weekly drops every Sunday as he drops a new single a week on his ""Passport Scoob Sundays" series. Join us as we talk with PASSPORT SCOOB in the near future about his new album ADWERDZ, weekly series and his plans to grow his brand in 2023.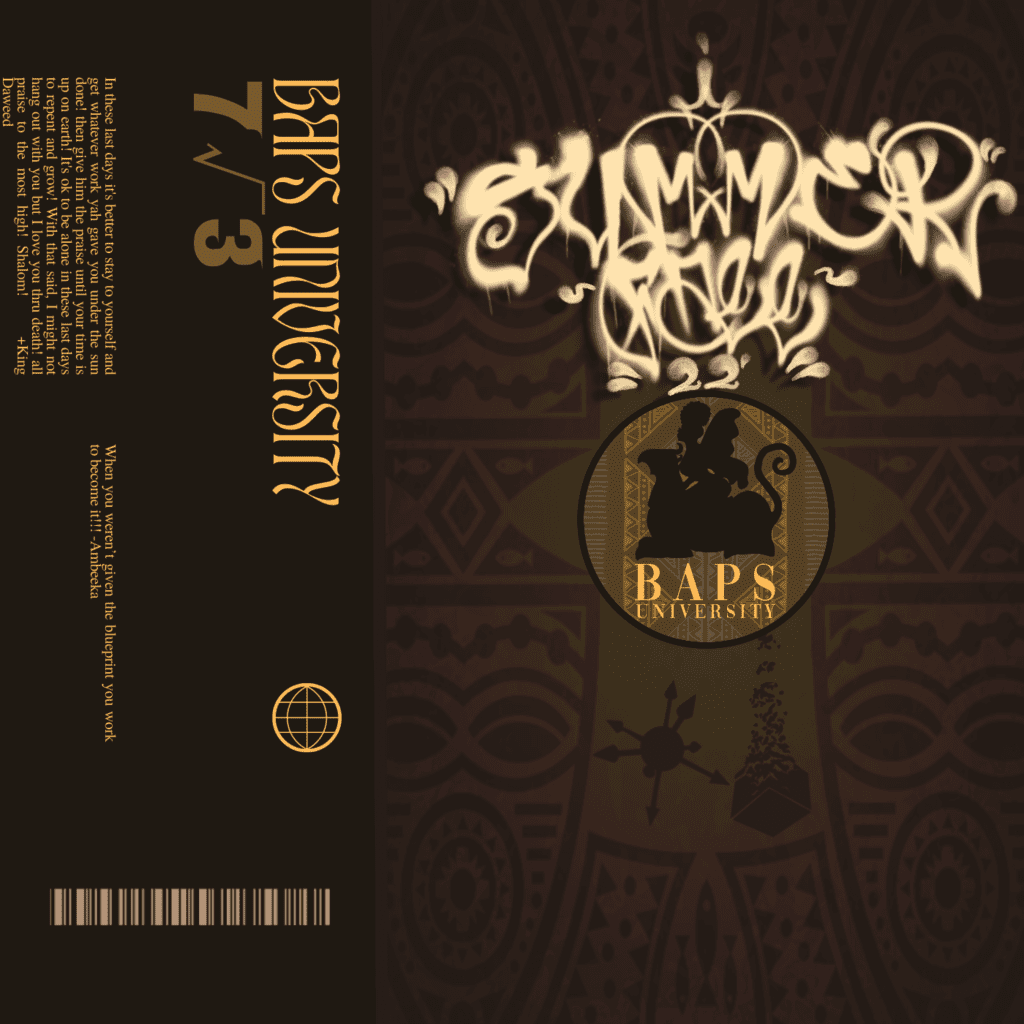 BROOT MCCOY – EXTRA INVENTORY
After grinding out his 20's into his 30's, pursuing Hip Hop Stardum or Underground Recognition, West Palm Beaches BROOTY MCCOY finds a reserve of perserverance and feeds you the EXTRA INVENTORY. He's got so much potential in story that he "Never Sells Out", Never has, never will. This might lead to moments of depression and/or self doubtk but he just keeps pushing forward, putting the EXTRA INVENTORY he has stored in his soul on display on the shelf of his social media pages and streaming sites. Hoping that he will garner enough views and organic followers to get him to that next level which he has been working towards for so long.
Follow BROOT MCCOY on IG @brootmccoy and make sure to catch him opening for HOMEBOY SANDMAN & ETURN at the West Palm Beach Stop of their Florida Tour.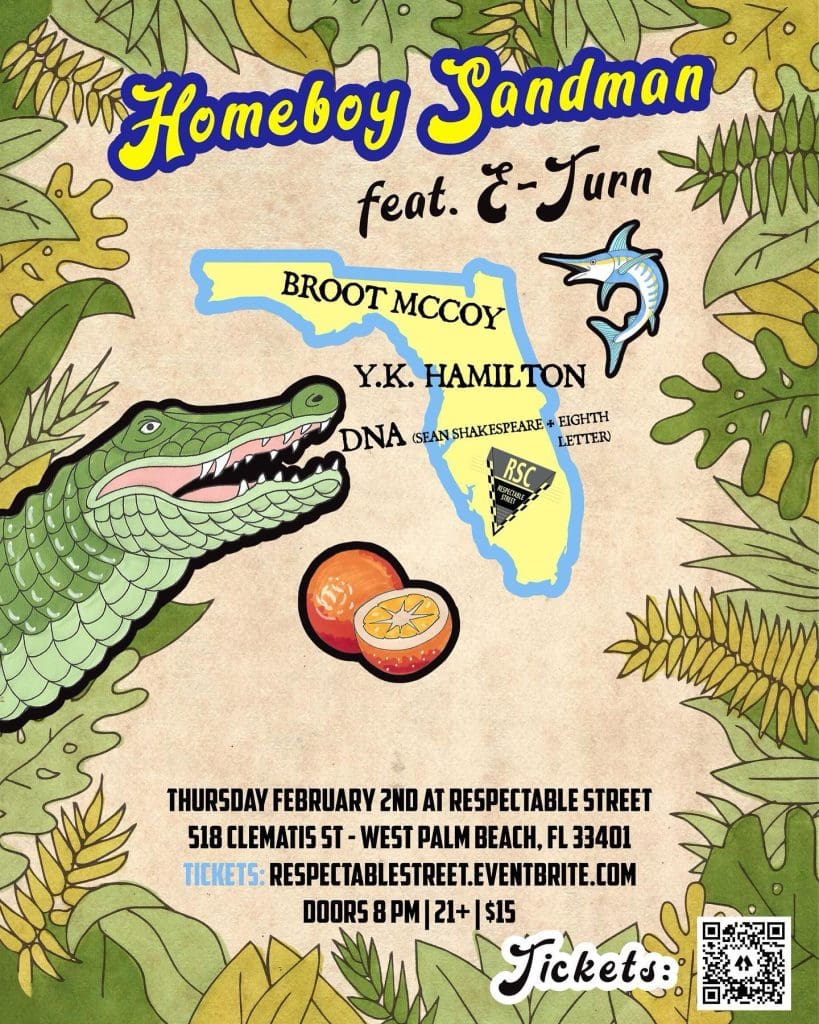 YK HAMILTON – JERRY GARCIA VEGA
Ironically, you can also catch Broward/ WPB Veteran Gold Grill BBoy Y.K. HAMILTON at that same West Palm Beach stop of the HOMEBOY SAND & E-TURN Tour, as well as down in Miami when WVCC RADIO hosts the FLORIDA EXPIDITION TOUR at LINCOLN BEARDS BREWING COMPANY. We are dying to see him perform his latest single JERRY GARCIA VEGA plus the rest of his TRICK DADDY KANE Classic Material. If you have not seen Y.K. HAMILTON, formerly known as JABBA JAWS live, you are in for a hell of a surprise. As long as you cop your tickets to the show and come show South Florida Hip Hop Unity as we welcome two of the best in the Underground/Indie Market. Make sure you are in the building for at least one of these shows, since both of the headliners put on a set not to be missed, and the openers we have in store for you in Miami are Legends in the Making. Flyer below provides all the deeets, plus the link to purchase Presale Tickets so that your favorite Opening Local Artist can get paid. Just mention their name when you purchase the ticket via cashapp.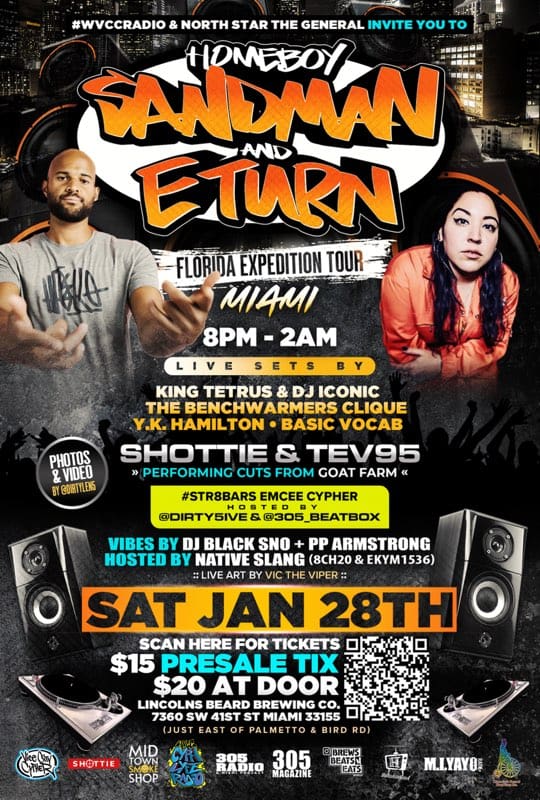 #BottomOfTheBag #MustHearMixes
DJ GLIBSTYLES – UNDERGROUND BANGERS VOL 52
You already know we gotta close out the bag with the latest mix from our General, DJ GLIBSTYLEZ. Another great mix you can find on Mixcloud. We suggest you hit that subscribe button in the link above. His weekly mixes are some of the best in the Underground Right now.