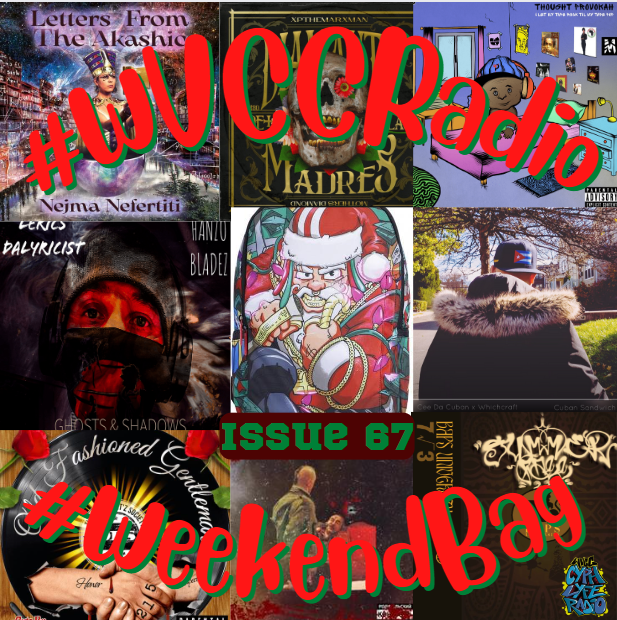 Your plug for New Indie Hip Hop News and Reviews.
Happy End of 2022 Fellow 88ers. What a year it has been for Hip Hop, The #SoFlowScene, and the #WVCCRadioFamily. We hope you enjoyed a peaceful or party-filled Christmas Weekend, and we wish you a safe last week of the year, as we all get ready to usher in 2023. We once again thank all of you who have Tuned In to WVCC RADIO on Twitch throughout the year, Read one of our Review Articles on the CyphLyfe Blog, or sponsored any of our platforms financially, making it possible for us to continually bring you the best in Indie Hip Hop, Music, News, Interviews and Reviews. To everyone I personally built with on Music this year, DJ GLIBSTYLEZ, EKYM1536, DJ PROOF, ROB GONZALES, WHICHCRAFT, TALI RODRIGUEZ, MIC MOUNTAIN, B DOPE, NORTH STAR DA GENERAL, ORION, BELEAF, SHOTTIE, MONEY MOGLY, VIE ONIERO, KING TETRUS, PRINCE DIVINE, HOMEBOY SANDMAN, JROOTS, THE BENCHWARMERS CLIQUE, JOTA 5INCO, JFLIZ, P-RO, G FAM BLACK, WEAPON ESP, GHOST OF THE MACHINE, and anyone else who I may have recorded or released a record with that I may have forgotten. Thank you for pushing me to keep my pen sharp. I vowed to myself never to get overshadowed on a Feature, and you all made me work hard to keep that promise. I deeply appreciate the many Up and Coming and Established Indie artists who gave us the opportunity to Interview you on WVCC RADIO in 2022 and came out to rock with us at WVCC HOUSE PARTY in Miami (XP THE MARXMAN, DOAMPEACE, DJ FM_LA, KIL RIPKIN, JAH FREEDOM, THE NATIVES, MANDELA ESKIA) We look forward to bringing our audience a New Year full of exclusives, interviews and Live Shows, beginning with the HOMEBOY SANDMAN & E-TURN Show at LINCOLNS BEARD BREWING CO on Jan 28th. Make sure you get your Presale Ticket through the link under the flyer below. And Nowwwwww….The END OF THE YEAR BAG!!!!.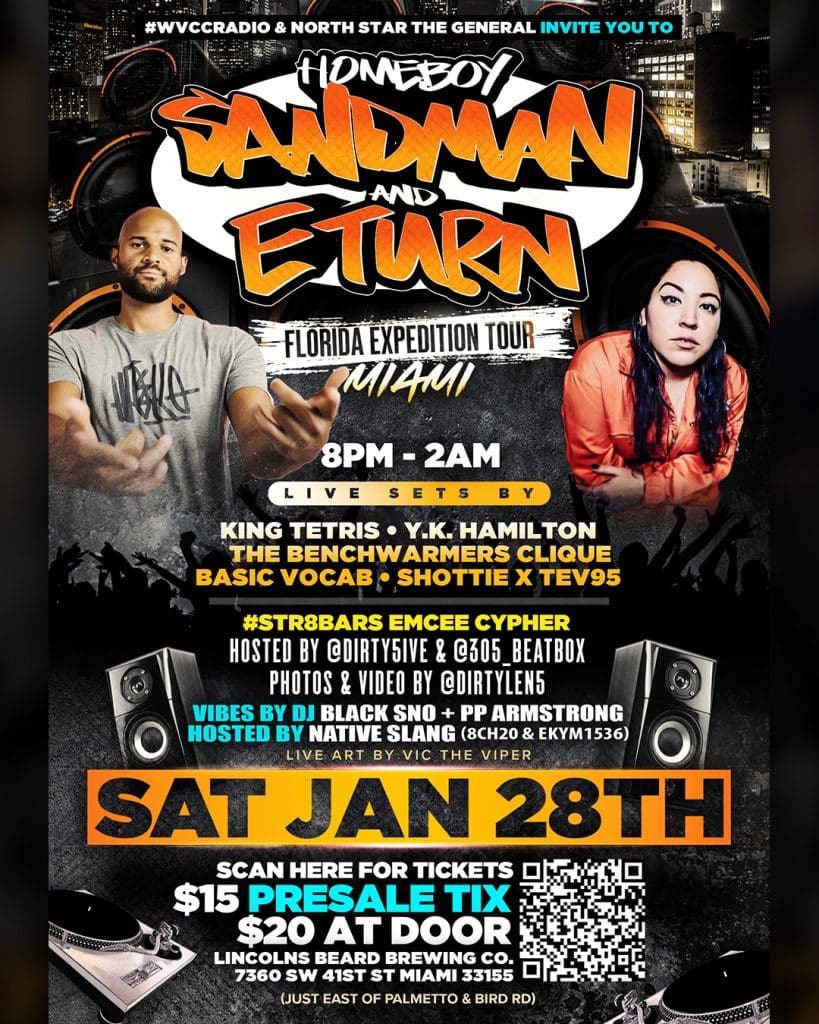 XP THE MARXMAN – DIAMANTE DE LAS MADRES (MOTHERS DIAMOND)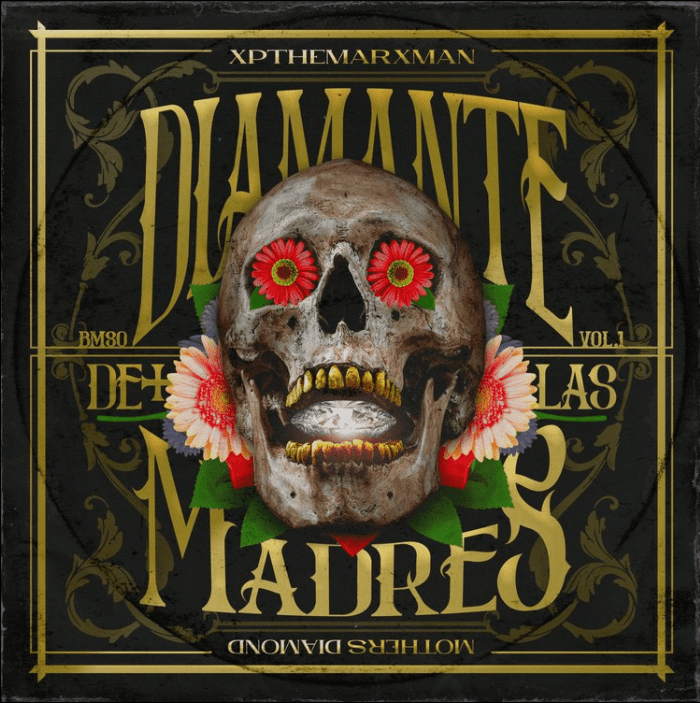 The Big Mijo from the barrios of Los Angeles Ca. has wrapped up some audio bling for his followers this Holiday Season. Dedicated to the memory of his Mother who graduated to her Heavenly Wings last year, "DIAMANTE DE LAS MADRES" is the latest release from XP THE MARXMAN, who is quickly becoming known as the Hardest Hustling Indie Emcee from the City of Angels. Let him tell it though, and he will humbly give all the credit to his Ma, who raised him to work hard, believe in himself, and never take no for an answer. Now, from her new location in the Ether, she looks down on her son with Pride as he busts his ass every day to get a step closer to his dreams, and opens the right doors for him, while simultaneously closing the wrong ones. It's no wonder he's got Pro Shooters FLEE LORD (DELGADO MEETS THE BIG MIJO), and BUB STYLEZ (BIRRIA PIZZA) on the album, along with some banging production by TONE BEATZ, EsEyEl, WUILLdaFRIQQ, CURRISTER, SLIDE BEATZ, JON GLASS, WILLIAM BOSTIK, and the Legend DJ RHETTMATIC. Nothing but Hard Hitters from track 1 to 11 that Queen BeatleBug would have certainly bobbed her head to while wearing a "thats my son right there" look on her face. Momma's Little Diamond is Shinning Big Big nowadays, but only because he is reflecting the light that his Mom shined on him, even when they were in the Darkest of Places.
DIAMANTE DE LA MADRE is meant to be Vol 1 of a 2 Volume Dedication to XP's Mother, with Vol 2 set to drop soon. In all honesty tho, everything THE MARXMAN has dropped and done in 2022 has been dedicated to his Mother, and she seems to be blessing everything he places at her alter in honor and gratitude.
You can get your copy of the New DIAMANTE DE LA MADRE exclusively on XP THE MARXMANS Website, XPTHEMARXMAN.COM , directly from the artist. Show the MIJO some support and pick a copy along with some Merch. Trust me, this is a brand you are going to want to rep in 2023.
---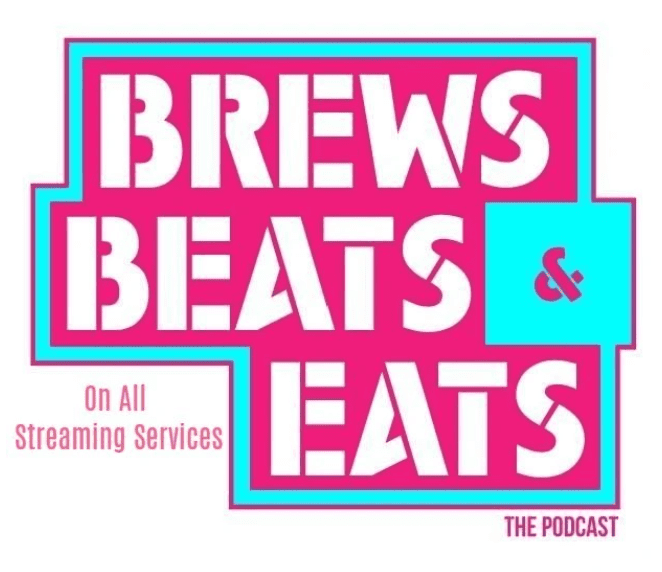 ---
THOUGHT PROVOKAH – I LET MY TAPE ROCK TIL MY TAPE POPPED.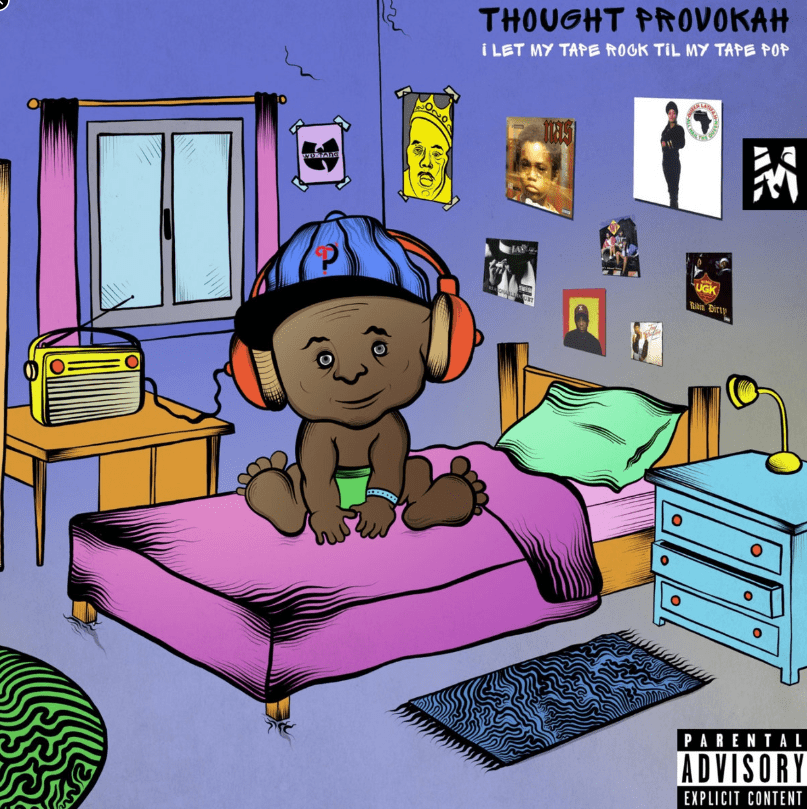 One of our favorite artists to cover in 2022 has been Port Jervis, NY's THOUGHT PROVOKAH. Since first hearing him on 2021's introspective LOSE OR GAIN OUR SOULS, I was automatically gripped by his flow, word-connecting cadence, and Jazzy Boom Bap beat selection. In this new era of 80 to 90 bpm, Drumless Beat parades, PROVOKAH seems to have a knack for picking the perfect beats to give you that sense of Hip Hop Nostalgia and seems to know just the right producers to deliver it. Nowhere is this more evident than on his 5th release of '22, I LET ME TAPE ROCK TIL MY TAPE POPPED.
I'm caught by surprise as I press play on the album opener, and am greeted by the familiar voices of BoomBap Soul Keeper, The General, DJ GLIBSTYLEZ; "LET'S GET ACTIVATED" Podcast Host SAMANTHA LABELLE; and a drop that I hardly remember leaving on THOUGHT PROVOKAH's DM. I then follow the instructions of brother INSIGHT and let the album play all the way through, in hopes of protecting THOUGHT PROVOKAHS "Fragil Ego", and so I'm not caught lacking when INSIGHT circles back around the block. Nah, real talk, I couldn't press stop if I wanted to. I also couldn't let the album ride all the way to the end without multiple replays of various songs on the album, like the highly addictive, DARE KIDS & FAIRY TALES feat BENJI. The IMMORTAL BUDDAH production on FAIRY TALES had me replaying the track 3 times before I was able to move on to the next track. Joints like BOY MEETS WORLD take you back to watching ABC NIGHT OF LAUGHS Sitcoms or listening to your favorite tapes from Columbia House 12 Tapes for $1 Deal. This whole album seems to take the listener on a journey through THOUGHT PROVOKAHS evolution as a young brother growing up in Southern New York State. His Parents, Radio, Walk Man, and Television taught life lessons before he jumped off the porch. His Peers, Ops, Teachers, Pastors, and hard breaks have continued teaching him since he set off on his journey passed his front door. He compiles those lessons in excellent vocabulary threads over some banging production from a legion of dope bap contributors )DUMB-O, EMANI, B1ANKTHOUGHT, PURE FACT, IMMORTAL BUDDAH, GANESBORO, BERNELL WHITAKER, MAGNUM, MEKARI, & JR SWIFT). These producers lay down vibes reminiscent of classic ATCQ (Just listen to the Bassline on YOOOO), Gangstarr, Pete Rock, DITC, and others that made the Hip Hop Genre the leading musical genre of the last 3 decades. THOUGHT makes perfect use of the stellar productions and weaves relatable tales, first about his favorite Cartoons, TV Shows, Rappers, and Albums, the practicality of his Elementary School Dare Program, His passion and obsession for rhyme writing, then later on the album tackling the topics that he has been dealing with as an Adult; Sensless Debates with "The Woke", the prejudice of Ageism, Pushing his brand in an era where Influencers are more famous than Musicians and Keeping his Faith in an age where its more popular to believe in yourself than a higher power (GLORY 2 is late on the album, but definitely one of the best songs on an album with not many skippable tracks if any.) The homie INSIGHT adds some great comical skits to keep the 21 track album flowing smoothly, but it's THOUGHT PROVOKAH's Bars and Cadence Crochetting that keeps you hooked til the end.
Ironically, he titles the last song on the album, THEY DON'T LISTEN LONG ENOUGH. A satirical jab at the shrinking attention span of the modern music audience who are much more accustomed to short Tik Tok Loops and EP sized albums, than the full-length project THOUGHT gifted us in the last week of 2022. He expressed to me that he started the year with the goal of dropping 5 Projects this year. He hit that nail on the head, and the 5th one is big enough to fit 3 Projects into. It is also the best work I have heard from PROVOKAH since I began following him as an Indie Hip Hop Curator and Fan. If he made the album a little longer than you are used to, it is only because he believes in your capability to grasp the entirety of the album, He believes God has made it possible and has a purpose for you to hear the words he is sharing, and he believes in his skills to keep you entertained from beginning to tend. I late this tape rock until Bandcamp told me I was done with my Free Listens, and then I purchased to support the Artist. I encourage you to do the same.
Follow THOUGHT PROVOKAH, and get your copy of I LET MY TAPE ROCK TIL at Bandcamp.
---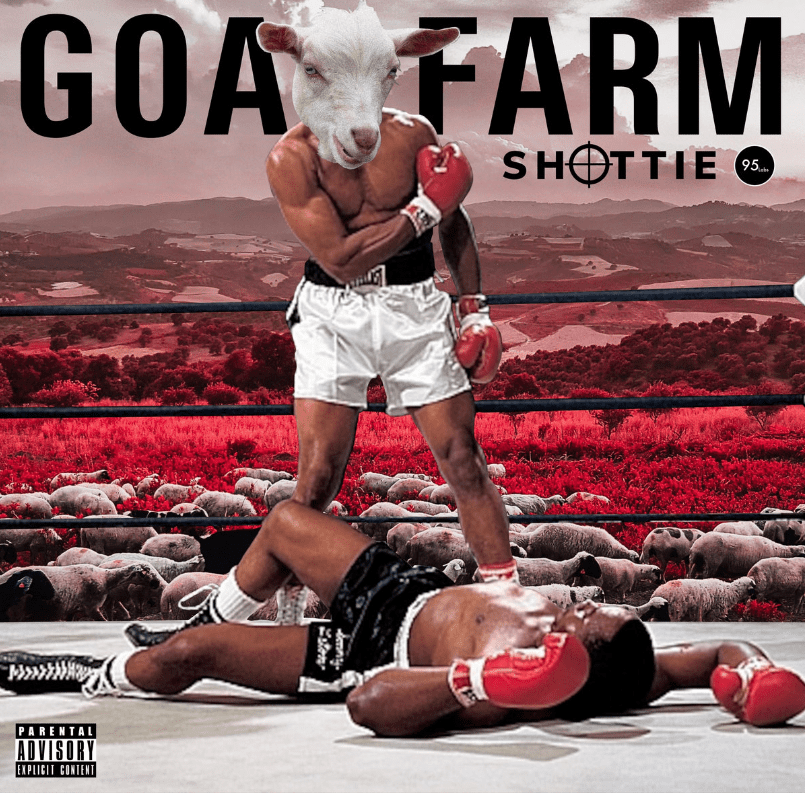 ---
NEJMA NEFERTITI – LETTERS FROM THE AKASHIC
Sit down for a spiritual therapy session with Brooklyn's NEJMA NEFERTITI on her final full length album of 2022, "LETTERS FROM THE AKASHIC". Over the cultured, well-traveled production and sound engineering of Harlem's BIG FRENCH, Sorceress NEJMA breaks down the Past, Present and Future of Hip Hop's Soul Journey, and her role and purpose within it. "Chef Nef" as she dubs herself on the neck breaking, Earth quaking "CHOPPED CHEESE", cooks up a feast that "nearly burns the kitchen down" with the assistance of Sous Sound Chef BIG FRENCH, and invites her audience to "Go load up a plate/ We'll even put on your favorite song, you gonna love the taste/" on the album opener MARCIPONE. She rides upon FRENCHIE's middle eastern percussions with the authority of an Arabian Princess being carried across a desert via Camel Caravan on THE MARATHON. On MUD PIES they make "a monster" straight out of soaked soil on one of our Favorite tracks of the LFTA project, as NEJMA blacks out over the spacey synths and indigenous drums. The jazzy soundscape of BLACK TEA gives NEJ NEF and songbird DAPHYA a wonderful score for their words to tap dance on. Long Time Mentor and Partner in Rhyme NAPOLEON DA LEGEND plays the part of NEFERTITI'S romantic interest over French spoken hook of the groovy head nodder "JOSEPHINE" (Another WVCC Favorite). Queen NEJMA drops wisdom and knowledge regarding the Secret Wars being waged on us by way of our "FDA Approved" Nourishment on EAT NOW PAY LATER, and serves her foes that Hot Block Talk on CHOPPED CHEESE. On ALLAH ALLAH, Soul Sisters NEJMA and MAKEBA MOONCYCLE raise our energy vibrations to the higher echelons as they stand firm in their spiritual roots and proclaim, "You can take what you want, but you can't take my heart/ You can take what you want/ But you can't take my love/". The passion these ladies put behind this song and the truth they deliver make ALLAH ALLAH one of the highlights of the album. The BIG FRENCH production on this joint is huge, sounding like a Stadium Anthem. This gives way to BANANA SPLIT, where NEJMA flexes her Divine Feminine as she struts onto the track comparing herself to "La Madrina" Griselda Blanco and Stephanie St.Clare, and delivers a 2nd verse that proves she is cut from that "Boss Cloth". Dr. NEFERTITI & BIG FRENCH close out the 10 track insta-classic with a dedication to the Midnight Mistress, La Luna, Ms. Moon, who hovers over Brooklyn, pulling NEJMA like the Tide, looking over her as she battles on Street Corners to prove to foes that "her Flows are Bigger", and walks by her side, keeping an eye on the young Queen as she walks the dark alleys of New York, this Crooked Country, and the spiritual realm. LETTERS FROM THE AKASHIC borrows its title from the AKASHIC RECORDS. A Theosophy (Theological Philosophy) theorizing that in the highest level of Energy Vibration is stored a full "Energetic Library" which "contains the details of your soul and its journey. They span through past lives, present incarnations, and future possibilities. It is multi-purpose. It can provide understanding or guidance. which can be really healing, but ultimately it elevates [someone's] vibration to a point and to a place where they can reconnect with their soul-level truth." – Carleigh Ferrante . After several years of watching NEJMA NEFERTITI grow in her role as a strong voice in Indie Hip Hop and as a Female Leader in the Global Underground Community, I am inspired to see her moving in her "Soul Level Truth" and delivering such an amazing album. My personal opinion is that this is her best, most complete work to date, my favorite from her so far. `Her chemistry with BIG FRENCH is top tier, and I look forward to hearing more from Soulstress NEFERTITI in the future.
Check out all the gifts NEJMA NEFERTITI has to offer at https://linktr.ee/nejmanefertiti
BAPS UNIVERSITY (SIR7000 x AMBEEKA) – SUMMER FALL 2022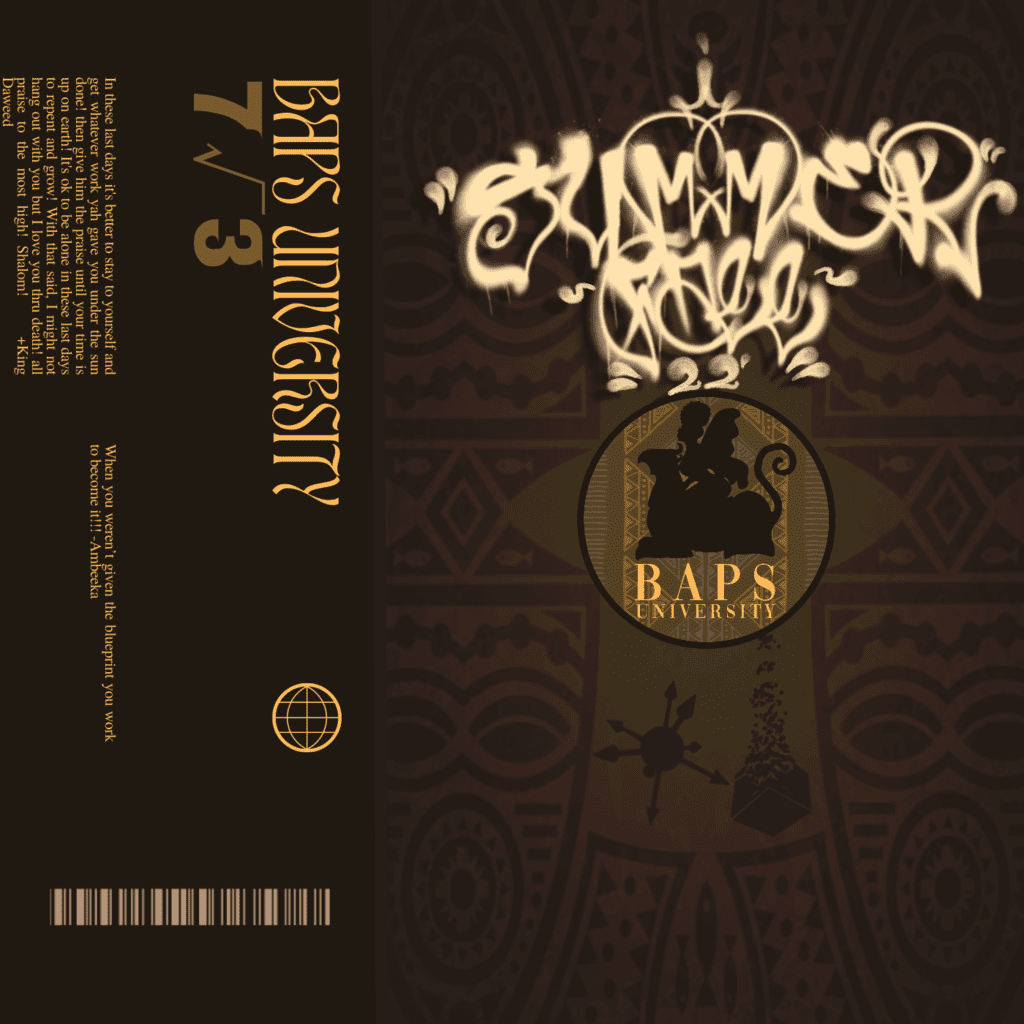 Back from his West Coast expansion, where he grew his brand and fan base; established his Crew and Foundation, BAPS UNIVERSITY; and met his Partner In Music and Life, AMBEEKA; West Palm Beach's SIR 7000 returns to the Tri-County Area with Wifey and New Born in tow, to end 2022 strong. With the release of his latest full-length, SUMMERFALL 2022, SIR 7000 makes it clear that he never forgot his home base, delivering an album that sounds as Southern Florida as it comes.
On this Freezing Christmas Weekend, the Husband and Wife duo known as BAPS UNIVERSITY gifted us with an album hot enough to keep us warm while the rest of Miami, Broward, and WPB layered up like Eskimos. Maybe its the "WWW (Woman, Weed, and Weather)" that is woven in the very fabric of the album, Or the Soul that AMBEEKA puts into every song she anchors, (Check RUM CHATTA, BEEK FREESTYLE, ONE WISH, and the Luther Vandross "Come On Over to My Place" inspired YKYK), or maybe its the fire features that spice up the album (KING DAWEED, KYLO YEN, RO'SAY ROSELEEO, REN, IAN J, GLAMDIVA, J.C. OWENZ, YANI K, and the voices who make up the wonderful chorus in the heart moving Album opener and Closer WHEN I THINK ABOUT IT.) Whatever it might be, SUMMERFALL 2022 brings the perfect balance to this frigid winter weather, like a thermos of hot cocoa, meant to be sipped slowly and enjoyed thoroughly. SIR & AMBEEKA understand exactly what the streets are used to hearing, what they like to hear, and what they NEED to Hear. Their mastery at delivering all 3 in a perfect Musical Package is what got BAPS UNIVERSITY their recognition out in California, and what they bring back with them to South Florida. SIR 7000 has been a beast with the pen and hood wisdom, writing and delivering rhymes with the same charisma and confidence that he displays on the lead single I, KYRIE since back when our brother BROOT MCCOY aka CROOSH put us unto him back in the 20Teens before his move out west. But now with some years of experience under his belt and a new outlook on life inspired by his growing family, he is bringing something a lot more substantial to the community table, as he displays on the jazzy VENDETTA. His Wife AMBEEKA adds the perfect amount of sugar and cinnamon on each track, perfecting the recipe and transfiguring the songs from just your average rap song to works of art you can display loudly through your speakers. Don't believe me? Press play on LATE NIGHT DRIVE while you ride around your city after dark and tell me the block doesn't instantly look a little more beautiful. This couple's passion and mission are Hood Education, Empowerment, and Accountability, hence the group name, "BAPS UNIVERSITY". They don't make music just to sell records, willing to sell out on their neighbors in the process. No. They make music to help feed the hungry, clothe and shelter the less fortunate, mentor the next generation of Black and Brown Skinned Men and Women to be Heads of their Households, Honest Businessmen and women, and Leaders in their Communities. They are offering hope to those who've made mistakes they regret, and conviction to those who are trying to ignore the consequences of their actions. This is hood healing music, with No Sugar Coating. Like all natural, organic roots and herbs. SUMMERFALL 2022 is a syllabus from a couple of Professors, who just happen to be a Couple, that has made it successfully through some of the hardest seasons life had to offer them, together. Press play on SUMMERFALL 2022 and find out what has gotten them this far, and continues to propel them toward the future they are manifesting.
You can learn more about BAPS UNIVERSITY, SIR 7000 & AMBEEKA when we welcome them as our Special Guest in the Cypher on WVCC RADIO, Tuesday 1/10/2023 at 10:30pm EST.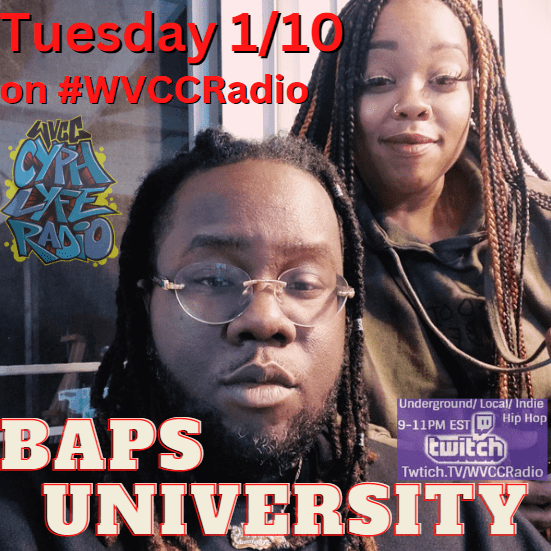 LERICS DALYRICIST – GHOST & SHADOWS (Prod by HANZO BLADEZ)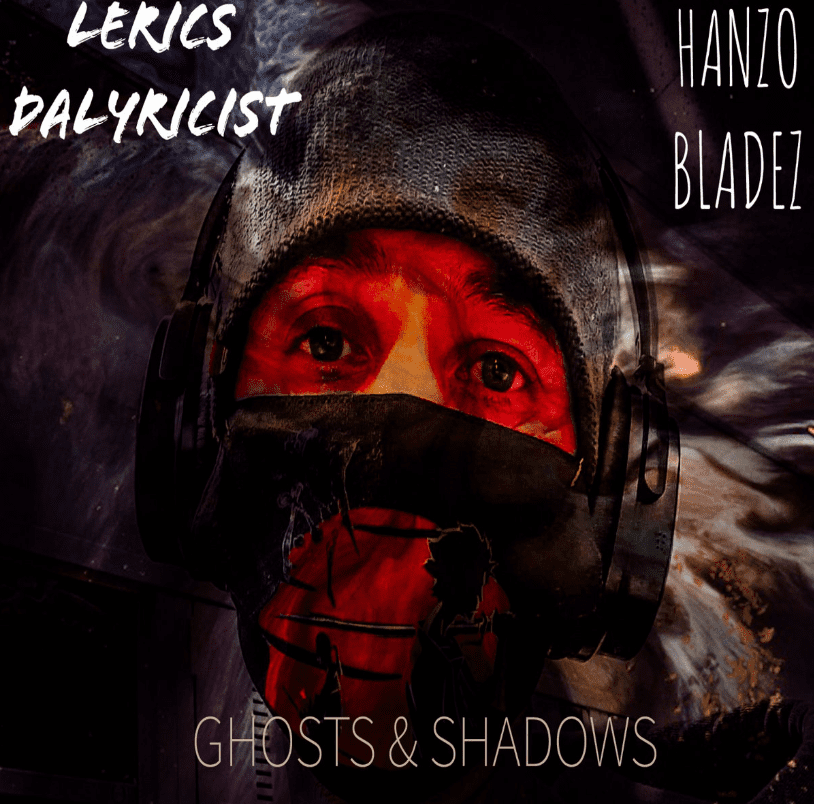 From the OverFrozen North returns our French Canadian Comrade Sir LERICS DALYRICIST, with his 4th drop of 2022, GHOST AND SHADOWS. The Moody End of Year EP, produced solely by GRIMEWAV Beat Blacksmith HANZO BLADES is a hauntingly good time, like Scary Stories over Head Nodders around the Christmas Eve bonfire. The fact that LERICS lays the majority of his bars in his native language, French, takes nothing away from the vibe of the album. If anything, it adds an extra layer of mystery for the listener who might not be fluent in the foreign tongue.
Having covered LERICS since his 2021 release, "STRUGGLE'Z REAL", I can see the growth in his writing, even though I may not understand every bar. It's evident from the 1st verse on the album opener SOUL DELIGHTS, LERICS has found his pocket and rides it like an Olympic bobsledder.
The Melodic hook by ROX ANN & MAGALIE adds a beautiful layer to the desperado guitar layden intro track. This gives way to the glass Jaw shattering KNOW YOUR ENEMY, Feat New Hampshires ROV THE REBEL. The 2 HIP HOP LIFER Alumni take the fight Inside as LERICS flips the song topic on its head and explains that to Know Your Enemy, you must Know Yourself, because we are all our own Worst Enemy. HANZO delivers a dirty dystopian banger that gives you a taste of why his crew GRIMEWAV was voted Best Crew of 2022 by the HIP HOP LIFERS Facebok Community. That 80 to 90 BPM pocket is HANZO BLADES playground and LERICS runs all over them like a Parkour Obstacle Course. On GHOST & DEMONS he waxes on the fact that our unresolved past can come back to haunt our present and curse our future. Therefore, DALYRICIST confronts his demons head on, attempts to salvage the damaged relationships that he can, and cuts ties with those that he can't with a loving benediction, "Hasta Luego Amigo, I Love You, I wish you the best". This is followed by the Crescendo of the Creepy EP, "VOYAGE DES PLUS ETRANGES". LERICS chooses a BLADEZ spook special to paint a disturbingly morbid portrait on. I feel blessed not to be able to understand most of what LERICS is describing. It might give me nightmares. For those wanting to know if LERICS can rip it English, he drops a whole verse in "The Kings Tongue" and another weaving English and French on the album closer MOVING SHADOWS featuring Massachusetts Mic Brawler OBLIVIOUS who spits a winter melting opening verse. The 3 verses over this HANZO banger make this my favorite on the EP, could it be because I can finally appreciate LERICS penmanship on this one, maybe.
You might think, why such a gloomy album for the holidays? Remember, back before we had Santa Clause Claymation and Charlie Brown Christmas Specials, folks would entertain each other by the fire singing songs and telling ghost stories. Is Charles Dickens's "A Christmas Carol" not a big ghost tale about a greedy man getting haunted out of his selfishness on Christmas Eve? In like fashion, LERICS and HANZO BLADES have crafted an EP that you can drink something strong to, while you light up a little Christmas Tree for the night, after the kids have been put to bed to await Old Saint Nick….or the Ghost of Christmas Future. It all depends if they been Naughty or Nice.
Support LERICS DALYRICIST and Pick up your copy of GHOST & SHADOWS at
https://lrics.bandcamp.com/album/ghosts-shadows
---
PURPLE GORILLA – PRIMITIVE THOUGHT
In 2019, there was a monthly outdoor gathering of emcees in Hollywood FL, known as CIPHER IN THE CIRCLE. Hosted by New York Battle Legend BREEZE EVAHFLOWIN, "C.I.T.C." (Cipher In The Circle) became a monthly meet up and breeding ground for Miami Spitters who still believed in the importance of being able to perform under pressure in public.
The lock down that came as a result of the Corona "Pandemic" slammed the breaks on C.I.T.C., but the Emcees who came out of this congregation have all continued to drop fire projects in the years since our last gathering at Hollywood's Young Circle. One of these Emcees is the eclectic PURPLE GORILLA, who is a Caribbean Style Chameleon, able to pen bars, harmonize melodies, and compose entire songs that can keep a dance hall vibing all night long. On his latest release, PRIMITIVE THOUGHTS, he gives us a taste of all the flavors he serves out of his "Ice Cream Jeep".
Now just to be clear, this is not an album of Pure Boom Bap Raps. PURP can bring that, as he proves on YORUBA, & IN MY MIND ZONE, but he is more than just an Emcee, and is comfortable displaying the full breadth of his skill set. He uses his singing voice to carry joints like album opener and total bop RECKLESS, & BON VOYAGE where he takes his listeners on an audio vacation to find some rest and relaxation within their airpods. He parades his Carribiane roots on joints like PROFESSOR FLAVOR, & the acoustic guitar driven GENEVIEVE where he flows effortlessly between raps and melodies as he sweeps the ladies off their feet with his smokey smooth vocal tone. He winds the album down on the Desperado sounding JAH JAH where he lets you know where his talent, protection, and strength come from.
Guitarist, Singer, Songwriter MOONLIGHT JONES handles the majority of the production, giving PURP GORILLA some beautiful canvases to paint on with his vocal brush. He is also blessed by South Florida Legend in the making, MIAMI BEAT WAVE, who produced IN MY MIND ZONE, and gave the album that Master Finishing Touch, engineering and mastering the final album. It is no wonder this album sounds worthy of being heard on 99 Jamz or Hot 105. That's the kind of quality MIAMI BEAT WAVE brings to any project, and with the product that PURP GORILLA and MOONLIGHT JONES brought to the lab, it's no wonder they made such an amazing project.
Save and Stream PURPLE GORILLA – PRIMITIVE THOUGHT where ever it is that you stream your music from, and follow @Purp.Gorilla, @Moonlightjonesofficial, & @MiamiBeatWave for more smooth R & B vibes coming out of Miami FL.
WHICHCRAFT & CEE DA CUBAN – CUBAN SANDWHICH
You hear that? Coming from that apartment upstairs? Sounds like the Queen of Cuba, Celia Cruz. Smell that? Ahhhh yeahhh…that's some sofrito sautéing on a frying pan. My senses tell me somebody has been getting busy in the Kitchen and low and behold, Santa brought us all a "CUBAN SANDWHICH" for Christmas.
The New 5 track EP from Producer CEE DA CUBAN and MONEY HUNGRY CERTAIN ONE, WHICHCRAFT, Hit the streets this weekend piping hot. Even though most of these tracks have already gotten plenty of play in the Underground by every credible DJ in the Indie Game, joints like LOVE SOLUTION feat POOR POCKET MUSIC, TOP BILLING & PENWORTHY hit different when their layerd together to make a delicous boom bap bite. The Album Title Track shows off WHICHCRAFT, Using a string of Celebrity Names like a double entendre ammunition belt. While album closer THE CIGAR puts the spot light on CEE DA CUBAN as he rolls the credits to this short film with a Piano and Hard Drum driven head nodder following a classic SCARFACE clip where the patron asks Manny for more pork on his Sandwich. CEE tells you with his chest and his Outro Instrumental, this is all the CUBAN SANDWHICH you get for now.
You want a second helping? Tune in to WVCC RADIO in January ad we interview WHICHCRAFT & CEE DA CUBAN about their work in the Cocina.
---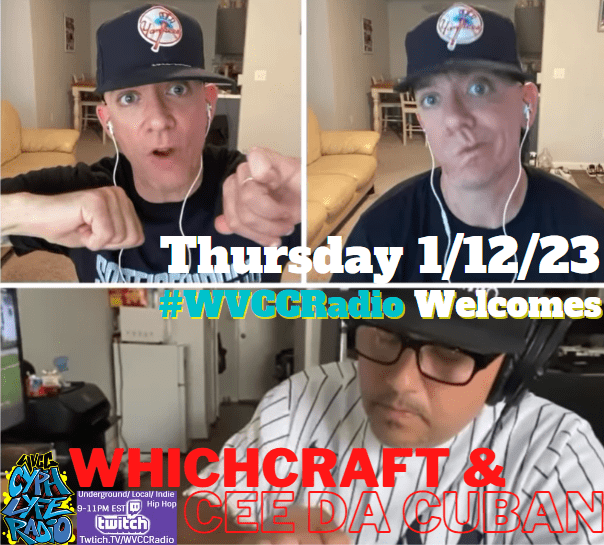 #CyphLyfe #SingleFiles
CHOCO VALENS – RED CARPET
Bad Santa Choco Valens dropped off this new heater in everyone's stalking last week. RED CARPET is a compact revolver produced by RENAISSANCE TONE, packing enough ammo to paint the town and the audience Red for Christmas. You know that new flick Violent Night? Imagine all of that holiday hostility laid over a Renaissance Tone banger hotter than a cup of Steaming Cocoa, with Choco Valens machine gun mouthing off all the way from Miami to the North Pole. Don't get it twisted, there is nothing Holiday Themed about this single, except the color of the blood stains it leaves trailing on the carpet.
Tap in with CHOCO VALENS on IG, and be prepared for his upcoming full-length, "HOLLYWOOD BURNS", set for release early 2023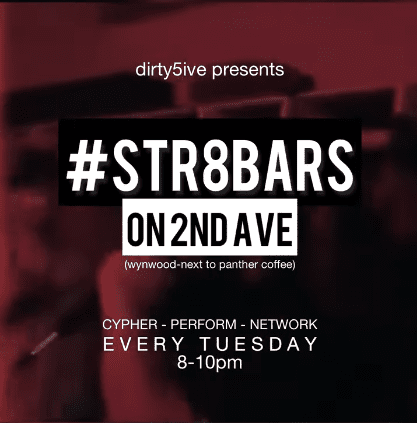 DEAD POETZ SOCIETY – OLD FASHIONED GENTLEMAN
This one is for all those who hold up the Code Of Honor of the streets. Illadelfias DEAD POETZ SOCIETY are back with one more banger to end a hell of a year for the Producer/MC Duo. V8 & DNA have been dropping consistent heaters all year and now that they have established a new home base studio, they are showing no signs of easing up on the gas.
"OLD FASHIONED GENTLEMEN" is just another article of evidence proving these brothers come from the True School. Every beat that DNA and V8 cook up brings instant flashbacks of a time when Boom Bap ruled the East Coast soundscape, and this one is no different. Blending the perfect pairing of sample snips for V8 to deliver a pair of scathing verses about "Death before Dishonor", DPS then invite constant contributor TONE SPLIFF to lay the ideal cuts over the hook to complete the Rat Killer track.
As the Narrator explains on the singles intro, these brothers swore an oath to keep Real Hip Hop pumping out of their lab, and they ain't breaking that Oath for anyone. As V8 declares over the hook "We Stay Silent, Intimidate Witnesses/ Street Justice is just how Business Is/" . So far this code has been working for DEAD POETZ SOCIETY. Business is booming.
Make sure you follow DPS to stay in the loop with all the heat they drop in 2023.
@deadpoetz1, @dna_certifiedchopz, Spotify
---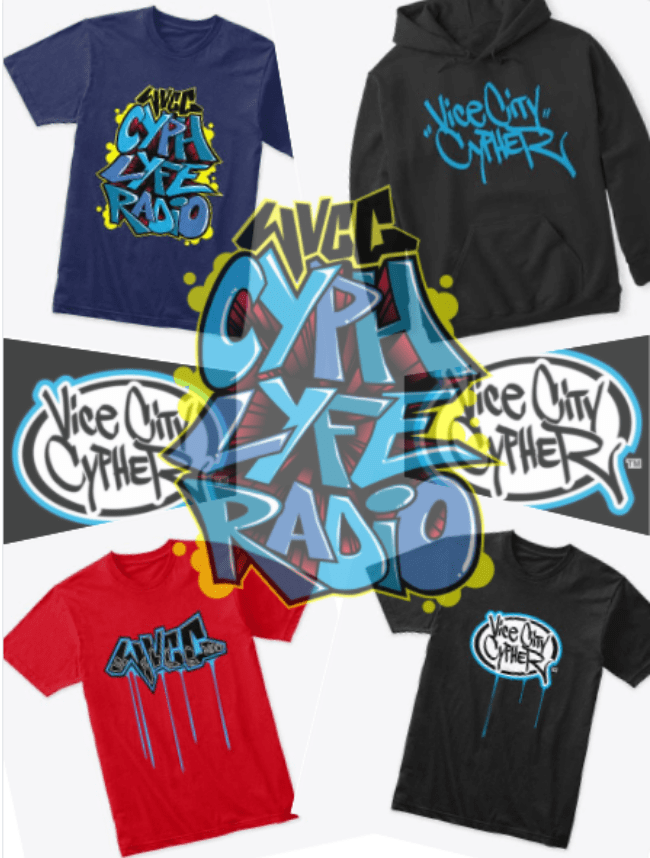 ---
PRINCE DIVINE – DOG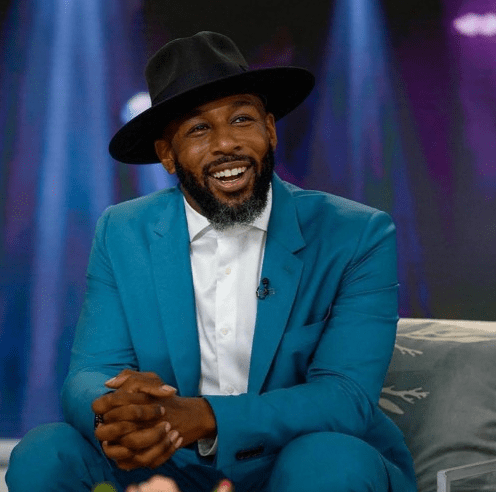 Miami's PRINCE DIVINE has been steadily carving his name into the SoFlow Family Tree since he made his move here from Cincinnati Ohio, where he was known as Microphone Monster and Live Performance Pro. We have witnessed this 1st hand over the past 2 years as PRINCE DIVINE returned to the stage to promote his 2021 release, LOVE WARRIORS. You can find the proud Puerto Rican PRINCE rocking crowds big and small, and cyphers all around the city whenever they pop up, with a passion that isn't easily matched. Not only can he kill the track lyrically, but he has a knack for being able to reach deeper and give birth to songs that touch the heart of his listeners. His latest single, "DOG", is a perfect example.
Dedicated to the memory of STEPHEN "TWITCH" BOSS, the Dancer and DJ of the ELLEN Show who recently took his own life. PRINCE DIVINE tackles the topic of the fragility of Mental Health and shares his own story of battling depression. The hook hits like a hammer on an anvil as DIVINE croons, "Don't Dog Me/ Don't Dodge Me/ Just love me/ If you love me, just hear me out/". All of us have lived this experience in one way or the other. Needing an ear to hear us out, more than wise council that at times feels more belittling than uplifting. Sometimes being a friend just means being there through the low points together.
I recently went through my own bout with depression before the holidays, and I can honestly and gratefully say, PRINCE DIVINE was a true friend, checking up on me constantly. Understanding My pain and doubt. Not pushing me to get my head out my ass, but encouraging me to take all the time I needed to get my head right and reminding me to put what's important first, and that what is Most Important isn't always Hip Hop. Family, Faith and Self Care should always top our Priority Pole. When those things are in order, everything else seems to fall in place, allowing us to be the best creatives or members of our community that we can be.
Without a doubt, the SOFLOW Community has been blessed by the addition of PRINCE DIVINE, and I can assure you, adding him to your Playlist will bless you equally. For all those wanting a little more insight on this PuertoRocker, check out his recent interview with DaGr8FM's D'Shaun El Villano below.
HOMEBOY SANDMAN – SANDMAN'S 12 DAYS OF CHRISTMAS
For the past 4 days, our generous brother HOMEBOY SANDMAN has been blessing us with a Fireball of a Freebee daily, 1 for each day of the 12 Days of Christmas. Each of them with its own vibe and HBSM's signature stylo. I will be updating this playslist every morning as the latest joint arrives via Turtle Dove or Peartree Partridge, so keep coming back to The BAG this week to get your daily dose of New SANDMAN. By the end of this adventure, we will have a New, 12 track HOMEBOY SANDMAN album, for FREE, to enjoy year round, not only during the Festivious Season. Want to show your appreciation to SANDMAN, Copp a Pre-Sale Ticket and come see him as he tours Florida with Star Sister E-TURN this January. Several Dope stops to choose from, we just happen to be partial to the one going down in Miami, Saturday Jan 28th. Come kick it with WVCC RADIO on the last weekend of Jan, as the Best in South Florida Hip Hop open for HOMBOY SAND and E-TURN.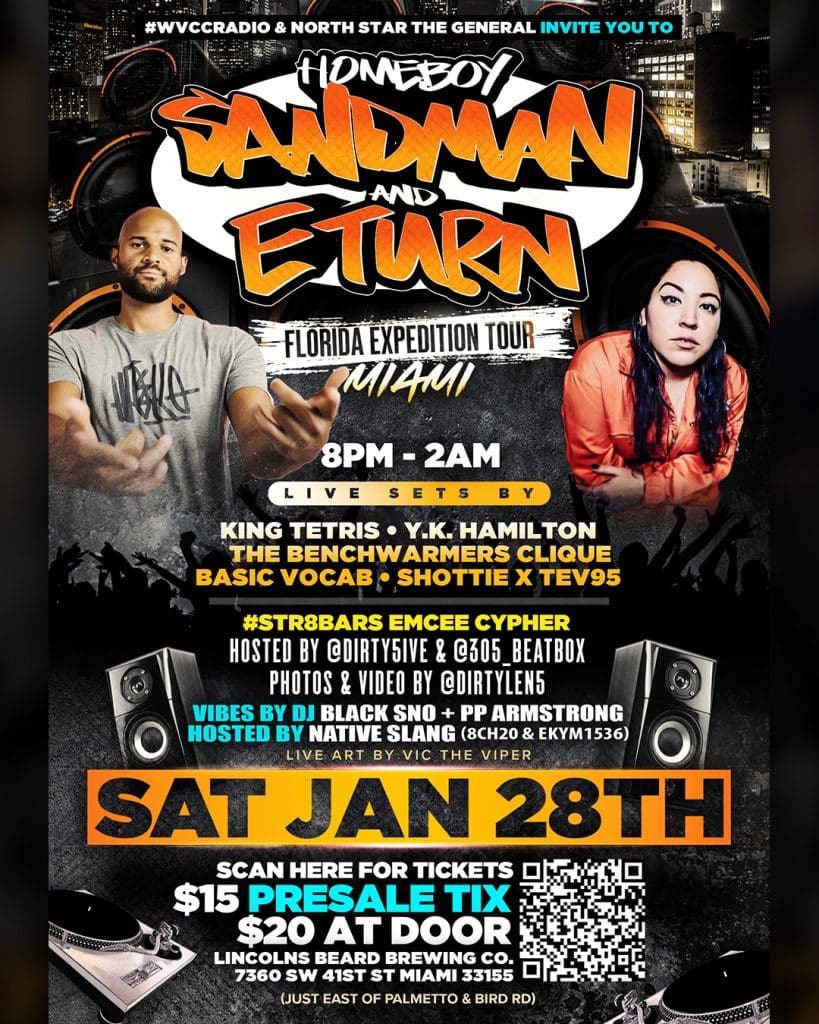 #BottomOfTheBag #MustHearMixes
LA PLANCHA 5 Mix w/ DJ KLASSIK
Back on 12/16/2022
Orion & Dj Exes brought to you
La Plancha 5
A Hiphop event that went down at Tenth Level Tavern located at
1242 NE 38th St Oakland Park, Fl. 33334
The event was a showcase/ battle between 5 Artist
The artist with the best set performance won the prestigious
Golden Plancha
Along with that we had a special guest Dj set by Dj Klassik
I got up with the brother to talk about his set, why he does what he does, what drives him as a DJ, etc.
Tune in enjoy possibly one of the illest sets you will hear this Holiday Season
BRASSBALLS09
DJEXES1
TENTHLEVELTAVERN
DJKLASSIK
DJ GLIBSTYLES – BOOM BAP SOUL MIX – CHRISTMAS 2022 EDITION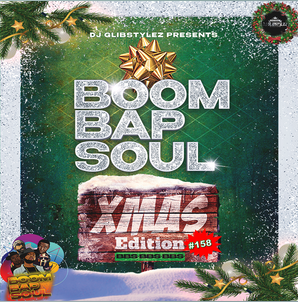 Old Saint Glibz dropped off another bag of goodies in his Delivery Van last week. Arm Brace and all The General is still putting in work and laying down some of the best mixes in the Underground. This BOOM BAP SOUL XMAS Mix is a great way to end 2022 and Welcome 2023 with a Bang. From our our family at WVCC RADIO, GLIBSTYLEZ and the whole SOFLOW FAMILY, Happy Holidays and Blessings on Blessings in 2023. See you guys in the New Year.