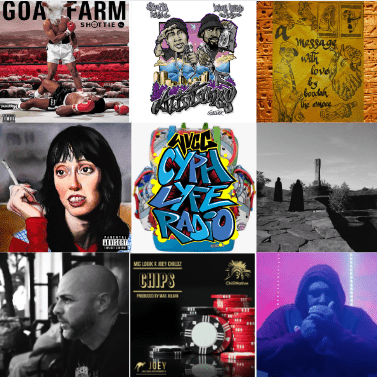 Your plug for New Indie Hip Hop News and Reviews.
Happy Week Before Christmas Fellow 88ers. We had an amazing week back at WVCC RADIO with an Interview of AZ's MAZE OVERLAY and coverage of SHOTTIE & TeV95's "GOAT FARM" Album Release Party. As we enjoy the holidays with our families, and friends, I would like to take a quick minute to say THANK YOU, sincerely, to all of our supporters, viewers and readers of WVCC RADIO and the CYPH LYFE BLOG. Through your support you have given me the opportunity to create a small business out of several of the things I love and am passionate about. Namely, Promoting Good Hip Hop, using my gift for Writing, and being a character. As a community, we have had some great experiences together in 2022, heard some great music, interviewed some amazing artist and grown as a Hip Hop Family. I look forward to continuing the hard, but satisfying work of covering the Hip Hop Underground and our SOFLOW Community in 2023, and making sure that I do everything I can to let the rest of the World know that Hip Hop Is alive and well in Miami. I hope we can continue to count on you as a Listener, Viewer and Reader. This week we will be off on Tuesday Night, but we will be back on the Air on Thursday with a Special Guest. Make sure you set your alarm for 9pm EST Thursday so you can be first in the Cypher on Twitch.tv/WVCCRADIO. Now… To the 2nd to Last Weekend Bag of 2022
SHOTTE x TeV95 – GOAT FARM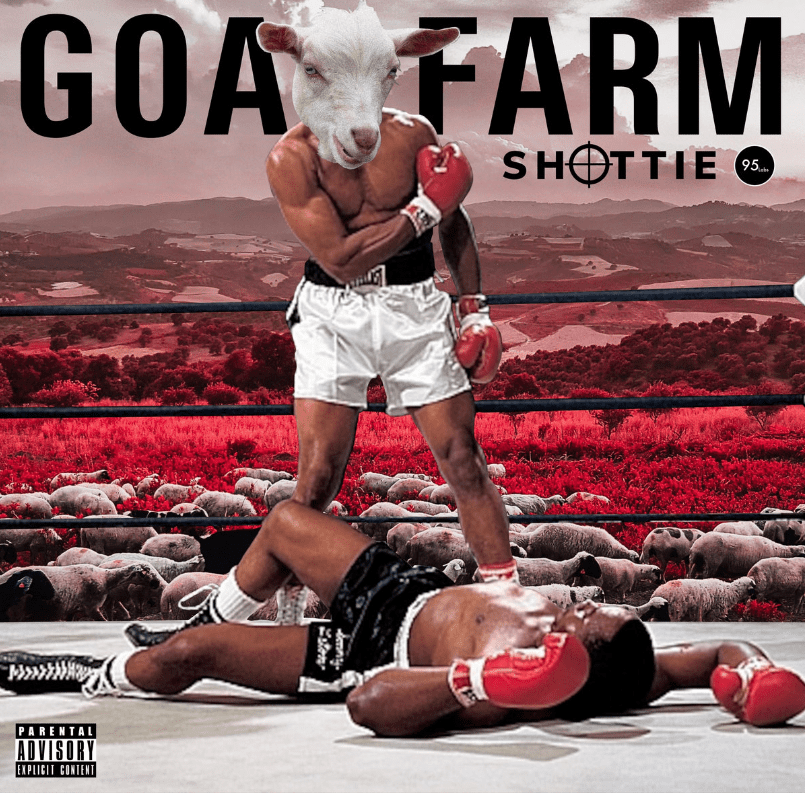 Last Weekend Bag we put you on to "KEEP IT PUSHIN", the latest Single by Kendall' SHOTTIE & TeV95 off of their brand spanking new LP, "GOAT FARM". Regardless of what SHOTTIE may have told you on the KEEP IT PUSHIN" Hook, You DO NOT Want To "Miss this with the Play Play". On GOAT FARM, TeV and SHOTTIE continue to toil the South Florida soil they have claimed since their return with the MOSKVITCH 1-3 Series which grew their fanbase beyond the Florida borders.
After a quick welcome to the FARM that grabs you like a firm handshake, SHOTTIE "KEEPS IT PUSHIN" into an incredible combo banger with Jamaica Queens Bar Hustler, GRAFH, titled "TERP TALK".
Slated to be the 2nd Single off the album, TERP TALK exhibits a hungry SHOTTIE speaking with an "Inner Voice sounds like GhostFace/ Daytona 500 racing with No Breaks/ Fuck it, If I crash I'll exploit it like the Old Ye/ Them boys in the paddy wagon was calling me "Oye"/ The only other Latin dude was crying in his own lap/ I told him "Se que tienes miedo papi, but you don't want to show that"/. In both English and Spanish SHOTTIE serves you that smoke with real-life quotes. He's followed by Modern Day East Coast Goat GRAFH who "Breaks The Scales" with the weight of his wordplay. Interesting side note, several years ago, when the rumor of a SLAUGHTERHOUSE Reunion was circulating, (before their very public break up), the SoFlow community got into an online debate on who would be the best candidate to take JOE BUDDEN's place in SLAUGHTERHOUSE if he refused to come back. You know, Rap Fan Wish List shit. A lot of heads threw in a lot of obvious names. I even tossed LUPE's name in the hat (Ironically, he and Royce ended up starting a Podcast together, having a fallout, and battling on records in a historic back-and-forth last year.). So here we are dropping names and defending our votes, and SHOTTIE comes on the post and dropped GRAFHs name into the conversation, and you could tell a lot of cats were oblivious. I myself had just recently heard of him on the ROYCE 5'9 ALLEGORY album, but SHOTTIE pushed me to dig deeper into his discography, and I quickly understood why SHOT told us GRAFH was the only Pen that could hang with KING CROOK, JOELL, & ROYCE'S Top Tier Street Bars. 3 Years later, and SHOTTIE has manifested the prophecy he spoke on PURE GRATITUDE (MOSKVITCH 1), "I just got my favorite rapper to do a feature", and it is a Banger.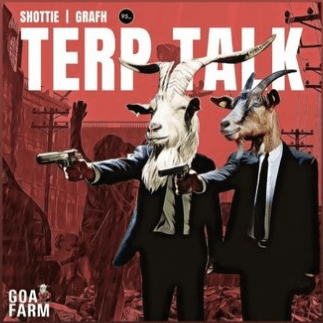 Our boy is out here manifesting his destiny, becoming SMOKE SHOP JESUS in his own BRICK & MORTAR (Check out MIDTOWN Smoke Shop), Designing and Selling Out of Merch and Limited Pressed Vinyl at his Album Release party last Thursday, and on GOAT FARM he follows the advice that he gave us all on OLE DIRTY KANYE on MOSKVITCH 3, "Fuck Being Humble Cuz Humble ain't ever got me shit". He's on his supreme shit talking over TeV's Latin Orchestra Loops, repping their home as hard as ever. On NO FLEX, SHOTTIE claims "he ain't even flexing" but he walks around town talking the local lingo with a familiar fluency as he pulls your hood pass in the process. He chops up a little SoFlow Beef and serves it up on TACO TUESDAY and catches a club full of bodies on SQUIB GAMES, as Miami's Mr. Platinum DASHIUS CLAY and Harlems MANDELA ESKIA join the bloody money marathon, catching more bodies than a motel mattress. The joint is that Grimey.
The whole album is solid from front to back. Those who are fans of SHOTTIE know what he brings to the party, and now that he and TeV95 have opened their own GOAT FARM, you get nothing but the best Bars and Beats served fresh, Farm to Table.
Check SHOTTIE out as he talks GOAT FARM on the next episode of AL V RAPS THE ART OF RHYMING Interview he will be hosting Live on Instagram Thurs 12/22 at 10pm, and Pick Up your copy of GOAT FARM at
SHOTTIEMUSIC.COM or 95LABS.COM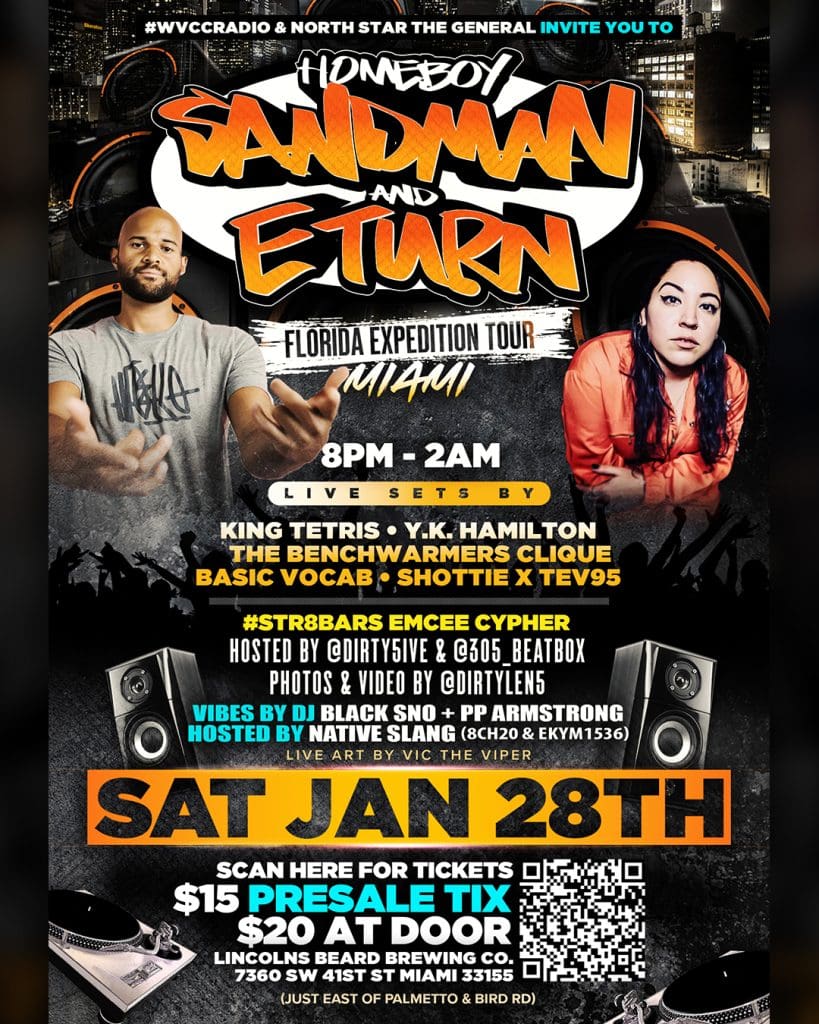 YOD – THE SHINNING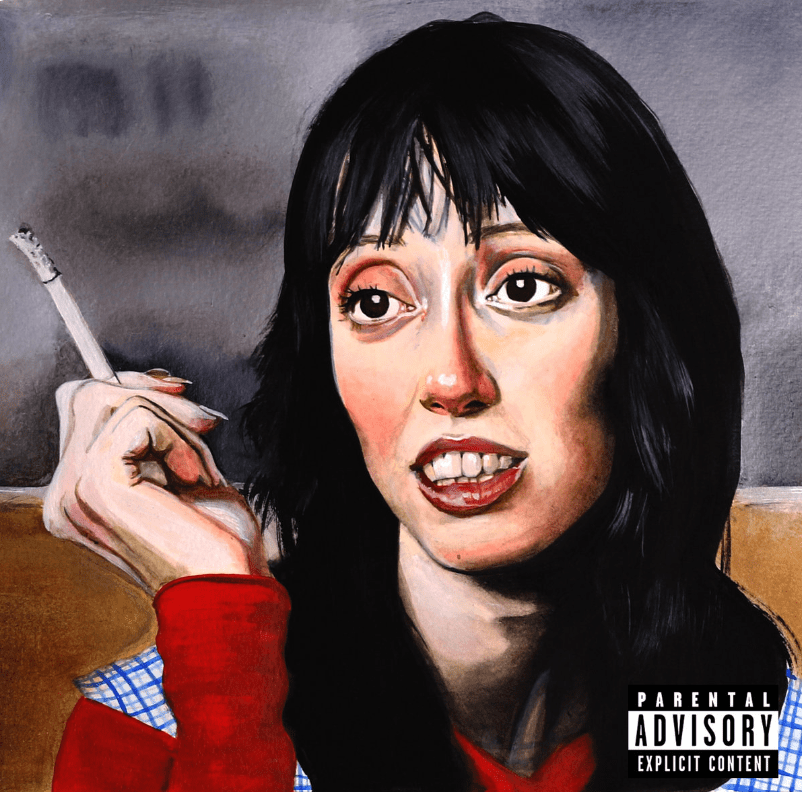 YOUR OLD DROOG is back with his 7th Release of 2022, YOD PRESENTS: THE SHINING. Intent on making a splash in the Underground and Indie Mainstream Conversation, YOD has been non stop with the drops this year, and each EP has gotten progressively doper. Now on THE SHINING, DROOG teams up with producer WILLY WINO to bring you another Frightenly Fresh EP. Although the 1st half of the album seems to be just on some Bragadocio Shit, the 2nd half of the album pays full homage to the Stanly Kubrick classic. Weaving in and out of double entendres laced with references to the original Stephen King Novel, the Kubrick Film, and all of the conspiracy theories that are wrapped up in The Shining Lore. Using samples snatched up from the film, WILLY WINO paints canvases of suspenseful funk for YOUR OLD DROOG to once again prove, he can flip any topic into an explanation of why YOD is the most underrated and "Slept On" Artist in the game.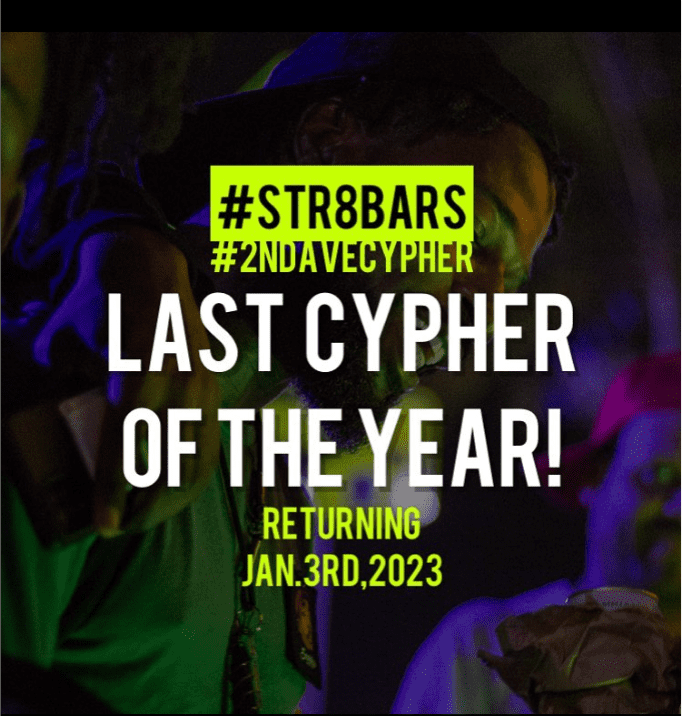 MIKE WIRD THE 33RD & EKYM1536 – ALTITUDES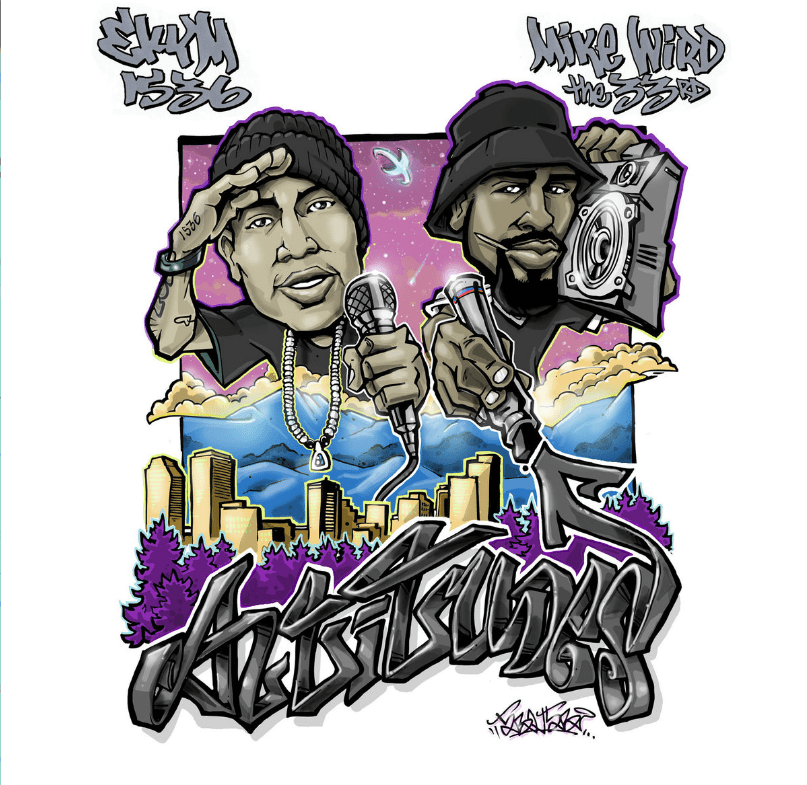 The Vice City Cypher Family continues to grow as our South West Delegate EKYM1536 joins forces with Denver's MIKE WIRD THE 33RD DEGREE. Not only did they just open up for DECA & FELIX 4WARD in Denver this past Friday, but they also dropped their debut album as South West Duo ALTITUDES. The 12-joint LP produced almost entirely by New Mexico's PH8 is a clinic on South Fresh Chemistry as both emcees interweave throughout the album on joints like The Flute Heavy THE GREAT METRONOME, party mover THE GET BACK featuring cuts by S.W. Turntable Phenom DJ E DUB, and BBoy Jam Anthem BREAK with disgusting cuts by Alabama Boom Bap General DJ GLIBSTYLEZ.
We are welcomed to the album by a familiar single, FLY WITH ME, which got play all over the underground and overseas. This gives way to a wonderful surprise on the blazing new MAIN COURSE feat ILLICIT where PH8 gives the ALTI DUDES a deep multilayered instro to spill over. ILLICIT adds a soul convicting hook that puts the perfect finishing bow on the concept. These brothers are comfortable morphing between displaying their super emcee skills on joints like PAID DUES, only to transition into a heart tugging lullabies sung by EKYMS DAUGHTER, (TURTLE ISLAND), where Mike and Myke talk Earth Healing and HIP HOP Conservation to their listeners and their Seeds. SESSION 2020, produced by MOKA ONLY feat the soulful horns of MILES BONEY is another familiar joint that made me an ALTITUDES Fan when I heard it playing on a number of underground mixes earlier this year and got nuff spins on WVCC RADIO. It is as catchy now as it was they first dropped it and fits perfectly in the body of the record. The album ends as strong as it starts with a run of 3 Bangers in GODS LOVE which has one of PH8's hottest beats on, the album with a stupid horn and soul crooning loop that WIRD & EK take turns tap dancing all over, THE BROTHERHOOD, a soulful minimal drum anthem for anyone who has a crew, a group of friends, a squad or team they struggle and hustle with, and YOU LOVE ME feat COURTNEY HAMPTON, which is a smooth slow bop that could have been cooked up in the Dungeon Family Kitchen. This joint slaps you with a Stanky Hand that leaves your face looking like you smelled some spoiled punnan. The album ends with a Remix of PAID DUES, but YOU LOVE ME is the real Highlight of the end of the album. I could hear this song with COURTNEY HAMPTON's Neo Soul Singing outro over and over again, and I have.
After their show in Denver with DECA, the boys reported on their IGs that they were excited to bring us the 2nd installment of the ALTITUDES Saga, and after hearing the 1st level of MikeNMyk Mountain, we are eager doe the next hike. For now tho, take some time to play and replay the album. Make sure you really take in and enjoy the views from these ALTITUDES . https://them3doods.bandcamp.com/album/altitudes
THE DOPPLEGANGAZ – BLACK CLOAK LIFESTYLEZ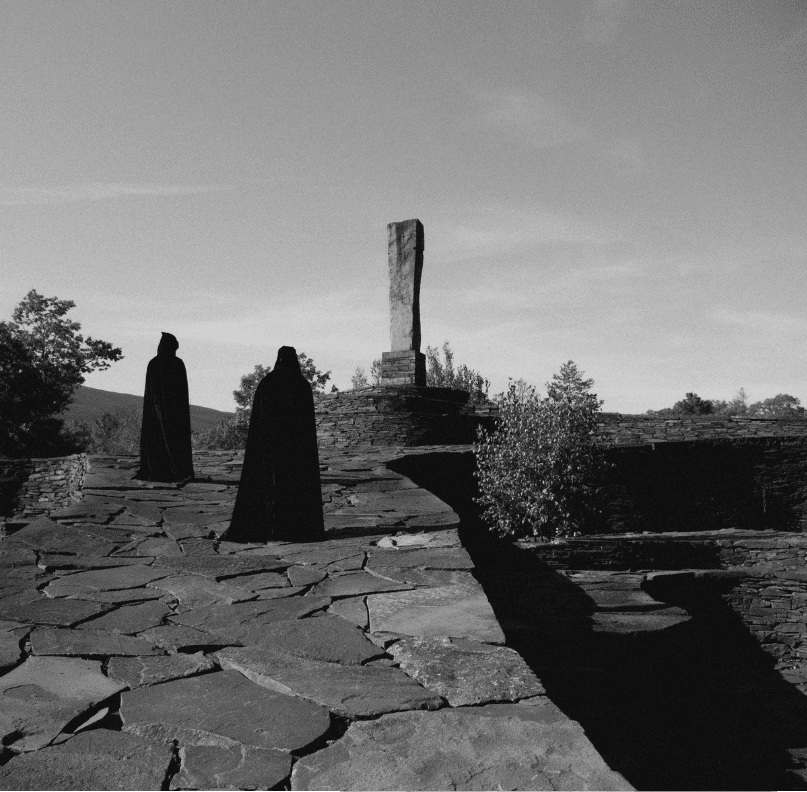 The Groggy Pack has returned one last time before years end to make it clear, ain't nothing changed about their image. They are still all about that "BLACK CLOAK LIFESTYLE". 12 Bangers all written, performed and produced by the DOPP GANG's E.P. and MATTER OV FACT, BLACK CLOAK LIFESTYLE brings you more of that Head Nodding Debauchery that the group name has become synonymous with. Wether paying prostitutes for the GIRLFRIEND EXPERIENCE, Keeping those who annoy the fuck out of them in their THOUGHTS AND PRAYERS , or kicking it to your Grandma on P.O.T. (Pretty Old Thang), The SHARKS do it all Cloaked out and invite you to join their Fashion Movement as they put their Official Dopplegangaz Black Cloaks up for sell on their bandcamp, along with the Vinyl Pre-Order of BLACK CLOAK LIFESTYLE. Buy both today for yourself or a loved one who would love to celebrate the Birth of Jesus with some New DOPPLEGANGAZ MERCH.
https://thedoppelgangaz.bandcamp.com/album/black-cloak-lifestyle
BOODAH THE EMCEE – A MESSAGE WITH LOVE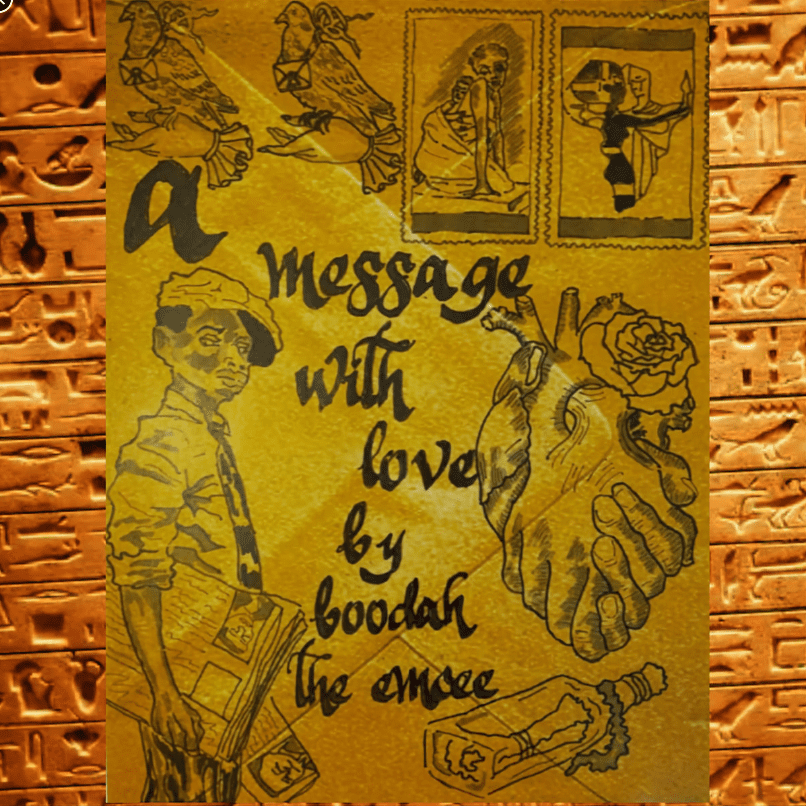 Chi-Towns BOODAH THE EMCEE is a name I was oblivious to until the brother "Es" from Toronto put me on to his latest album, A MESSAGE WITH LOVE. After playing the soulful and soul feeding DIRTY SOC produced HOOD HEALING, my interest peaked. BOODAH delivers relevant block journal entries "From the home of the 44th President". He is dangerously aware of his dilapidated surroundings but "sees the beauty in the process of an ugly try/ cuz a Moth goes through the same thing as a butterfly/".
BOODAH describes this album as his Love Letter to the people. Sometimes it's laced with Tough Love, like on the jazzy MARSHAUWN CROSS produced FALSE SENSE OF WINNING where "Today's Era Radio Raheem" drops a sharp critique on today's "Microwave Society where nobody's cheffing". He shows Hood Love over the Big Horns of INTERNATIONAL where BOODAH goes back and forth with a Fire Spitting JD RENOIR. He's Fun Loving on the light-hearted chin check "TYGD (Turn Yo Goofey Down)", and shows his Love and Respect for the Hard Truth and Harsh Reality of our limitations on PERCEPTION w/ TIFFANY MARRIOT and NOTHING IS FOREVER ft dead prez General STIC MAN. He then dedicates the latter half of the album reminding us that it's OK to Love your Neighbor and Love Yourself. He shares words of AFFIRMATION for his audience with T Dots "Es", and reshapes the negative narrative they have painted of our people on WHAT THEY SAY. He recounts "See my mom ain't raise no dummy/ and my Pops taught me how to hustle for the money/ They said, speak it to existence and it'll come to/ I will not let what others say of me Come True/" . He shows love for the circumstances that brought him into this world "A Leo born, Lying there in the Hospital", and the Hard Times he was raised in that made him a stronger man on NEVER HAD A PROBLEM. He dedicates the 3rd verse to his Love for the Street Culture where he earned his stripes as an Emcee on the South Side of the Chi. He concludes the Love Letter with a reminder for us to Love ourselves, believe in ourselves, and dedicate time to healing and saving ourselves.
I personally Love everything about this album from the wonderfully crafted Production from DIRTY SOC, MARSHAUWN CROSS & TAZ on PERCEPTION (Banger), to the masterfully written, honest lyrics, to the album art by MUNCHWUZHERE, to the mind activating intermissions that share truths a lot more relevant to folks of my skin tone then the messaging pushed on the Boob Tubes and Cell Phone Screens. All the features kill their roles and stay on message creating perfect complete songs. Only 10 tracks deep, but the Soul of this album goes deeper than a wormhole with the hopes of lifting its listeners and their surroundings to the next dimension. All in the spirit or Love.
Make sure you support the artist directly at spubhouse.com and get your copy of A MESSAGE WITH LOVE. It is worth every cent you support BOODAH with. After hearing this artist's content, I can honestly say we need to support more artists like BOODAH THE EMCEE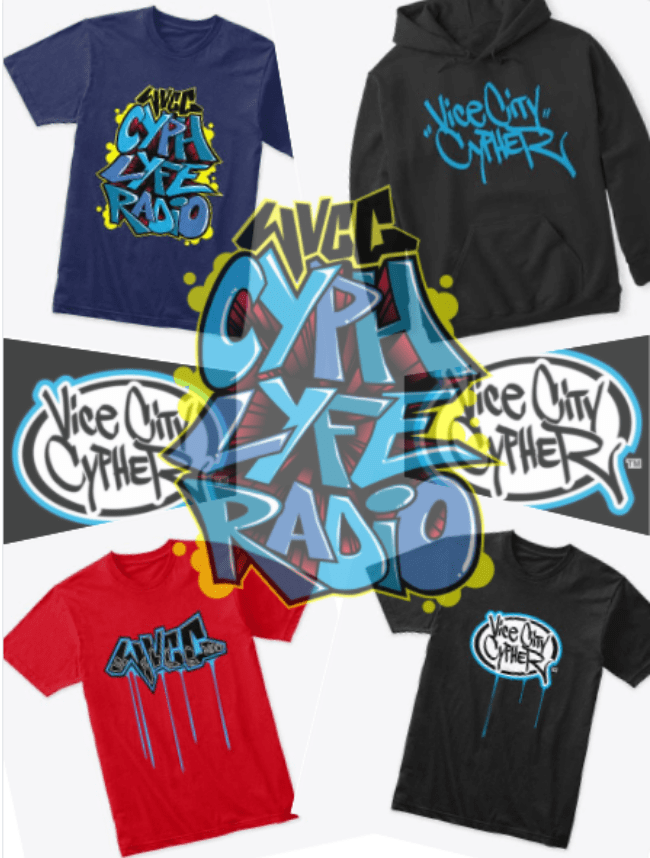 HeiR – L.O.L. (Life Of Lessons)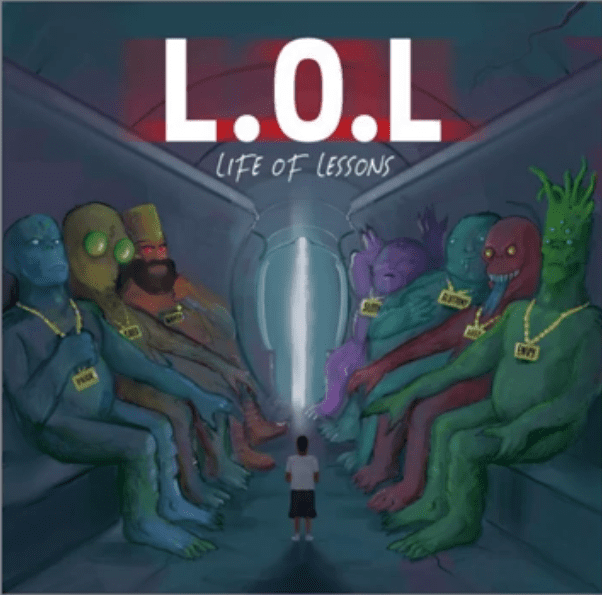 West Coast Word Warrior HEIR has dropped his long awaited L.O.L (LIFE OF LESSONS) LP this past week. With 14 hard hitting thumpers, L.O.L. seems a little long until you press play and let it ride. Not all the joints are keepers, but bangers like album opener RERO, and the Lupe Fiasco Paris to Tokyo remix TUEPAY make the start of the album flow effortlessly and lure you in to a hell of journy.
On L.O.L (LIFE OF LESSONS), HEIR shows off a style that's part CASUAL, part DEL THE FUNKY HOMOSAPIAN, and all BAY AREA Underground. The Disco driven WAKE-UP MAKE-UP exhibits HEIR keeping up with the hectic tempo, inspiring you to believe in yourself as you see him maneuver the audio dance floor with a Trovolta like confidence. He drops the Mac He taught us on PLAYA SCHOOL on GET AWAY where he slows it down for the ladies to enjoy while they ride around town. BIKERS is a superb exhibit of HeiR's fun storytelling skills. He reminds me of a modern MAC DRE or AFRO MAN. Not too pretentious, just your boy telling you a story that cracks you up. He quickly reminds you ain't shit funny on RAHEEM, A story of what happens when you try to keep proud people down for too long. This song comes in hard like a meteor after a sample of a 50s classic film, as if to show the difference in the reality that the haves and the have-nots are experiencing. The abrupt mode change is as jarring as the disparity and distance between both these groups. MEDA MEMORIES is one of my favorite joints on L.O.L. Just a simple story about being young and riding out with your boy to link up with some hoes, and how this less-than-innocent mission went left real quick. He remixes the SOULS OF MISCHIEF Classic with a quick Freestyle on NOT YET M.A.Y.A.N.. Fellow Fresh Coaster YAPHIAT joins the party on the FRANTIC produced LONESOME REFLECTIONS after HEIR delivers two unfathomable verses where he compares his music to"a method of escape like James's did in that Mythical Peach." He drops "Isle4" Mathematics on the multi-layered T = WOE (TIME = WASTE OF ENERGY), and remixes KRS's classic FRIENDS on RULES & REGULATIONS, with a freestyle dedicated to strong sisters who "pic out the hair under their arms" and brothers who "Start walking in your name/You're an Author with Artwork in your Vein/". He closes the album with LO BROWN, a moving outro that is part Melodic Chant, part Spoken Word/ Reading of a fan letter. It ends an album full of Heavy Energy, Hoe Tales, Exaggeratedly Real Stories, Funny Moments, and everyday hood shit with a smooth landing that shows us all how to show, some love to each other. L.O.L. (LIFE OF LESSONS) is a dope ride with many different vibes, represented by the Seven Deadly Sin Giants that await HEIR on both sides of his life journey on the album cover. There are many sides to this artist/human, who battles his own demons and is happy making music that helps us battle ours. Some journey music for a LIFE OF LESSONS.
You can stream and save L.O.L. (LIFE OF LESSONS) on Soundcloud
M.I.YAYO MIXTAPE VOL 1
Big ups to the Homie DIRTY DOE & DJ TRAFFIKANTE for putting together this mixtape of some of the hottest spitters in Miami Dade & Broward County, Past and Present. From paying respect to our fallen Veterans like MR. MIC RIPPA with the Miami Underground Classic, 96 CREAM HUNT, & SOLOMAN SPECTRUM on THROW UM OUT THE RING, to representing the New Wave of South Flow Emcees like SHAUMEN OF DEBAUCHERY, & EMYHR RHYMES. To representing the Vanguard of True School Emcees that hold up this scene like SHOTTIE, B-DOPE, WHUT DEY DO, WATCH WOLVEZ, DYNAS, SERUM, C-TRAFFIC, & 8CH2OWENS. DJ TRAFFIKANTE blends these bangers masterfully in what is sure to be the 1st of a long line of Classic Mixtapes coming out of the Bottom under the M.I.YAYO Brand. Make sure you follow M.I.YAYO RADIO on Youtube to be up to date with all the rawness they drop on a regular basis.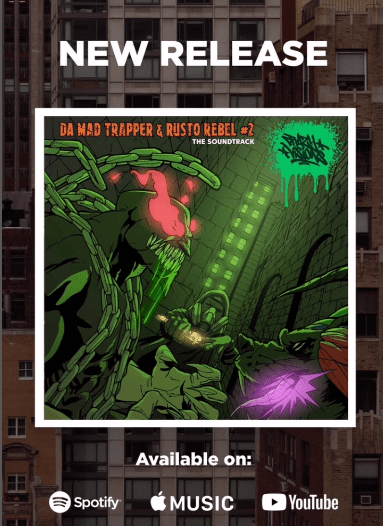 THE ALCHEMIST – THE ALCHEMIST SANDWICH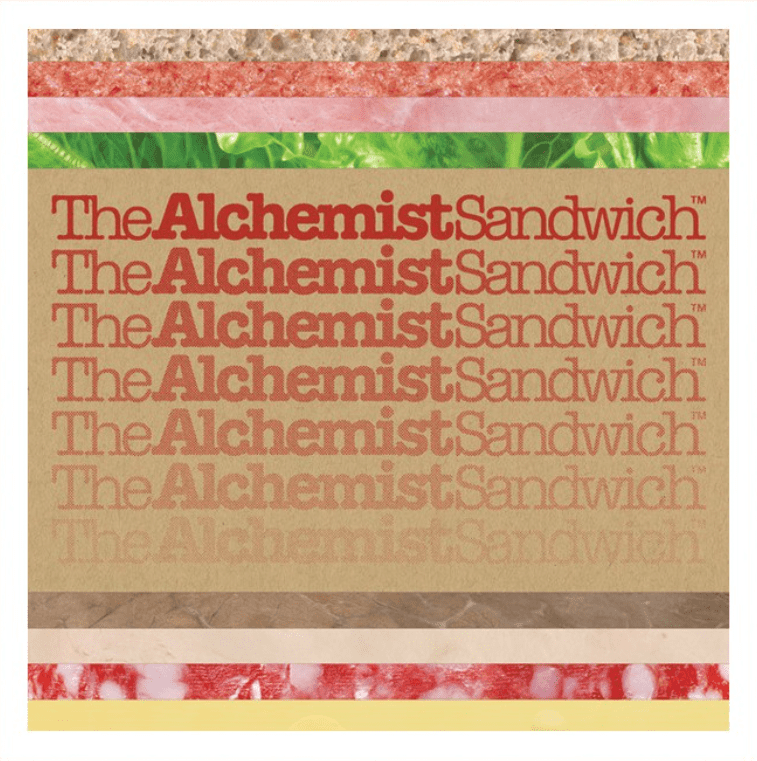 The following short synopsis was published by HYPEBEAST.COM and gives a little background on the latest snack by Al The Chemist.
The Alchemist has dropped off his latest project The Alchemist Sandwich, a compilation of two of his EPs Lunch Meat and Bread, both of which were released in 2018.
Clocking in at half an hour, the 10-track effort features contributions from Roc Marciano, Westside Gunn, Conway The Machine, Action Bronson, Styles P, Benny The Butcher, Black Thought and Earl Sweatshirt, as well as Meyhem Lauren with Boldy James and ScHoolboy Q on the brand new tracks "Big Skye" and "Clip In A Tray." An accompanying music video for the former was also released, with New High Filmz helming the visual.
AB-SOUL – HERBERT
What follows is an excerpt from a review on AB-SOUL's Latest LP, "HERBERT", written by MARCUS SHORTER for CONSEQUENCE.NET. I have not had a chance to dive into the whole album as of yet, but what I have heard so far made me certain this had to be added to the Weekend Bag. I encourage you to read the complete review in the link below. The brother Marcus Shorter did a great job on the write up.
Ab Soul's last album, Do What Thou Will dropped in 2016. In the real world, six years is a long time, especially considering these six years. But in hip-hop, six years often feels like 15. The game changes so frequently that questions about Ab's emcee status aren't out of bounds. Herbert, his latest offering, has a lot of pressure on its metaphorical shoulders as it represents a post-Kendrick Lamar era for Top Dawg Entertainment (TDE). It hurts to lose your best rapper, but one imagines it feels like a thousand beestings all at once when said rapper is one of the greatest of all time.
Luckily for the TDE, and more importantly for Ab-Soul, Herbert (out Friday, December 16th) shows he's more than capable of putting the record label on his back and chiseling his name in hip-hop's upper echelon. Putting it simply, Herbert reminds everyone that when it comes to rapping, Ab-Soul is a problem. Continue Review here https://consequence.net/2022/12/herbert-album-review-ab-soul/
LITTLE SIMZ – NO THANK YOU
I was introduced to this album and artist by ANTHONY L'ITALIAN of FaceBook's HIP HOP LIFERS Group. Never having heard LITTLE SIMZ before, I was pleasantly surprised by her aptitude on the mic, her choice of beats, and content she was dedicating her time to speak on. NO THANK YOU is a powerful album from beginning to end and I'll leave you with the following excerpt from PITCHFORK.COM to get a little more insight on this artist and her latest project.
Little Simz did everything she was supposed to. She worked hard, minded her own business, built a fanbase on a string of acclaimed releases. When the time came, she lasered in and made a bold, thematic album with a clear arc—a shoo-in for the coveted Mercury Prize, which she picked up in October. There were other honors too. She smiled and said "Thank you" when she was handed the prize for Best New Artist at February's BRIT Awards, despite being 12 years and four studio albums into a well-documented career. She showed up to the cover shoots, wore designers on the red carpet, nattered at the afterparty. She clung to independence, and exalted its values, even as her distributor AWAL—an initialism of Artists Without a Label—sold out to Sony Music for a cool $430 million. She shouldered the pain of cancelling U.S. shows after the numbers didn't add up. But now, she's had enough. On NO THANK YOU she stashes the fanfare and goes back to rap basics, blasting the industry that will claim to have made her but in reality has left her drained. In doing so, she adds her voice to a chorus of Black British artists whose calls for reparations are only getting louder.
Check the complete review at https://pitchfork.com/reviews/albums/little-simz-no-thank-you/
BUN B x STATIK SELEKTAH – TRILLSTATIK 2
I completey missed this album last week when it dropped, but its worth sharing here. The O.G UNDERGROUND KING, BUN B is back with STATIK SELEKTAH for the sequal of TRILLSTATIK, one of the best albums of 2018. TRILLSTATIK 2 is just as good, if not better. Filled with a host of guest appearances that all show respect and love to the TRILLBURGER FOUNDER who has taken his career from the Studio to the Grill, cooking up the most saught after Burger in the business in 2022. Press Play and take a bite of this Audio Feast over Boom Bap Beats.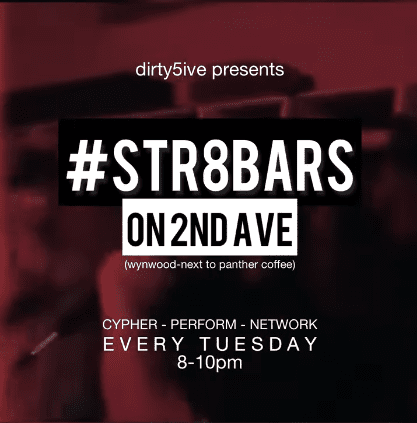 #CyphLyfe #SingleFiles
MIC LOGIK x JOEY CHILDZ – CHIPS
Chicagoland IL Veteran MC, MIC LOGIK, is back with some new fire from the Midwest to keep you warm this holiday season. CHIPS, produced by MAX JULIAN is the 1st leak from MIC LOGIK and fellow Chicagoland Spitter JOEY CHILDZ upcoming "TOO MUCH TO TEXT VOL 1" LP. The baseline driven street bop sets the stage for Block Reporter JOEY CHILDZ, who blends with MIC LOGIK with natural chemistry reminiscent of MOBB DEEP or SMIFF N WESSON as they "Gamble it all on the squad, we be taking risk/ make a fist, throw it on your heart if you making chips/ hustle hard, got it out the dark, this aint Make a Wish/". The CHI-NATIVE RADIO Co-host comes in upping the Ante on the second verse spitting "Ayo that's true enough/ Rhymes give you that feeling, I don't lose my touch/ It aint about some loot to clutch/ It ain't got shit to do with us/ Ashes to ashes me and Joey turn your crew to dust/". It's obvious these emcees ain't selling out for fetti. Their concern is spitting sharp enough to turn you to confetti. MIC LOGIK earns his respect the old fashioned way, with hard work and "Makes sure the teams eating, self-esteem beaming, the New Supreme Team that leave the feinds leaning".
You looking for bars over a beat you could ride the subways to, put your CHIPS on these two, and follow MIC LOGIK and JOEY CHILDZ at the following handles so you're informed when TOO MUCH FOR TEXT VOL 1 drops on 2023.
Instagram @Miclogik , @joeychildz_music , @Maxmillions84
EVAIZE – THESE DAYS (Official Video)
We just got this one hot off the presses right before publishing. This shit so hot my fingers are on fire as I type this. New visuals for "These Days", one of the hottest singles off of EVAIZE's most recent EP, "ENONYMOUS". This is Party Music for the Apocolypse, the kind of joint you would hear in a Stanley Kubrick film about Hip Hop. Call up a shorty who Is about that Mutt Life, Pour some Henny and Hypnotic (Is that what they call an Incredible Hulk?), and press play. We can not be held responsible for the madness that ensues. https://evaize.bandcamp.com/album/enonymous
Instagram – @e2davaize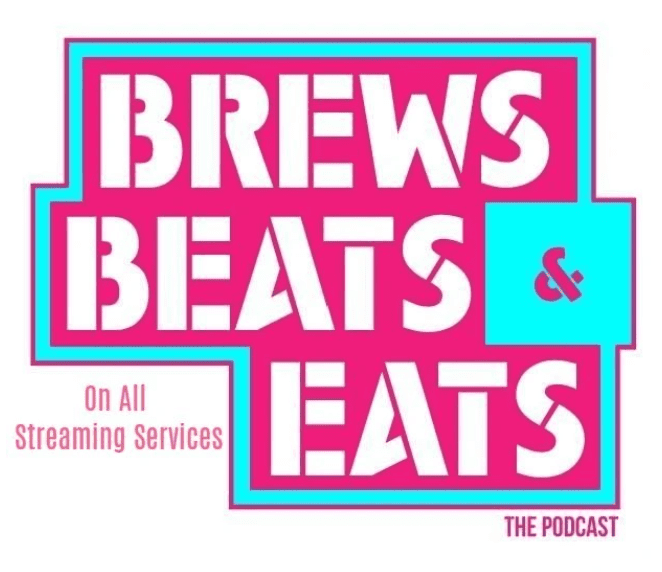 JUSTICE SYSTEM – THEY ALREADY KNOW
MR. FOX & SAM JONES aka MC FOLEX & DJ JAHBAZ, bka JUSTICE SYSTEM are back with their 4th Video from their QUANTUM FIELD CREW released earlier this year. "THEY ALREADY KNOW" was already one of WVCC Radio's favorite cuts off the album, and now the D.I.Y. Video for the single is spreading through the underground. FOLEX & FOX are just having fun being their Hip Hop Loving selves on the visuals. Calling out Bullshit where ever they hear or see it, Upholding the principles of true Hip Hop Culture, not only in their Beats, Rhymes, and Performance but in their everyday life, fighting for better living conditions for their family, their neighbors, and their society. JUSTICE SYSTEM continues to be a beacon in the underground for Grown Men who will not dumb down the liberating messages of Hip Hop, and refuse to turn in their Baggy Polo's, Hip Hop Beads and Medalions for a Suit and Tie, dock shoes and boat shorts. On "THEY ALREADY KNOW", the QFC Brothers prove that you are never to old to have fun enjoying Hip Hop, and if you got the skills, you are never to old to create banging Hip Hop Music.
Make sure you stream the whole QUANTUM FIELD CREW ALBUM on Spotify or whatever site you use to support great artist like JUSTICE SYSTEM.
BASIC VOCAB – DEEP
Miami Hip Hop O.G's BASIC VOCAB have stamped their name in the history books of Miami Hip Hop. When you look at the entry for 2022, JL SORRELL, MENTAL GROWTH, and New Producer SQUARE BOOGIE aka SQUARE 4 will be all over the chapter as they dropped two of the hottest EP's to come out of Miami this year. The tribute LP "SPACEMAN 2808" for fallen brother & Miami Legend, TONY GALVIN, and their earlier release this year, their 1st project with SQUARE 4 at the boards "STRAIGHT KEMISTRY". At the time of "S.K's" release, the single "DEEP" was definitely one of our favorite joints. This week we got blessed with the Official Visuals for DEEP, which if you ask me, elevate the single to the next plateau. The video quality is crisp, even in black and white, and JL & MG know how to work the camera like career models. Makes sure you add the video for DEEP to your "favorite videos" playlist, and get your tickets early to see them as they return to the stage for the 1st time since Tony's passing to open up for HOMEBOY SANDMAN & E-TURN. This show is going to be epic, and if you are a long time BASIC VOCAB Fan, you want to be in the building with BV takes the stage. Get your Presale Tickets at https://vicecitycypher.com/wvcc-house-party-jan-2023-homeboy-sandman-e-turn-in-miami/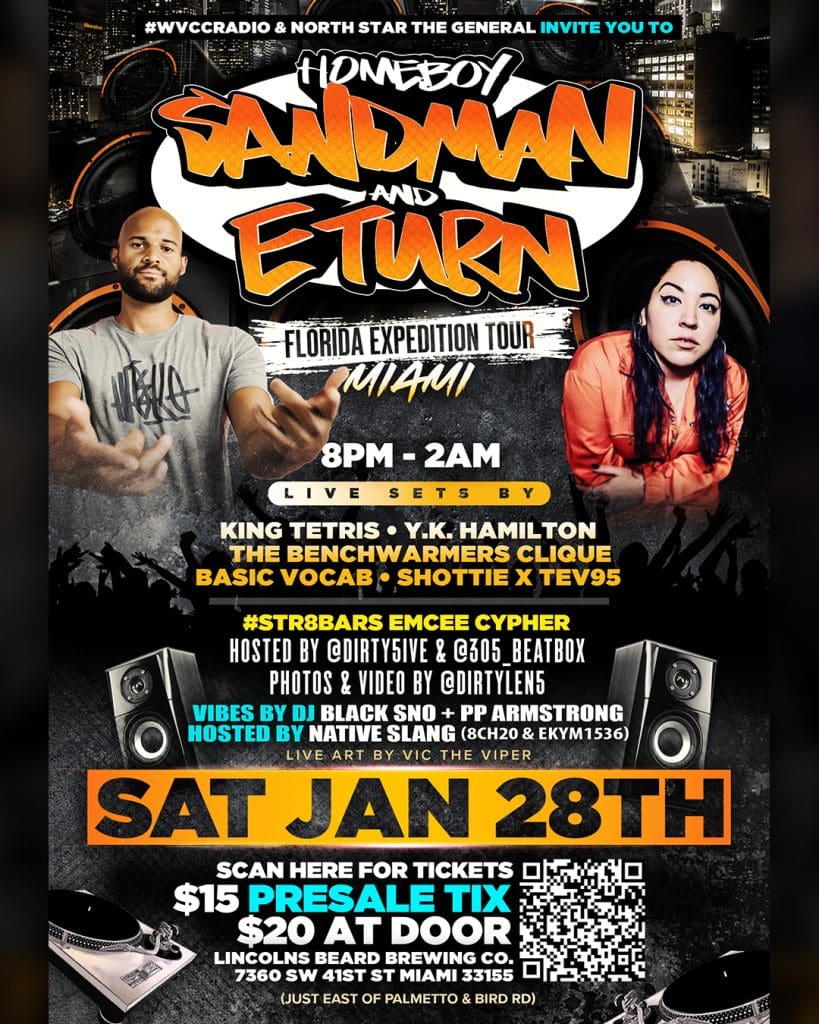 #WeekendBag66 on Spotify
If SPOTIFY is more your speed for stream music on a daily basis, make sure you follow our #WVCCRadio #WeekendBag Playlist every week for choice cuts off of the Albums and Singles we reviewed that week on the #WeekendBag. Make sure you take a time to Heart your favorite Artist on the Playlist and give them a follow. Especially the Indie artist we put you on to. Every follow means the world to them and tells the Algorithm to push their music.
Make sure to catch us Live Tuesday and Thursday Nights from 9 pm to 12 Midnight, & Wed and Friday Mornings for our #BoomBapBreakfast Streams from 8:30 am – 12 Noon.
Follow us on TWITCH.TV/WVCCRADIO for the Best in Indie and Underground Hip Hop from South Florida, The U.S. and Around the World. #CyphLyyyyfe