Your 1 Stop for New Indie Hip Hop News and Reviews
Peace Peace Fellow 88ers. Hope you had a dope weekend. As we say goodbye to summer, the temperature continues to rise throughout the U.S. with heat waves threatening rolling Power Outages in California. I don't know much about Climate Change and Global Warming, but I do know the music coming out of the underground is equally getting hotter and hotter and we are here to bring it to you. Enjoy this scorching hot Weekend Bag throughout the week. Remember, press play on the streaming link before you start reading. It makes the experience that much cooler. If you are a loyal Spotify Listener, please follow up on Spotify and check the weekly WVCC WEEKEND BAG Playlist for a mix of cuts from the albums and singles below. Alright, on to this weeks blazing hot WEEKEND BAG.
38 SPESH – 7 SHOTS
Written by: Presha
38 Spesh has trust issues. His label, Trust Comes First (T.C.F) Music Group, returns with a flurry of fired shots. In 2019, he gave us "5 Shots." In 2020, he gave us "6 Shots." Now, he ups the bullet count once more with his EP "7 Shots," which is loaded with heat. The Rochester emcee slick talks his way through eight tracks of hustling, war, and witticisms. In his signature pimped out ease, he squeezes off lines like, "…see my man came through to cop/ and I gave him a bird on the front like a Froot Loop box…" and "…You gon catch a head shot when I'm clapping these mags/ I be waving these red dots like a Japanese flag…." He kills me with these one liners! But the killshots on this EP come from the closing tracks. The last two songs have explosive features that not only add ammunition to the EP but seem to bring something special out of 38 Spesh. On "Painful" we're treated to femcee Che Noir's Buffalo sauce and Freeway's Philly cheese. Then, Ransom, Spesh, and Tearz murk shit for the finale "Last Gasp," my favorite track. Ransom and Spesh's symmetrical presentation is perfect and followed by a poetic piece from Tearz. The song unexpectedly ends as if someone's soul has suddenly left their….
TALI RODRIGUEZ x CRACK SIZZLACK – DEVOID OF ORBIT v4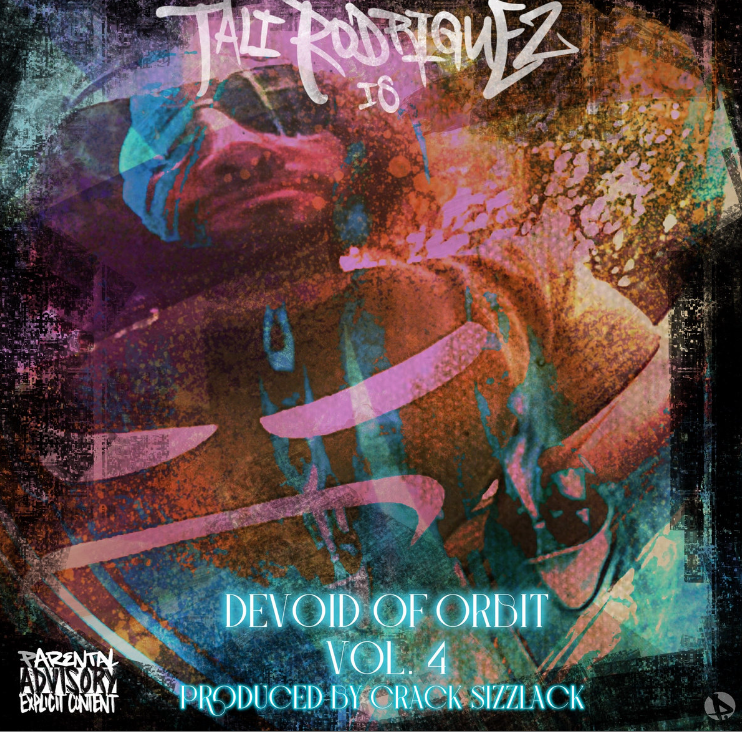 The KNUCKLE DRAGGUZ Crew is like the perfect 8-piece wardrobe, where you can make hundreds of dope outfits by mixing up the pieces you combine. On the latest release from the DRAGGUZ camp, Emcee/Producer/Engineer TALI RODRIGUEZ matches up with CLOAQxDAGGER Producer CRACK SIZZLACK for the 4th entry into TALI RODRIGUEZ's DEVOID OF ORBIT series.
"Welcome to the TALI has to bitch about something show", where CRACK SIZZLACK serves up a score of Neck Breakers for RODRIGUEZ to rant away over. On D.O.O.v4 TALI lets his untethered tongue tell his truth without a fuck to give. For example, on "THE SCHEME", where he belches a brutal critique on over entitlement and reminds us we are all just a speck of sand in the grand scheme of things. "Seems a lot of yall are talking all Cheif/ Then I point out inconsistencies and yall get all peeved/ Then comes the passive aggression and frothing at the fingertips / You ain't a master of disguise, we can see the Bitch/"
Tell us how you really feel tho. On THE DISTANCE he tags in CERTAIN.ONES OG, FERAL SERGE who not only lays down a disgustingly beautiful verse, but adds a bluesy chorus that fits the SIZZLACK tune like a blood-stained glove as he and T.ROD murder the harp and horn-driven head nodder. The hook is so infectious even TALI croons his own version, laying the song to rest with a savagely honest line about not having a chance to work on his own craft cuz he is too busy engineering everyone else's projects.
Ironically, CRACK lets the album breathe with a breath-stopping interlude of suspense on THE BETWEEN. (I love how TALI ROD has continued the theme of song titles in the DEVOID series, each song title beginning with THE ___).
If I thought the 1st half of the album was serious, my mind was blown to pieces when THE CURTAIN starts, sounding like a lost track off of the CO FLOW Funk Crusher Plus classic. TALI shares 3 tales of coming Face to Face with death as it knocked on his family's door throughout his life, and how he has learned to make the most of the time he has left, knowing that his hourglass is constantly running out of sand. He goes all out Berzerker with JUDGE THE BARBARIAN & Fort Wayne Indiana's SANKOFA who all trample the SIZZLACK Banger like a stampede of T Rex's. The album ends with the poignant THE CRAFT, where TALI opens up about his many journeys into music and self-expression. From playing instruments and quitting, to joining crews and watching them fall apart due to politics, to the discomfort felt when you try to give it all another go in a scene where you are unknown. TALI shares this "not-so-glamorous" but just as real side of every musician. Every creative goes through those times of self doubts, burnout, need for breaks, premature retirement, and then goes through the transition of having the hunger sparked alive inside of you again, from out of nowhere. TALI RODRIGUEZ has taken that spark reignition, which took him by surprise a few years ago, and has allowed it to propel him to be one of the most sought after engineers in the Underground Scene. Add to that his fearless pen, Production skills, and the crew of monsters he rolls with….sheesh. TALI ROD might feel he is DEVOID OF ORBIT, but he ain't Devoid of much else. The chico is holding a Full House, wearing a poker face like no other.
Copp a Limited Edition DEVOID OF ORBIT V4 CD and the rest of the Series at https://talirod79.bandcamp.com/album/devoid-of-orbit-v-4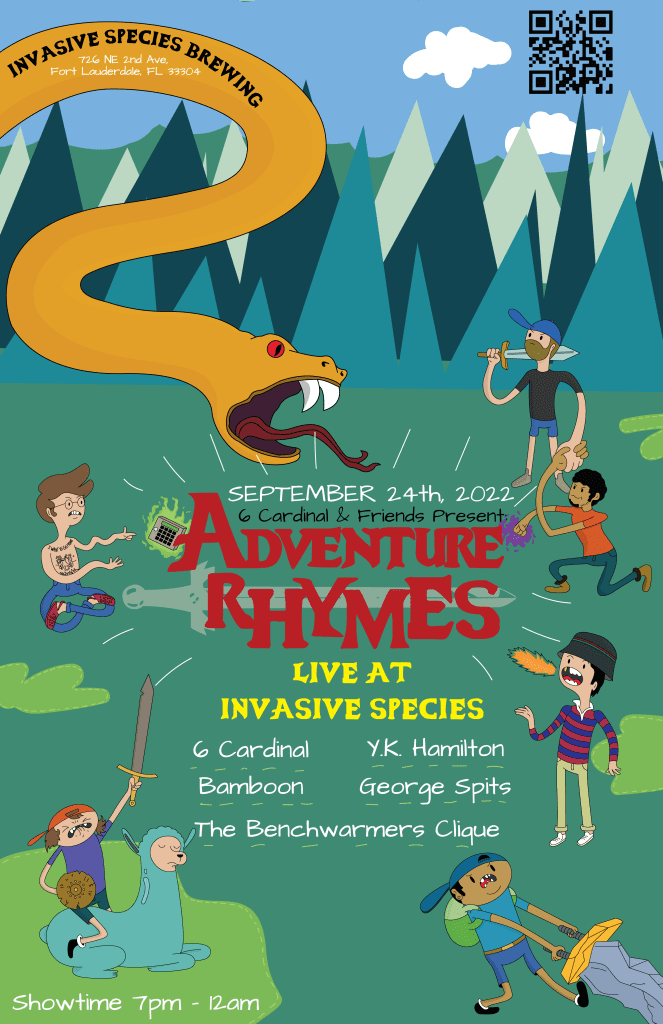 K LEJIND – BROWN RECLUSE
Written by: Presha
Most spiders weave silky webs to trap their prey, but the Brown Recluse is a more proactive predator. As its name implies, the Brown Recluse is reclusive. Instead of flaunting its webbed domain, it spins its fortress in secluded corners and leaves at night to hunt. For this antisocial arachnid, the hunt is outside; the web is home. Another Recluse attribute is that unlike other species of spiders it doesn't regenerate lost legs. Each time a leg is lost, the Recluse compensates by simply changing its gait. And the Brown Recluse is poisonous, which makes it not only tough, but one of the most feared of the creepy crawlies.
Dade County's K- Lejind is no stranger to loss. After building his YouTube channel to about 10K subscribers and over 100K views, YouTube banned his account in 2015 for copyright infringement issues–using beats that weren't legally his. Like a home destroyed in a Miami hurricane, the gust of legalities leveled all he had built. But like a resilient Recluse, K-Lejind turned the loss into a lesson and changed his gait. He left his lair on the hunt for sustenance. He met a fellow emcee who introduced him to the Art of War battle rap arena, and K-Lejind held his own. His experience in the battle rap circuit deepened his love affair with the word wizardry and zingers thrown back and forth in the trenches. "Brown Recluse," his newest project with UK producer Risen 808, is the product of a pen heavily influenced by those puns and punchlines.
K-Lejind's delivery is intelligent and intentional. He intends to wow listeners with his battle bitten trap mutation, and he succeeds. Each track ensnares you into a web of intricate, interwoven bars. Listen too close and you might miss the next bar coming. My favorite bars come on "Highs and Lows," where Lejind spits, "…Adopted a whole new style/ and it is apparent [parent] that I'm still not poppin and heard/ guess they're neglecting the kid/ but they'll get endorphins [orphans] when they see me foster these words…." (Emphasis added) K-Lejind packs the project with these types of play on words. Each time you listen, you discover a new gem. But he's not just a punchline superhero; he's a song writer. Songs like "Work of Art," "I Love It," and "Antisocial" are accessible and relatable. "Starving Artist" is an instruction manual for musicians trying to make it in the business. He also reminds us to "Stay Humble" not matter how successful we become.
Learning to take a loss and rebuild have humbled K-Lejind. The experience has made him keen and discerning. He's evolved, like the Brown Recluse, which spins a silk unlike any other spider. Its silk fibers aren't round, but flat, like a ribbon, and capable of stretching 30 percent longer than its original length without snapping. By weight, the Brown Recluse's silk is as tough as Kevlar. Since getting bit by the Hip Hop bug, K-Lejind has been battle tested, forced to start new, and hunt for the next challenge to sink his fangs into. He's internalized his experience and forged his home in the sturdy, brilliant bars he spins. The result: 16 tracks–all grit, no skips.
NEIGHT LARCEN – LIKE I SEE IT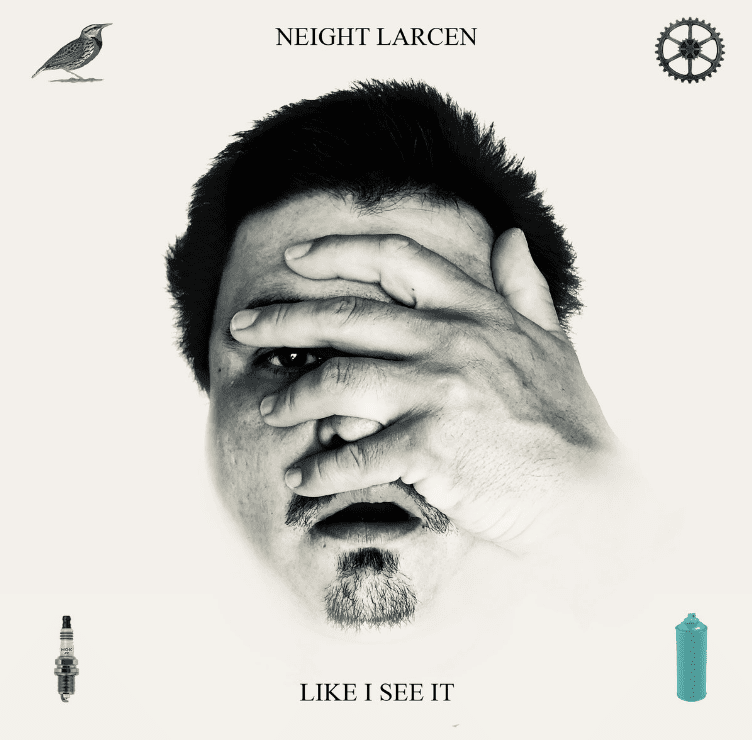 If you think South Florida, Massachusetts, and Northern  NY have some great Hip Hop scenes bubbling, you got to check out what our South West Family has cooking out in New Mexico. Hip Hop is alive and thriving out west, not only in Cali, but throughout the SouthWestern Region. This summer we reported on THE SOOTHSAYERS debut album INTO EXISTANCE and introduced you to LIPHE THE EMCEE and NEIGHT LARCEN, the Emcee, Producer, Artist, Apparel Designer, and Small Retail Business Owner who has dedicated his life in Taos NM to Hip Hop Culture. On his latest full-length, "LIKE I SEE IT" he puts his love for "The 4 Elements", and his respect for all Life on Mother Earth, on full display. When talking to NEIGHT about his New Album he described it as "It's a celebration album for my 25yr Anniversary as a hip hop artist and 10th full-length studio album. While there isn't really a deliberate message throughout the album. It definitely revolves around me, my life and lifestyle through the music and lyrics. That's why it's the first album or music artwork I've ever released with a photo of myself on it. It's basically based on my reality and my obscured view of the world."
Don't get it twisted. LARCEN is far from self-centered on his 10th release. He is joined on "LIKE I SEE IT" by several top-tier spitters, including Master MC BLUEPRINT on THE MACHINE, ORIKAL UNO & LIPHE TRACKS on one of my favorite joints of the project, the graffiti anthem CAN CONTROL, AKIL THE MC on the melodious BORN FROM THE SPARKS, LANDON WORDSWELL on the bluesy GHOST NOTES, ONE HORSE TOWN feat SALMAN LEE and the album closer BUS STOPS with a guest appearance by THE NATURALIST who we were introduced to by THE SOOTHSAYERS, on INTO EXISTENCE.  This being his 10th Solo release, NEIGHT is way past proving himself as an Emcee and Producer, hence why he doesn't mind inviting crew and family to join him on the projecct to deliver the message that even though this culture was built on Ego and Constant Competition to show who has the illest skills, our life on this planet and our relationships with one another can go way past that.  If your skills are only good enough to garner you praise and applause but do nothing to help your fellow man, what good are they to the community really?  This album is not only a call to stay true to the Culture that raised us by continuously building our skills, but a challenge to grow our skills into something that benefits the community that surrounds us. At least, this is the meaning of the album "LIKE I SEE IT".  Press Play and see/hear for yourself. You might have a whole other point of view.  We encourage you to share it with us in the comments and copp "LIKE I SEE IT" on Bandcamp to continue to support this mutli-talented artist who is dedicating his craft to serving his community.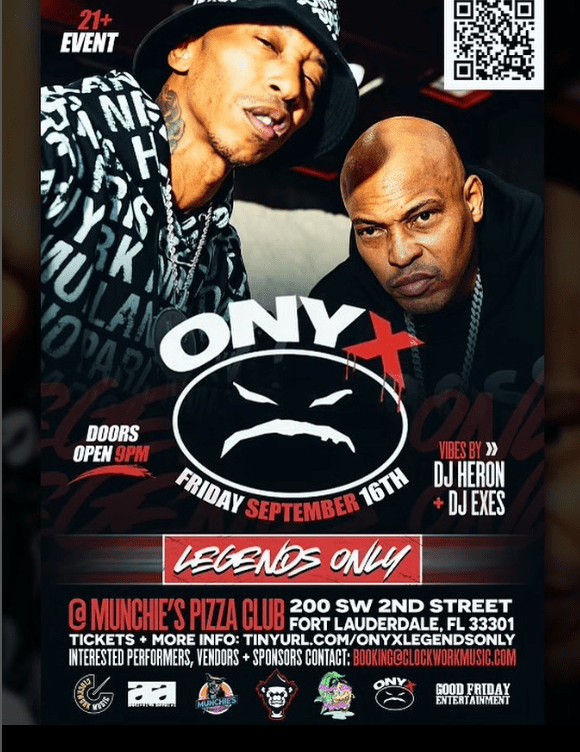 Melly Mel x DJ Views – SUPREME
Written by: Presha
Johannesburg South Africa. Once ground zero for South Africa's battle against apartheid is a mineral-rich land and now one of the wealthiest cities in Africa. Dubbed "The City of Gold," it's also rich in culture and golden era Hip Hop. Melly Mel, not to be confused with legendary Grandmaster Melle Mel, teams up with DJ Views to stamp our passports and fly us into the heart of Johannesburg. "Supreme" harvests locally resourced sounds and fuses them with imported bars to produce a body of work that sounds exotic yet welcoming. Melly Mel's bars are top tier. Sift through "Supreme" and you discover numerous nuggets of gold, like the nostalgic appearance of Brand Nubian's Sadat X on "Coco Curry" or Termanology's sick flow on "Talk to You" (…give me some penicillin). "Dystopia," featuring Low Life ambassador Thirstin Howl III and Akrobatik, paints a bleak picture of the future based on extrapolations of current trends. For the title track, "Supreme," Mel meets with his South African crew The Assembly Za and proclaim their royal roots. All ten tracks are unique and sprinkled with precious gems. Whether in the States or the home of Nelson Mandela, "Supreme" is proof that music is universal and the Hip Hop nation is worldwide.
AZTECH of HYBRID THOUGHTS – 21 GREEN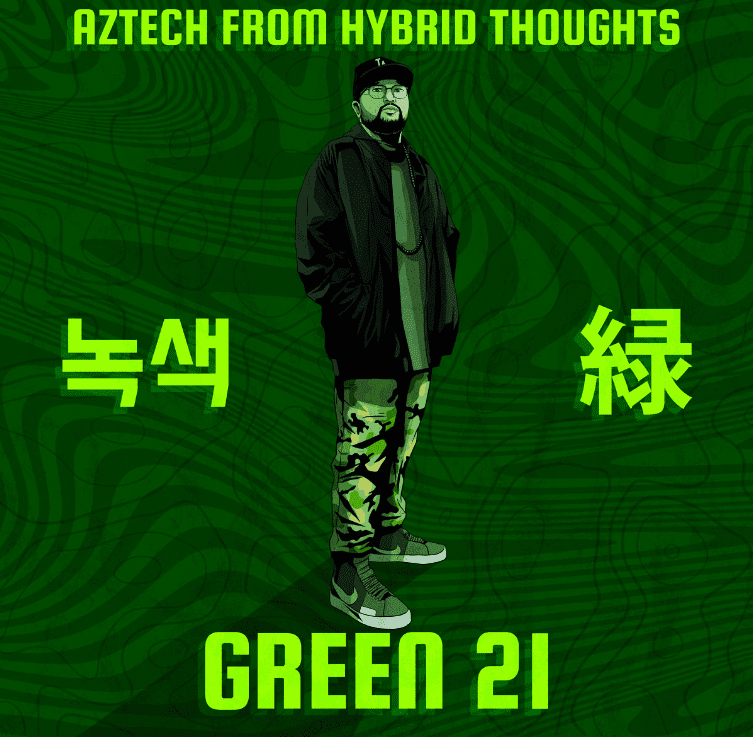 Boston Mass Emcee AZTECH has been repping Underground Hip Hop in his local scene and beyond for over 20 years now, as a member of HYBRID THOUGHTS and on his solo grind. Through his persistent hustle, he has managed to land his records not only on Underground DJs Playlist worldwide, but also on a number of Major Anime Sound Tracks, including JUJUTSO KAISAN, DR. STONE (A Family favorite at my crib), BEASTARS, and others. This has grown his audience beyond his hometown and the average Hip Hop Head. Now on his latest offering, GREEN 21, AZTECH offers up an album that all of his fans can enjoy thoroughly. Boasting guest appearances from the likes of ESTEE KNACK, P-RO of the Knuckle Dragguz, Crew Mate PARANOM & YUKIE DONG who lays down a lovely hook on WITH ME, KEZVIA, OBLIVIOUS, and YU of SHIORI KUBRICK & JUDGE THE DISCIPLE (who is also featured on the New TALI RODRIGUEZ album we covered in this WEEKEND BAG), the album is full of different audio animation styles that blend well with AZTECHs verbal graphics. There wasn't too much info available regarding production credits on the Bandcamp page, but whoever provided beats to the project laid down a great score for the 10 track short film. If you are a fan of Japanese Anime and raw Hip Hop, GREEN 21 will have you binge listening for the rest of the month. Don't be greedy. Show AZTECH some support on his Bandcamp so he can continue delivering quality product to his growing fanbase.
VEL NINE – FREAKJET
Written by: Presha Who could ever forget sexy Sanaa Lathan playing Monica in the classic 2000 film "Love and Basketball!" In this sports-related romance, we saw love, we saw basketball, but we also saw a story about gender inequality and female empowerment that was way before its time. Monica and childhood crush Quincy both grow up wanting to be professional basketball stars, but Monica struggles to get the recognition she deserves while Quincy is revered. Life draws the couple closer and pulls them apart, but the movie concludes with Monica playing in the WNBA and Quincy cheering from the stands along with their young daughter. What made this story a game changer was that the WNBA was still in its infancy at the time. When Love and Basketball was released, the WNBA was only about three years old.
Love and Basketball taught us that men and women can share mutual interest. More importantly, it taught us that women can be fierce competitors and rise above pressures to indulge solely in things that are considered more "lady like." Like Sanaa Lathan's character, Vel Nine is out to prove that Hip Hop is not just a man's game. The West coast femcee's newest project "Freakjet" is nine tracks of soulful black tops and lyrical swishes. She manages to pull off being both sexy and relentless. Producer Zoomo ties everything together with the sports theme while Vel works wonders. The features of YL, Starker, and Koncept Jack$on support Vel Nine well–like Quincy in Love and Basketball's conclusion–while she shows off her handles and works the court. Think pretty and gritty don't mix? Vel Nine is a game changer.
RAZ FRESCO – MAGNETIC
Bampton Toronto Mic Mutant RAZ FRESCO is back with his latest chapter in the MAGNETO WAS RIGHT series, a mosaic of FRESCO's mind-bending beats and metaphor manipulations titled "MAGNETIC". Rumored to have written his first verses in the 2nd grade and produced his 1st beats in the 7th grade, the prodigy nephew of Reggae Artist EARL ZERO seems to have been born with a special gift to create Dope Hip Hop and attract real heads to his music. Similar to how ERIK LEHNSHERR attracts metals.
For 13 tracks RAZ flexes a production style that could be compared to the likes of mad sample scientist MF DOOM, MAD LIB, ALCHEMIST, PRINCE PAUL, and EDAN. His collaging of sound clips, warped sound effects, breaks, Marvel vs Capcom, and X Men Cartoon snips creates a magical world worthy of escaping to with a bowl of Lucky Charms on a Saturday Morning, or a Bowl of Gorilla Glue on a Friday Night. Lose your mind when the beat drops in on THE STORY ENDS. He's joined by THE 6TH LETTER on ALWAYS HAS BEEN and over the beautiful flute sample flip on LOST FROM HOME. THE GRITTIEST makes his presence known on album opener THE ULTIMATE and on one of my favorite joints off MAGNETIC, the break heavy GLORY-US. He talks the truth about the difficulties of relationships on SOMETHING YOU SHOULD KNOW and swags out surfing the Tropical Sounding sample flip on LIGHT UP THE SKY. GRAVITY SQUEEZE is a perfect example of all the powers FRESCO wields working in perfect unison to create a sound unlike anything out there. RAZ FRESCO is the real thing and really comfortable being one of a kind. His consistency has drawn a fanbase that is hitting their online plugs monthly to check the latest issue of the Audio Graphic Novels FRESCO publishes as regularly as Marvel Comics. Make sure you add RAZ FRECO to your favorites list on your preferred DSP, and give MAGNETIC a couple of spins to get the full experience.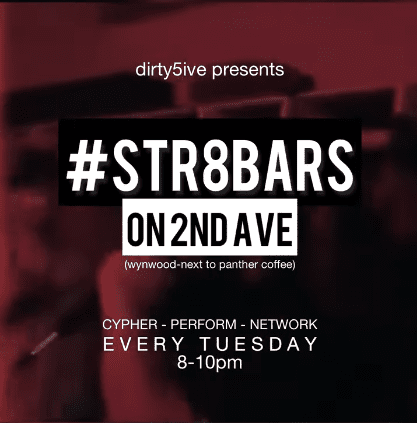 CAPPADONNA x STU BANGAS – 3RD CHAMBER GRAIL BARS
Written by: Presha
While Cappadonna's verse on "Winter Warz" should be enshrined in the Hip Hop Hall of Fame, the Wu warrior has been consistently inconsistent with his musical contributions. His newest collaboration with veteran boom bap architect Stu Bangas is no different. The intro to "3rd Chamber Grail Bars" was so long and drawn out that I breathed a sigh of relief when the first track "Bring it Out" began. From that point, 3rd Chamber drew me in. Stu Bangas production is dirty and Wu worthy. The "Bangas" attached to his name is well-deserved. (Both instrumental interludes are a nice treat for cypher ready emcees.) Cappadonna's forte is aggressive battle rap braggadocio; therefore, the apex of this project is "Continuous Threat" with Planet Asia lacing the hook. But then there's "How We Rolling" which should have been rolled over a steep cliff. Stu Bangas production and the occasional glimpse of Cappadonna in his element make this worth a listen, but overall it's the usual inconsistent work we've come to expect from Capp–no cap!
David Bars, Passport Gift & Parks – UNORTHODOX
New Yorks DAVID BARZ has linked up with Producers PASSPORT GIFT & PARKS to deliver UNORTHODOX. A 10 track trip of pure of Hip Hop Soul. BARZ earns his name on every track and beatsmith PASSPORT GIFT even gets busy on some joints like HALLELUYAH where they have a whole Sunday service the PASS & PARKS production. DAVID BARZ mixes punches with financially literate grown man talk, and expert flow patterns. He has been on the WVCC RADIO for several years now, and on UNORTHODOX he delivers the type of album we have been waiting for from the young bull.
#CyphLyfe #SingleFiles
2wo Offishall – NO GAMES (Feat. Styles P, Eddie Kaine, Ea$y O'Hare & Goosebytheway)
Chicago Super Producer 2WO OFFISHAL doesn't know how to go easy on things. If he does anything, he goes all in, putting his whole foot on the gas for whatever he is hustling at the moment, or his whole foot in the Pot when cooking up beats. That 150% Hustle is what has landed him a spot as an On Air Personality on Chicago's FAB 94.5 "The Hitz", a position as the host of the "UPTOP SHOW" which is currently being syndicated around the country and has its own brand of RAP SNACKS CHIPS. I'm telling you, 2WO OFFISHAL has officially got his hands in everything. Last week he handed out his latest single of his upcoming "RAP BASEL" album, called NO GAMES. The cut shows up as UPRAQ on the album track list, but whatever you title it, the track is pure fuego with THE LOX's STYLES P THE GHOST, EDDIE KANE, EA$Y O'HARE & GOOSE BY THE WAY all spraying up the track with hard body hustle on the block bars. We already got a taste of 2WO OFFISHAL's work before when he blessed us with the MONALISA feat CAPADONNA & GREA8GAWD. From the look of the Track List below for the soon-to-be-released "RAP BASEL" , we just witnessing the tip of an Iceberg that is sending chills throughout the underground. Be sure to follow 2WO OFFISHAL to be notified when RAP BASEL makes its grand opening.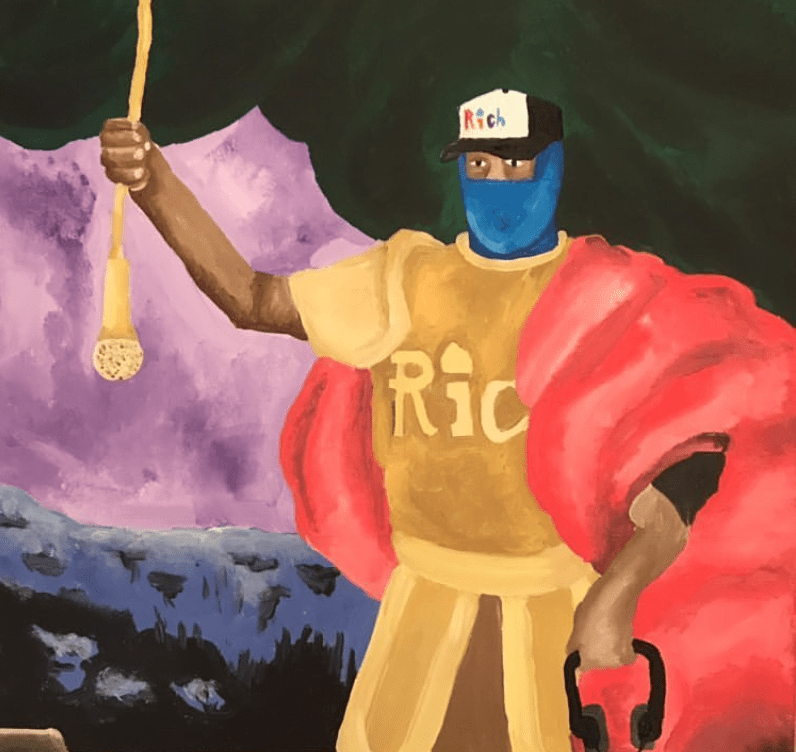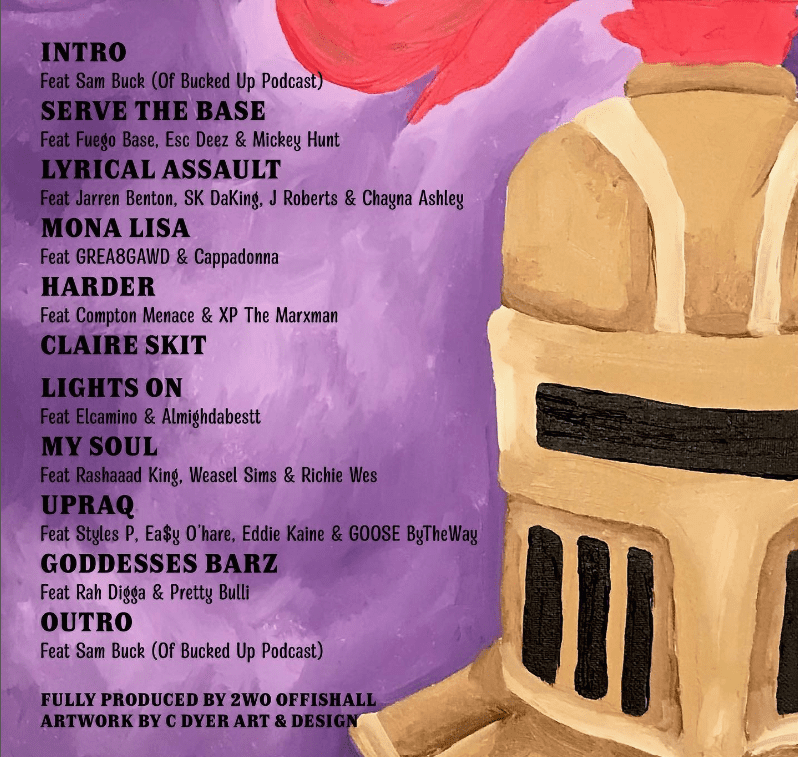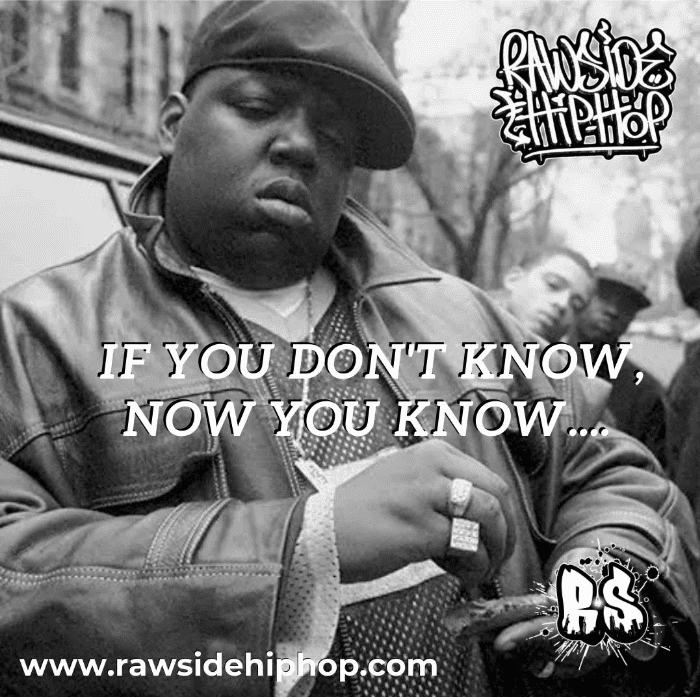 JFLIZ x SKINNY BONEZ THA GODFATHA- DONT NEED YOUR FLOWERZ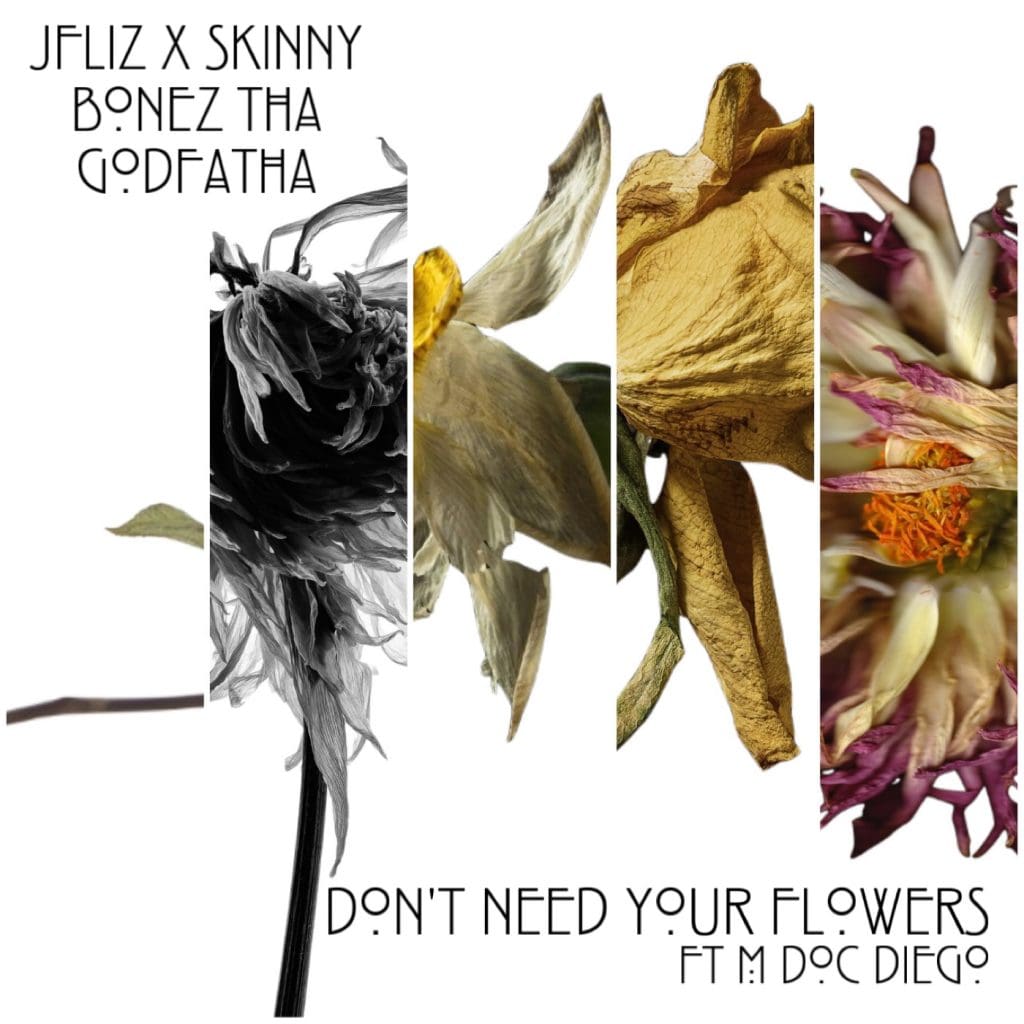 Our Family from Bean Town, JFLIZ keeps putting out dope product. We have been covering every one of his singles and albums for the past 3 years, but as he explains on his latest single, he doesn't do it for the publicity or the props. "I don't care about numbers, forget the accolades / This Music isn't High School, don't need your Passing Grade" FLIZ raps over a groovy altered Guitar riff sample sown together by Neatherland's Beat Abbot, SKINNY BONEZ THA GODFATHA. The ever gruffed voice M.DOC DIEGO adds a dope touch to the hook and his verse drives the message home. These 2 aint waiting around for you take notice. They are putting in their "10K Hours multiplied 10 Times Over" and we'll wait to reap the fruit that grows organically from their hard work. Need um or not, we got a bouquet waiting for them every time they drop some New New. SKINNY BONEZ, JFLIZ, & M.DOC DIEGO never disappoint and are worth much more than a dozen roses. Stay tapped in so you can pick up JFLIZ & SKINNY BONEZ upcoming NO FLOWERS NEEDED EP dropping at the end of September. Check the Track listing below if you need any more convincing.
WHICHCRAFT x DJ EVI-DENZ – AURA feat FORTIFIED MIND
Hot out the oven. This video is still steaming it is so New. Just after we posted this weeks article of the Weekend Bag, the big homie WHICHCRAFT shot his latest video for the Opening Track to his new album with DJ EVI-DENZ, AURA. The single which shares the same name with the album features FORTIFIED MIND who currently lives in Germany, and has enough travel stories and accents to keep you intertained for hours. Thats just talking conversation skills. When it comes down to blessing the mic, these two do what it takes to switch your Aura's color to a more relaxing, enlightened hughe. Make sure you pick up your copy of Aura as it is one of the best albums to drop in the Underground this Summer. Highly Recommend. https://whichcraft.bandcamp.com/album/certain-ones-present-whichcraft-x-dj-evi-denz-aura
JUS DAZE – NO SLEEP feat JAMES JAY EAZY
The Queens NY bowlegged battle vet, Jus Daze, is back outside with some new product to push. "No Sleep" is off his upcoming "Runtz & Rants" EP, the sequel to his "Raps & Rants" LP which made waves earlier this year. You get a taste of the new Supersonic strain Jus Daze is promoting on the new single"No Sleep" ft. James Jay Eazy. The Matteo produced bop puts you right on the grimey corner of Daze's block where he and Jimmy Jay are posted up there to either serve you that work or them bars! Either way, they're leaving you slumped. With over a decade in the game, Daze has already proven he can battle an opponent into submission, write conceptual albums, and deliver flows that appeal to both die-hard underground heads, and leisure Hip Hop fans who just want to smoke and have a good time as well. Here's a little Supersonic nug for your bowl to hold you over till the "Runtz & Rants" pack drops on 9/20. Follow Jus so you can be one of the 1st to inhale the Supersonic smoke he is serving up this Fall. Subscribe to Jus Daze on YouTube: http://shorturl.at/azFT5 Connect with Jus Daze: http://www.jusdaze.com https://instagram.com/jusdaze https://twitter.com/jusdaze https://facebook.com/jusdaze https://tiktok.com/@jusdaze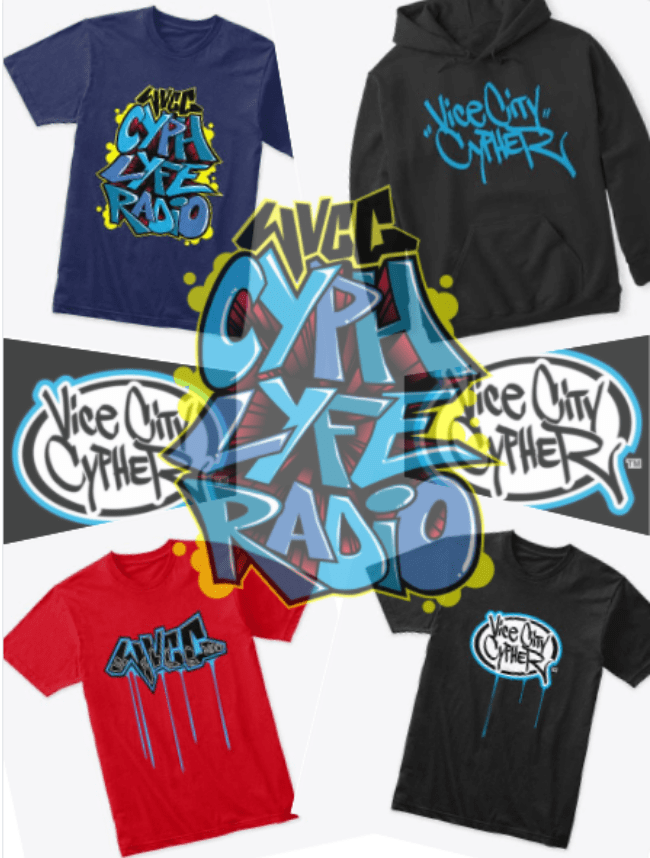 #BottomOfTheBag #RareGems
ADAGIO! – THESE NEVER DROPPED
ADAGIO!, The Philly Duo who was introduced to the National Underground Scene on the JUGGAKNOTS CLEAR BLUE SKY, has finally released their lost tape of early recordings which they have ReMastered and retitled, THESE NEVER DROPPED. RAYME SUPREME & CARTA P Have been staying busy in the studio, releasing new heat independently for several years now on the JUGGAKNOTS's MATIC ENTERTAINMENT Imprint. Tho THESE NEVER DROPPED gives you a great throwback vibe, it leaves me wanting to hear something more modern and mature from the PA Partners in Rhyme, and damn I wish it had a long lost Juggaknots feature on it. Oh well, Check the 10 song/ 5 Instrumental Re-release for yourself and form your own opinion. It's still great, No Sell Out, Hip Hop, so we Rox with it.
Al.Divino & Estee Nack – Triple Black Diamonds 2 (Album)
Whenever ESTEE NACK & AL. DAVINO combine, you know its going to be a problem. 1ST time I heard of either one, they were bumrushing the underground together with their estilo de Spanglish Rippiado. Since then they have been putting in the solo work heavy to grow their individual brands, which landed ESTEE NACK on the latest WESTSIDE GUN Release this year. Now the Dominican Duo known as TRAGIC ALLIES return for the highly anticipated TRIPLE BLACK DIAMONDS 2. 12 tracks of pure Con Con Raspado, that Hard Shit at the bottom of the Pot. You can get your own copy at https://esteenack.bandcamp.com/album/triple-black-diamonds-2