Your New Spot for Indie Hip Hop News and Reviews.
Welcome Fellow 88ers to another week of Hot Hop Summer. Last weekend we were flooded by a stream of Lava from the Underground, lot of great albums to review, ,and some not so great. As we wind down the summer and get ready to send our kids back to school, the SoFlow Community gears up for HOUSE PARTY AUG at ESQUINA DE ABUELA w/ Special Guest: GEORGE SPITS THE LLAMA, ORION aka BRASS BALLS, THALONIOUS ZAY & ARCE THE KING. The night promises to be lit, and you already know how we been getting down every House Party, Live Music, Good Drinks, Smoke Friendly, and Emcee Cyphers and Hip Hop Culture all night. So get your presale tickets at www.vicecitycypher.com/event/ today so the Artist can get paid to rock the stage. Tune in to WVCC Radio on Twitch this Thursday as we welcome WHICHCRAFT & the CERTAIN ONES crew to the Cypher to talk WHICHCRAFTS New colab album "AURA", with DJ EVI DENZ, presented by CERTAIN ONES. You can stream the album and check our Review below. With that said, let us not waste any more time. To The Bag!!!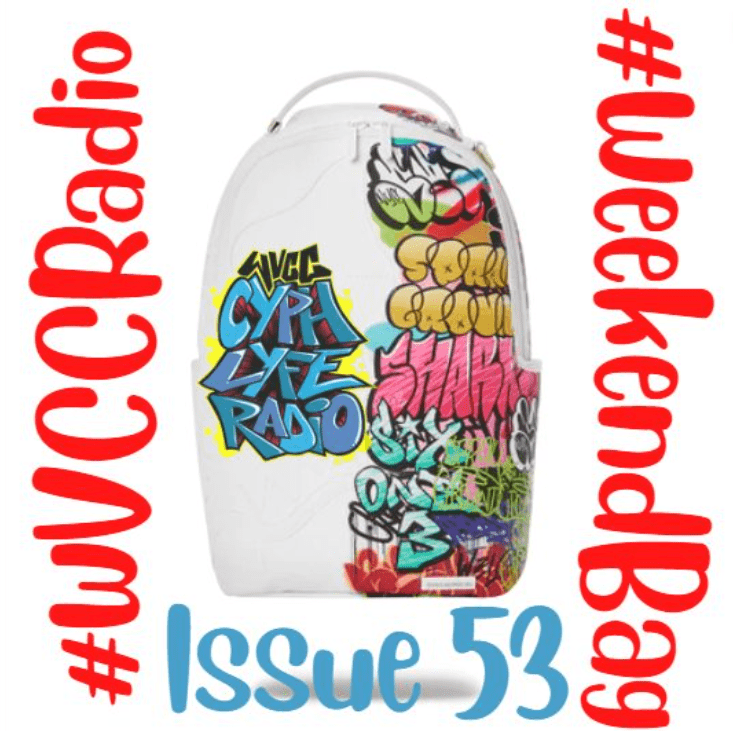 BLACK THOUGHT & DANGER MOUSE – CHEAT CODES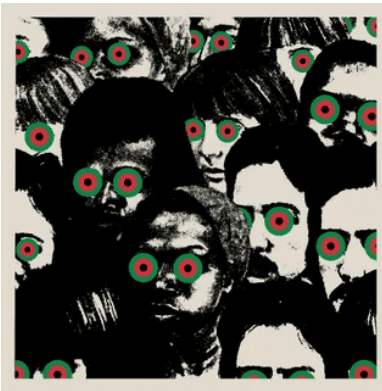 Finally putting an end to years of swirling rumors and speculation, the collaboration is now officially announced: Danger Mouse & Black Thought bring us their debut album Cheat Codes.
The natural chemistry between Brian (Danger Mouse) and Tariq (Black Thought) comes through in the ease with which the artist and listener move through this album. Moreover, it's an album untethered to any genre, era or trend — uncategorizeable and timeless. It is the sound of the pair observing their own culture and asking questions they still may not have the answers to.

Brian Burton (AKA one half of Gnarls Barkley, Broken Bells, and Karen O & Danger Mouse — and universally regarded as the most versatile producer in modern music) has found a formidable new partner in the incomparably prolific rapper Tariq Trotter – rapper, MC & co-founder of The Roots, film and theater actor, producer, writer or, as Hypebeast sums up: "one of the best lyricists in hip-hop history."
Here is what HIP HOP LIFERS Moderator ANTHONY L'ITALIAN had to say about the album:
I listened to this a few more times last night and this morning trying to find any flaws in it and I keep coming up empty. I still don't hear any issues with the mix on the vocals because I can hear every single word all of the MC's said perfectly fine. Especially when you have it turned up loud in the car on a strong system.
I'd say it will most likely finish a Top 10 AOTY for me. Lots of great contenders already though and plenty more to come. We have been blessed with another great year in Hip Hop – ANTHONY L'ITALIAN (HIP HOP LIFERS)
If you're interested in the Limited Edition Vinyl and Merch for this Modern Classic, shoot over to https://dangermouseblackthought.rosecityworks.com/products/store-exclusive-cheat-codes-green-vinyl
---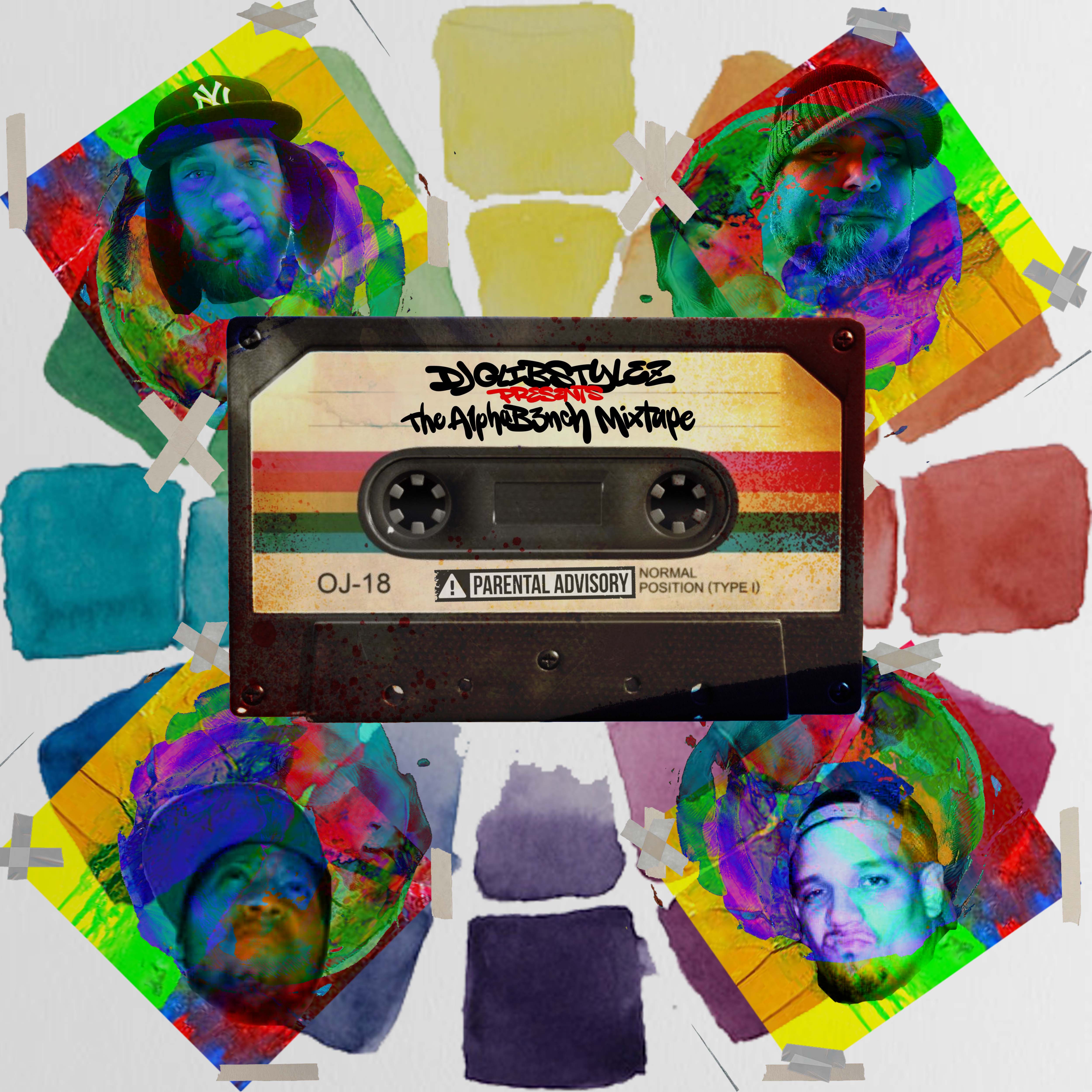 CERTAIN ONES PRESENT: WHICHCRAFT & DJ EVI DENZ – AURA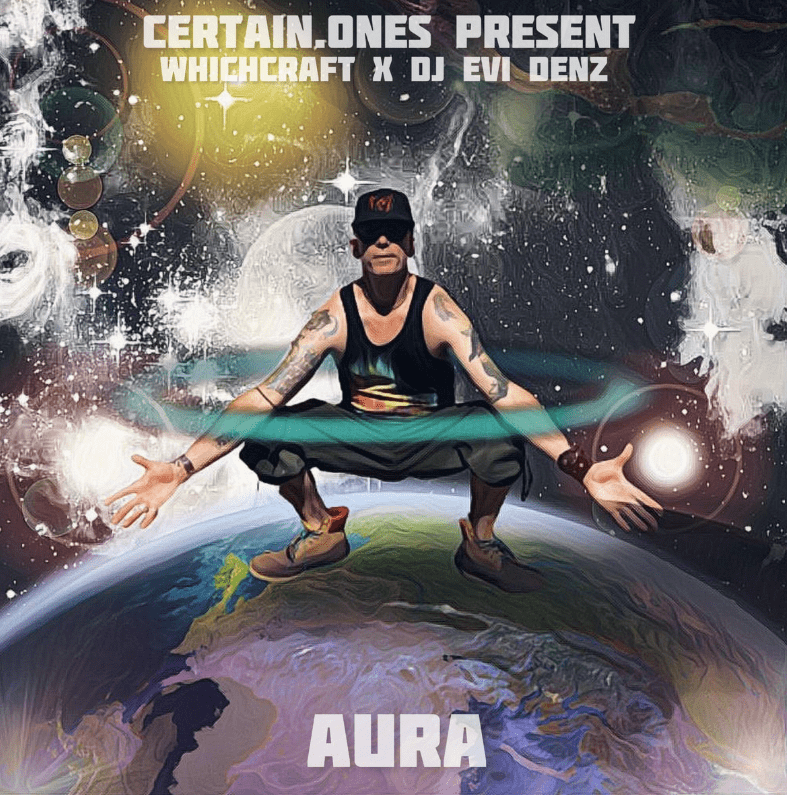 Apache, Our Indie Hip Hop Shaman, just completed another cycle around the globe last week. Last Tuesday, on the same week that Hip Hop was birthed 49 years ago, we celebrated our brother's bornday and gave him some flowers for all the great music, energy, and friendship that he has shared with anyone who has been lucky enough to cross his path. On the week of his and our beloved culture's birth, Apache Napp, aka ATOM SHEPPARD, but better known as WHICHCRAFT by his audience, has released a new Life Art Vessel properly titled AURA. As you listen to the album you begin to notice how well the title fits the project as the energy levels gradually increase, until the vibe surrounds you like a palpable energy field. 
Presented by the CERTAIN ONES Conglomerate, this collection of CRAFTS "Concious HipHop" concoctions is certified fresh. DJ EVI DENZ provides a wide array of outer stellar sample laced breaks, bass lines, and drum patterns, which CRAFT and his friends glide around on like personal Anti-Gravity Disk. Each Special Guest brings their own unique "Nen" to EVI DENZ's intelligent instrumentals, matching WHICHCRAFTS energy, but leaving their own hue imprinted in the AURA, adding to its color.
FORTIFIED MIND sets the album off with an alien DNA strand of vocabulary that leaves you "Snowed In/ My Mission like Snowden/ Stay spitting that Golden/ Dont Front, You know I got you open/". The beat transforms like an Autobot and WHICHCRAFT swoops in, "A perfect Match For The Beat, like John Oats and Darryl Hall" making sure both Peter and Paul get paid what their owed. The Mic sounds nice for both WHICHCRAFT and Sorceress INDIGO PHOENIX on "EVER EVER", one of WVCC RADIOs favorite singles and Videos of the year. Speaking of favorites, "REIGN" is def a front runner for top track of the album, with WHICHCRAFT enlightening us to the hidden truth that "Obi Wan Kanobi used to live in Bedstoi", and CERTAIN ONES' FERAL SERGE leaves you "Running Booty Naked like a Loon under the Full Moon/ Make an Ass out of U and Me when you assume/ Leave them Molecules vibrating or existing in a tomb/ Master my circumference to manuver through  Manure/ Pull your psyche out the sewer". The two Emcees over the EVI DENZ groove and Busta scratch hook "hits you with a Direct Blow". "INNER WAR" is another top choice cut where CRAFT sheds his BBoy Magi cloak and allows you a look at the man behind the curtain of Oz. We find a man in constant battle with himself, fighting for inner peace ceaselessly. The Electric Guitar, and piano key layden instro make a perfect backdrop for CRAFT, DZL & DALI to give you an honest glimpse of the men behind the Mic, Pen and Pad. The Starship AURA swoops back down to Earth to scoop up more of the CERTAIN ONES Crew on WALK OFF (a Head Disintegrating Posse Cut feat  Bobby Craves, Feral Serge, Jimmi Da Grunt, Paranormal, Fortified Mind), only to nose dive into the Atlantic Ocean on GROWTH SPECIMEN where BOBBY CRAVES, DZL, WHICHCRAFT spit liquid lava in fluent Atlantian. The supporting cast on AURA all add depth and extra layers to the project, but it's WHICHCRAFTS' positive energy, love for Mother Earth, family and his Community that has this album vibrating at such a higher level. The mastery of language, pop culture, spiritualism and beat selection that He displays on SAMBA, HEART SPARK (Favorite Song on the Album), 360 and PLAY ON WORDS are nothing short of awe-inspiring. Which is really the only logical reaction to seeing an orb of pure energy lifting a crew of like minded creative to the next level of Life Force. Jaw-Dropping Awe. Make sure you catch WHICHCRAFT , DJ EVI DENZ and some members of the CERTAIN ONES Crew live on WVCC RADIO Thursday Night as we chop it up about the creation & execution of AURA.
THOUGHT PROVOKAH – RANDOM THOUGHTS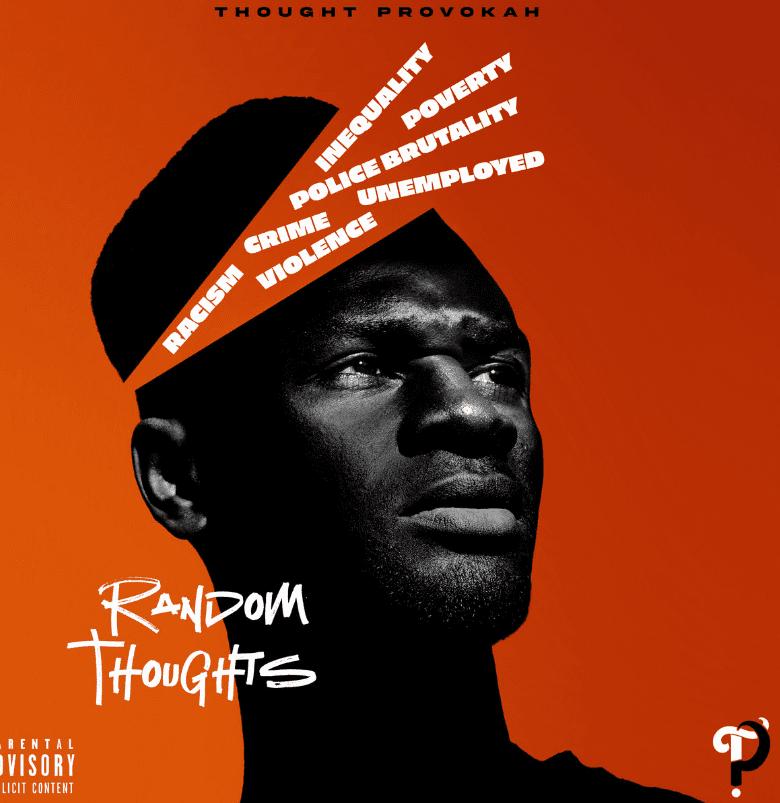 In the brief synopsis THOUGHT PROVOKAH provides on Bandcamp.com for his latest album, RANDOM THOUGHTS, the Port Jervis NY Emcee explains that he had a lot on his mind while creating this project, and "Who better to converse with, than your significant other." The album plays out like part Podcast, part Therapy Session, but make no mistake, it is a complete Hip Hop experience. This is evident as soon as ANXIETY starts knocking after the Intro Conversation between THOUGHT and his wife on "WHAT IS ANXIETY?". The MAGNUM BEATS Vocal Sample production provides the perfect launching pad for THOUGHT PROVOKAH to take off with his unique flow and bars worthy of meditating on.
We asked THOUGHT PROVOKAH about the recording of these "Couples Venting Sessions" which serve as intermissions throughout the album and here is what he shared with us regarding the creation of RANDOM THOUGHTS:
WVCC – Before each song on the album, you have short skits where you and your wife are having conversations about the thoughts weighing heavy on your mind and soul. These "Skits" are followed by the song where you break down the subject of your conversation. Genius way to introduce each topic. How did that idea come to you?
THOUGHT PROVOKAH – I pictured this album as a narrative, a story, where you can follow chapter and verse what's going on and everything is interconnected. I wanted the conversations to line up with the songs to give an experience on this album.
WVCC – How many takes did those convos with your wife take? They sound really natural and unforced or rehearsed.
THOUGHT PROVOKAH – The conversations were real, not scripted or contrived. Some of them conjured up some negative emotions and painful memories. They're a part of a two part release entitled "Bloom", where I talk about evolving past trauma and into a new state of consciousness, positivity, and spiritual growth.WVCC –
Did you guys just sit down In the booth together with the mic on or record the talks on a Mobil app? It really sounds like we are sitting on the couch in the living room with yall, observing the whole back and forth.
THOUGHT PROVOKAH – I just left the recorder on and we spoke and these were feelings from the heart. I edited footage to fit some time constraints—didn't want to have 6 hours of ranting.
WVCC – Can you tell us a little about the conversations you and your wife had that inspired this album?
THOUGHT PROVOKAH – Well, I'm a person who dives heavily into politics, heavy into world events, and I'm a voracious reader. I've been told constantly to disconnect and find peace and not be so fixated on the socioeconomic plight of the world, police brutality, human rights, women's reproductive rights, etc. While I pride myself on being abreast to these events, it also creates anxiety which then snowballs into me over analyzing my own circumstances. This is what sparks these conversations between the misses and I.
You get a full dose of this on tracks like ANXIETY, NEW YORK UNDERCOVER, WHITE WASHED INTERLUDE & HIGHER FREQUENCY where THOUGHT drops gems over a reworking of the Pharcyde classic sample.
Each of the beats on RANDOM THOUGHTS is produced by a different beat smith. He employs the skills of Audio Craftsman MAGNUM BEATS (ANXIETY), BeFRANKY (SMALL CIRCLE), IV (I KNOW YOU), ETHAN OAKS (HIGHER FREQUENCY), PURE FACTS (CHIP ON MY SHOULDER INTERLUDE), UGLEE BOI BEETZ (NEW YORK UNDERCOVER), and EVERYBODIES HIP HOP Co-Host, and Published Author, MC TIL who shows off his production chops on the fore mentioned WHITE WASHED INTERLUDE.
WVCC RADIO – How did you go about selecting the producers for this project?

THOUGHT PROVOKAH – Honestly, I just wanted the best sounding beats that I thought fit the theme of this project. When I made certain songs, I went more for the aesthetic of what I wanted to paint a picture of, than the name I was collaborating with. At the time, these beats spoke to the messages I was trying to convey on this album.
The production truly carries every message comfortably to the listner, like the one was made for the other. Hand and Glove status. RANDOM THOUGHTS is a project that does just what the Emcee's moniker describes, provokes you to think deeply about the world around you and the world inside of you. In a time when there are so many things fighting for our attention, and we so often turn to things to numb us or distract us from real life circumstances, it is sobering to hear an Emcee, and Young Black Man who is taking the time to confront the demons that encroach and those that have made themselves at home within. To hear him working these issues out with his life partner, tough and uncomfortable as the conversations might be, is an example all men need to learn from and follow. The album may be called RANDOM THOUGHTS, but everything about the creation and execution of this record was calculated and planned, and as a married couple working together on this record, they hit the target on the bullseye. I can only wonder how many random people will be touched and motivated by these RANDOM THOUGHTS.
THE GAME – DRILLMATIC: HEART VS MIND
Written by: Presha
I remember an old Richard Pryor skit where he creates a dialogue between the brain and heart. The heart scolds the brain for being "naughty." The brain ultimately tells the heart to "drop dead," and things don't turn out well for either of them. I think what the legendary comic was essentially saying is that the mind and the heart might disagree, but they need each other to survive. It all about balance.
In a figurative sense, we relate the heart to emotions and the brain to reason. Truth be told, we need both. Sometimes we need to lead with emotions; sometimes we need to think things through. The mind and heart clash once again for Game's eleventh studio album, "Drillmatic: Heart vs. Mind," and the mind doesn't put up much of a fight. First of all, the number of tracks (31) seems superfluous. Let's not forget that Nas's classic "Illmatic" was a solid ten tracks with only one feature (AZ). I don't even want to waste my word count on the laundry list of features on Drillmatic. Pretty much everyone is on there! In this day and age of shortened attention spans, Game's excessive offering comes across a little swollen-headed. Prior to the album's already delayed release, the amount of tracks was a source of contention in his camp, and I understand why. Clearly, they abandoned reason and the heart prevailed. Game devotes ten full minutes to attack Eminem. Poor Game is either in his feelings or looking to stoke a little promotional beef with this poor excuse of a diss track. He uses an Uber driver skit as the backdrop for a drive around Detroit that takes the pair "somewhere near 8 Mile." Game then discovers that the man behind the wheel is the brother of "Stan." I was unimpressed.
Game is without a doubt a talented emcee, and Hit Boy's executive production is versatile. There are some dope tracks on this project. But Game should spend less time trying to prove to the world that he's a great emcee, and just be a great emcee. The Bompton emcee should use more of his noggin. I would give a more nuanced review, but I just spent two hours of my life listening to Drillmatic that I can never get back. Game needs to respect my time a little more.
MIKE TITAN & HILLTOP PRODUCTION – TRUTH, JUSTICE, & THE AMERICAN WAY 2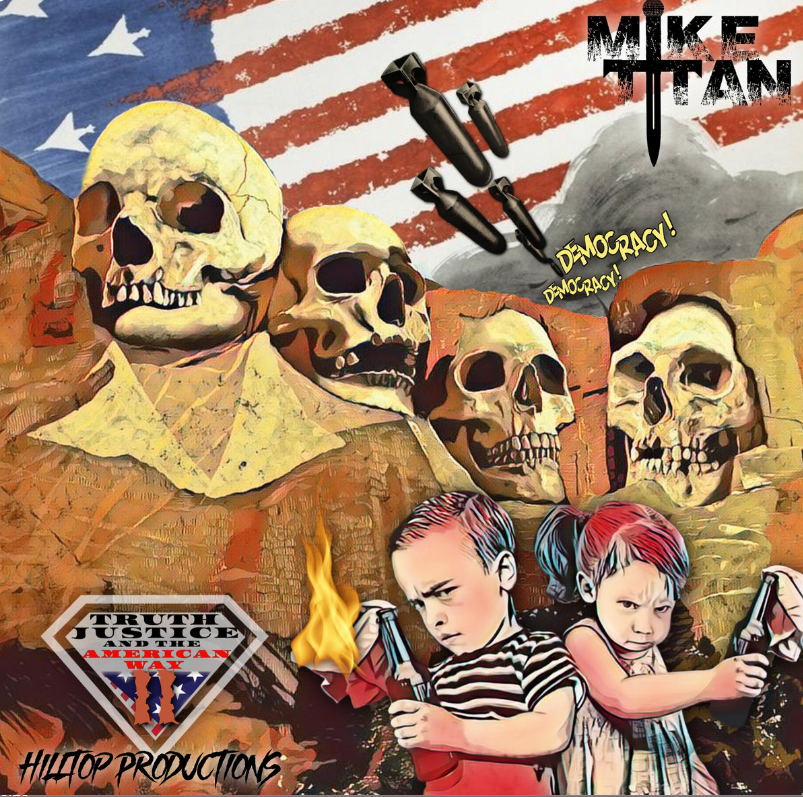 2 Years after releasing TRUTH, JUSTICE, AND THE AMERICAN WAY, our good friend MIKE TITAN is back with the patriotic sequel. This time produced by THE CAPE & RUGGED TRIAD Affiliate HILLTOP PRODUCTIONS, "T.J.T.A.W.2" is a scathing review of our Governments involvement in Global Affairs. Joined by like-minded revolutionaries RHINOCEROUS FUNK, SILAS ZEPHANIAS of the U.K (totally kills both of his features), FRED ONES, JASON FAMOUS BEATS, AIDA (Holy Shit, check her out on TRUTH SPILL), and practical twin brother A7MC. This rebel alliance does its duty in shedding light on the corruption and hypocrisy our country was founded on, and still conducts business under, worldwide. He even invited NOT YA MANZ Co-Host and Contributor JOHN D CONTRADICTION to come on the album and continue his series of feature from where they left off on "TRUTH, JUSTICE 1". JOHN D and all the Features completely merk the missions assigned to them by MIKE TITAN & HILLTOP, providing us with an excillent album full of far reaching ramifications. Being that I consider MIKE a friend, and find myself to be bias to his brand of Hip Hop, I decided to let our Contributure STILL PRESHA take a crack at the album review to give you the perspective from a fresh pair of unbiased eyes and ears. At the end of the Day, this is an Honest Review Article, not Government Propoganda. Press Play on the Link above, and enjoy the write up as you listen to the album.
Written by: Presha
Wars are not only fought with weapons, but with information. All governments know this. In 1917, President Woodrow Wilson established the first US propaganda agency, which went on to manipulate the media and spread lies to the American people in order to garner support for America's war efforts. The government continued to propel propaganda and foster falsehoods. Even today, propaganda remains an effective weapon in the battle for American minds. In this age of disinformation, the truth is ever elusive. It's become harder and harder to disseminate real news from the fake.
Don't believe your government is capable of promoting lies? Then get it "From the Horses Mouth." Mike Titan & Hilltop Productions's "Truth, Justice, and the American Way 2" begins with a clip of a government official admitting to his involvement in the manipulation of the media. In fact, the entire album serves as a scathing rebuke of dishonesty in the name of democracy. The title itself implies that there's truth, there's justice, and there's the American way.
Mike Titan and his team are Mobb Deep with a message. The Bronx emcee has a Prodigy-like flow that's more "Hegelian Dialectic" than "HNIC." His journalism is complimented by Hilltop's heat and the addition of provocative clips that cover disturbing topics such as the injustices our Native Americans faced at Wounded Knee, the CIA's control of the media, the rewriting of history, and the manipulating of minds. His message: Wake the fuck up!
LA H3R3NCIA/MILETO BEATS – CRONICAS CLANDESTINE
SoFlow Hip Hop is a Melting Pot of flavors. Different rhythms influenced by the music we grew up with on the Radio, and the music our parents played from our home countries. Different vibes rooted in our traditions and cultures, and many flows accented by our native tongues. Up and Coming Miami Rapper/Producer, LA H3R3NCIA (translated The Inheritance)/MILETO BEATS, Is hard at work to add his ingredients to the SoFlow recipe. On his latest album, "CRONICAS CLANDESTINE", He taps into his Latino roots to produce an audio "arbol" that bears flavorful fruit.
Born in Miami after his family migrated to The States from Medellin Colombia, CRONICAS CLANDESTINE has been slowly building his name and reputation in the scene, rhyming with his partner CINCO 7 and producing for such acts as MORALI-D, P.A. ON THE TRACK and himself under the name of MILETO BEATS. I met the man who goes by two names at our last HOUSE PARTY in July, where he expressed to me a want to be involved in the growth of the South Florida Hip Hop Community, Scene, and Sound. As a long time "Contractor" in SO FLOW I was interested in what the homie had to say. He expressed to me a passion for growing the Latin Hip Hop Scene in Miami and Merging it with our Indie/Underground Scene, which is basically what he does on CRONICAS CLANDESTINE. Weaving new wave original production and yootful flows that respect the foundations of Hip Hop, with splashes of spanglish bars that add a tasty kick to the album like a couple of branches of culantro. Galicia Spain native GALI GIRI joins H3R3NCIA on the albums 1st 2 tracks IN TIME and FORGIVE ME, where the two spend some time reminiscing "I remember Dirty Jeans over Timberland Boots, Erica Badu singing the hook for The Roots" over an ethereal soundscape that is worthy of lighting up and meditating to. This is followed by Argentinian Beef Slayer, P.A. ON THE TRACK, who spits nothing but Parillada Flames over SISTEMA, with LA H3RENCIA going bar for bar with him. He then makes his presence felt on RECOGNIZE REAL where he talks about his journey back and forth between two countries and cultures, knowing he will connect with a nation of 2nd Generation Residents who are experiencing the same trials and will "recognize the real" in him. This is followed by one of my favorite joints on the album, ESPERANZA, an instant head nodder that calls us to push forward because life is short. He is joined on this banger, and on the last track of the album, AL MAXIMO, once again by P.A. ON THE BEAT who growls his Spanish Spear at the listener like a conquistador. The last 2 songs on the album are the hardest on the project and makes for a great "Hit Replay" incentive. If I have any negatives reviews about the album, it would be that LA H3R3NCIA should have started the album the way he ended it. The Big Energy records are left at the end and leave you all amped up with nothing to bring you down. If the EP would have started with these last 2 records, I would have been bouncing off the walls from the start of the album, and then had something calming to look forward to at the end. Either way, all the songs stand on their own. The project introduces us to some new voices in Latin/SoFlow Hip Hop and now you know that MILETO BEATS is down to work if you have that Work Ethic and do business properly. I asked LA H3R3NCIA what the meaning behind the project and album title was, and he said "Nobody knows who I am yet, so my story is clandestine. But now it's out there for the world to hear. I am out here promoting positivity and the love of hiphop which is why money is just an incentive when doing what you love." Now thats the type of artist we can get behind at WVCC Radio. Follow LA H3RENCIA / MILETO BEATS on Spotify.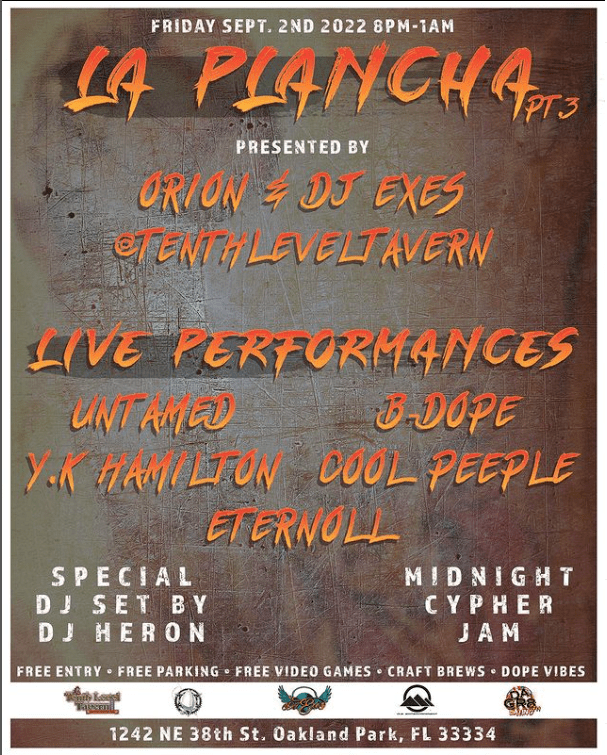 ---
WHISKEYMAN – ONLY BUILT 4 FUSION DRINX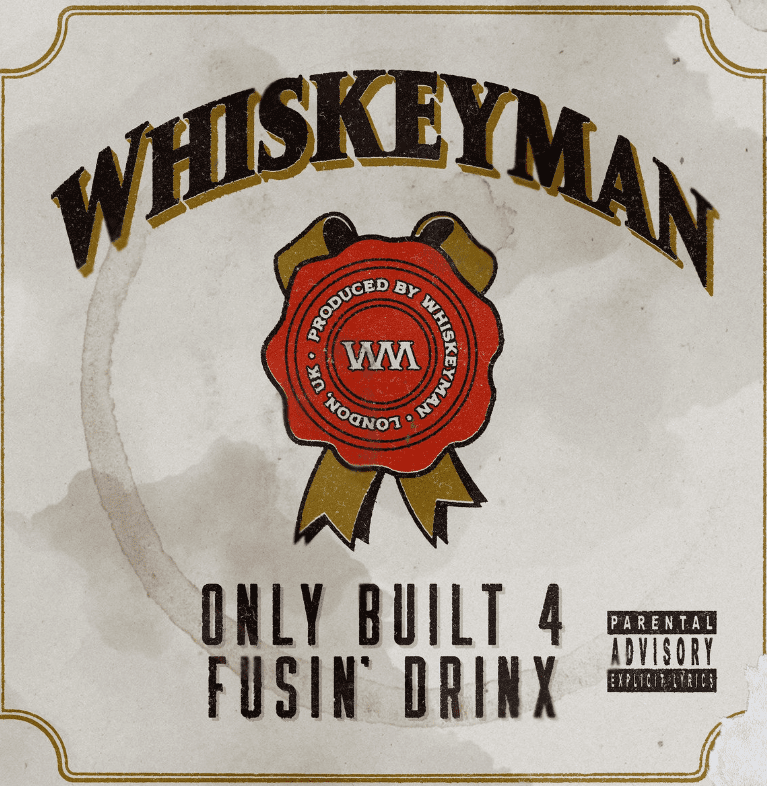 Written by: Presha
Like good whiskey, there are certain characteristics that separate good Hip Hop from the run-of-the-mill. Quality ingredients (beats, rhymes, and cuts), complexity of content, and whether the music ages well all contribute to making Hip Hop that's top shelf. London producer Whiskeyman professes to lead a simple life. He "drinks whiskey and makes beats." That's it! His newest project "Only Built 4 Fusin' Drinx" checks all the boxes of what makes a true Hip Hop experience enjoyable.
First, there's the ingredients. Whiskyman's beats are crisp, spicy, and subtly sweet. Each track goes down smooth and includes a complexity of flavor that's carefully layered for an intoxicating listening experience. His beats combine with a roster of spitters who add a richness to the overall flavor profile. Each emcee adds their own unique characteristic to the project without taking away from the project's fantastic fusion of flavor. And the lineup is bananas! Killah Priest, Tragedy Khadafi, Ras Kass, Canibus, Keith Murray, Inspectah Deck, and Kxng Crooked–just to name a few.
As for content, the tone of this project is set from the intro by the late great MF Doom. He speaks on the mystery of his trademark mask and describes how the mask was meant to refocus Hip Hop heads to the music itself. The mask was his way of switching the focus from skin color and other distractions back to the music. And for the next nine tracks, we're treated to quality Hip Hop.
Only Built 4 Fusin Drinx, like the finest of spirits, should age well. Over time, no matter how much taste may change, real Hip Hop only develops into a deeper more colorful experience. While tastes may be subjective, there are a few qualities that true Hip Hop connoisseurs look for. Like a Master Distiller, Whiskeyman's recipe should stand the test of time.
PRO DILLINGER – FOREVER FOUL
Written by: Presha
Hailing from Haverstraw, New York, Pro Dillinger fires off "Forever Foul," his newest project produced by Sean Kelly. Sean Kelly's soulful soundscapes provide an open field for Pro's raspy flow to run free, but the project does take a sec to build momentum, so be patient. It begins like any other street saga these days–gutta, real, and Griselda-esque. In other words, uneventful. However, right around the Forever Foul interlude, Pro reaches peak performance. His interlude is poetic, and the next three tracks (Cocoa Butter, Penny Wise, and Hope and Pray) represent the most substantial portion of this project. We expect to hear more from his One Nine Music imprint in the future.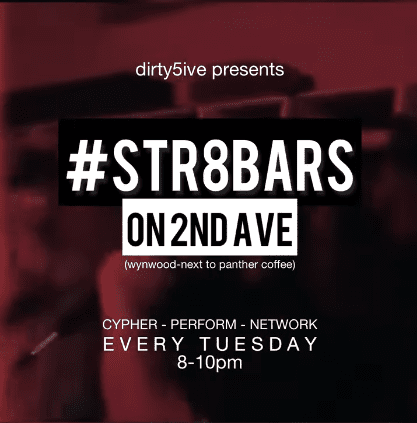 #CYPHLYFE #SingleFiles
SHOTTIE & AGONY THE SECRET WEAPON – SHOTTIE ROK
Written by: Presha
Fresh off "To Kill a Caterpillar," the joint album from Shottie and Agony the Secret Weapon, is a crisp visual for "Shottie Rok." This aggressive track sounds like you're running through the maze of a first-person shooter game. Rockin' a T-Shirt that reads "Created to be Creative," Agony the Secret Weapon fires each bar like a master marksmen. He mows down target after target, and just when you think he's alone, Shottie jumps from behind the bushes to casually hit the second verse with a head shot. Fire! Like a 50 caliber rifle in the hands of a military sniper, Miami Hip Hop is no doubt in skilled hands.
80 EMPIRE – SOMEDAYS Feat 7XVETHEGENIUS
Written by PRESHA
The Rezza brothers of Toronto, rulers of 80 Empire, join 7xvethegenius of Conway's Drumwork Imprint for the single "Somedays," a feel-good piece with an infectious hook. ("Somedays you're the dog/ pissin' on the hydrant/ pissin' on the hydrant/ Somedays you're the hydrant/ getting pissed on/ by the big ole dog…") Most of us can relate to the hook's sentiment, but somehow this song made me feel at peace with getting pissed on–in a figurative sense, of course–knowing that I won't always be the hydrant. In fact, this joint had me in the prison cell doing my best Diddy Bop. Yep! In a few more years, I'll be back to big dog status. "Somedays" is a big song that deserves visuals. I can already envision a potential comedic flair to the video, a giant Jack Russell lifting its leg up and pissing on an entire city. Let's go 80 Empire! Make it happen.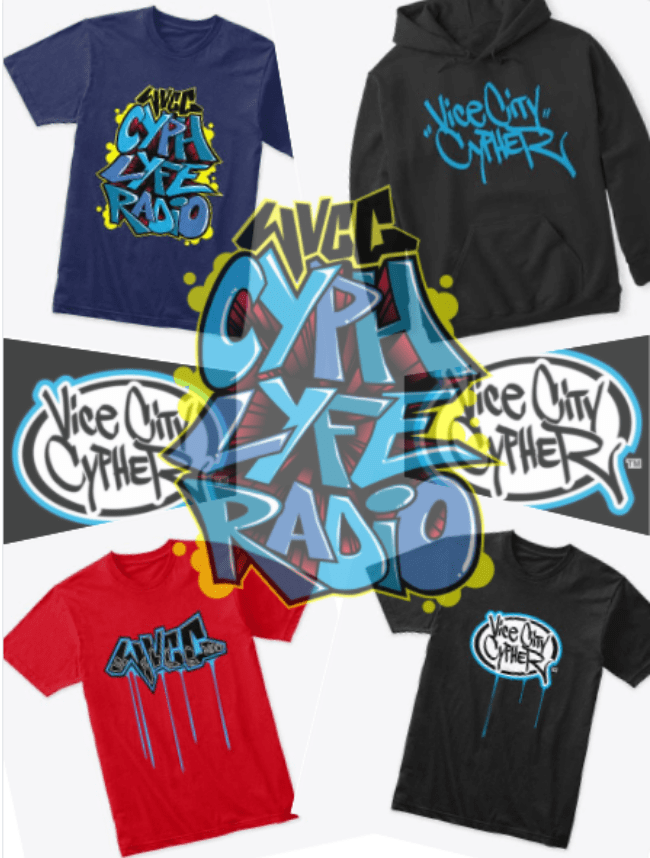 E1HUNNID – HEART AWAY
Summer is almost done, and the kids are heading back to school. Perfect time for E1HUNNID to drop a new Summer Bop HEART AWAY. This the kind of song that "summer crushes" can dedicate to eachother as their seasonal flings reach their end. The type of vibe young heads can bump in their earpods on the way to class. The kind of joint we would scream at the Bus Driver to turn the volume up on the ride home. E1HUNNID knows the crowd he's aiming for and his 100 Ent. And SCALE MUSIC Family don't seem to be missing many shots.
NORTH STAR THE GENERAL – FOR KENDALL feat B-DOPE, VIE ONEIRO, MONEY MOGLY, 8CH2OWENS
I'm extremely honored to be featured on the track above. My long time brother NORTH STAR THE GENERAL of NORTH & AGONY fame, reached out to me months ago talking about wanting to do a remix over the Mary J Blige/Smiff N Wesson I LOVE YOU beat, but make it a Kendall Anthem. He reached out to some of KENDALL's heaviest hitters; Kendall Legend and Pioneer B-DOPE, the hottest voice out of Kendall in recent years – MONEY MOGLY, the Sweetest Voice out of Kendall presently VIE ONEIRO, and the mouth that reps Kendall every Tuesday and Thursday on WVCC Radio, your boy 8ch. Together we made a track to rally the hometown and get all of SoFlow in showing Local Love. The feedback has been incredible so far. The record has gotten spins on mutliple local stations including EXCITEMENT RADIO where B-DOPE played the record last night on his THE STREET CORNER RADIO SHOW a blessed us with a little on air performance of his verse. We thank everyone who has been bumping "FOR KENDALL" loud and proud and we promise to keep delivering fire Hip Hop repping the Bottom. With that said, be on the look out for an upcoming EP by MONEY MOGLY, NORTH STAR THE GENERAL & B-DOPE, and the long awaited EP by B-DOPE, 8CH2OWENS & DJ PROOF tittled 88th STREET due to drop before the end of the year. The K is on Fire….We dont need no water, let the mother fucker burn.