Your 1 Stop for the Hottest New Hip Hop This Weekend.
Peace Peace Fellow 88ers. As we say goodbye to May and Spring, we welcome June and Summer on this Memorial Day Weekend. The thermometer shows the temp rising in #SoFlow. Maybe its the MIAMI HEAT doing so well in the Playoffs that has us sweating bullets already, or maybe its the amount of new music South Florida Hip Hop is currently cooking up. Seems like the whole underground is spewing lava this weekend and we are here to cover it. Enjoy the extra Hot WEEKEND BAG.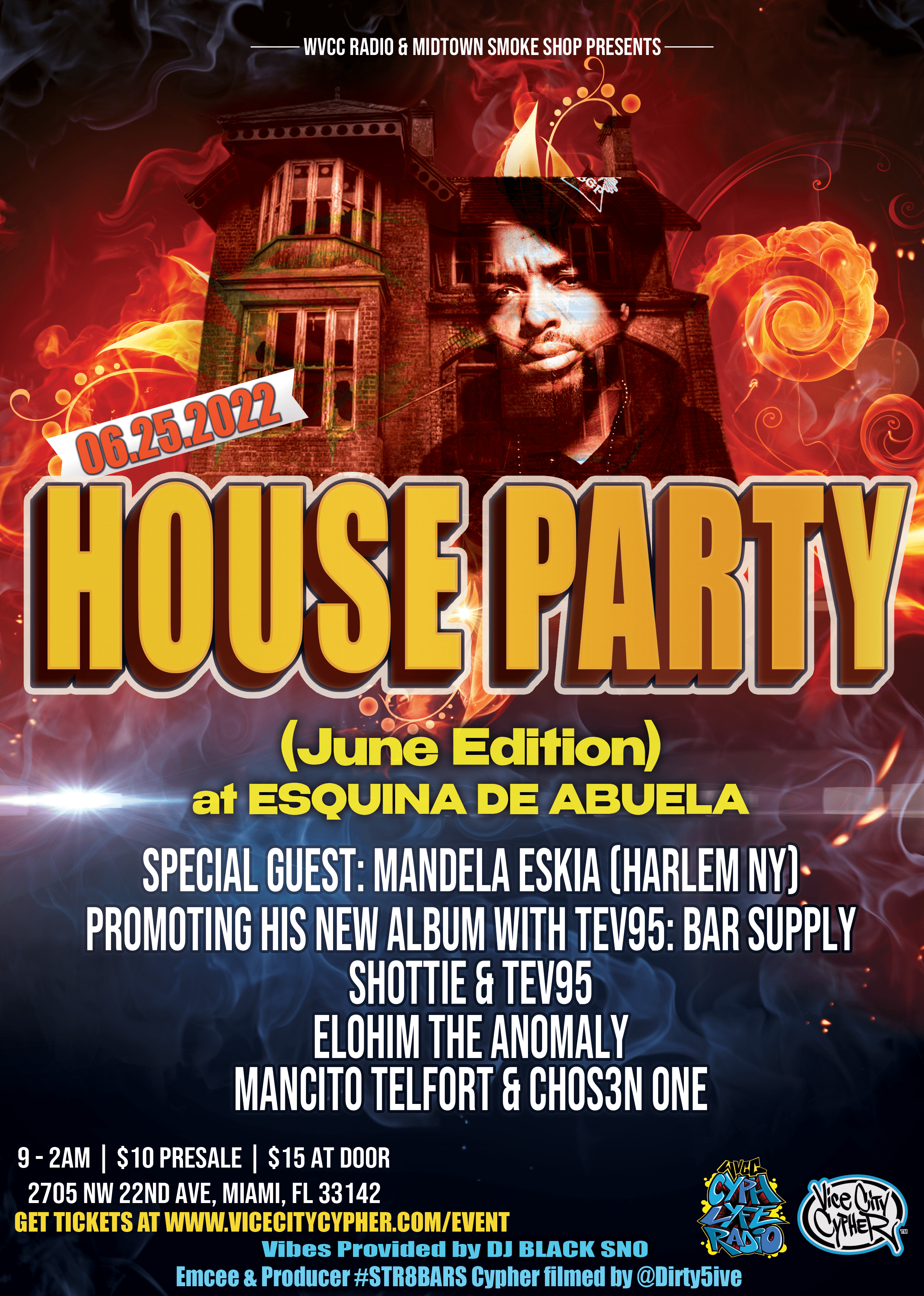 TRPL-Z – MEKKA
God Damn this was a good week for New Hip Hop. I was already amped up by the release of New DECA & New YOUR OLD DROOG along with the New G FAM BLACK & TALI RODGRIGUEZ which I have been looking forward to. What I did not expect at all was a new album from CIPHER IN THE CIRCLE ALUMNI, my crew member and family TRPL-Z, who has been causing mad rawkus since his move out West to Long Beach a year ago. As we have reported before, Z hit the ground running in the West Coast, linking up with a crew of Punk Rock/ Hip Hop Creatives as soon as he touched down, Performing at venues around Los Angeles and making his name known in the CITY OF ANGELS. While paying his dues out in Cali, he has also dropped 2 albums. The 1st was last year's DEMETER which was an awesome pack of joints stuffed with pure exotics, and now his latest offering, MEKKA. Starting off with some words of encouragement from a Random Stranger on the streets, MEKKA is TRPL-Z's unapologetic profession that he is certain that he was made for this music shit, and is not slowing down for anyone. The album shoots out of cannon with tracks like TOPANGA, & DIRT Prod by WUN_THR of PLANE JANE RECORDS and MEKKA Prod by ETO. This gives way to one of the album's slowest but hardest tracks, MIGUELITO, where Z tells a jarring story of a close friend, born to a cocaine addicted mother, growing up in a music scene that surrounded him with the same Demons he was raised around, and how the repeating destructive patterns of his life lead to his eventual self-destruction.
He invites his Fresh Coast family GALEKC, N.SAIKO, SPLICE, BXBBY SUAVE of the PJR family to mosh it out on the double beat feature by WUN_THR, "BOOM TRAP". WUN also handles the boards on the Cypress Hill sounding LOCO, that starts off with a crazy vocal sample that could litteraly be interpreted as the positive affirmations TRPL Z recites in the mirror every morning. ORLANDO BALLOON (Prod by ETO of Russia), one of the hypest joints on the album , takes you on a Coast 2 Coast Voyage on the Giant Space Dumpster, only to drop you headfirst on LATE NIGHT, where you lay paralyzed watching "The Stranger, All Ass and Freeballing like a Laker / I hit your girl from the back and turned her out like a wheel / No wonder they stay hating, I got that Mass Appeal/". DAVEY BONES waltzes all over the BEAT SENT production, "Sniffing Sulfer just for the Feeling, Free Wheeling like Bob Dylan" which sends him into a steeze flipping rant at chicken heads catching feelings, "YOU BETTER LISTEN, YOU PLAY THE VICTIM, AND NOW YOU MISS THEM, AND WANT TO KISS THEM, NOW YOU SIMPLE, NO MENTAL ISSUES, BED FULL OF TISSUES, AND USED UTENSILS". The highlight of this Live Crowd pleaser is the hook where Z sings to the ladies "LATE NIGHT…THAT'S WHEN I'M CALLING YOUUUUUU", you can just hear the whole crowd screaming back "YOU KNOW IM JUST TRYING TO FUCK, YOU KNOW IM JUST TRYING TO FUCK!!!" F.Y.P is another crowd mover where Z warns you Not To Waste His Time (cuz he ain't got much left). The joint takes a dope smoothed out turn as the shrooms start kicking in and Z mellows us out like a Pink Floyd tune before the last song of the album, FOOLS GOLD, drives home the message that "Life's a Bitch and Then You Die", words spoken from the mouth of babes, and you know kids don't lie.
TRPL-Z headed out west like gold miners in 1949, looking to strike it big in the early days. What he found out there seems to have sobered him up a little, even through all the drug abuse he reports on. Everything that glitters isn't gold, the music industry and any Major Metropolitan City if full of Fools Gold. Still, Z seems to have managed to mine a nice Chunk of authentic, all-natural Hip Hop Gold to share with his growing fanbase in MEKKA.
DECA – SMOKING GUN
From MEKKA to DECA. I told you the Bag was full of Good Hop today. Since we stumbled upon the 1st single SHELTER, featuring BLU, we have been eagerly awaiting the New Album, SMOKING GUN from Denver/NY wordsmith DECA. We at WVCC Radio became enamored with DECA with his 2013 Release, THE OCEAN, and we're honored to have shared his more recent projects, THE DONNER PARTY & BIRDS AND SNAKES albums with you in WEEKEND BAGS of the past. Personally, I cannot get enough of the project as a whole, but if I had to skip around I am immediately going for ST. AMERICA, FLIGHT PATH feat ICHIBAN & DJ AWHAT!, CRAB APPLE, SHELTER feat BLU, DAWN WIND feat HOMEBOY SANDMAN, & WAR HEADS. Real Talk Tho…This should be heard from head to toe…front to back. The sample collage intermissions are just too perfectly produced to miss. We are putting the final touches on the WVCC Interview with DECA where we talk about his past projects and New Album, so for now, I'll leave you the words from COALMINE RECORDS themselves, who are doing Gods work and distributing this Amazing Album.
Deca's streak of entrancing releases continues with Smoking Gun, an album that deftly blends psychedelic, raw production with sharp insights and clever lyricism. But it's also much more than that. Smoking Gun is a sonic representation of an artist grappling with living in America, a country with a network of broken systems that leaves Deca questioning when and if it may turn around. The 12 track LP which marks Deca's tenth album, has arrived for stream and download with vinyl pre-orders available now in both a 180g classic black, and cobalt blue configuration, via Coalmine Records. Expected ship out dates for vinyl is set for the week of Nov. 07. Customers will be notified if any delays are expected. – Coalmine Records
NOVATORE – MASTER OF MORBID CREATIONS
NOVATORE is a modern era favorite and family to the WVCC Radio Cypher. We had a great time covering and interviewing NOVATORE & A.M. EARLY MORNING of the KINGDOM OF CRIMINALITY album produced by STU BANGAS. When he blessed me with his latest release, MASTER OF MORBID CREATIONS, I decided to share it with our New Article Contributer, PRESHA, so that he can get a taste of what NOVATORE cooks up as a new listener, and so that the MASTER OF MORBID article can get that special Professional Touch that PRESHA has been providing over the past few weeks. Make sure you drop a comment. Our boy is currently behind bars and any feedback does wonders to lift his spirits while he deals with the everyday hell of the Prison System. Here is the Article.
Written by: Presha
Science Fiction is a genre of story telling animated by its inventiveness and answers to the "what if" questions. Like, what if a prisoner of war from World War II were turned into a cyborg and sent to kill future Nazis? Novatore, the mad scientist emcee, runs his newest experiment from a lab equipped with beakers, combustible chemicals, rats, and fire tracks. His newest project, "Master of Morbid Creations," is loaded with lab explosions, schizophrenia, and brain eating–a diet that I hear is high in Omega 3's. (Just saying!) And, yes, the self-proclaimed cyborg even goes to war with the Nazis. Novatore's aggressive delivery and the bars of his supporting cast are a fierce mix of microphone mastery and imagination. The album's concept is both creative and consistent, with the cover art, lyrics, and clips all contributing to Novatore's Stephen King-like creation. He should probably consider writing a novel next.
YOUR OLD DROOG – YOD STEWART
YOUR OLD DROOG is on his "Return of the Mac" steeze on YOD STEWART. Over 7 different smoothed out Illies by 7 different producers, namely CONDUCTOR WILLIAMS (NIGHTMARES & DREAMS, one of my favorite joints off the project), MIND YOUR BUSINESS (Prod. by LEE SCOTT), I KNEW YOU WAS A BITCH (prod by ROPER WILLIAMS) another one my favorites where Y.O.D, describes being betrayed by someone close enough to be a brother, but instead went out like a Bitch. WINO WILLY warps the strings on TOXIC LOVE, a song about "Falling for Pure Unadulterated Thotery" where Y.O.D. lays some of the toughest bars over one of the hardest topics to rock in hip hop, the dreaded "Track for the Ladies". Check out LOVE & BASKETBALL produced by the Underground's Most Wanted NICHOLAS CRAVEN, where DROOG tells a story about shooting his shot at the tomboy of his block, that girl who hung out with all the dudes, and was just as tough as any of them. Replay this track a couple of times, and learn the many lessons, "dont Motumbo your blessings". THE GOD FAHIM drops that classic 90s vibe on GO TO SLEEP which is my 2nd favorite track on the album. THE BALLAD OF KRUTOV might sound a little too dramatic on first play, but when YOD drops bars like "THOUGHT THEY DUG A GRAVE FOR ME LIKE FRUIKWAN / BUT I'M STILL KICKING LIKE A NEWBORN / LISTEN, BEEN AT THIS TOO LONG / THE MORE TIME I SPEND IN THIS RAP SHIT, THE MORE I UNDERSTAND WHY PITBULL PUT THAT SUIT ON/ IF THEY COULD THEY PAY YOU WITH A TURKEY SANDWICH, WOULD YOU LIKE DEJON MUSTARD OR GREY POUPON/" You rewind the track a couple of dozen times and it ends up growing on you. Upon first spin, I thought the album was a bit slow, but if you sit down with it with a blunt and a drink or just a drive around town, you will be reminded of why YOUR OLD DROOG is so respected in the Underground.
G-FAM BLACK x TALI RODRIGUEZ – GUN SAFE
G FAM BLACK & TALI RODRIGUEZ are guilty of being involved with some of the most gruesome releases in the underground over the past 3 years. The two KNUCKLE DRAGGUZ representatives have been as responsible for spreading the DRAGGUZ brand as P-RO's customized characters that have been showing up on everyone's Social Site Thumbnails. This is the deadly duo's 3rd serial killing spree together since 2020's HAMMERS. Just as they have evolved from bludgeoning weapons to guns with NO SAFETY, this time around their sound has Leveled Up, and they are hitting fools with the whole GUN SAFE. On the album intro, DEAD BODY REMOVAL, G FAM invites you to his neighborhood of BROCKTON, "MURDER MASS", with a warning, "IT AINT SAFE HERE / FOUND A BUNDLE IN A BABY DIAPER BAG IN DAYCARE/ GUNSHOTS SOUND LIKE FIREWORKS TO UNTRAINED EARS/ YOU COULD WIN THE LOTTERY & LOOSE IT ALL IN THE SAME YEAR". This is followed by FROM THE RAFTERS, where BLACK gives a 1st hand account about how "BLACK KEEPS THE PISTOL IN A BOX OF APPLE JACKS/ MY SEED PULLED IT OUT AND CLAPPED IT (FACTS)/ SCARED UM HALF TO DEATH, LITERALLY / NOW HE GOT A HEARING AID AND SPEECH DIFFICULTY/". If that bar, and the creepy hook my KNUCKLE DRAGGUZ Graphic Wizard P-RO doesn't immediately scare you off, just keep listening. UNDER THE COUCH feat GRIM MOSES will leave you having nightmares for weeks. The beat TALI RODRIGUEZ cooks up for SNOW SPORTS gives G FAM BLACK, NEW VILLAIN & KING BANDELERO enough room to ball room dance around the banger, sticking up every aristocrat at the Ball as the band plays on. TARGET ON MY HEAD featuring Underground Heavy Weight MIKE TITAN is a brass knuckle punch to the bridge of the nose that "Leaves you in Critical Conditions with Writtens". STRICT ORDER comes in blasting like a shotgun, "BURNING HOLES IN EVERY COP CURROPTED / WHO LOCKED A KID UP FOR NEVER DOING NOTHING/" . The beat on that one is guaranteed to leave your neck sore for days. You know P-RO had drop in for one last goodbye as G FAM barks "WHY YOU MAD AT ME….IN BETWEEN YOUR BITCHES LEGS IS WHERE I RATHER BE/ NO ONE SPITTING AFTER ME CEPT KNUCKLE DRAGGUH P / WHO GOT A BADDER TEAM, GO HEAD, I'LL WAIT/ WHAT'S YOUR SQUAD TO THIS GANG OF PRIMATES/". P-RO comes in "PISSING ON YOUR GRAVE, THE PLOT THICKENS" accusing wack mc's of "ACTING LIKE HEALS WITH A HERO COMPLEX / ALL MOUTH, WITH ZERO CONFIDENCE/ ALL THUMBS TYPING DRAMA / MAN PICK UP A PEN AND WRITE YOUR MAMA". Before he lets you go back to the safety of your own home, THE BLACK MASK FROM MURDER MASS screams GAFFLES!! and gives you the ultimate shake down on CLASSIFIED ADS. This 3rd release from TALI & G FAM is sure to make new fans out of anyone who listens for the first time, and further solidifies the reign of the KNUCKLE DRAGGUZ as one of the scariest crews in Underground Hip Hop. Dont let the title fool you. There is nothing safe about this album. Real Motherfuckers aint scared to copp this shit on Bandcamp. https://gfamblack.bandcamp.com/album/gun-safe
ACE CANNONS & MIGHTgY HEALTHY – MIGHTY CANNONS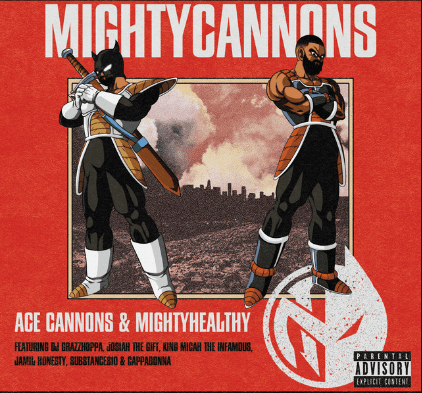 South Beach Miami Street Bap Producer MIGHTY HEALTHY is back and he's holding Heat. An Ace up the sleeve you might say. Or is it actually a Cannon that can knock an elephant of its padded feet. Producer MIGHTY HEALTHY & Emcee ACE CANNONS perform a DBZ Fusion Dance and become MIGHTY CANNONS. A two man Navy Destroyer, with enough fire power to tip the scales in the Russia/Ukraine conflict. ACE has an arsenal deeper than Frank Castle's Walk-In Closet And MIGHTY HEALTHY engineers & Manufactures 10 Different battle-ready vehicles for CANNONS to ride into war on. Take FKS for instance, a Tank of record, rolling over all doubt you might have had when you pressed play. Or MOLOTOV II, a Mad Max Muscle Car with ACE's Razor Sharp Bars protruding from the rims. How about GOTHAM, sounding like a fully armored Motorcycle with ACE CANNON and JOSIAH THE GIFT being twin turret guns, hacking down all ops the speed pass. Or BIRDS OF FEATHER which brings terror from above like a B52 Bomber, where CANNON rides dolo, dropping both Bombs like "I'm a Vet, I'll make sure the whole kennels deceased/ I disposed them and Leave No Evidence of the Spree/" and Gems of Knowledge like "Momma said, Watch Them Boys You Call Friends/ Be Very selective of who you roll with or brought in/ Cuz reckless Gardners plant corrupt crops / and Corrupt Cops plant Drugs on your homies/You dont see me outside because Im Lowkey / like the Loneliest Pianist playing the Lowest Key/ In a stone room below sea level is how low I be/". The 1st time I heard ACE CANNONS was on the KINGMIGHTY 2 Album where he was invited to join KING MICAH THE INFAMOUS, JOSIAH THE GIFT, ALEX LUDOVICO & Miami's KING TETRUS on BABYLON 5. To return the favor and keep the carnage in the family, ACE tags in KING MICAH and JAMIL HONESTY on OPEN BOOK which bleeds beautifully into the WU-inspired "THE HIVE" which rolls onto the record like Raekwon's legendary Ice Cream Truck pimped out by B.A. Baracus and the A-Team. Don't get it twisted tho, ACE CANNONS needs No Back Up. Catch him swooping down like the angel of Death piloting an F-16 on the blazing hot break "CATATONIC" (Jooooooint). Oh yeah, ACE CANNONS dont need No Drums either. Find him Talking His Shit on "THE FUCKING END" over MIGHTY HEALTHY's Chopped, DBZ Fighting Scene Samples where I'm pretty sure HEALTHY is using the Punches and Kicks as low fi percussions. the slightest hint of Producer nuance to end a really solid album. Make sure to follow them on any of the links provided on GRIMEYNOBODY.COM, and pick up some of their bad ass merch while you're there. MIGHTY HEALTHY's product can always be trusted to be quality. The MIGHTY CANNONS LP is just the latest in a growing list of examples.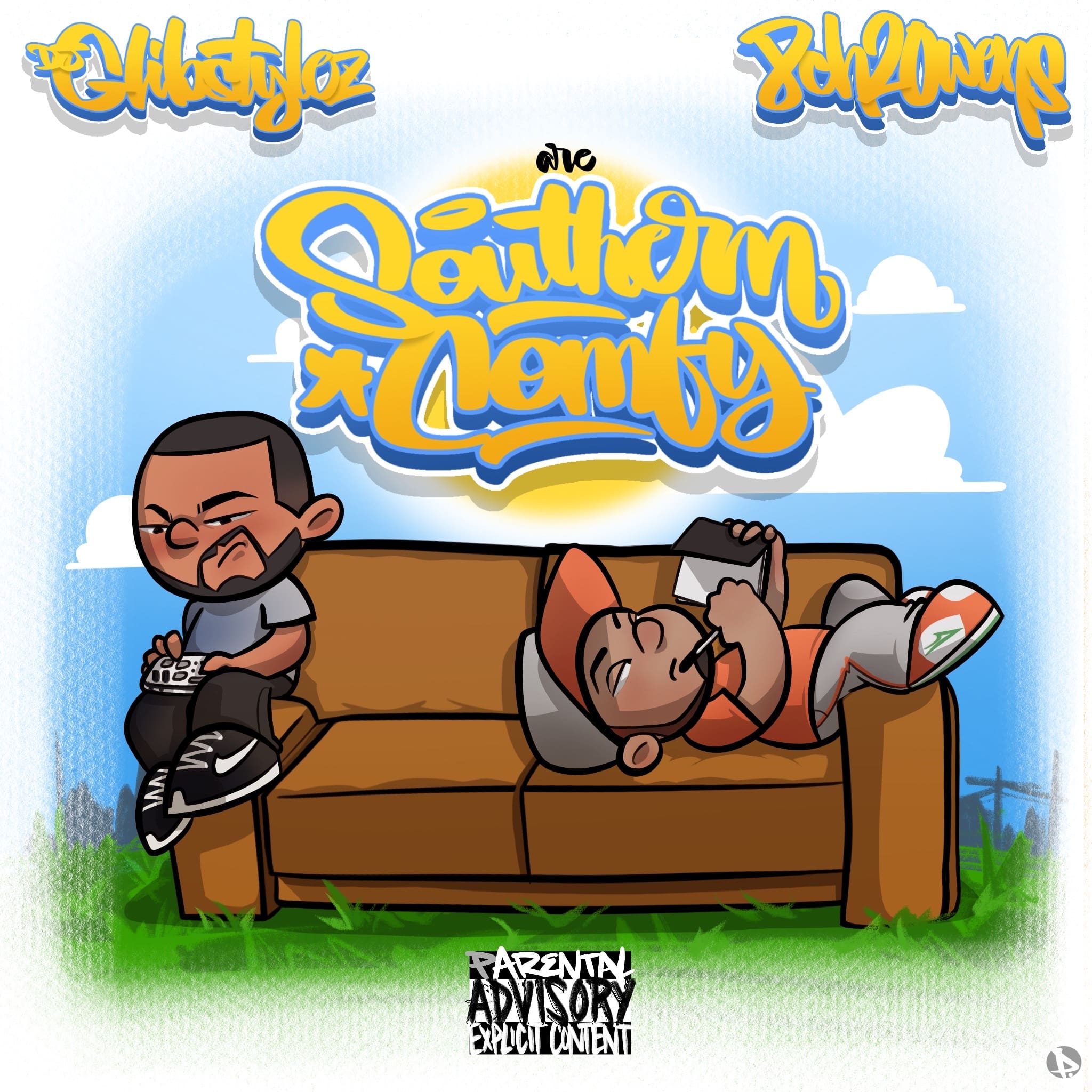 A-GOD THE OLD SOULx SKINNY BONES DA GODFATHA – LABOR & TRIBUTE
It has been a pleasure to share some of this week's newest releases with our brother STILL PRESHA, who is currently serving the last of his sentence in a State Correctional Facility. When my brother Benny Knuckles recommended him to me as a brother who loved both Hip Hop and the Art of Journalism and Writing, I never imagined the talent and gifts PRESHA would bring to the table. What follows is one such example, where I shared a New Album from an artist up in Rhode Aisland who I follow, A-God The Old Soul. The meaning Presha was able to mine out of his listen of "LABOR & TRIBUTE", and then in turn share with another personal friend who desperately needed to hear such a message is nothing short of inspiring. What bigger review could there be of your album, than to hear it is helping someone with their healing process.
Written by: Presha
Hip Hop often gets a bad rap. Our culture is often blamed for the violence in society and has even been cited as a contributing factor in mass shootings. But what about the countless lives that Hip Hop has saved? What about its healing influence? "Labor & Tribute," A-God the Old Soul's newest collaboration with Netherlands beat maker Skinny Bonez the Godfather, begins with a track called "Kintsugi." I'd never heard the term before, so I looked it up. I discovered that Kintsugi is the Japanese art of repairing broken pottery with silver, gold, or platinum dusted lacquer. This repair process not only increases the pottery's value, but it also treats both the breakage and renewal as part of the object's history, instead of something to hide. My Kintsugi discovery, inspired by "Labor & Tribute," reminded me of a recent conversation with a dear friend. (We'll call her Queen.) Queen has a noticeable scar on her forehead, which, to be honest, I believe adds to her beauty. It grieved me to learn that her scar is a remnant of past domestic abuse. It grieved me further when Queen stated, "Maybe I should start wearing makeup to cover it up." She spoke of a second scar, also the result of abuse, and I found myself feeling helpless. As soon as I mentally connected Kintsugi with our conversation, I received a message from Queen. "What are you up to?" I think it's called synchronicity; I call it a divine message communicated via Hip Hop. I shared Kintsugi with Queen, and now she's beginning to salve her scars with gold instead of trying to mask them with makeup. How does the collaboration between a Rhode Island emcee (A-God) and a Netherlands producer (Skinny Bonez) relay such deep meaning and propagate healing? Labor & Tribute is described as the story of "a broken man trying to put the pieces back together." A-God's message being that it takes work to turn our scars into something valuable–Labor. And it takes the sharing of affection to facilitate the healing process–Tribute. I couldn't agree more.
SYRE DEDEYE – CALL ME SYRE V1
Clinton Massachusettes 1 Man Band, SYRE DEDEYE had no help in delivering his latest project CALL ME SYRE V1 to us, and he made sure everyone knows it on track 1 I DID IT. The EP entirely Produced, Engineered, Mastered and ofcourse written by the Mass. Emcee/Producer. He kicks off the short release with a string of illeterations that prove off rip, SYRE will not overlook the pen while he juggles Production, Digital Graphics and Engineer duties. "Silly suckers saying Im a Psycho, son Im Sinister / Syre's Fire Extinguisher, Diminish what you Administer / The Minister of Pain, Vinigar in Vain / You dont have to be seeing starts for me to apply my Finisher/". SYRE finishes the track with his "Mad Methods" as he programs and loops his opening lines with his signature sample glitch style. TRUST A SOUL comes in with an Industrial Hop vibe that reminds me of old Company Flow, with a classic Big Pun sample for the hook. SYRE gives you a long list of reasons why he trusts no one. HOT & COLD comes in with its REBEL INS sample and Piano melody that morph into an original synth loop that doesnt do much to carry the track. Luckily, DEDEYE knows how to change up his styles and cadence like his flows change the weather pattern. He closes the 4 song EP with CLOSED CASKET where he boldly states, "I show up to beef, Ready to Brand Cattle / My Damn Shadow wont even Front on Me and when this Man Battles/ Its a Fight to the Death, Respect this Mans Castle/" . According to SYRE, this is the 1st part of a full album which he will release as small EPs every month until he compiles all the songs into a Physical album for release. We will have CLOSED CASKET & I DID IT on rotation and will be sure to bring you the reviews on his future projects as they drop. You make sure you follow him at the links below. SPOTIFY – https://open.spotify.com/album/4GQKNUl0L68j1OOYgtBJXq?si=I6JemGxAQv-xWdoYcB7oxw. Apple Music – https://music.apple.com/us/album/call-me-syre-v1-ep/1624547059?fbclid=IwAR3WKePuaL1Eo8flwd33Ffafv-yHSBhSeEL90vUVtNhju6HfiudS9NtqA34 IG – https://www.instagram.com/syrededeye/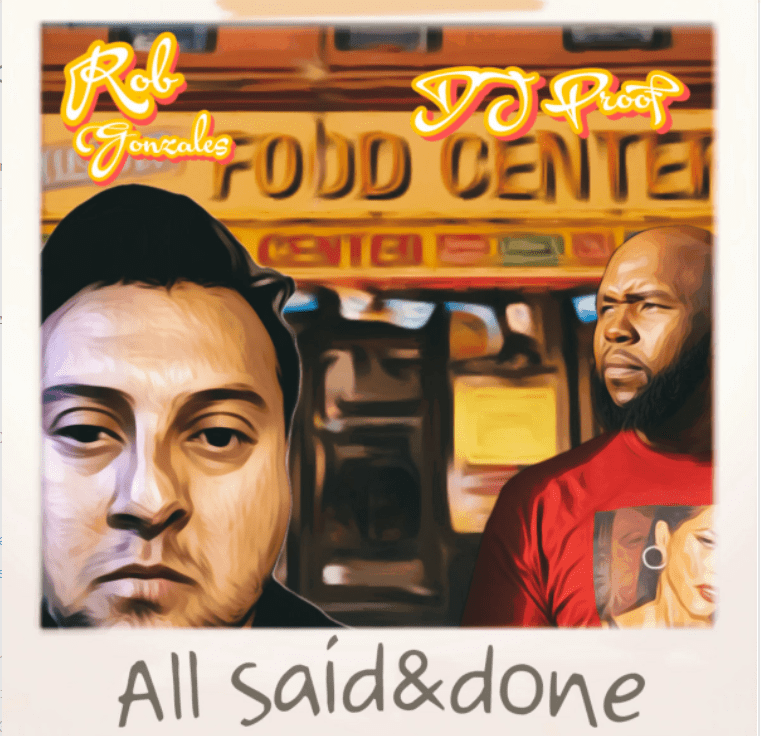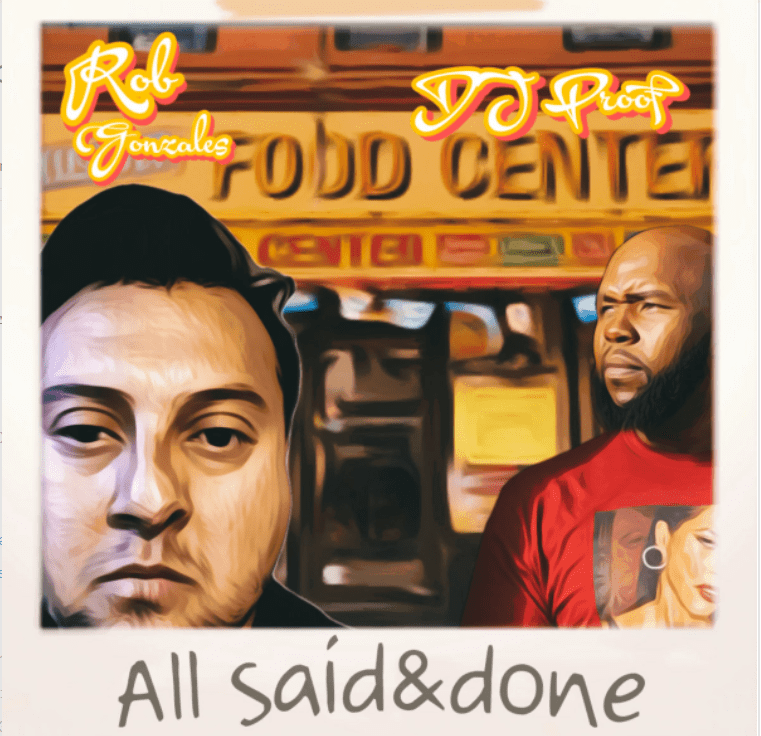 RICK HYDE – STIMA
Written by: Presha
In the Mafia hierarchy, you have the consigliere, or counselor. In Buffalo's Black Soprano Family, Benny the Butcher's spin off label from Griselda Records, Rick Hyde fills that position. Both poet and producer, Rick Hyde has been hailed as the brains behind much of BSF's success. His newest EP, "Stima," (an Italian term meaning respect) stays consistent with the Mafia model. It's time we give Rick Hyde his proper respect. Stima's intro track, "Who Am I," gives this EP the feel of an LP and leads us to believe that we'll hear Hyde's whole story. While Stima lacks that kind of intimacy, it does hint towards Rick's ability to share the gory details. Three of the tracks are self-produced: "Ms. Young's," "Like This," and "La Spina" (The Plug in Italian). Tre Eiht, Davie Napalm, and DJ- L add character to the project's production. And The Alchemist contributes with "Poza," (puddle or pool in Italian), featuring Rome Streets. Even Daringer shoots his shot in that classic, murky BSF style. If you're looking for more of that bullet riddled Buffalo talk, fugghedaboudit! Stima doesn't disappoint. Arrivederci!
#CyphLyfe #SingleFiles
DOPE SESSIONZ x MZ. MELZ BANGAZ – NO WAVES
DOPE SESSIONZ is back with the new MEMORIAL DAY WEEKEND Anthem, "NO WAVES". Produced by up-and-coming South Florida Producer MZ. MELZ BANGERZ, "NO WAVES" is a fun time that can be played at your family getty, or graduation party or just playing on loud with the windows open as you drive down to the Florida Keys for the weekend. B-DOPE and MIC SESSIONZ have been doing this long enough to know how to rock over a party friendly beat without selling out or coming off corny. Both of them keep the sound jumping like a Jet Ski bouncing off the top of the waves instead of riding them like everyone else is busy doing. MIC SESSIONZ is exceptionally surprising over the beat, laying down a verse & Flow that would make J.T. Money, the Poison Clan, and the whole N.M.B. proud to be represented by him. Make sure you save NO WAVES to your favorite Playlist this weekend and follow MZ. MELZ BANGERS to stay up to date with the next release from her upcoming debut album which features a swarm of South Florida's Nicest on the mic. While we on the subject, make sure you mark your calendar NOW for MZ. MELZ BANGERS BDAY JAM/ B-DOPE ALBUM LISTENING PARTY in October, for the 1st B-DOPE album fully Produced by MELZ BANGERZ. If you are interested in Performing at this historic event, holla at us in the DMs. If you expect to be a part of the next MZ. MELZ BANGERZ project, I suggest you come out and celebrate with us.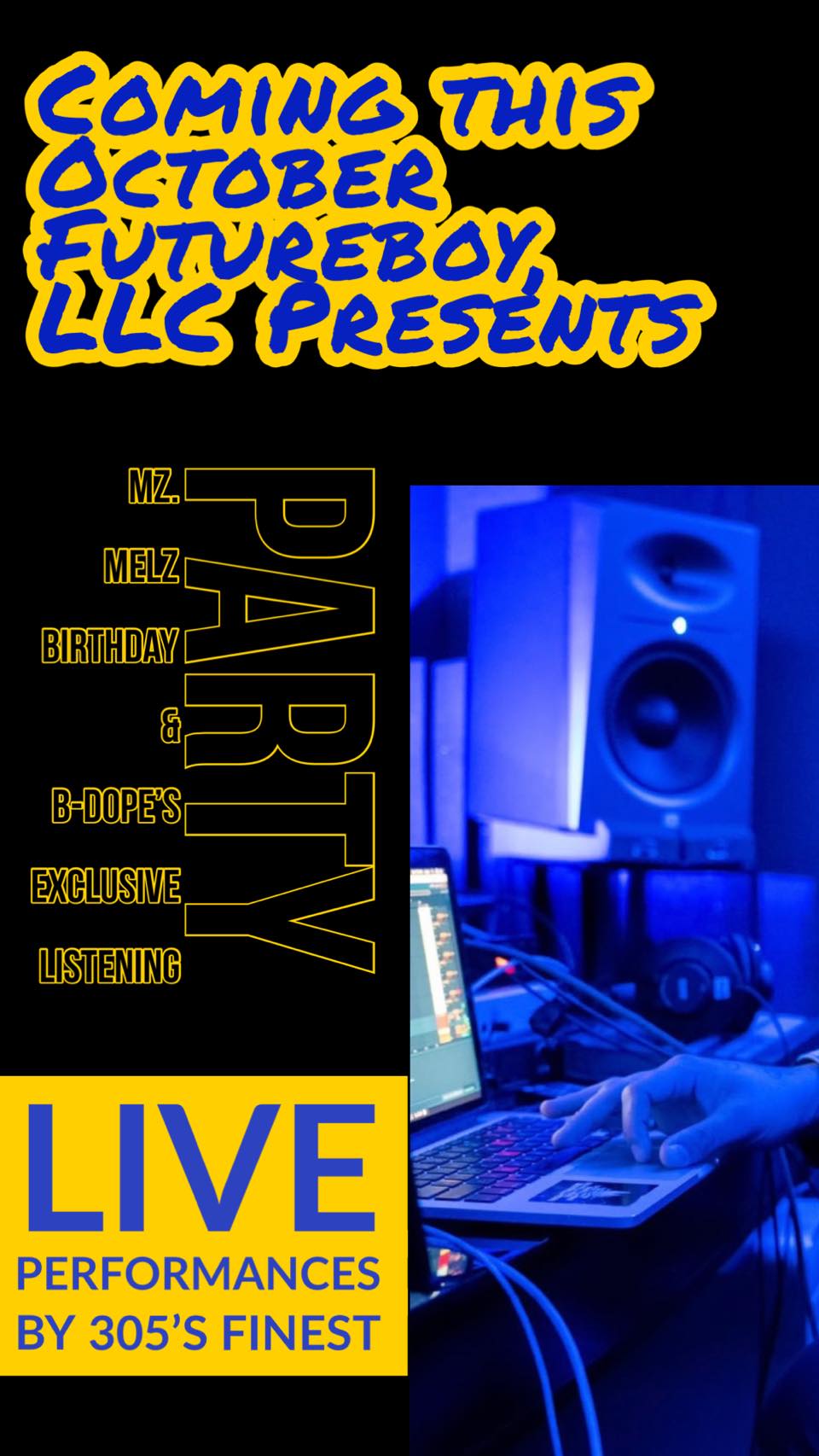 Destinee – Trapicana
Let's keep the Party Vibe going. As you know its Memorial Day Weekend, and that means something a lot different for us in the 305 than for the rest of the country. While they are busy racing NASCAR up in Indianapolis, we are in full MEMORIAL WEEKEND BEACH mode (even though while I write this it is pouring down curtains of rain in Kendall, lol). Well if you live far from the coast, or need something to brighten your cloudy day, here is the latest from our Family, T.H.C.'S DESTINY. La Reina de Hialeah Hip Hop is back with a sexy banger called "TRAPICANA" which is guaranteed to have all the ladies at the pool party asking for a 2nd round of drinks to take the party to the next level. DESTINY is the complete package, bringing a sensual vocal tone to the song, hard bars for the street, and the Beauty to have all eyes and ears on her. This is a must add to your Spotify and Youtube Playlists. DJ's add this to your Spanish Reggaeton mix and watch the party lite up. DESTINY knows exactly what she's doing, this isn't her first rodeo. She didn't get the name The Queen off her pretty looks alone.
ELOHIM THE ANOMALY – ON THE RUN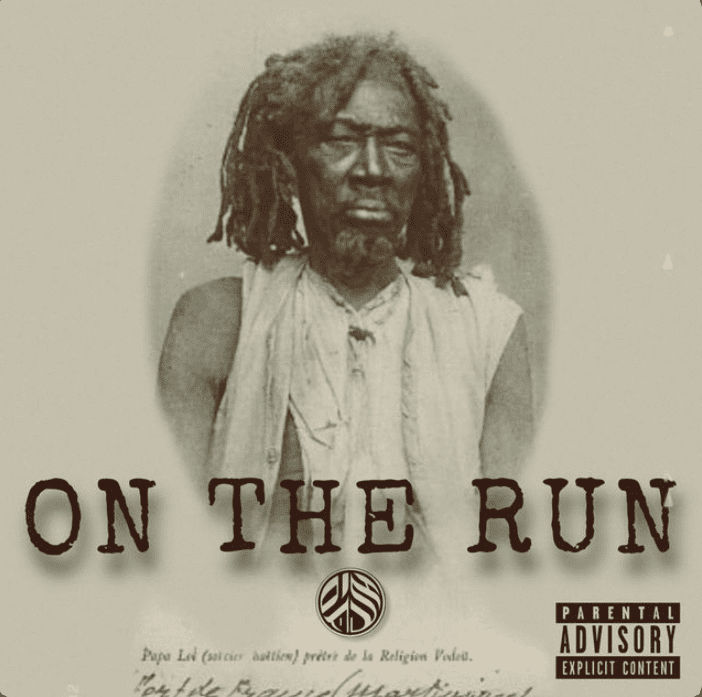 ELOHIM THE ANOMALY marches on in his campaign to share his new album NKOSI and the words of the Honorable Elijah Muhammad. On his latest LIQUID SHIELD release, produced by South Miami's D.B.CUTLAS, "ON THE RUN", he makes it clear he is "locked and loaded, waiting for the mic to pass" but it's what he shares with his listeners when he has the mic that's important. "Meant to lay in Green Pastures? If you Fertalize the right grass/ it goes Work then Eaze, It goes SEED, Then PLANT, Then FLOWER, Then TREE/ We got Life Out Of Order, No Light and No Water/ want everlasting life but don't no son and no daughter/". We had the pleasure of hosting ELOHIM on Cyph Lyfe Radio last Thursday and we could tell this brother rocks a bowtie but can still get ignorant if he needs to. If you been looking for hard Hip Hop with a little more meat, that you can play around your kids without guilt, give ELOHIM THE ANAMOLY – NKOSI a spin.
J FLIZ – THE TRIBE prod by PEX ONE
Here is the 1st Single off of JFLIZ's New LP with producer PEX ONE. "THE TRIBE" is a dope bop that feels good like a Memorial Day with a cold one in your hand and something savory on the Grill. Play this one for your TRIBE and be on the look out for JFLIZ & PEX ONE's upcoming joint album, RIGHT PLACE WRONG TIME set to drop BandCamp Friday June 3rd.
M.I.YAYO FREESTYLES – DIRTY DOE
DIRTY DOE of the Shaman of Debauchery tribe is back with his YouTube series, M.I.YAYO RADIO FREESTYLES. He'll be filming mostly weekends so Holla at DOE on IG for the Details if you want to get on Camera spitting your honest 16 to 28 bar verse. Here's DOE with his remix of the underground classic "Tried By 12".
DJ RONSHA & G ZON BOOM BAP MIX FROM PARIS – #270
Just in case you need any more New Music for your week. Here is the latest mix from our family out of Paris France, DJ Ronsha and G Zon, hosts of the RONSHA MIX FROM PARIS FRANCE. You can catch the mix streaming on WVCC RADIO Every Wednesday at 12 Noon for our #LunchBreakInParis Show. See you then and enjoy the rest of your Memorial Day.