The 1 Stop for Your New Indie Hip Hop Fix
Happy Saturday Fellow 88ers. Bag usually drops on Friday Evenings, but I had to go represent WVCC RADIO & PROFRESH PUBLICIST at the MOSKVITCH 3 listening party with SHOTTIE & TEV95. Let me tell ya'll, you are not ready for what SHOTTIE and TEV have cooked up for the 3rd installment of the MOSKVITCH series, let me just say it includes some A-List Indie Hip Hop Features. More on MOSK3 next month when SHOTTIE & TEV plan on leaking the 1st single. For now, I got a HOUSE PARTY w/ Special Guest E-TURN & EIGHTH LETTER to finish setting up and promoting for, and a whole lot of new music to share with yall. Enjoy the Bag and see you at HIP HOP HOUSE SHOW at Roots Miami Kava Bar if you live in South Florida. Multi Layer Bundle Up MoFo's, its going to be a Cooooooold Night in Miami!!!
KINGDOM KOME x RUEN – MALBEC
Have a seat. Can I offer you a cup of wine? This isn't no Aldie's "Winking Owl" Merlow, or "BareFoot" Moscato. Nah. This is a bottle of something special. From the wine presses of LOW LIFE MIAMI Comrade KINGDOM KOME & Producer RUEN of Miami, comes MALBEC, An exquisite mixture of audio fluids from some of the sharpest shooters out of #SoFlow, all gathered by KINGDOME to ferment and age excellently within the barrels of RUENS rugged beats. Tall glasses like 1ST HAND EXPERIENCE feat WEBBY & Kendall's Grammy Nominated OMNISCIENT get the party started early, paired with some impressive starters, MELANESA FRITA & THINK IT THRU where KING proves you should think twice before ever assuming he can't hold down a record on his own. By the 2nd Cup, CHIMICHURRI GOD & MUCHO SON BOCON, you get a real good sense of that Miami Hip Hop Flavor, as SIR CHARLES THOUSAND, JOEY DUZ, & "EL PIPO" SALAZAR EL TABAQUERO join the party and serve you up that "Salsa" in several languages, from several different Latin American Countries and islands, to lay you out like a "Ping, Pang, Pung" (Fold Out Bed, its a Spanish Thing). Chase that Dirty South aftertaste out your mouth with a shot of "LLAMA SPIT" on MIDDLE FINGERS UP as GEORGE SPITS of the Legendary LLAMA BEATS joins Mr. Malbec making the crowd move on this club banger, which gives way to what is sure to be an International Indie Hop Hit, EMPANADAS SALTENAS, feat Grammy Nom ITAWE of LOCOS POR JUANA, & LYRIK31. This track goooooooess, and makes me think of Fine Women grinding on the dance floor and Finely Prepared Meat filled Pastries gracing a charcuterie board!!!
KINGDOME does a great job of combining the music flavors he grew up on and around throughout the album. Joints like PLAYING BOTH SIDES feat UNORDINARYIZZ, displays he can get busy on the Trap/ Drill wave that the Youf are on. Cuts like FOOD FOR THOUGHT bear witness to his ability to story tell and collaborate with artists like ORION aka BRASS BALLS to create something with more substance than just 2 verses and a hook. Bangers like SEVENTH SEAL feat #SoFlow Mic Monsters UBI THE UNDERBOSS, TRPL-Z, SERUM, LOW LIFE DJ EXCES, & yours truly 8CH2OWENS, and THE BALD EAGLE staring the LL Foundation Miami Chapter's JOEY DUZ, 4MEGAH, C-TRAFFIK, KEYTALIFE, & LAZARUS CHILD, shows how deep the KING rolls out on the streets of "The Bottom". KINGDOME KOME has not only been laying a foundation for his career as an Artist Repping South Florida, LOW LIFE's, Argentina and Latin America for the past decade. He has also been grinding nonstop to make sure other voices from Miami and Latin America are heard throughout the world. For that, we thank him, our gracious host, who has served up quite the spread for yall to enjoy in MALBEC. Now Drink up and get twisted.
IG – @kingdomkome , @_ruen_ / https://www.kingdomkomemusic.com/
M-DOT – DINNING IN DYSTOPIA
Thank you M-DOT. Thank you for keeping that MC Shit alive. This is Emcee Hip Hop right here. Bar Lover music. Punch Line porn. This right here is Indie Artist Struggle Stories at its finest. The homie has been doing it long enough to do it masterfully and he reps his home town of BOSTON, his home crew EMS, and his Home Base to the fullest, enough to make them all proud. Love ANOTHER DAY with its harsh reality of the Tour Life everyone dreams about until they're actually living the nightmare. I could mush on and on, but M-DOT summarized it a whole lot better himself. I for one am copping the dope ass limited addition splash colored wax he's serving up of the LP. You should do the same, with cuts featuring RJ PAYNE, KOOL G RAP, RASS KAS, ELZI, LARGE PROFESSOR, CELPH TITLED, ESOTERIC, BIG SHUG, CONWAY, and the whole E.M.S. Family, this album is sure to hit classic status in no time.
"Dining In Dystopia" is the latest project from acclaimed veteran MC & producer M-Dot. On "Dining" the Boston wordsmith paints a picture of daily life struggles in an ever evolving world of political finger pointing and constant chaos. As with his previously deemed classic album "egO anD The eneMy" he delivers an emotionally vivid project full of pain, passion and self-reflection.
Featuring some of hip-hop's top tier lyricists from Conway The Machine (Griselda), Kool G Rap, Elzhi, RJ Payne, Ras Kass, Big Shug (Gangstarr Foundation), Esoteric (Czarface), Celph Titled (A.O.T.P.) to production from The Mighty V.I.C. (original Beatnuts), C-Lance (A.O.T.P, Jedi Mind Tricks), M-Dot himself and more! The project serves as a warm up to M-Dot's upcoming album "Ego and the Enemy 2" coming later this year!
https://m-dotboston.bandcamp.com/album/dining-in-dystopia
GEORGE SPITS – TITTY ATTACK
If you aren't lucky enough, or blessed enough to ever had shared a conversation with SPITS THE LLAMA, aka GEORGE SPITS, or seen him rock Live, you are missing out on a huge joy in life. I would like to remedy that today. Allow me to introduce those not in "The Know" to one of the most talented dudes to ever grace the #SOFLOW scene with his music and bottomless bag of God given gifts. GEORGE SPITS, 1/3rd of the Hip Hop Band LLAMA BEATS is a Metaphor Monstro, Vocal Volcan, Engineering Genius, Live Instrument Playing Picasso, and boy does he look good with his Shirt Off. Speaking of which, this is TITTY ATTACK, the latest EP from the head LLAMA which gives us a great taste of all of the different artistic directions SPITS can take to strum your heart strings and make our heads nod to the infectious beats. This man is not only an EMCEE, and dont get it twisted, he is an Emcees MC as you can tell on "GIVEN UM HELL". But he is much more than that. He is a full blown musician, making Real MUSIC, not just Underground Hip Hop Bangers. A crowd coming to see GEORGE SPITS perform would like to like a Pinwheel of the Color and Cultural Spectrum, His sound is all-inclusive. This is a great and effortless weekend listen with only 5 tracks to enjoy and re-enjoy as you leave it on repeat as you drive around looking for firewood to stay warm tonight. We are currently crossing our fingers as we try to work out bringing GEORGE SPITS back down to Miami to perform this album for our Local Scene. Make sure to stream TITTY ATTACK and catch him live when he hits a venue near you. Your life wont be the same after getting a face full of LLAMA SPIT.
NUJURICANS – LA RUTA NATURAL
Boom Bapasso pa todo mis Boriquas!!! This shit right here is pretty hard. New York/ Puerto Rican Duo JOEY DYNOMITE & SOL ZALEZ have been putting in that work for Yeeeears now, and came pumping out quality Hip Hop that reps both the streets, the culture and the Island of Enchantment (La Isla Del Encanto). Take a trip through LA RUTA NATURAL (The Natural Route), as the NUJERICANS dig their way out of the Underground to let great Hispanic Hip Hop see the light of day.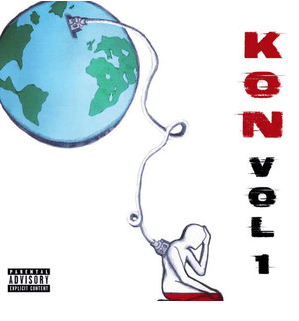 SHOGON SYNDICATE – SELF TITLED EP
This Weekend on KUNG FU THEATER, we have the debut release from a trio of blade weavers known as SAMURAI SYNDICATE. Made up of Central Florida Emcee EL POETA aka POET, and Kansas City bushido believers JACK FISH, & BRETT SAVAGE, aka THE LOST BOYS, the SYNDICATE silently slice through the seven POET produced tracks with a surgeons skill. Each one with their own unique writing and delivery style, like a personally customed blade forged by and for only that mc. Joints like WILL UNDERSTAND, with BRETT SAVAGE serving "Grams of Bam Bam that leave you girl looking like Mia Ham" before the ridiculously fresh retro 80's hook, or FIRE FROM THE HIP with its disgusting slap baseline/organ, Soulful Moan Singing Sample, and POET stealing the show on the 2nd verse dancing over the odd /off percussions like he was dancing with the stars, the ones in the cosmos. SHIVERING TRUTH is the only track not produced by EL POETA, that jazzy blood bath comes courtesy of JACK FISH, and the blood comes from out of veins punctured by one too many Heroin needles as the SHOGUNS take a stab at a tale of the war to get clean from White China. Woven through out the album are a number of classic KungFu Flick Snips that will give you that old school WU feel, it never feels copy-cattish though. It adds to the tapestry. The closing track, PAZUZU, is where they finally draw all of the weapons in their arsenal to put all doubt to rest. This mother fuckers are batshit crazy, and crazy talented. Each of them wielding a different instrument they record themselves jamming out, BRETT SAVAGE on Bass and Synth, JACK FISH on Drums and Vocals, and POET on Lead ear piercing Guitar and vocals. The end the album in epic fashion and doing so introduce us to SAMURAI SYNIDCATE, a collective worth looking out for.
IG: @elpoeta , @jackfishtattoos, @turnerbrett1990
ILL Conscious – Acres of Diamonds (Album)
Acres of Diamonds is the 7th effort and 4th LP by ILL Conscious which is solely produced by Camden, NJ's Mute Won. With Baltimore and Camden being similar in its grunge aesthetic, the artistic chemistry between ILL & Mute will serve as promising to the listener. The level of introspection and conceptual songs make this album more personable conjoined with a theatrical soundtrack. The 15 track LP is projected to be a late January, early February release with features that include underground juggernauts Planet Asia, Rome Streetz, Snook Da Crook (Dirt Platoon), King Magnetic & more.
Anarchy Records – Another Crown Heights Riot (Album)
This album features some of Crown Height's elite lyricists, 30 years after the original Crown Heights Riot. Executive produced by RUSTE JUXX & SKANKS THE RAP MARTYR so you know this is going to be some break every window and loot the city shit. Another stance of resistance is about to take place but this riot is gonna be caused by music. ANARCHY RECORDS, SKANKS & RUSTE JUXX are proud to lead the charge.
#CYPHLYFE #SingleFiles
CHOCO VALENS – MAD VILLAIN (Official Video)
We've been warning you about this video for a couple of weeks now. Here is the official Video for the newest fire storm from CHOCO VALENS which is being played by DJ's throughout the country and overseas as we speak. Now we have the official video for this banger, filmed by Miami's own DIRTY LEN5, which is full of cool cameos by LUNA of DIRTY 5IVE, NOEMOTION GOLD MASK, 8ch2Owens, and a surprise sighting of WVCC RADIO Family from Tenessee, NUCLEOUS SAIGON aka D-0-5. A great, fun visual paying the ultimate respect to the Metal Face Villain, DOOM the Great. Enjoy the Mini Movie, and Long Live MF DOOM.
Benny The Butcher & J. Cole – Johnny P's Caddy (Official Video)
Holy Shit!!! Did J COLE just murder BENNY THE BUTCHER on his own track? Straight CAN-I-BUS style? This is the hottest joint I've heard this week, one of the hardest COLE verses I've heard, and if the SOURCE MAGAZINE still existed and did the HIP HOP QUOTABLE Article, this verse would win HIP HOP QUOTABLE OF Jan 2022 No Question. I think this shows that J COLE can not only hang with those that the underground are heralding as gods, but is perfectly capable of commiting deicide in the process.
Chung – Chung Shui Feat. King Shadrock & 7030 (Official Video)
We got a New foul-mouthed Femcee on the Radar this week. She goes by CHUNG, and the Plugs JORDAN COMMANDER and PAKA recommend her very highly. Check out the ultra smooth double feature CHUNG SHUI feat KING SHADROCK, and 7030. This is the 4th Visual off her CHUNG SHUI ep, so that means you got some research to do. Go find the rest of her work and follow this sister who swings her sword with a samurais precision.
LUPE FIASCO – 100 CHICAGOS
New LUPE!!! Man Just Listen!!!
SABA – SURVIVORS GUILT feat G HERBO
Anxiously waiting for this new SABA Album. Check the latest Single featuring G HERBO. SABA spazes as always. I have yet to regret claiming this brother is the Future.
CHOCO VALENS – NO DAYS OFF feat ORION aka BRASS BALLS
This ones a fun one. Miami's mad Colombian CHOCO VALENS joins forces with the General of the Hialeah Hip Hop Scene, ORION aka BRASS BALLS for NO DAYS OFF. If you slept on DOMESTIC ANIMALS ATTACK, the latest release from ORION & ONE TAKE, you will get awoken by ORION's "Debt Paying Fist". CHOCO murks the flow over the BRASS BALLS produced banger and shows that he can rock that "cram a million bodies in the trunk style" over any beat. Follow CHOCO VALENS as he continues his one man horde raid of your hip hop village. He aint taking NO DAYS OFF.
BOTTOME OF THE BAG
Tyler the Creator Full Louis Vuitton Album "The Sunseeker"
Full Instro album by TYLOR. I took the following off a Youtube Comment. Even though his production has always been amazing I feel like when you go into making a beat knowing you're not gonna rap over it, it leaves a lot more room for you to show off your production chops without having to leave room for your vocals in the mix and it seems like it really inspired him to create something that sounds even more unique. He's really honing in on a new sound yet again
Another Fantastic UNDERGROUND BANGERZ MIX by DJ GLIBSTYLES. This one starts with a touching moment of silence to our fallen brother and GLIBS Close Close friend/brother L-BOOG. You will live on in every Glibestyles mix brother. R.I.P.