I love Irony. It's one of those intangible truths that prove there might not only be a God, but if there is,
he definitely has a sense of humor. Ironic occurrences tickle me to the core. So, as I take my seat on the
Briteline Train to Ft Lauderdale and press play on the new album by J FLASH, "THE ARRIVAL", I start
grinning uncontrollably as the album disembarks with the familiar sounds of a train terminal, the voice
over the loudspeaker warning you to keep your arms inside of the sliding doors. Then DJ KUT KAPER
slices the smile off my face with a dizzying display of turntable dexterity. Take your seat, The J FLASH train
has left the station.
Listen to THE ARRIVAL by J FLASH
THE ARRIVAL is an 8-track, fully armored, and heavily armed Bullet Train. Produced by a who's who of
underground greats like NOTTZ on the album opener and lead single, D.O.A. which just happens to
feature RJ PAYNE, who wastes no time flaunting why he is one of the most sought features in Hip Hop
today. Then you got the legendary BEATMINERZ, providing a neck-breaking banger on the MICKY FACTZ
feature "ROCKSTEADY". Multi Coaster, DJ SKIZZ lays down a disgustingly dark piano and violin-driven
knocker that J FLASH & "the Good Dad Gangster" TERMANOLOGY glide over like Gold Medal hockey
players. We even got the great STU BANGAS holding down three joints on the LP, one of which features
both "RocAmeriKKKa" Brothers, ETO & FLEE LORD.
Like I said, the album is stacked with firepower, but it's the Conductor, J FLASH who keeps the whole
project in line and on time. Never does he fall off track when faced with the challenge of matching
verses with the Samurais whose swords he employed for this very mission. He doesn't just phone it in
with one verse on each song, depending on his guest of honor to carry the song. Nah, he hits you with 2
fire verses when possible, marking his territory, and reminding us whose album this is.  With bars like
"You know its body bag season, and best believe that I'm eating/ Fucking up the whole scene when
I'm releasing these demons/ I capsize the chastized, that's Leam Neason/ You'll get snatched up
quicker than a cut-throat evening/",  J FLASH holds down the set and commands respect.  Even though
it was my first time personally hearing the Los Angeles native, He has a familiar voice that you enjoy
hearing slick shit come out of. You can hear hints of West Coast Underground greats in his style, and it
makes his album sound like organic Indie Hip Hop.  Dope Emcees getting together with Dope Producers
and an insanely good DJ, delivering the excitement of the movie Bullet Train, in the vehicle of a Boom
Bap EP.
As I read the comments on J FLASH's Bandcamp page, my attention is caught by a supporter's post which reads,
"J Flash you have been at this since middle school bro. Keep the momentum on full throttle. Respect to A-One for the
backing and traction on the very first of many albums. Keep the heat going on the campfire"
The Irony, that J FLASH would name his debut album "THE ARRIVAL" while all the while sounding like he's been here for years. I love it!!  Just about as much as I'm loving this album.
Get your copy of THE ARRIVAL and some Merch at J FLASH's BandCamp Page below.
https://thaillstarz.bandcamp.com/album/the-arrival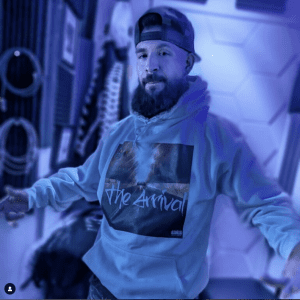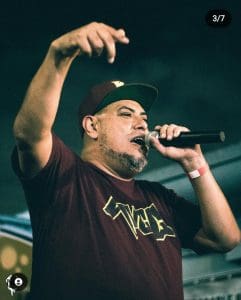 Written by 8ch2Owens
With over 20 Years in South Florida's Hip Hop Scene, Rudy "8ch2Owens" Barro has carved his name into the South Florida Hip Hop History books. As an Emcee, and Community Organizer with VICE CITY CYPHER Productions, he does his part in keeping Hip Hop Culture thriving in South Florida. As Founder and Host of WVCC Radio, Miami's New Home for Underground & Indie Hip Hop streaming 24/7 on ViceCityCypher.com, 8ch provides journalistic services to help shine light on Indie Hip Hop Artists whose music isn't getting the Media Coverage it deserves. His team's thorough and insightful WriteUps help provide Web Visibility to these artists to help them compete in the Indie Hip Hop Market, and grow their fanbase organically. Along with all he does with WVCC RADIO, 8ch2Owens also runs PROFRESH PUBLICITY, providing PR services to Indie Hip Hop artists so that their music can be heard throughout the Nation and overseas.
Follow @8ch2Owins on Instagram and feel free to DM him to inquire about any of his services.