Down to take a trip around the world with us real quick? The homie BLACKSMITH SUNDAYS has copped the plane tickets in advance. Actually, he built the aircraft itself with his own two hands and musical imagination and has named it "OTAKU".  A Japanese word that is equivalent to what Americans call "Geeks" or someone who is Obsessed with a certain thing. On this sky fairing vessel of an LP, BLACKSMITH SUNDAYS transports us from continent to continent on the wings of his obsession with both Anime, and Good Music, especially in the International Hip Hop genre.
Listen to OTAKU by BLACKSMITH SUNDAYS
OSAKU's track list reminds me of the Character Select screen of Street Fighter 2, as MR. SUNDAYS employs talents from Puerto Rican American SEVEN STAR, Spanish Emcee/Songstress BFLECHA of Spain, and Poet/Curator MAYUMIKILLER of Japan to set off the lead single TAKAMACHI, which has had a wonderful run through the Hip Hop underground during the Summer of 23.
This is followed by Maryland VA Puerto Rican Emcee AL DA DEAF DEALER and Cuban American South Floridian 8ch2Owens of WVCC Radio pulling out the Hatori Hanzo Blades on BERZERK. Hailing from Houston TX himself, BLACKSMITH SUNDAYS weaves the songs with guest features around his carefully crafted instrumentals inspired by his favorite wave of Asian animation.
The drum break rolls in on INVASION and we are instantly respawned in some Japanese recreation center, where the Local rival BBoy and BGirl Crews are battling feverishly on the dance floor to claim the crown of their community.
BLACKSMITH then makes a rare vocal appearance to introduce Japanese Emcee MARCOROSSO, who proves you do not need to understand what the emcee is saying to feel his flow is on point and realize he has what it takes to rock the crowd right.
Sister MISTEEE SAKA of North Carolina joins BLACKSMITH SUNDAYS in "making beautiful music" on "ROSE WIND" which she styles on uniquely like a seasoned master of her technique. Both sling sharp bars like shuriken stars and sing soothingly over a hook that sweats self-confidence. This queen doesn't walk on eggshells for anyone.  SEVEN STAR returns for an encore performance,  where he takes us on a tour of not only Japan but France as well, recounting memories of when he 1st performed overseas in his BOTANICA DEL JIBARO days.
The Album finally lands in the beautiful Land Of The Rising Sun with instrumental beauties PATIENCE, & SEE YOU SPACE COWBOY. "PATIENCE" which BLACK SMITH SUNDAYS explains is special to him "because it includes instruments and layers I didn't think about before I saw the 2023 anime film "Suzume". After I saw it, I immediately knew how I wanted the song to sound and added the instruments that Suzume inspired. That's why it's called "Suzume's Theme"."

"I also ask that Listeners take some time with "LOSER", because it features a Japanese MC & shows how universal Hip-Hop is. Japanese rappers can flow & rhyme just as well as the rest of us. 
The title also refers to a famous shop in Osaka, Japan called LOSER which is operated by Mayumikiller (who appears on "Takaramachi"
When we asked BLACKSMITH SUNDAYS about the inspiration behind OTAKU, he replied,
"The album is inspired by anime & Japanese culture. Each song on the album is made to either
  – sound like it should be in an anime 
  – sound like it was inspired by an anime 
 Or a song that includes references to Japanese culture. 
The word "Otaku" means "Geek" or "a person with obsessive interests" in Japanese. What we would consider "a Nerd" in the States. I come from an era where being a fan of anime was met with ridicule from the public, especially by other kids in school. I was one of those "Geeks" that got bullied for liking anime so this album was made for people just like me."
"Also, I'm not only an Otaku for anime, I'm also an Otaku for music. This album shows that no matter who you are or what part of the world you're from, you can share a love & passion for the same thing with anyone. Everyone on the album shares a passion for music & anime. That's why this is special."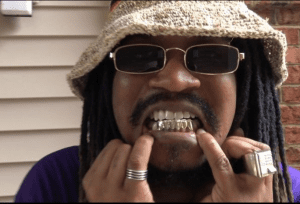 After a ride on Air OTAKU, we can definitely report, this is a special piece of art that not only moves the head in rhythm, but moves the soul to discover more than just it immediate environment.  It challenges the listener to step out of their comfort zone, which is, after all, where all great journeys begin.
Stream OTAKU anywhere you get your Digital Music and copp the Digital Release if you enjoy the ride.
If you Live in Japan, you can catch BLACK SMITH SUNDAY live this weekend for the Official Album Release in Osaka, Japan:
Location: Ye Lai Xander Sound Bar in Osaka, Japan
Date: September 2nd
Time: 8 am EST (America) / 9 pm (Japan Time)
 BLACKSMITH SUNDAYS will be playing cuts from the album as well as performing the song "LOSER" with Marcorosso.
He also plans on streaming his set Live from Instagram @blacksmithsundayz.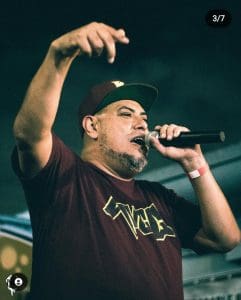 Written by: 8ch2Owens
With over 20 Years in South Florida's Hip Hop Scene, Rudy "8ch2Owens" Barro has carved his name into the South Florida Hip Hop History books. As an Emcee, and Community Organizer with VICE CITY CYPHER Productions, he does his part in keeping Hip Hop Culture thriving in South Florida. As Founder and Host of WVCC Radio, Miami's New Home for Underground & Indie Hip Hop streaming 24/7 on ViceCityCypher.com, 8ch provides journalistic services to help shine light on Indie Hip Hop Artists whose music isn't getting the Media Coverage it deserves. His team's thorough and insightful WriteUps help provide Web Visibility to these artists to help them compete in the Indie Hip Hop Market, and grow their fanbase organically. Along with all he does with WVCC RADIO, 8ch2Owens also runs PROFRESH PUBLICITY, providing PR services to Indie Hip Hop artists so that their music can be heard throughout the Nation and overseas.
Follow @8ch2Owins on Instagram and feel free to DM him to inquire about any of his services.