Did you grew up on Dudly Boys, Monday Night Raw, and Nasty Nas linking immaculate lyrics together like subway train lines connecting beneath NY City? Then the latest EP from New Yorks THOUGHT PROVOKAH is for you. POETRY IN MOTION is not only THOUGHTS dedication to the poetic talent his mother pushed him to develope, or the literature and urban poetry that shaped his social & political ideals, but also to the guilty pleasures he dedicated so much time to as a kid, Hip Hop and Pro Wrestling. How's that for a Reese's Peanut Butter Cup Combo.
Listen to POETRY IN MOTION by THOUGHT PROVOKAH
         THOUGHT uses colorful language to name drop Langston Hughes, Gil Scott Heron, Granny Smith Apples and the Hardy Boys as he weaves together the first section of his most recent tapestry "POETRY IN MOTION". Produced by long time contributor duMB-o, the title track shows off THOUGHTS unique Double Metaphor Linkage style where cleaver punches link lines rather than end them. PROVOKAH's style is closer to smooth grapling techniques than haymakers, leading you to tap out repeatedly as he grips the right pressure points.
        On the EPs 2nd single "WHISPER IN THE WIND", THOUGHT incourages the loose lipped to "shut the fuck up" if they ain't got anything worth contributing. "Talk Is Cheap when conversation is spent on Lip Service that is out of service/ Whats the Purpose/" he says over the jazzy Flute hook breakdown on a sunny summer bop produced once again by duMB-o. On this joint THOUGHT concentrates the 1st on concepts surrounding the mouth, and then plays around the 2nd verse with imagery of his body language when deciding If the person talking to him is full of shit or not. I love the picture he paints with lines like "When it's time, Head Nod/ Pardon my Sign Language/ Shake my head when I'm disagreeing/ with what you saying, finger weaving/ Grab the Chin if I'm Thinking/ Rub the Fingers for Payment/ Feeling anxious, I'm pacing/ Don't need a Statement/"
      Another single getting Plays throughout the underground is the smooth break Bap TLC, where THOUGH PROVOKAH finds a way to mix wrestling references with messages of self love and Healthy living. His bar "You better off in a NAS Car, then Nascar, Guaranteed your more Braveheart Than Earnheart, you gotta go past far/ In other words you always Birth a New You when you Stretch Marks" is a standout quotable that I've seen pointed out on more than one Live show chat room.
      THOUGHT has his own way of spinning his bars, just like any wrestler trying to standout and become a star, works hard on perfecting their signature moves. On THE SIDE EFFECTS OF DARKNESS, thought shows he is more than just light hearted conscious rap. His first verse displays THOUGHTS ability to come at a topic from multiple angles through a mastery of Metaphor wordplay. His 2nd verse is one of his most impressive in the past year, as PROVOKAH constructs a whole 16 out of acronyms. He writes "From my P.O.V. (Point of View)/ waiting on the E.O.D (End of Days)/ DnD, Locked Away for weeks in my Apt (Apartment)/ ADT can't Alarm me / as a P.O.C (Person of Color), an emergency can happen at any second/ Still trying to move progressive as I'm repping on my AOC/ But DNC and RNC will hit you with the BRB/" This is a Back Flip Drop Kick off the Top Turnbuckle. The Batman/Bane Inspired hook puts the darkest cherry oh top of a perfect track produced by NUMBZ.
      The EP closes with an electric guitar driven street journal entry titled PRAYING FOR A TWIST OF FATE, strung together by SCOTTZILLA. Definitely the hardest hitting beat off the project and THOUGHT PROVOKAH uses it tell two stories, one of a brother growing up in the hood trying to live an honest,  "Christian" Life and how "The Pendelum of Fate" can still leave him barely surviving off if his hard earned legal income. The 2nd story is about a letter he gets from his boy in prison, let him know that his boy has joined the Bloods in prison in order to gain protection. THOUGHT uses the verse to describe how the circumstances from impoverished Hoods leave children with the same options. Either become the monster or get eaten by it. Sadly on many American streets, you are either the Hunter or the Hunted "Praying for a Twist of Fate" to save you.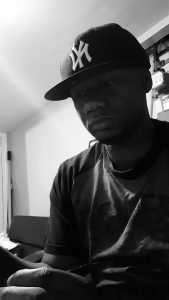 5 tracks is all it takes for THOUGHT PROVOKAH to pin the Listener down for the 3 count and win them over as fans. The meticulous way he constructs every verse. His original style of delivering the bar that might sound odd at first, but grows on you the more you listen. These have all contributed to THOUGHT PROVOKAH being one of the most talked about Emcees in new wave of Indie Hip Hop.
      THOUGHT promised at the beggining of 2023 that he would be dropping 5 projects on us this year. Using his creative style of writing and his knack for picking topics that work as double entendres, PROVOKAH has managed to put out 4 projects so far (POETRY IN MOTION being the 4th), which have all managed to be different and keep the audiences attention without tiring them out. He's already got project number 5 in the chamber and guarentees he is closing out the year with the best project yet. Make sure you follow THOUGHT PROVOKAH on IG and on your favorite Streaming Site to be in attendance when he steps in the ring the next time.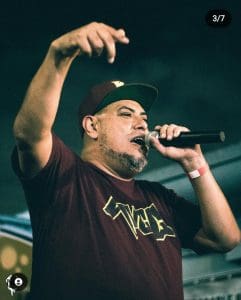 Written by 8ch2Owens
Vice City Cypher, WVCC Radio, PROFRESH Publicty. With over 20 Years in South Florida's Hip Hop Scene 8ch2Owens has carved his name into the Miami Hip Hop history books, and now uses his talents to promote the best in South Florida Indie Hip Hop and Underground Hip Hop from around the globe.