During the summer of 2023, forrest fires in Canada sent enough smoke drifting over the U.S. to stop air travel on the East Coast for a day. It seems the fire is still raging in the Canada Hip Hop Underground, with Indie Artists like DANIEL SON, ES, LEN-DOR, DONNIE QUEST,  B1 The Architect and more consistently dropping quality Hip Hop North of the border. CANADA has been a haven for Boom Bap since the 90s, and Quebec French Canadian Emcee LERICS DALYRICIST is a MAN ON A MISSION, making sure he keeps the tradition alive.
Listen to Man On A Mission by Lerics DaLyricist x Bo Faat
German Boom Bap Blacksmith BOFAAT built a 10 track vessel for LERICS DALYRICST to travel the skies with.  Hence, the title of every song has something to do with Air, Wind, or Breath. After going through a really tough year filled with personal loss and battling Alcohol Addiction, LERICS explained that he wanted this ablum to be more uplifting then his past works, since while writing it, he felt himself elavating to a point of healing and clear headedness.  The Canadian Emcee shared with WVCC,
"This album is about living lightly and moving on. Less dark, more shiny and light than my previous work. A breathe of fresh air. In fact the whole project is about the air. Thats why I titled the tracks "Breathe", "Ventilate", "Let's Fly", "Oxygen" etc."
As soon as the sample slides in after BOFAAT's drums send the album off in flight, you feel the breeze in your hair as the album opener "BREATHE" sends you floating into the stratosphere.  LERICS flexes his familiar French flow over the beautiful sample chops, which when combined with LERICS cadence, feels like a brisk sunny morning. I can immediatly understand what LERICS means when he says this album is brighter and lighter than his previous albums.  Having covered LERICS for the past 2 years, I have grown as a fan of his work, and can attest that his last couple of albums were pretty dark and heavy in subject matter.  MAN ON A MISSION feels like a whole other planet, where the air is acutally healing you while you inhale it. You might not understand most of his verses, but whe LERICS advises you "Just Breathe…You got this my friend" over the hook, it feels like a friend running right along side you, reminding you to take the road ahead 1 step, and 1 breath at a time, and eventually you will cross the finish line.
The 2nd track on the LP, MOVE ON, features another Candadian heavy hitter who is no stranger to the CyphLyfe Community.  Our dear brother LEN-DOR of Trinidad Tobego joins us on the aircraft to assist LERICS in encouragin us to "MOVE ON" from the dark places, memories, grudges and trauma that want to keep us isolated in self pity. Over a bed of harp string strokes, "So I choose to walk the right path/ Life aint a straight line baby, its a Graph/ Its an Uphill Battle At times/ I wish I could press rewind/ Instead I just recline and just keep on Moving/".  LERICS ties everything together with a simple yet perfect chorus promoting forward motion during tough times. When I asked him about the positive vibes I was getting from the album on tracks like BREATHE & MOVE ON , DALERICIST opened up and shared with us:
 "I went though hard times since the beginning of 2023 due to my Godfather passing away in jJanuary. It shook my whole universe. I was really deep thinking about death, existence, meaning of life and non sense. My last LP HUMBLE HORIZON is a reflection of that sadness, that emptiness, that darkness. But after taking some time to mourne, I chose to change my mindset and focus on the here and now. On what I still have, (health, kids, friends, my craft) and how I could use my writing skills and my rapping ability to overcome this dark time. I focused on doing something beautiful, luminous.and uplifting with my art."
It seems as a final life lesson, LERICS's Godfather inspired him to use his gifts to lift human spirits rather than step on them. On "GIFTED", although completely in French, you can feel LERICS flexing his gift. I don't know if its the beat or the marching cadence, but I can't help feel motivated by the track.  I can do 5 Sets of 50 Push Ups to this song, easy. He doesnt let his growing skills go to his head though. He keeps it humble on the more somber L'AIR DE RIEN, which translates into "to seem unremarkable, to make yourself seem as not much." Like rocking a "Poker Face" to never show what kind of hand you are really holding. Sometimes it is important to keep Victories and Winning Streaks to yourself, less our boasting changes the tides and brings misfortune. No need to jinx things when they are going good, feel me.  Then comes CRAZY WINDS, which is one of my favorite joints off MAN ON A MISSION. You can hear LERICS having fun bugging out over the intro, and then getting loose over the cello driven banger. I have no idea what he is saying, but he is styling all over the beat, and it gives the joint a rukus feel. This is followed by the Album Title Track, MAN ON A MISSION which is definetely one of the highlights of the album.  LERICS orders you to tie them showlaces tight and secure your back pack as you embark on this mission with him over a BOFAAT beat that commands motion and activity.  No half assing on this joint.  LERICS attacks with "La Langue Francaise" and makes me want to take a course in Forgein Languages at the local community college.
This is followed by my absolute favorite track on the album, LETS FLY.  Not only my favorite because I am featured on it, but it is also one of the only tracks where LERICS spits in all English, and the BOFAAT beat is just amazing.  From the moment I opened LERICS's email with the beat attached when I first asked to work with him on a song for his next album, the words came easily to mind, with no exerted effort.  This verse practically wrote itself.  I decided to spit in Spanish to counter balance LERICS's French verses, but then he pulled a quick one and wrote his verse in English, making my verse the one that is difficult to understand by the majority.  I love the Irony. But more than anything it is BOFAAT's beat, with its triumphant horns, its drum roll to set the verse off and its blending of harmonic vocal sample chops feels like playing American Football with your family on Thanksgiving morning as the bird cooks in the oven.
I asked LERICS if he had ever worked with BOFAAT before and what the experience was like.  He answered:
"This is the first time I have worked with BO. I have been following his music for the past 4-5 years, and dude never stops grinding. He's an inspiration when it comes to Work Ethic. I reached out to him about some beats, hand picked these 10, and i decided to do a full LP with them. The album he did with Len-Dor (THE TRUTH THEY DENY) earlier this year is one of my favorite albums produced by him, so I was excited to work on this project together. I actually learned a lot from working with him on the album. Dude is so busy with so many projects on his plate but as soon as I would shoot the tracks to him to get some feedback, he was always listening to them right away and gave feedback in the minute. Available, humble and talented cat. Doing business with this legend of an underground boombap producer was amazing. His beats are oldschool, boombap, raw sounding, and that was exactly the vibe i was looking for… nothing bad to say about the man. Devoted to his craft 100%. "
When I asked him which was his favorite beat BOFAAT sent him, and which beat surprised or challenged him the most, LERICS humbly answered:
"Oh thats a hard one. I mean I love all of them a lot, thats why I choose these specific ones amongst many, but if i had to choose i'd say my 3 fav ones are Oxygen, Ventilate and L'air de rien and the one that challenged me the most was crazy winds… or holy grail, both were very challenging. Plus I tried to choose beats that inspire movement, dynamics, air, kenetic energy, etc. I hand picked each beat with a purpose and they each reflect a particular vibe that I wanted for each song."
Since I don't speak French, I asked LERICS about one of his most challenging songs, CRAZY WINDS.  He replied:
"Crazy Winds speaks of mental illness.. mental instability… that's about the fragility of sanity… the fact that my anxiety is always telling me I can't do this or that, and the fact that I have to constantly repeat myself that I'm able and good enough to reach my goals. It's a song about shutting down the little voice in my head that keeps whispering that I can't do shit. About staying focused and not letting myself be distracted by shenanigans and shit. Its also about my role as a Father, and the love I have for my kids and the craft that has helped me with processing all of this"
I can see why OXYGEN is 1 of DA LIRICYST's personal favorites off the album. The joint is a whole bop. Worthy of long walks through the city or hikes through the woods. The bells and keys BOFAAT lays down over the 98 BPM head nodder is as good for the brain and mood as a deep breath of mountain air. The "HOLY GRAIL" Chaser LERICS talks about his self discipline on the 2nd to last song of the Album, weaving between both his French and English tongues impressively. He ends the album with VETILATE, another one of his top pics off of MAN ON A MISSION. The album closer is over a haunting BOFAAT guitar guided melody that draws you to concentrate as LERICS says his final piece, chanting "Hear me out Hear me out, Let me Talk Let Me Talk" or is it Air Me Out Air Me Out that he is saying as he vents for 2 verses, letting out all the pain, the anxiety, the loss, the guilt, the regret, the anger and bitterness, to make way for Healing, Peace, Joy, Satisfaction, Gratitude, Happiness and Community. Bringing the album full circle, back to the metaphore of Breathing. When your a MAN ON A MISSION, you cant forget to breathe.  Extremely Important.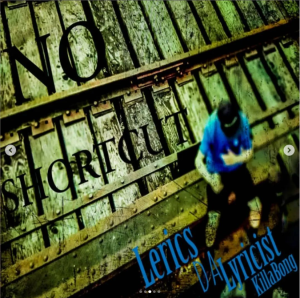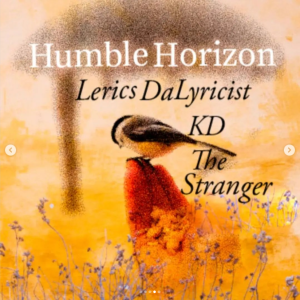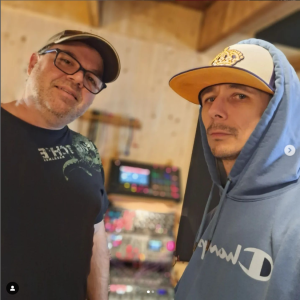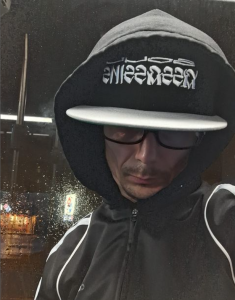 To close, I asked LERICS about the studio he has been laying his growing discography down at. Ever since I started following him, I notice he always works with the same engineer.  I asked him what his engineer thought about the new optimistic energy he was bringing into the booth on this project.
"I've recorded all my albums in the same place, Studio 53E, with my long time friend/engineer Sylvain Dominic. He's a close friend so he knows what I'm going through with life, we speak a lot. He sees my life's experience and feels my different moods/vibe/energy in my art"
I asked him if this has been his most productive year in Hip Hop so far, to which he replied:
"Definetely my most productive year.  We recorded a record every 4 months this year. March (No Shortcut), July (Humble Horizon), and November (Man On A Mission). Last year I did 3 projects as well but 2 of them were Short EPs (5 tracks). This year I have two 10 track LPs, plus a 7 track EP. On top of that,  I did a track for an upcoming producer project named STRONG WORDS by Rhook Beats. My song is called MCZLYF & the album will be out November 24th. So i have a total of 28 new tracks in 2023"
As his album declares, LERICS is a MAN ON A MISSION, and he has been fulfilling his goals during one of the toughest years of his life. Maybe its his new found sobriety, or a new outlook on the value of life after loosing a mentor. Whatever it is, it has put a self recharging battery in DALYRICIST's back. WVCC Radio is excited to see where his Mission takes him in 2o24.
Make sure you follow @lericsdalyricist & @bo_faat_beatz to stay up to date with all the new music they consistantly drop
Written by 8ch2Owens
Vice City Cypher, WVCC Radio, PROFRESH Publicty. With over 20 Years in South Florida's Hip Hop Scene 8ch2Owens has carved his name into the Miami Hip Hop history books, and now uses his talents to promote the best in South Florida Indie Hip Hop and Underground Hip Hop from around the globe.