Florida is home to several vibrant Hip Hop scenes. From Miami's THE BOTTOM/ SO FLOW Scene to Orlando's O-ZONE, to Central Florida's Battle Circuits and Jacksonville's DUUUUU-VAL rap community, the F.L.A. has plenty of different hip hop scenes to tap into. One such community is thriving in the state's capital, Tallahassee, and the two man Indie Label known as CITRONELLA ROOM is in the mix of it all. As they prepare to host and open up for North Carolina's LORD JAHMONTE OGBON this Saturday, 11/18/23, at The Bark, the duo of ARTISAN P and BUSTER WOLF aka DON'T TELL A SOUL, have released a debut ep titled DTAS EP, to show and prove they are holding Hip Hop down correctly in North FL.
Listen to DTAS EP by Dont Tell A Soul
From the EP opener, where soul bongos, violin loop, and funk guitar sample are chopped and woven together by Miami's Boom Bap king, DJ PROOF, the team of ARTISAN P and BUSTER WOLF show you what happens when Miami, and Underground Hip Hop meet "The Brook".  The result is a wonderful head nodder named ON TILT that will leave true heads slumped from over nodding. I had been familiar with ARTISAN P, a South Florida native who dropped a number of projects in the past with DJ PROOF and singles with West Palms BROOT MCCOY, before moving up to Tallahassee. However, I had no idea BUSTER WOLF was this nasty. I actually thought he just produced beats and did graphic art work for the label. Boy was a pleasantly suprised.  They each serve fantastic intro verses to kick off the project, but it's in the back and forth 3rd verse where their chemistry shines to blinding degree. These two are not rapping for dummies, and don't do this for money or follows. This is authentic Hip Hop. Master writing with immaculate dilevery.
Only 4 tracks long (Unconventional even by todays short play standards), DTAS EP is addictive and had me repeating the ep until I had to purchase. Tracks like the BUSTER WOLF produced "LEGEND" took me back to my college days when Underground Hip Hop was making waves through out the industry and in music stores everywhere,  with labels like RAWKUS RECORDS, STONES THROW, PHAT BEATS and other Indie Labels offering avenues to get Non Sell Out Hip Hop on the shelves.  This song is a prime example of why, lyrically and sonically, these 2 are quickly becoming "Legends" in North Florida, "Allegedly". (Check the Video for LEGEND below).
On NEVER BEEN prodcued by label mate THE LATE SHOW HOST, BUSTER & P take turns making it hard for wack rappers to breathe as they keep the pressure on their necks with bars like "One Winged Wing Nut, think he got a screw loose/ The True View boy, Your crews biting like a Tooth Do/ My Squads Dream Team, Your Squads Goof Troop/ Move to the beat to the scenes we produce dude/ " He puts the nail in the wack rappers coffin when he ends his verse, "I didnt see you there, trying to battle us/ I dont see rappers, I see squares, Pathagoris/".  Talk about using a rappers face for a plate. ARTISAN P pours salt on the wound and dirt on the casket with bars like "Im a skull full of what the fuck turning into mush/ I'm another one, Lurking for some thrills just for fun/ You aint making any Sounds, you got to give it up/ Makes it hard to seperate, the Jokers from the Clowns" (I see the 1 to 4 rhyme pattern their ARTISAN, I see You), and then "Huff it Up/ Wasnt Strong Enough for the Iron Lung/ Strike a light, Kinda Like how the Vipers Stung/ Chug A lug all my thoughts are now in native tongues/ going up a rung, elevating closer to the Sun/".  The sylable work is precise and technical as they "leave a trail of distruction leading to where they have never been."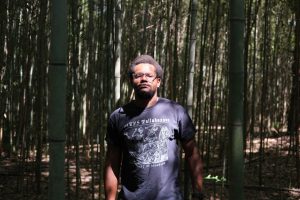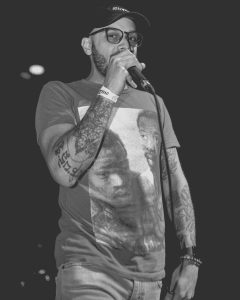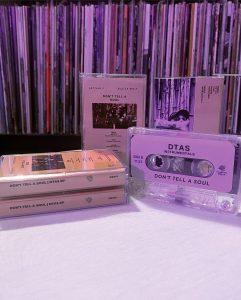 As I mentioned earlier, not only do the two get busy on the mic and on the beats, but both are partners in Tallahassee's CITRONELLA ROOM RECORDS,  a small Indie label out of North Florida that is not only pumping out serious Indie Hip Hop out of Bottom of the Map, but is also active in bringing National Underground talent to Florida to perform. Aside form making sure Florida stays on the map as a haven for real Hip Hop, BUSTER WOLF is also a sick artists who is responsible for many of DJ PROOF's Beat Tape cover art and many of the CITRONELLA ROOM Releases.  While these 2 Pillars in the Tallahasse Hop community are requesting we "DON'T TELL A SOUL",   I'm here to let you know, these guys got their hands in the coleslaw and they are making shit happen. Truley Tasty shit. CITRONELLA Flavored shit, to ward off all the suckers.  This is for the true heads who love that Real Shit.
If you consider yourself one of those True Heads, make sure you follow @artisanp & @busterwolfmusic. While you at it, stop by their website at www.citronellaroom.com and get familiar with their catalogue. This is one of those labels your going to want to follow if your a "True Head". All of you in the Tallahassee area or near it, this Saturday's show looks like its gonna be a doosy. LORD JAHMONTE OGBON, plus it might be your last chance to see DON'T TELL A SOUL live this year.  Dont Sleep.
https://citronellaroom.bandcamp.com/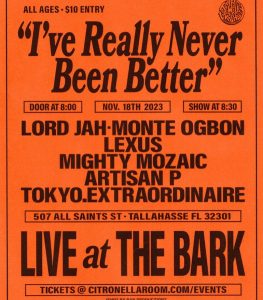 Written by 8ch2Owens
Vice City Cypher, WVCC Radio, PROFRESH Publicty. With over 20 Years in South Florida's Hip Hop Scene 8ch2Owens has carved his name into the Miami Hip Hop history books, and now uses his talents to promote the best in South Florida Indie Hip Hop and Underground Hip Hop from around the globe.