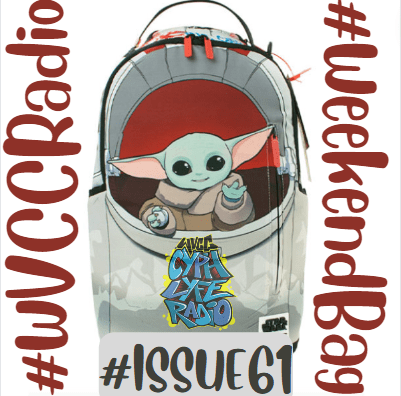 Your plug for New Indie Hip Hop News and Reviews.
Peace Peace Fellow 88ers. So September Ended and October Started with 2 of the most active weekends in the Underground. So Much fire dropped in the past 2 weeks that we are still playing catchup on many of last week's releases. Then here comes the 1st weekend of October bringing us new releases from FLEE LORD, MUGGZ & CRIMEAPPLE, CORMEGA, A.G., RECONIZE REAL, SANKOFA and more. We also have a month full of Festivities in Miami this month. If you are planning on visiting South Florida at all this month, there will be something Hip Hop Related for you to tap in to every Weekend, including ESQUINA DE ABUELA This Saturday where we will be hosting New Jerseys PRYME PROLIFIK, with opening sets by NO EMOTION & THE GODZ, CHOCO VALENS, ART MORERA and more. Check the flyers for all of this month's parties scattered between the reviews below. Enough yapping, let us get into this overstuffed WEEKEND BAG.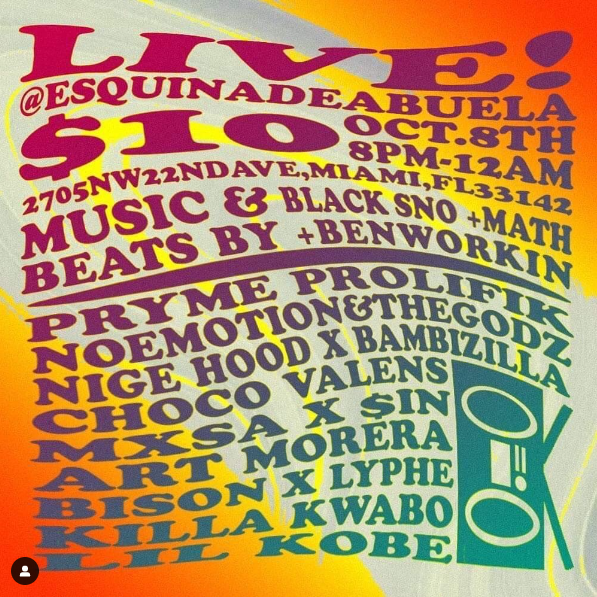 DJ MUGGZ x CRIMEAPPLE – SIN CORTAR
"Oooookayyyyy, Estamos Listo." After a number of solo releases (EPs, LPs, Mixtapes), Don Juan Pan aka CRIMEAPPLE, returns with his favorite producer, the Legendary DJ MUGGS, to slap us with an entire Spanish Hip Hop Album. Oooookaaayyyy…We are Ready For It!!! After playing the 1st two singles "NBA", & "LUCAS Y MONICA", to the point where even our Non-Spanish speaking listeners were chanting out MONICA, MONICA, MONICA, MONICA, the CyphLyfe audience has been anxiously awaiting the drop of SIN CORTAR, the Soul Assassins 1st Entire Spanish Rap album. CRIME took us by surprise early in the year when he dropped "NBA" with 2 full verses in "El Castellano Colombiano". He has displayed flashes of his bilingual pen in the past, but on SIN CORTAR he proves that CRIMEAPPLE is a problem on multiple continents, in multiple tongues.
Joints like the album opener MANTECA MAMBO (New Video Below), NADA ERA FACIL, AMNESIA, the up-tempo TODO BIEN, ASESINOS feat Soul Assassins OG, SICK JACKEN & BOTELLAS DE GUARO make SIN CORTAR not only a Hip Hop Classic, but they carve CRIMEAPPLE into the LATIN HIP HOP HISTORY Books. As a Cuban American who is fluent in Spanish, I can attest that this album is covered from floor to ceiling with Lava. The production coming out of MUGGS's dungeon matches the beauty and grime found in the 3rd World Countries below the United States perfectly. CRIMEAPPLE speaks the language of struggle and surviving poverty that is spoken and understood by hustlers around the world. As a fan of Latin Hip Hop who has seen how big the crowds can get at a Hip Hop show in Latin America, and how loyal that audience is to their artist, I can't help but hope that SIN CORTAR catches on in Central and South America. CRIMEAPPLE has worked his ass off, and deserves to be an international superstar. God knows he already carries himself like one. Maybe he is simply Manifesting his dreams by living like he is already there.
Get your CRIMEAPPLE x DJ MUGGS – SIN CORTAR Merch Here.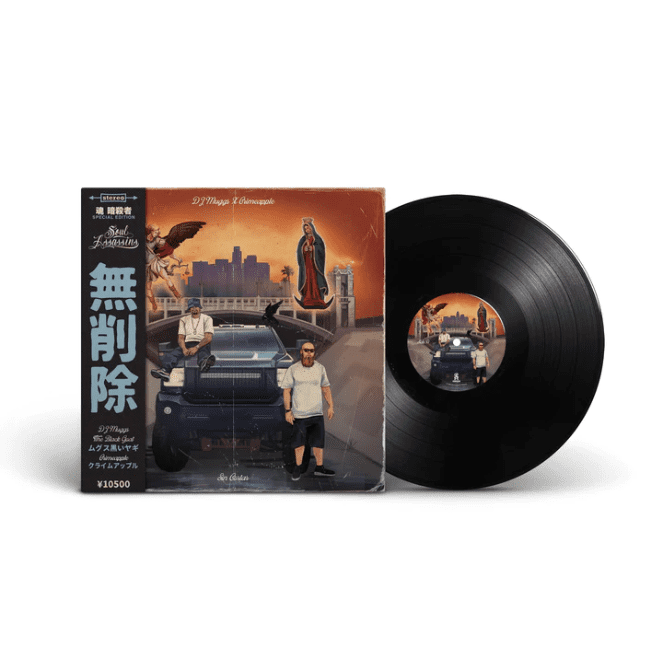 RECOGNIZE REAL – SUBTERRANEAN OBSCURA
Tis the season of Ghouls and Goblins and all things Darkness. Perfect time for the Drum Sampler Sorcerer of Queens NY, RECKONIZE REAL, to gather the grimiest gang of GOONS and PROBLEMS for a Monster Mash in the sewers. Hip Hops Underground is thoroughly represented on SUBTERRANEAN OBSCURA, a Haunted House Party where none of the guest wear mask. Their Faces and Bars are scary enough as it is.
WEAPON ESP welcomes the crowd filling the cave with a commencement speech on "BE WISE", that lights every torch in the cavern while thanking RECK REAL for "Putting him back in the game like a shot of Cortisone". SUPREME CEREBRAL and BIG TWINS come in on "WRITINGS" letting "The Drako Bust like a Vaginal Squirt" over RECKs banging drums. Nothing punani about this track, even the hook by vocalist YOLANDA SARGEANT is hard. When we say RECK REAL masterfully produced this project, I'm not only talking the beats he cooked up. Every instrumental matches the emcees exquisitely, and artist are paired up perfectly together by style and vocal tones, SUPREME CEREBRAL + BIG TWIN, RASHEED CHAPEL + NAPOLEAN THE LEGEND + AIDA (STREET TALES), GUILTY SIMPSON + REC ALI are excellent examples. Fresh Coast Boss in the making XP THE MARXMAN, Chi Town Veteran VIC MONROE, and New Brunswick Jersy jewel dealer ELOH KUSH all do their thing on the dolo over the soulful sample chops of "I WANT IT" , the head knocking "PINEAPPLE SORBET", and the solemn piano loop of "PILLARS". THE MUSSALINI, IZZY HOT & RASHEED CHAPEL take turns seeing who can spit their story of Succeeding past their Struggles smoother than the production served by RECK on "KEEP IT P". "ALGEBRA" is an instant Underground Classic with Ohio's COPYWRITE leading the charge as the GENOSHA hit squad of GHOST OF THE MACHINE and LOGUN incinerate both the original instrumental and the space traveling beat flip. One of the best parts of any Underground Hip Hop party is being introduced to dope Artist you weren't familiar with. RECKONIZE REAL puts us on to COMET MADMEN on "ROBBIN SEASON", and they get added to WVCC's "Emcees to Watch out For" list "Fast, Quick and Not Slow".
Like any good Underground Hip Hop getty, this album leaves you wanting to smoke something and Cypher with someone. I hope RECK drops an Instrumental version of SUBTERRANEAN OBSCURA for hungry Emcees and Cypher DJs to add to their arsenal of beats to Freestyle to. For now, just hit play and let RECKONIZE REAL & the cast of SUB-OBSCURA show you how it's supposed to be done.
Pick up your Copy on BANDCAMP and play it loud while kids knock on your door Trick or Treating this Halloween.
BARBARIC x ALVAREZ MASTERMINDED – BLOODSPORT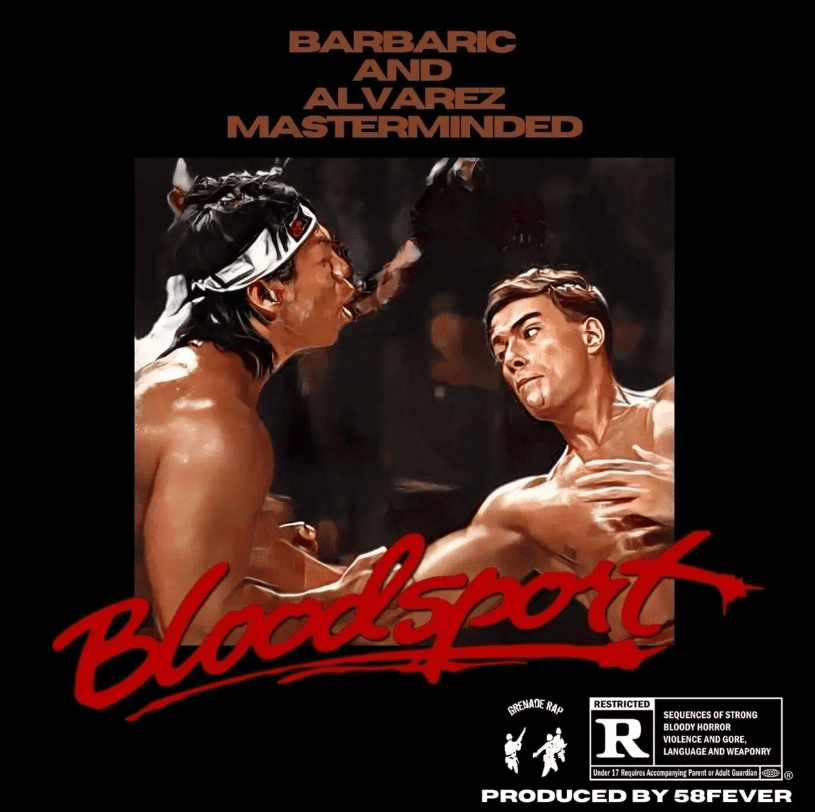 My pops took me to see BLOOD SPORT in the theater when it first came out. 1988 was the year, And my old man, an old school Martial Arts enthusiast, thought the best way to spend our Father/Son Saturday would be watching a young Jean Claude Van Damme kicking the best fighters in the world's asses. He was absolutely right. This was my first time seeing Van Damme in a protagonist roll, having been introduced to him as the "Bad Guy" in "NO RETREAT NO SURRENDER", a B Grade American Karate flick that made its rounds through Video Stores in the 80s. Jean Claude kicked & Split his way into all our hearts as Frank Dux with his lovable giant wing man, Ray Jackson as they took on Bolo Yeung and the rest of the "Street Fighters" like cast of opponents in the underground "Kumite".
Fast Forward to Fall of 2022, and GRENADE RAP RECORDS drops "BLOOD SPORT" the latest EP by the Beebop and Rocksteady or West Rochester, BARBARIC & ALVAREZ MASTERMIND. The EP is only 5 joints like, but like Bruce Lee's 5 Inch Punch, it packs enough power to send you flying back several feet.
BARARIC & ALVAREZ walk into the tournament like FRANK & RAY, with that look on their face like they ready to DESTROY EVERYTHING. The FIVEIGHT FEVER beat makes you want to mask up and rob the Hot Dog Vendor and the Bookie taking bets by the side of the Ring. THE KUMITE slows the vibe down long enough to give you a sense of the seriousness and sacredness of this secret competition. Then the Gong rings and the Fight to the Death begins. BOLO VS DUX gives you that feeling like you watching two sayens throwing Punches, Kicks and Blocks at a speed that blurs vision. The viciousness of BOLO VS DUX, OPERATION DOOMSDAY and the EP ending DROP A BOMB ON UM is enough to make up for all of the weak Jean Claude Van Damme Flicks that followed BLOODSPORT (Time Cop?? Are You Kidding me?). There is enough skill packed in this 5 track EP to snatch a coin out of your hand, leave a Sumo Wrestler Nuttless, & win a Title Match against a world renowned killing machine while half blind, all while bagging the Blond Hottie and dodging the Feds.
I had a great time playing the BLOODSPORT EP over and over again, just like I used to do the movie on VHS. The nostalgia brought on by the snippets they take from the film had me thining of my pops, kicking it with him at the movies, practicing Karate with him after the film in the parking lot (God Rest His Soul, love you pops). The tape gets better with every listen, just as BARBARIC & ALVAREZ MASTERMIND have gotten better with every release. Need proof, go and follow GRENADE RAP RECORDS to be tapped in to all their past and future hood classics.
https://bnamusic97.bandcamp.com/music
Mandella Eskia x TEV 95 "Bar Supply 2"
Written by: Presha
Most alcohol will get you drunk, but not all alcohol is created equal. I've had the "free drinks" at clubs, that bottom shelf bullshit booze that gives you a pounding headache the next day. I've had fire from the top shelf that packs a punch. I've even had prison hooch, which tears up your insides and sends you to the toilet the following morning. All of these options are technically alcohol, but they all vary in quality.
For me, Hip Hop is much like alcohol, intoxicating and sometimes harsh; but some Hip Hop is top shelf, and some just gives you the shits. Fortunately, Mandella Eskia, also known as Black Zeusx, stocks his bars with nothing but hundred plus proof. Back for a second round with producer TEV 95, "Bar Supply 2" once again supplies what the title implies–Bars! Each track name is alcohol influenced and just as potent. The Harlem emcee and founding member of the NYC collective Black God Pantheon fills our glasses to the rim with rhyme schemes and vocal stretches that are far from watered down. TEV 95, our mixologist, provides ten intoxicating cocktails for Black Zeusx to pour out his heart to. The features burn enough to give your chest hairs a perm. Black Zeusx and Planet Asia go dumb on "Devil Springs," a drumless banger with some Saké on the sample. On "Gold D. Schlager" he and Frank Knight go shot for shot on anyone talking bad to the bone with a bone fracture. Bar Supply 2 also features N8!, DMVA, Brooklish, Mistha Dean, and Commander Flame. The flows are fluid and the content is godly. After ten drinks–all flame, no skips–I left Bar Supply 2 with a nice buzz. No headache and no trip to the toilet.
Get your Lyric Drinking on at the 95 Labs Bar via the Bandcamp – https://95labs.bandcamp.com/album/bar-supply-2
MONEY MOGLY x SAGE THE 33RD SCROLL – GODSPEED FOR GODSAKE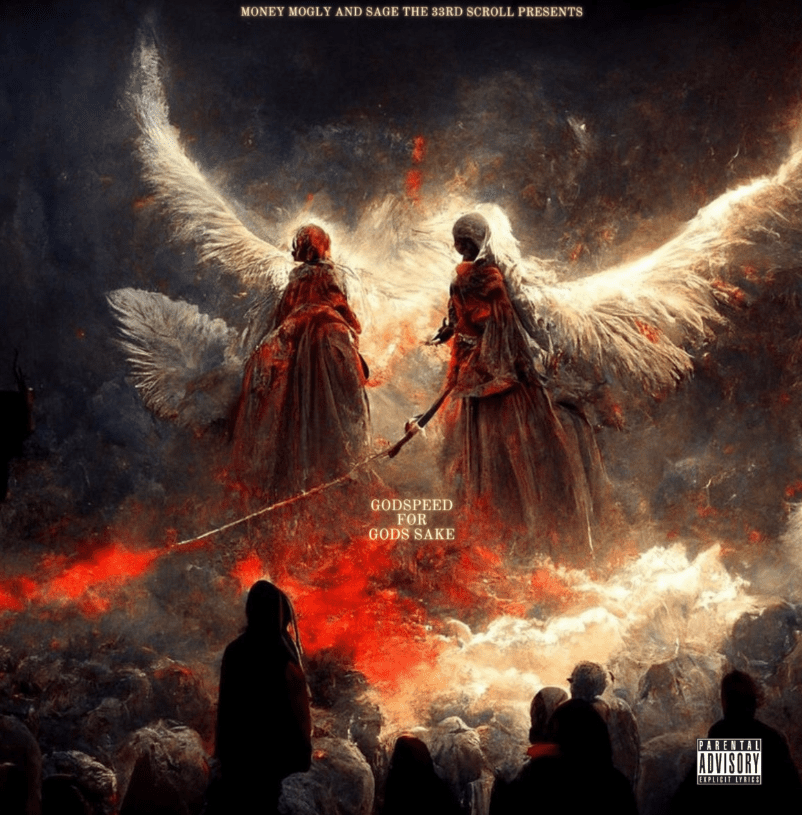 For God's sake SAGE!! What have you gone and done? Fresh Coast Beatsmith SAGE THE 33RD SCROLL of The Emotionless Golden GODZ squad has been providing beats for NOEMOTION GOLD MASK & THE GODZ for years, but now he's fucked around and fed the Wild Wolf of Souf Souf Miami, MONEY MOGLY, some Plutonium Production that has them and their special guest growing to RAMPAGE sized proportions. "GOD SPEED FOR GOD'S SAKE" is both the War Howl of a Gargantuan Beast and a prayer for God to have mercy on the mortals that they trample underfoot.
The Supernatural Disaster commences with MR. HOWL, where MOGLY comes out growling "Bitch I snort Roots, I guess they call it Rapay/ They say I'm top 8, only if the 8 is sideways/". He BARks on us for two verses where he warns "Its SAGE 33RD and Mr. MISTER HOWL/ if they don't hear the Awoooooo, I bet they Hear the Growl/ If they don't see the eyes, I bet they see the smile/ But by then it's Too Late by a motherfucking mile/". These verses are linked by an "Aye Ya Aye Ya Woe" hook reminiscent of the KING JUST WU Classic. TWO EIGHTY FO comes in with a loopy sample loop that MOGLY & ART MORERA loose their marbles over. This gives way to TEDDY, the 1st Single off the "GODSPEED" EP that has gotten no stop play on CyphLyfe Radio since it dropped. The Video below is another example of the excellent chemistry between MONEY MO, SAGE THE 33RD and ART MORERA who handles Video Production duties giving the banger a suspenseful feel perfect for the season.
The Features don't stop as CULTWORKer BEN WORKEN joins the mayhem on BENMO where he drops one of the hardest verses I've heard from the Jersey transplant who is equally skilled with the Sampler and Turntables as he is with the Microphone. TALI RODRIGUEZ is another multi-talented shit talker who joins the convo on HELICON WAVES where the KNUCKLE DRAGGUH/WXTCH WXLVZ connection leave all zip codes between Atlanta and Cutler Ridge completely demolished. Almighty ESF Founder APAKALYPSE beams down from planet Nibiru to deliver judgement on the county of Dade on MEDS MISSIN after MOGLY recounts "This winter I went drowning with no water in the Pool/ Learned the meaning of life and tried to taught it to a fool/ but he already knew, and I was dumb for thinking/ It made me realize that I done with sinking/" #Bars.
SoFlow AntiHero NOEMOTION GOLDMASK makes a strong appearance on COCAIN AND KUNAI where he, MOGLY and SAGE cook some Sancocho full of Golden Quotables.
The album ends with the Title track GOD SPEED FOR GODS SAKE, the only time the EP takes a moment to breath. SAGE drops a heart string strumming bop that DON LOBO uses to polish the "Corrosion" off of a "heart that used to be Collegiate". Lot of Honesty woven in this last track and throught out the album, cuz as MR. HOWL has been known to say, "We Tell NO Motherfucking Stories". If so, SAGE THE 33RD and MONEY MOGLY have delivered one hell of an Autobiography. Pick your copy at BANDCAMP.
https://moneymogly.bandcamp.com/album/godspeed-for-gods-sake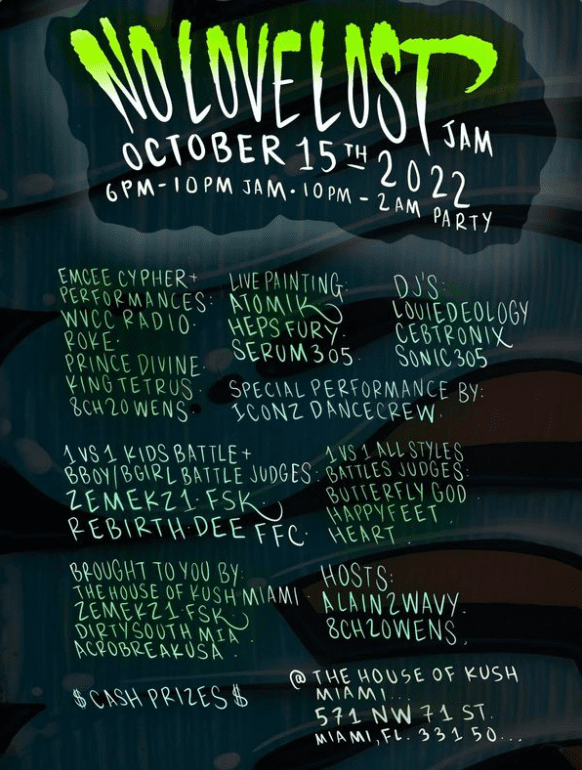 SCHOOL DAYZE – BACK 2 CLASS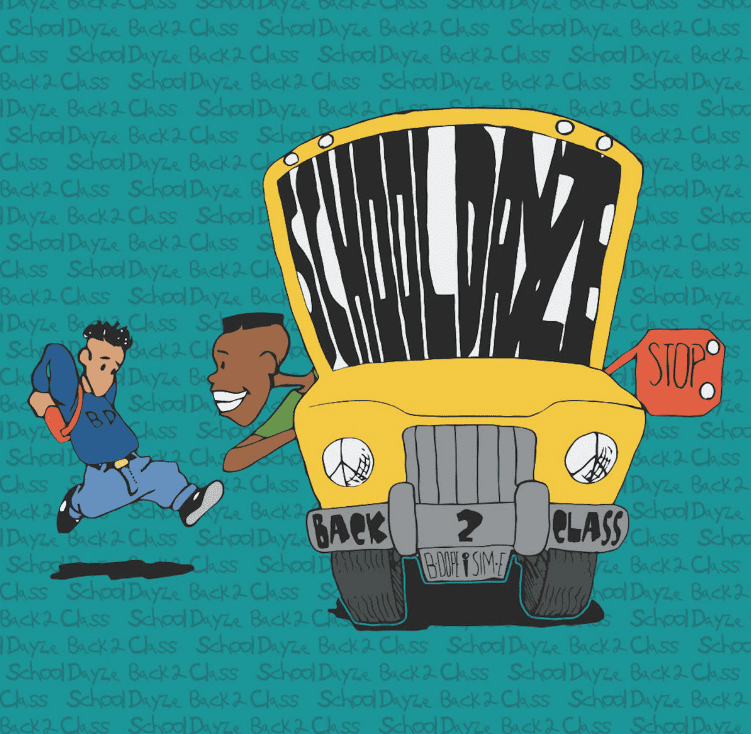 "Now In my Younger Days…" while I was running the halls of MIAMI HIGH, listening to WU TANG and BOOTCAMP on bootlegged tapes and Rap City Videos, there was a whole Hip Hop scene bubbling up down south in Kendall that I was oblivious to. When I moved out South West to the Kendall Hood known as 152, I started hearing names like MR. MIC RIPPA, ARIAC, & B-DOPE. As members of the larger UNKNOWN FLEET Crew, B-DOPE and SIM-E AUTO formed a group called SCHOOL DAYZE that caught wreck and respect through out Miami's underground scene in the 90s. Almost 30 years later, SCHOOL DAYZE is having a class reunion and inviting us all to go BACK TO CLASS with them.
On 13 tracks produced by @TEMPER3000K, WATSON GREEN, Miami Turntable Legends DJ SLICE AND DJ CRAZE, SIM-E AUTO himself, BOBBY & SIM remind us of a time when Hip Hop was Fun, Fresh, Hard but Innovative. Filled with fire features from UNKNOWN FLEET Family LAST STRAWS, ILL SEED, MIC RIPPA (RIP), DJ EXES, A FLY GUY, C -MAJOR, B-GLIZZY, and New Era SCHOOL DAYZE Member BOGEY. The album is being released in 3 Different Formats, Collectable CDs, Tapes, and Vinyls, each with a different set of songs so you have to collect all 3 to hear all of the records. These dudes have paid enough dues to warrant the support. And make sure you mark your calendar for OCT 22nd if you live in South Florida, as we celebrate MZ MELZ BANGERZ & MOTHER SUPERIORS Birthday, & B-DOPES "THAT EIGHTY EIGHT SHIT" Album release with Performances by Miami's Best Indie Emcees. Did I mention No Cover? Check the Flyer Below for Details.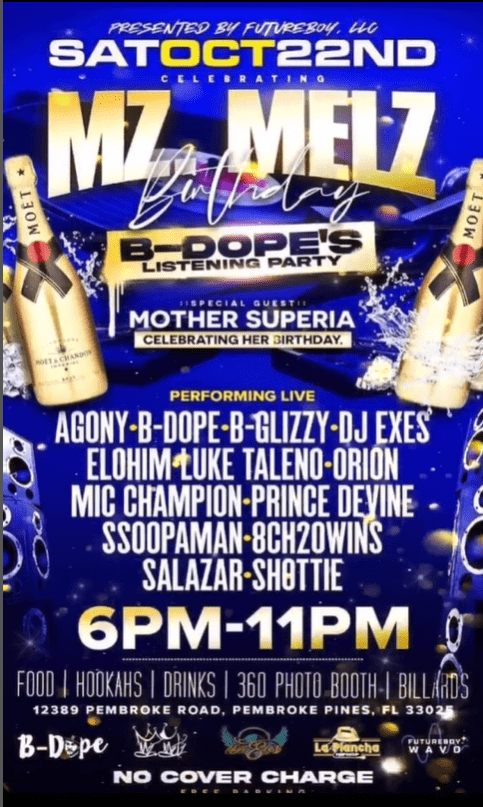 EL GANT – O.S.L.O.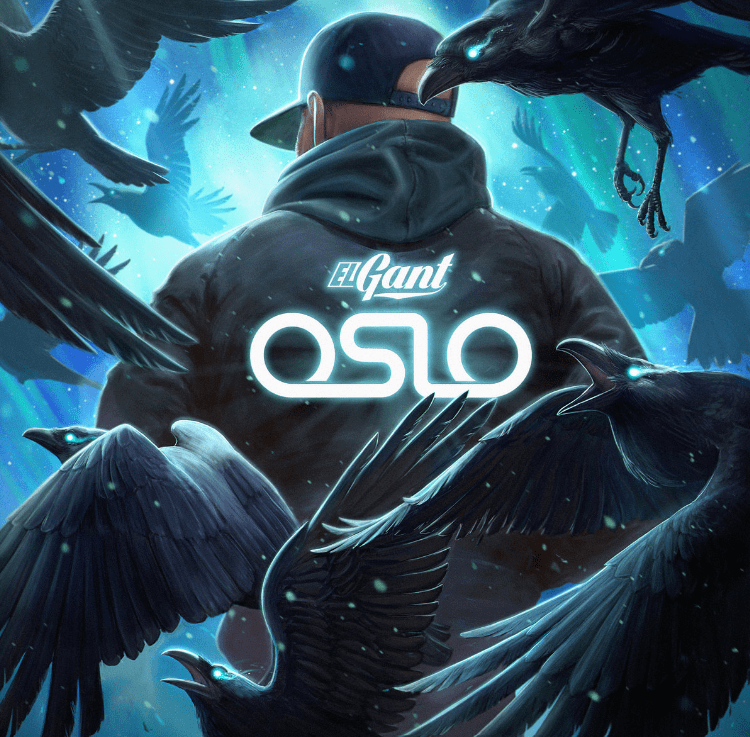 "This album outlines my growth as a human. I wanted to share it as a way to help others who have experienced personal tragedies and may need help processing that."—El Gant on his new solo album, O.S.L.O.
Following several tragedies in his personal life, New York rapper El Gant had a decision to make—face those losses head on or bury them deep within. Luckily for us, he chose the former. The result is O.S.L.O., the emcee's most gripping and personal project yet. It's also his most relatable, because it shows what we're all capable of when we're equipped with the right tools to cope and, in El Gant's case, transform that tragedy into something powerful.
The album arrives nearly a decade after his previous solo effort, 2014's great Beast Academy, and after several years spent touring and recording with his group, Jamo Gang, with Ras Kass and J57. Despite the highs associated with that time, El Gant also experienced major personal losses. In particular, he lost three close friends—The Last Original, Bones, and Jim Misa—all of whom had a major impact on his life and career. In fact, the album's title, O.S.L.O., references the Last Original, because it's an acronym for "Our Sun the Last Original."
"His death really made me think about life and I made some huge transformations after that mentally, physically, and financially," El Gant says. You can hear that personal growth on standout tracks like "Leave It Alone" and "Rubber Match," produced by the legendary DJ Premier and J57, respectively. But it's the stirring closing track, "Beautiful Disaster," where El Gant speaks on losing his close friend, the Last Original, and how he found beauty amidst the chaos of those final days.
But it wouldn't be an El Gant project without some straight-up dope hip-hop, too. Tracks like "Avirex (feat. Innocent? & King Magnetic)" and "Chromed Out (feat. Ras Kass & Planet Asia)" are absolute bangers filled with shape-shifting flows and crazy wordplay.
There's a reason for these tonal shifts, too; El Gant didn't want to simply create a linear album. "I want to take the listener on a few ups and downs, just like life does for most of us," the emcee says. It's those qualities that make O.S.L.O. so immediately satisfying, and why it's his most accomplished work to date.
El Gant's O.S.L.O. LP is available now through all major DSP's and vinyl in both classic black and a limited translucent blue variant via El Gant's Rule By Secrecy imprint in partnership with Fat Beats.
Cormega "The Realness 2"
Written by: Presha
I'll never forget hearing Cormega's name on Nas's "One Love" from his classic debut "Illmatic." (…whuddup wit Cormega?/ Did u see 'em? Are y'all together?) Nas's letter to his brother in the bing represented the realest of gestures. His pledge to drop a "half a hundred" in his commissary, a humble but helpful contribution, demonstrated how real brothers should look out for each other. But, if I'm being honest, in my youth I saw more realness in the recipient of Nas's letter. Real, as a trait my generation aimed for, became encapsulated in being incarcerated. A man who had been sent to prison was one of the "real ones." After spending half of my life in prison, my views have evolved. The truth is that phoniness is prevalent in prison, and real has come to mean something entirely different to me. Life has taught me that real is being honest with yourself and others. Real is protecting your freedom first and not abandoning your duty to be present with your family. Real doesn't mean real easy; it means making the hard decisions.
Listening to Comega's "The Realness 2," it's clear that Cormega's views on realness have also evolved. There's the obvious absence of "the N word." There's little to no profanity. But most of all, his subject matter is a mentorship to anyone with ears to listen. On "Once and for All," his flawless opener, Cormega accepts his purpose, and sets the tone for thirteen tracks of musical maturity. The Realness 2 contains features from Lloyd Banks ("Grand Scheme"), and Havoc ("Paradise"), with production from The Alchemist, Large Professor, Streetrunner, Harry Fraud, and more. The most profound evidence of Cormega's growth on this project comes with the promotion of peace between him and Nas on "Glorious." Both QB emcees had been feuding for years since Cormega's exclusion from The Firm supergroup. Now, they shake hands over an Alchemist produced masterpiece that towers above us like a monument to what's possible when two kings coalesce. Today's Presha Point: Peace is indeed a glorious thing, and realness doesn't have to be destructive at all.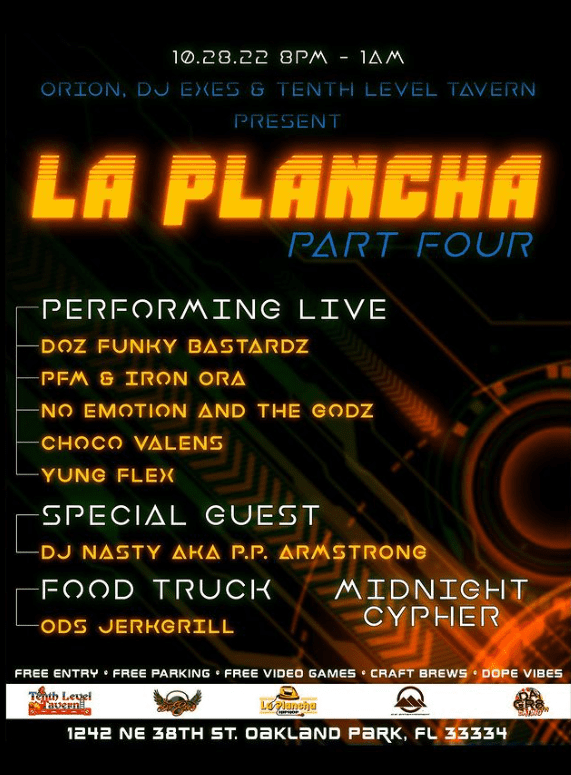 Memphis Reigns & Kid Forever -"TRACK RECORD"
Written by: Presha
California's Romelo Delossantos, aka Memphis Reigns, joins forces with Indiana producer Kid Forever for what I'd consider a quick sprint. "Track Record" is technically a five song EP, but includes the instrumentals and two Remshot remixes. Memphis Reigns, a Filipino emcee and US Military man, has a backyard barbeque flow that's both inviting and unpretentious. The opening track "Super" runs the gamut of comic book super heroes and suggests that we can all save the day if we believe in our ability to do so. "Guess Who" is an energetic head nodder with sample chops and prominent snare drum rolls. On track number three, with its soulful bellows, Memphis commands listeners to leave their "Ego" at the door. "Another Day" contains a profound clip from Alan Watts, who asserts that our entire existence is a spontaneous thing that we really have no control over, so we should just "let go and let it happen." Memphis seconds that sentiment on the hook where he says, "…Don't worry bout what happens, yo, and let the day play…." Finally, for the fifth track, Memphis gets a few steps ahead of emcees and warns them to "Mind the Gap." While Kid Forever's twisting tracks give Memphis sufficient space to swerve, the brightest moment of Track Record comes on the Remshot remix to "Another Day." The remix effectively eliminates the original, coming from behind to leave the rest of the project in its dust, like a souped-up dragster that's cracked open the nitrous. I'd recommend Remshot and Memphis collaborate for an entire project.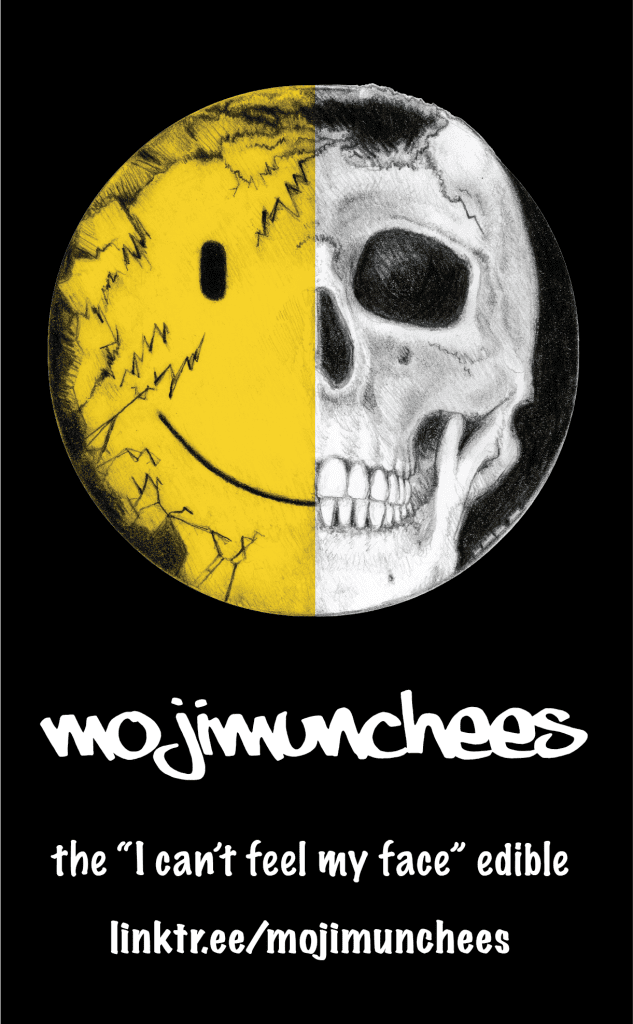 A.G. – GIANT IN THE MENTAL
With more than 30 years in the game, D.I.T.C. affiliate Andre the Giant of Showbiz & A.G. fame continues to prove that his pen game is better than ever with the release of his latest full length effort, Giant In The Mental.

The album title is more than just a reference to one of his earliest tracks; it's a statement that he remains head and shoulders above the competition like the rap giant that he is. And he's proudly doing it all on his own with this record, without any guest appearances.

"I am really not moved by guest appearances," A.G. explains. "Music for me is mostly therapy, and I don't need anyone else to help me vent and express my thoughts." He's absolutely right, because across the 10 tracks on Giant In The Mental, he skillfully unpacks and tackles a number of different topics with his trademark wit and wisdom.

The Bronx rap legend straight-up kills it on every level, too, from clever wordplay to engaging storytelling raps. If you want his bully bars, just listen to the hard-hitting opening track, "Andre The Giant," with speaker-thumping production from DJ Manipulator. And for storytelling, you can dig into the beautifully written and smooth "Summer School" or the cinematic and stirring "The Sphinx."

It all amounts to a truly impressive and cohesive piece of work from A.G., who is eager to continue creating art until he can't meet his own standards. "If I can't perform at a high level then it's time to stop!" he says before adding that pushing himself creatively is what this is all about for him. His integrity and passion for the artform is palpable, and it's those qualities that have helped him remain such a necessary voice—and force— in music.
KINGDOM KOME x ONAJE JORDAN – ALCHEMY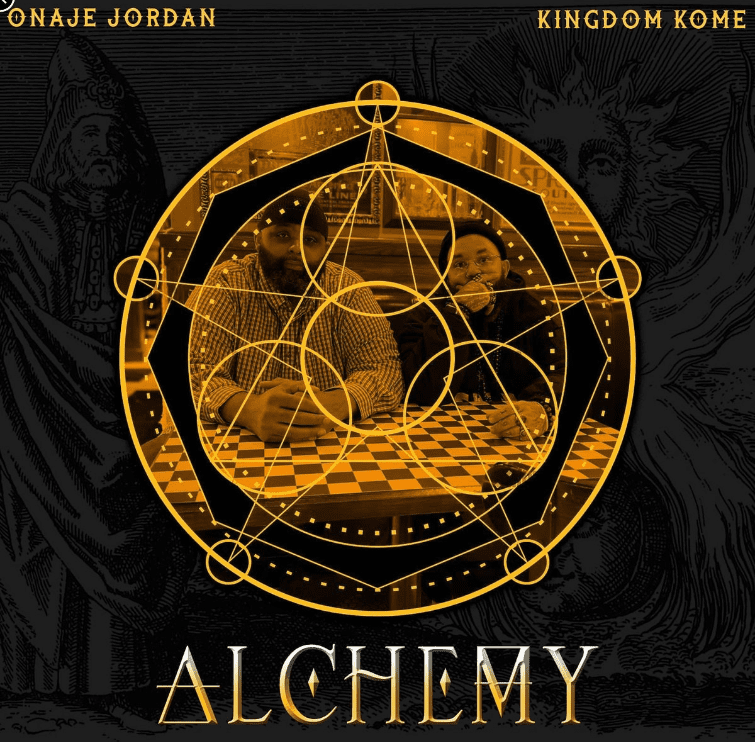 Lo-Life affiliated spitter Kingdom Kome links up with Hometeam producer Onaje Jordan for new visuals! "Revolve Around Science" (first posted by Underground Hip Hop Blog) and featuring cuts by Ruen is that smoked-out mind-expanding boom-bap as Kingdom says "Onaje's beats put me in a certain chamber that's perfectly represented in this song."
Filmed in Jordan's home-turf of Chicago, most of the video was taken on the South Side of the city including footage at the legendary Hyde Park Records Store.
The track is taken from the newly released Alchemy LP, which also features appearances from G Fam Black, General BackPain, Lupus Dei, Substance 810, Che Uno, Falcon Outlaw, Killy Shoot and many more!
Speaking on the initial link-up between them Kingdom said of Onaje "Initially I did a feature for an associate of his and he sent me some beats. That was about seven to nine years back and we've been working together extensively since then. The way we work together is very organic but totally a result of chemistry of beats and rhymes. It's Alchemy."
Stream/purchase album: https://kingdomkome.bandcamp.com/album/alchemy
https://www.instagram.com/kingdomkome/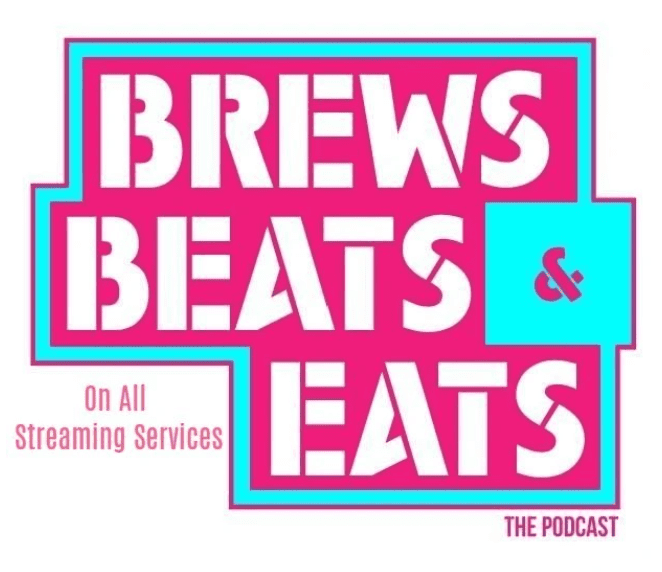 UFO FEV x FYNN – BLOOD ON THE BILLS
Written by: Presha
There's been another UFO Fev sighting. The first sighting took place over East Harlem's Thomas Jefferson Projects. Since then, listener after listener have been subjected to multiple audio abductions. In 2014, "Around My Way" landed. In 2020, Fev flew heads with three fire projects: the Statik Selektah-produced "Fresh Air," the Termanology-produced EP "From El Barrio With Love," and the Big Ghost Ltd.-produced "The Ghost of Albizu." Fev's otherworldly invasion continued with "Magnum Opus," and the Vanderslice-produced "Enigma of Dalí." He also dropped four extraterrestrial EP's: "The Most High," "Prayer, Weed and Music," "E Pluribus Unum" and "Sunsets in the Ghetto," which I had the honor of covering for The Weekend Bag.
Anthony Ortiz, aka UFO Fev, isn't finished. If you don't believe in UFO Fev, "Blood on the Bills," his newest cosmic collaboration with Canadian beat magician Finn, will make you a believer. The consistent theme and assortment of subject matter combine perfectly with Finn's flavorful production. Not one track is lacking. "A1 Credit," the opening track, introduces us to the heart of Harlem and assures us that Fev could pass any credit check in the streets. The jazzy "Drop the Needle," featuring Pro Dillinger, packs a poetic hook with multiple meanings. Fev and Red Inf go back-to-back over the humming boom bap of "Check the Balance." "Wash the Bills" has the feel of a foreign land, its intoxicating hook, like a drink with one of those tiny umbrellas. "Drug Free" is simply refreshing as Fev proclaims his people to be free of drugs and getting to the legal bag. The Ty Farris feature on "The Tax Man" is genius, where Ty takes on the personality of Uncle Sam. "Caged Birds" includes a beautiful baseline and galactic guitar riffs, while "Left vs. Right," with its chipmunk soul sample, could have been Fev's best work–if it wasn't so short. On the next track, Fev warns us with "Watch What You Say," because you never know who's listening, and as Slick Rick says "…this type of shit happens everyday." Saipher Soze tags along for the second to last banger as Fev encourages us to "Keep Spending" cuz "the money don't care what you think." Fev closes the album with a calm poem recited over a dining room piano loop on "Words of Wisdom," then he drops the mic and disappears into the night sky in his space ship. Blood on the Bills is by far Fev's most complete piece to date. The mix is clean, the clips are entertaining, and Finn's work is fine art. Somebody please give Fev and Finn their flowers!
#CYPHLYFE #SingleFiles:
CAINAAN – NO MISTAKES feat GREYBARZ, ROB GONZALES, PAULA PERRY
Make "NO MISTAKES" this new banga by D.C. Producer CAINAAN featuring GREYBARZ, ROB GONZALES, and PAULA PERRY is a flawless Hip Hop Gem. From the Nation's Capital, GREYBARZ & CAINAAN connect to deliver a joint you can't help but "GET DOWN" to as the James Brown sample gets chopped up by CAIN in the background of the thumper. You can hear the experience in GREYBARZ's threads as he knocks those sleeping on him into "Permanent Narcolepsy". They reach out across the country to Pheonix AZ, where CYPH LYFE Family ROB GONZALES blesses the 2nd verse and proves he is far from putting the pen down after dropping ALL SAID AND DONE his critically acclaimed release with Miami's DJ PROOF. The hook expresses what a lot of us have felt in silence, that feeling that alot of cats have gotten stuck sounding the same, even in the underground, and Hip Hop is once again in need of some evolution, even in this "2nd Golden Era".
The 3rd verse takes us back East to Brooklyn NY where MASTA ACE INC Legend PAULA PERRY puts the finishing touches on this burner. A decorated Hip Hop Veteran, PAULA steps in giving these lil pups and bitches "On Command Dog Training". Each of the 3 Emcees displays expert technique over the CAINAAN beat that is without a blemish, garnering "NO MISTAKES" a perfect 10 on our scoreboard. You can find it on the WVCC WEEKEND BAG 61 Playlist on Spotify and add it to your Favorites.
BASIC VOCAB – GREAT PRETENDER
BASIC VOCAB is back with the 2nd Single off of their recent STRAIGHT KEMESTRY EP produced by SQUARE 4. The new single, "GREAT PRETENDER" which happens to be the album opener, and one of our favorite cuts off of STRAIGHT KEMESTRY, just became even more enjoyable with the addition of the Official Video by BROADCAST KING. In the new visuals for "GREAT PRETENDER" JL SORRELL & MENTAL GROWTH get the Jim Henson treatment as BROADCAST KING turns JL and MG into Puppets to tell the tale of Pride that Comes Before the Fall. Both emcees come at the topic from a 3rd person story telling perspective that while not based on a real individual, both can agree they have lived expereinces that make their verses relatable, as have most men who believe they are God's gift to women. "GREAT PRETENDER" is a gut check from Real Men to Real Men reminding us that their is more to masculinity than conquering the opossite sex and collecting material trophies. Until we figure out how to invest our time in to being the best versions of ourselves, we will simply be living life as "GREAT PRETENDERS", wearing a mask of fake happiness to impress outside observers. Get more Dope Beats, Dope Verses, and Deep Content like this on STRAIGHT KEMESTRY available now on all DSPs.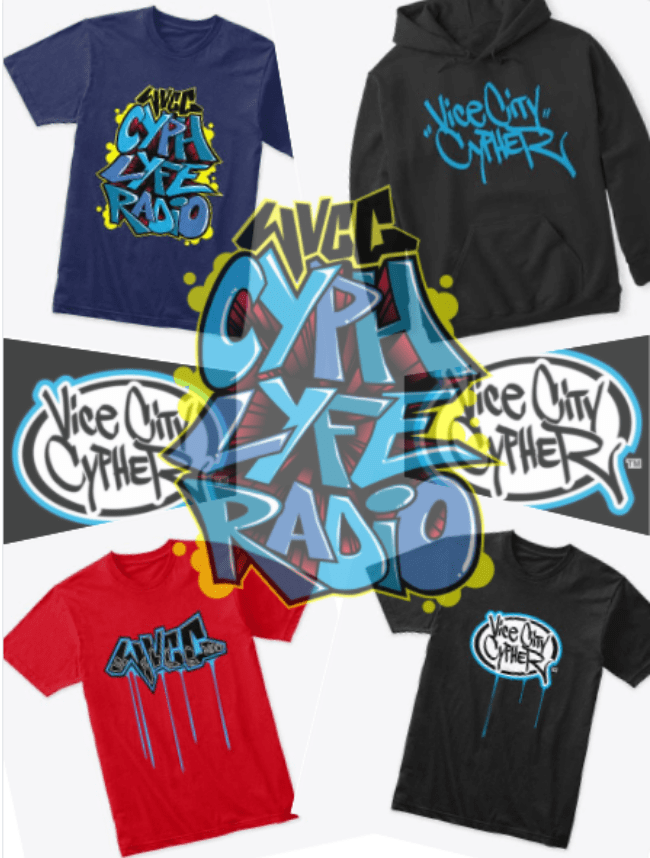 L-CITY – PRESSURE feat AGONY
Leisure City's L CITY applies the PRESSURE as he continues to carve his name in the South Florida Hip Hop History books. L delivers hard hitting street hop filled with content that any hustler can relate to. "I never been concerned with keeping rules / I always been consumed by the gutter life / Probably was a Gangster in my other life/" L CITY explains in the 1st verse Accompanied by COMMON GROUND MUSIC GROUP shooter AGONY "THE SECRET WEAPON" on the 2nd verse, L CITY & AGONY keep enough PRESSURE on your neck to "Bust Pipes" and "Separate the Men from the Mice". The Video is full of CG Family Cameos and filmed by CG #Goat, SHOTTIE, who also produced the beat for "PRESSURE", so you know the quality is top shelf. Press play and let your head nod to this Leisure City / Kendall connection.
MOUSE THE KID – GOOFEE MOVEE
Oklahoma City's MOUSEthaKID makes his WVCC Radio debut with his upcoming single GOOFEE MOOVEE. Representing the @soulbodycypher Artist Collective out of Oklahoma City, MOUSEthaKID has been working on his craft for the last 13 Years as his parents moved from state to state. He shared a bit of his personal experience with WVCC Radio as we prepared for this article. He explains, "I spent a lot of time being hospitalized and was over medicated for a while and got stuck living with my parents…GOOFEE MOOVEE kinda talks about that as there really was a time I was paying my parents rent in food stamps". A feel good bop which touches on making the best of real life curcumstances that come our way, GOOFEE MOOVEE is just one of the self therapy songs MOUSE created to fight his Inner "Seven Demons, am I quite Evil / Quite A site to see when your site seeing like White People/". The Emcee/Guitarist who gets it on in the cypher anyway he can, invites you to join him as he gives you a taste of what his local scene in OKC has to offer. He would also like to welcome you to tap into their Local Battle Rap League "WITH ALL DUE RESPECT" where he hopes to be making his debut soon. If you are a fan of Alcapella Battle Rap or Battles over Beats, They are the folks to plug in with if you are ever going to travel to Oklahoma City and would like to get on a Stage or on a Battle Card. For now, make sure to pre-save GOOFEE MOVEE by MOUSEthaKID before it drops on Oct 17th. We'll be playing GOOFEE MOVEE on WVCC Radio this week to give you a sneak peek.
---
#BottomOfTheBag
#RareGemsxSpecialFinds
FLEE LORD – LADIES & GENTELMEN
Big FLEE LORD is back with a shit load of his people on "LADIES & GENTLEMAN" to show the LORD MOBB Movement is an official problem. Featuring: Rome Streetz, T.F, Tiona Deniece, OT the Real, Vic Spencer, Che Noir, Dazy Lyn, 7xvethegenius, Bangdana Red, Official Tee, Trizz, G4 Jag and a whole lot of top tier underground producers. You already now the quality of the product FLEE LORD serves up. Hit play and get your fix.
FREDDIE GIBBS – SOUL SOLD SEPERATLY
I personally loved BANDANA & ALFREDO, but mostly cuz it was FREDDIE GIBBS over MADLIB & ALCHEMIST production. Now on SOUL SOLD SEPERATELY, I can finally say I am officially a SPACE RABBIT fan. FREDDIE owns this album from start to finish without the help of any big name producer or features. Make no mistake, he still has the best of the best touching the boards and drum pads on $OUL $SOLD SEPERATLY, incuding Madlib, DJ Dahi, The Alchemist, Jake One, Boi-1da and KAYTRANADA, just to name a few, but its FREDDIE that attracts all the attention on his latest release. Here is an in depth review of the album from the Tiny Desk at NPR. They said it alot better than I could, and their write up saved me some time to get this bag published by today. Thank you NPR.
https://www.npr.org/2022/10/01/1126282898/freddie-gibbs-soul-sold-separately-review
DJ GLIBSTYLEZ – UNDERGROUND BANGERZ VOL 45