Your 1 Stop for New Hip Hop News & Reviews.
Happy 4th of July Fellow 88ers. I hope you guys are enjoying the long weekend. We got you with some of the best hip hop that dropped over the past couple of weeks, and our 2 cents on how they all rate. Big Shout out to our brother and CyphLyfe Blog Contributor PRESHA. He is writing all of his articles from behind a cell, and the 1st thing he writes me this morning is, "HAPPY 4TH OF JULY Brother". The fact that my friend is still feeling pride in living in the land of the Free, while serving a 26 year prison sentence, gives me a whole new perspective on attitude. I learn something new every week from my dude PRESHA. Take some time to check his articles and you will too. Tons of great music below to enjoy before the FireWorks and for the rest of the Week. You could either keep coming back to the bag or check us on Spotify Remember, Press Play on the Link and Read the Article. Simple. This WEEKEND BAG is full of Explosives. Enjoy!
CRIMEAPPLE – BREAKFAST IN HRADEC
Written by: Presha
Good day Hip Hoppas! Welcome aboard WVCC Airlines with continuing service to "Breakfast in Hradec." In preparation for departure, be certain that your tray table is stowed and your seat is returned to the upright position. Make sure your carry-on items are placed in the overhead compartments or under the seat in front of you. Please fasten your seat belts and prepare for takeoff.
"Breakfast in Hradec" is piloted by Crimeapple, a Columbian emcee from New Jersey, and Brooklyn producer DJ Skizz. Our destination, Hradec, is a city in the Czech Republic known for hosting the biggest Hip Hop festival in Central and Eastern Europe–Hip Hop Kemp.
Press play and the "fasten your seat belt" light turns off. Your ears are now free to roam and enjoy some first-class Boom Bap. Our pilots provide us with nine tracks, each increasingly intoxicating. First, they take us high with the opening track "In Flight" as Crimeapple shares the worrisome lows of drug dealing. Then, he keeps us high in his "Penthouse Suite," where he speaks of "a new bag to touch" and landing with plans of a "new path for us." Breakfast in Hradec allows us to not only travel abroad but to time travel. For "40 days, 40 nights," Crimeapple shares his humble beginnings; then, his more affluent present. On "Wonder Years" he takes us back to when he discovered the wonders of Hip Hop. "La Lluvia" (The Rain in Spanish) is his most innovative track. La Lluvia illustrates that his command of language is limitless as he leisurely lights up the laid-back track for listeners with a legion of words beginning with the letter L. (See what I did there?) In total, Crimeapple's borderless flow is that complimentary film on our flight that facilitates the passing of time and makes for a hospitable experience.
As our flight descends, our aircraft's tires screech against the landing strip, and the final track "Currency Exchange" successfully touches down. Crimeapple chants "…we just landed in JFK with more racks." All hateration and unwarranted criticism pass to the flight attendants to be discarded. Ladies and gentlemen, welcome to "Breakfast in Hradec." The time to listen is now.
SANKOFA x SOCAL- KOFASOCALFRAGILISTIC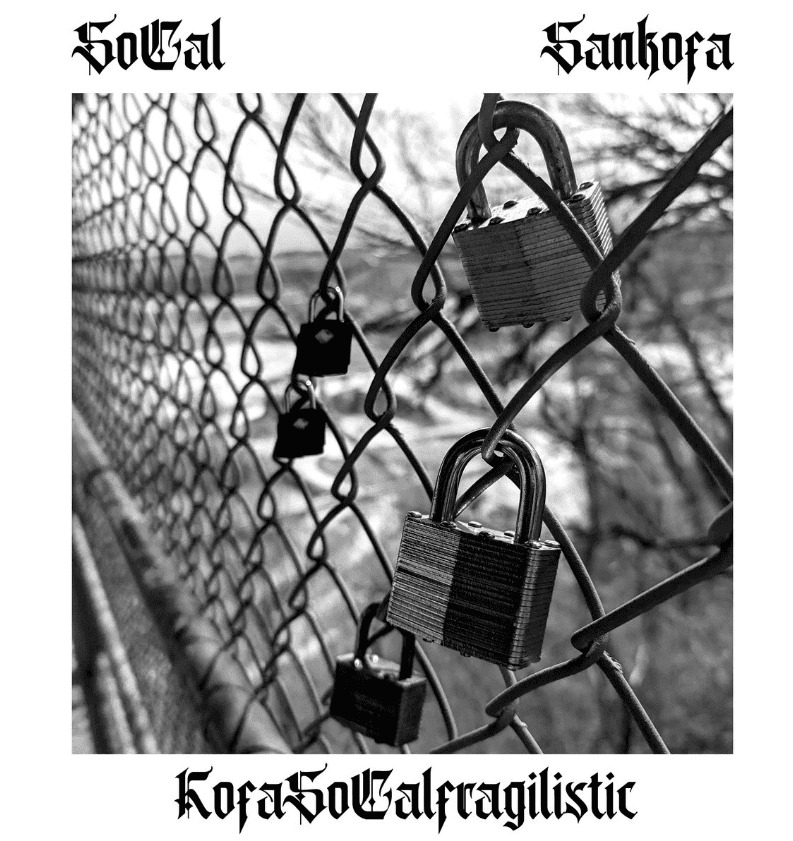 [bandcamp width=350 height=621 album=4288244932 size=large bgcol=ffffff linkcol=0687f5]
Fort Wayne Indiana's Hip Hop Poster Child, SANKOFA, is back with another EP of pure magma. This time he teams up with Los Angeles Producer SO=CAL who is responsible for several records over at CHECK MY MENTAL RECORDS and reps 24K DIRT. KOFA and SO=CAL agreed to work on a project a while ago when the "BALD BEARD with BARS" was in the midst of finishing up several projects. They finally got to work in 2022 and created what KOFA considers the right 5 Tracks to form the ep now known as "KOFASOCALFRAGILISTIC". I asked SANKOFA why only 5 tracks when he has proven he can write a song a day. He replied, "I wanted to make sure that for a five song release that sufficient ground was covered, I'm not trying to make the same song five times in a row and SoCal's production enabled me to go a lot of different places". Upon the first 3 spins, my favorite joints are RUBBER RAFT with its classic Cypress Hill Sample Flip, SONOGRAM, which KOFA uses to talk about those who society deems failures and discards like trash to the curb (Homelessness), & GOES BUMP feat our favorite SANKOFA CoDefendant, JON DOE who busts nuts on girls lower backs and calls them Butterfly Tattoos. That's just one man's opinion tho. Copp the EP, play it on repeat, and decide for yourself which cuts move you. Any SANKOFA release is worth the purchase, and becoming a Fan of his work promises plenty more goodness to come.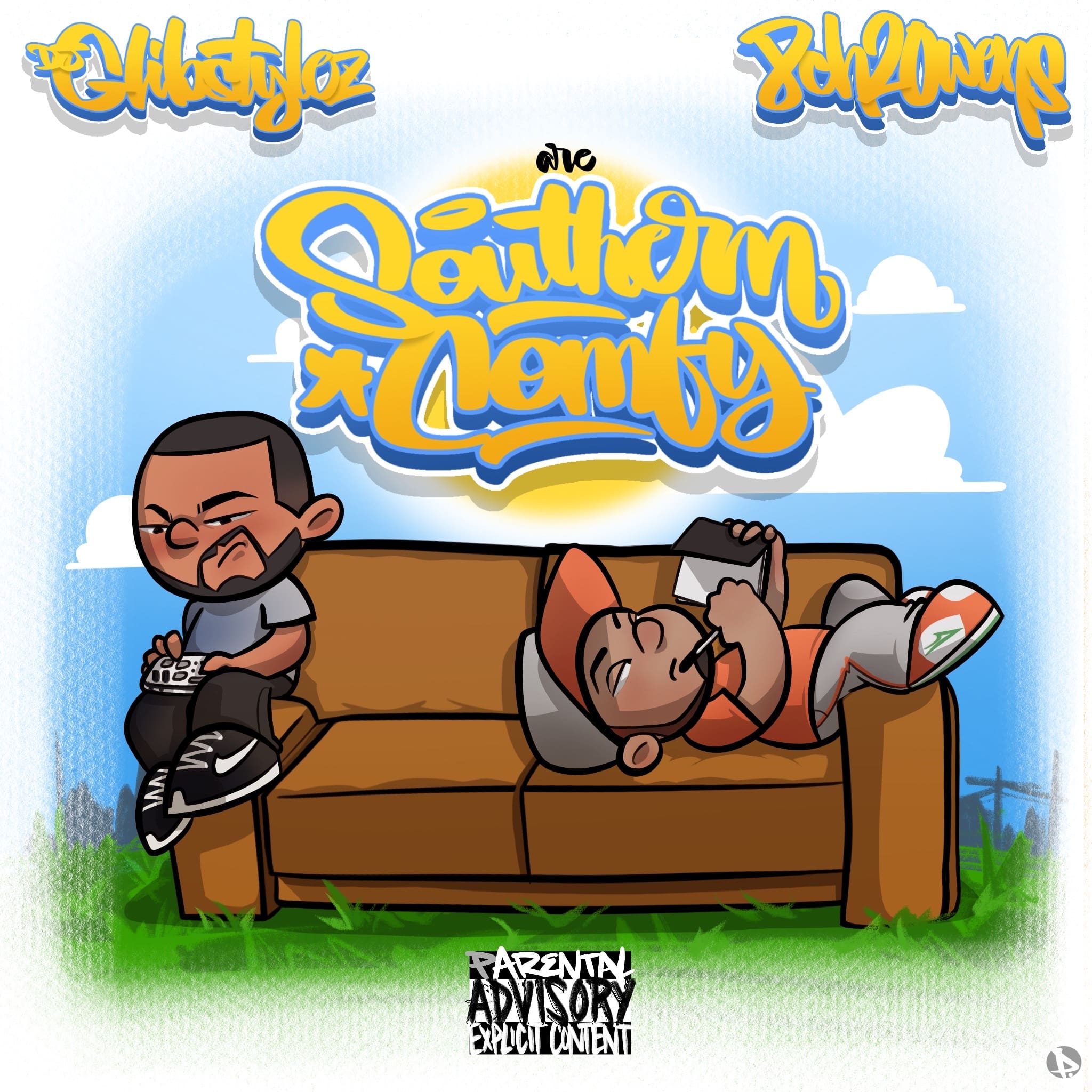 LUPE FIASCO – DRILL MUSIC IN ZION
How do you properly describe a work of art to someone who hasn't seen it. How do you make someone feel what they haven't experienced for themselves. Can you accurately convey the hues of colors and curvature of shapes? Can you detail how the "Mood" of the piece effected your mood? This is what I grapple with as I listened to the new LUPE FIASCO album, DRILL MUSIC IN ZION. The 8th Album in his discography (Just noticed it's his 8th album, how fitting. Iykyk), DRILL MUSIC is LUPE talking to the Hip Hop Listener of 2022, whatever Sub Genre they may lean towards. If you're an old head who grew up on "Real Hip Hop", This album is for you. You're a Street Head, who "only listens to that Real Shit?" It dont get No Realer than this album. You're a Young Head following the Drill Wave? This Album was written and Recorded in 72 hours, on a $100 mic, For You. Lupe has found a way of channeling some of the best writing in the whole past 50 years of Hip Hop, and recording it onto an audio book in 3 days. Audio Book? Yes, Audio Book. DRILL MUSIC IN ZION is not an album. It's a Musical Novel for those who might not like to read, and for those who read  voraciously. From the spoken word intro THE LIONS DEN, by Poet AYESHA JACO which fits more like a Preface to the coming collection of short stories, DRILL MUSIC plays out like a prophetic holy book, telling us tales that desperately need to be told in today's Hip Hop Culture, or should I say in this Modern ERA ERA ERA ERA. PRECIOUS THINGS is a tale about Lupe's "Mans", or Lu's Fans, or is it really about His Hands?? My Mind was blown as I replayed the song and actually visualized Lu describing his lyrics with Hand Gestures and it all clicked into place. The whole song is a Metaphor on his hands (or people in his life) that he's used and misused til he now feels abused by them. Not only is it a genius metaphor, but it also lends itself to be Tik Tok'd by any young fans who get down with the Hand Popping and Locking Wave. KIOSK is an interesting story about a knock of jewelry booth in the "Middle of the Mall", where the salesperson debates with LU about the value of Shiney Things in today's urban communities. MS. MURAL (one of the best songs of an album full of great songs), LUPE allows us to witness a conversation between an Artist and a critique who has a laundry list of questions for the painter. In return, the Painter has a scrolls worth of painfully honest explanations for the patron, who ends up becoming the center of the Painter's latest work of art, a piece he calls "Gasoline Pouring on the Flame". NAOMI picks up on the melodious outro of MS. MURAL, and turns into the hypest track on the album, as LUPE skates down hill on a break neck drum break, screaming "Even Christ Took a Knife for the Team / So Go Ahead and Swing" as he "Talks that TALK That got Malcom X Watched/ Trying to pick Up where Malcom X Stopped / Only game I Play is a Malcolm X Box / Look in the Sky see the Malcom X Ring / Malcom X Files, Its a Malcolm X Thing / As you ask yourself, what does Malcolm X mean / I return to the Force on an Malcom X Wing/" (Throws phone half way across Miami). From his Social Political breakdown of modern Urban society on DRILL MUSIC IN ZION, to his heart wrenching wish that rappers today "Were Lying", and that their "Words Never Come True" on the album closer "ON FAUX NEM", LUPE goes "Atomic & Supersonic" on the 10 track LP he recorded in his living room, and "Keeps his promise to the Streets" on every song. Personally, on my Top 3 Albums of the Year list. What everyone said Kendrick did on his Double Disk release, LUPE did x 10, with no features, & in just 10 tracks, independently. I just copped my copy of the limited edition Indie Vinyl. Make sure you get your copy of this modern classic by a modern day Prophet and get some merch while you at it at https://orcd.co/dmiz & https://shop.lupefiasco.com/.
---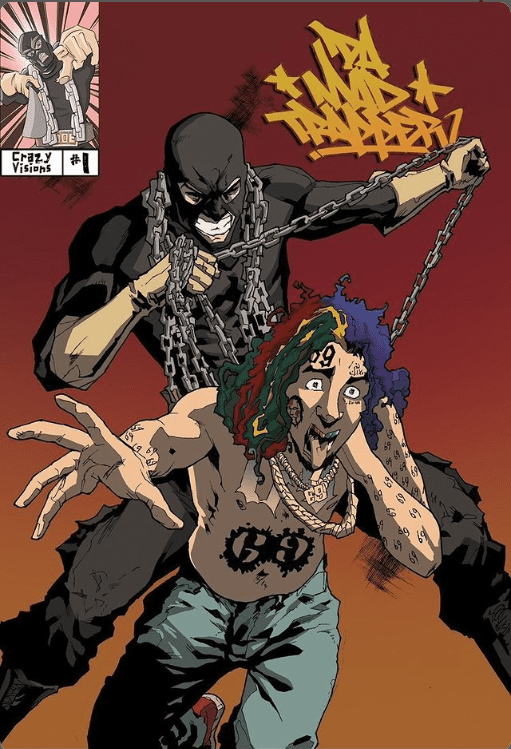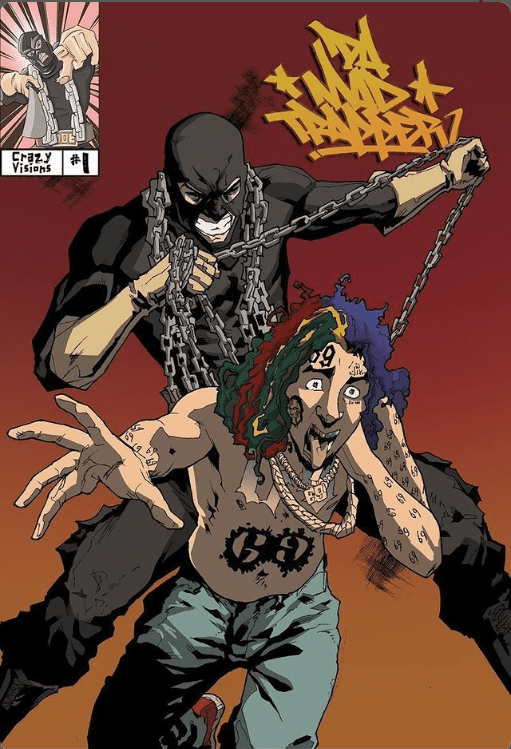 ---
LO GUN – THE RENAISSANCE MAN (Prod by FARMA BEATS)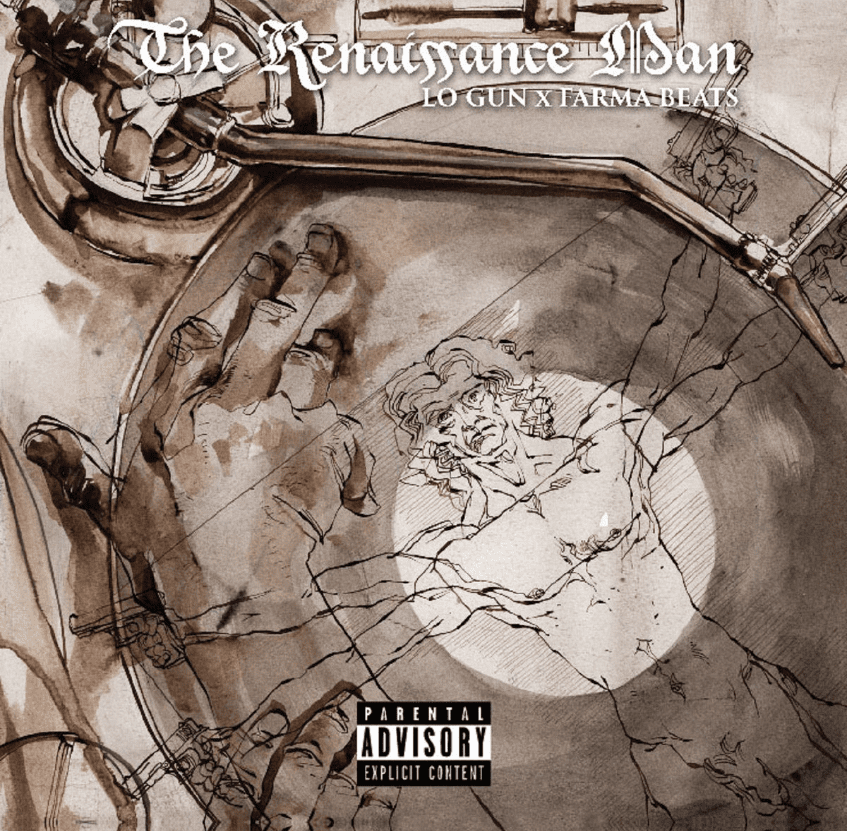 [bandcamp width=350 height=688 album=1609496731 size=large bgcol=ffffff linkcol=0687f5 package=1785449909]
This past Friday I got the following email from Indie Hip Hop Publicist extraordinaire, JORDAN COMMANDER, one of WVCC Radio's primary plugs. It read a little something like this:
"8ch, I know I've sent a bunch of fire already this week but it don't stop! Here is the New EP from Murda Mass repper LO GUN with his joint album with UK vet Farma Beats. If you're not familiar with Lo, I'm sure you know Farma and know that he does not co-sign just any rapper."
Unbeknownst to JORDAN, we are very familiar with the 1/3rd head of the Ghidora Monster from GENOSHA Island, the Emcee/Producer/ Chef known as LO GUN of MAIN AIM/GENOSHA RECORDS. As co-founder of the Worchester, MA, indie Record Label, GENOSHA RECs, and owner of THE HANGOVER PUB, LO GUN has been providing his sector of the MASS Map with different levels of flavor for several years now. Now he returns to the Underground landscape with THE RENAISSANCE MAN, his 3rd Solo release (2nd after changing his name from A.PERIOD of MAIN AIM to LO GUN). This time with esteemed U.K. Producer FARMA BEATS on production, LO GUN slides into the summer of 2022 flexing his mastery of multiple talents. Hence the RENAISSANCE MAN EP Title. As Hip Hop goes through its current renaissance, LO has proven that he can get down with the best in his State on the mic, but can any hang with him in all the categories he competes in? Not only is he an established Emcee and Producer, but also a Business Owner, Chef, Competitive Weight Lifter, and Football Coach (as well as a Father and Husband, two of the hardest jobs on the Planet). With all of these hard earned notches under his belt, THE RENAISSANCE MAN steps into July with 5 bangers that are sure to fry your wig as your head nods uncontrollably like it's on fire. "The sheer force of his thoughts (on the intro Title Track) is enough to leave your skeleton crushed". Someone posted in the WVCC RADIO Chat this week, that they missed when Hip Hop had dope wordy hooks, not just simple, two word chants with catchy melodies. Well LO got you, as he anchors the 1st track on the project with "Never forget that it was Man that sparked the Renaissance/ A True Craftsman at heart that chose to rebel on / while you revel in the rubble and the ruins / We pouring blood and pain into this movement/". We were treated to FOR ELASTICS as an exclusive this week, and the minimalist beat by FARMA drove the CYPH LYFE Radio Audience nuts, as LO GUN uses the Guitar and Harp Loops like a trampoline he bounces on til he leaves Earth. The GENOSHA Roster has made a strong case for rocking over "drumless beats" this year, but FARMA understands that drums still matter, and he drops them like Photon Bombs on SHOOTERS FROM THE FUTURE. You can enjoy the Sci-Fi Arcade Visuals for SHOOTERS below. Before you check that video tho, make sure you press play on my favorite cut off the EP, ONE MAN MISSION, where "Mike Militia, the One Man Army" rides the FARMA blazer like an Akira road rocket armed with duel turret guns. He may be a one man militia, but he does not roll alone. On the album closer NO RAPPA, He invites label partners WEAPON ESP & GHOST OF THE MACHINE to put the final GENOSHA stamp on the EP. They do what the 3 headed monster does best and lay waste to the FARMA BEATS production from the land of tomorrow, as the trio of "T1000's sent from the future on Judgement Day/ Decimate Devilish Spells that were conjured their way" (-GHOST OF THE MACHINE, loosely quoted) while they "Stretch the Green like Gumby til they Print their Own Money" (-WEAPON ESP). The whole project is engineered and mastered by GRIMEWAV Boards Lord ENELS at MASTERMIND STUDIOS and he makes THE RENAISSANCE MAN worth picking up in the material world. Make sure you pick up one of the Limited Physical Copies, wether its in Vinyl, CD, or Tape at https://logun.bandcamp.com/album/the-renaissance-man, or for those in Mass, catch them rocking live along side GRIMEWAV and many more today at the INDEPENDENCE DAY JAM hosted by HIP HOP LIFERS (See Flyer below for more info)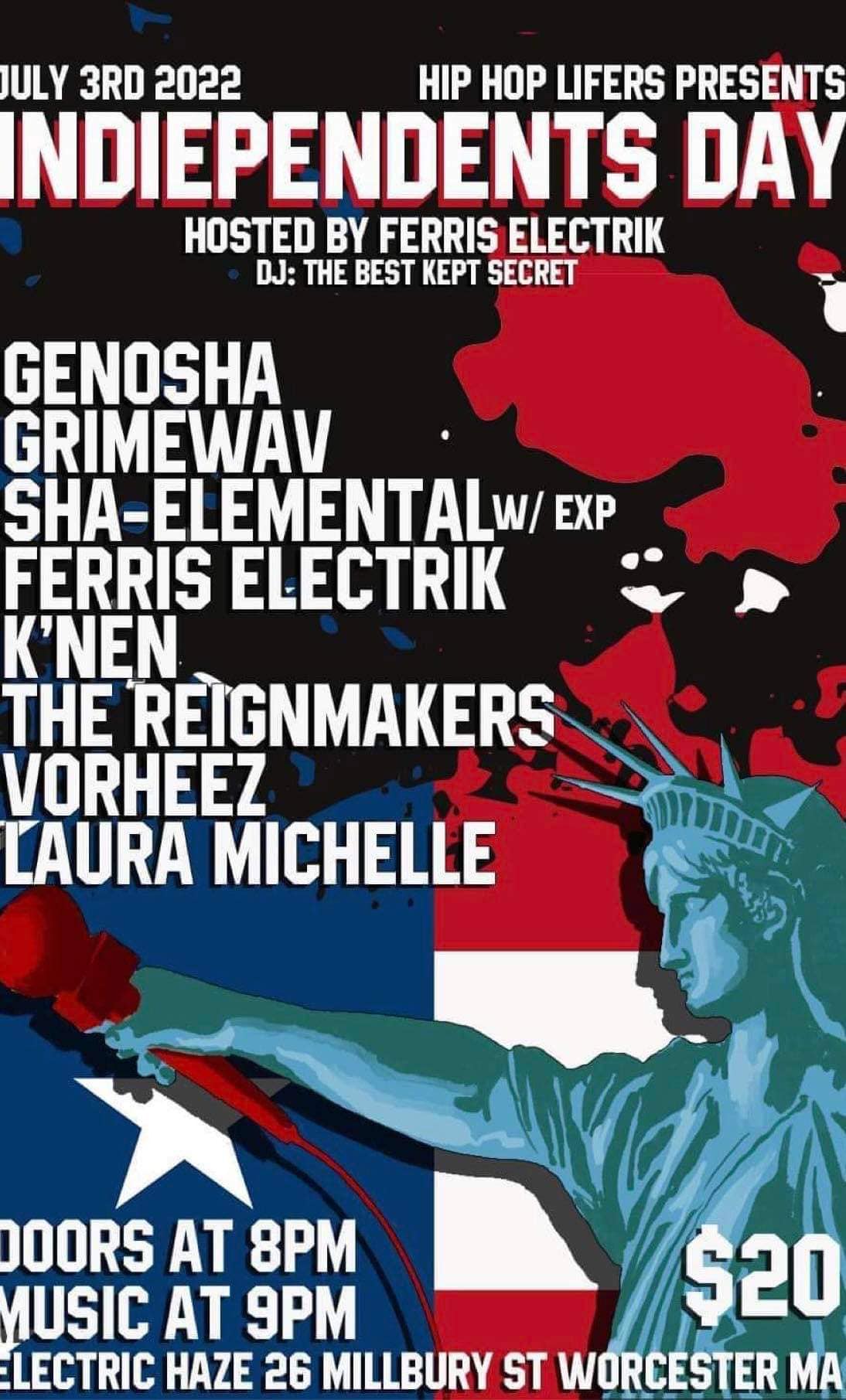 GHETTO SOCKS & DK – LISTEN TO THE MASTERS
We have been spinning the leaked singles off this New GHETTO SOCKS & DK album for the past 2 months, but even though they all caught heavy rotation at WVCC Radio, they didn't prepare us for how dope LISTEN TO THE MASTERS would be. Yeah we became interested in the project when we first heard the classic East Coast vibe of WHAT IT SEEMS feat SKYZOO & ROME STREETS. Sure, we did a back flip when we heard C.L. SMOOTH's return on record, as he and EL DA SENSEI smoothly murdered the DK produced jazz bed on the album title track. Damn right our interest peeked when we were introduced to PHOENIX PAGLIACCI & LXVNDR as GHETTO SOCKS boldly proclaimed, while other dudes are busy trying to "Be A Man", he just wants to "BE A MANGO"…WTF??….(You know, "Rough on the Outside but Sweet on the inside". Down to Earth Shit. Now THAT'S keeping it Real.) With all of this advance knowledge of what we were getting into, we still were not prepared for GHETTO SOCKS and DK's excellent chemistry, resulting in a perfect Hip Hop piece that is sure to stand the test of the time. With additional features from Hip Hop Legends O.C., MOKA ONLY (ALL IN), up and comers UFO FEV, & TACHICHI over the BUSTA RHYMES inspired CHKN CHOP, or AMBITION & JUSTO THE MC on the "Children Stories" sample flipping SMOOVE REGARDLESS, and KXNG WOOZ & TIMBUKTU bring the social consciousness on JOHN McENROE. Although the album is packed to the bring with guest appearances by Hip Hops elite and Names to watch out for, make no mistake, you only need to hear REFLECTIONS & BAGGAGE to be convinced that GHETTO SOCKS didn't really need all this help to turn DK's production to audio Gold. They just did that out of love for Hip Hop and their growing fan base.
PLANET ASIA – MEDALLIONS MONARCHY
Written by: Presha
With all of Planet Asia's accolades, success, and talent, I am shocked that he isn't a household name by now. Besides actually having a Grammy on his shelf, the man has his own freaking shoe! His PA Max's, a version of the Nike Air Max 90's, are just one of many items sold at his Medallionsmerch.com online store. With its chic designs, PA's selection of merch is top tier.
Fortunate for us, his music is as exquisite as his fashion line. With the major label bureaucracy long behind him, he now enjoys the nimbleness of his independent label Gold Chain Music. The result: Consistent Bangers! Take for instance his newest project, "Medallions Monarchy." First, the cover art, designed by Ttakingg, stamps this project as a royal inheritance, a ritual, an ancestral passing of the torch, with Planet Asia's name elegantly written in both English and Arabic along the right side of our royal host's portrait.
Medallions Monarchy starts with a spark on its opening track "Floating to the Max" and grows into a full-fledged inferno by track five, Clap ya Hands," featuring Kurious. By track six, "FYPM," you're completely engulfed. Track seven "Everyday Victory" inspires, motivates, and gives us a glimpse into PA's entrepreneurial spirit. This nine track séance comes through an assortment of prolific producers: Camouflage Monk, Brainorchestra, Hobgoblin, Observe Since 98, Ro Data, Chong Wizard, and Eto. Medallions Monarchy is pure heat from one of our most underappreciated West Coast warriors.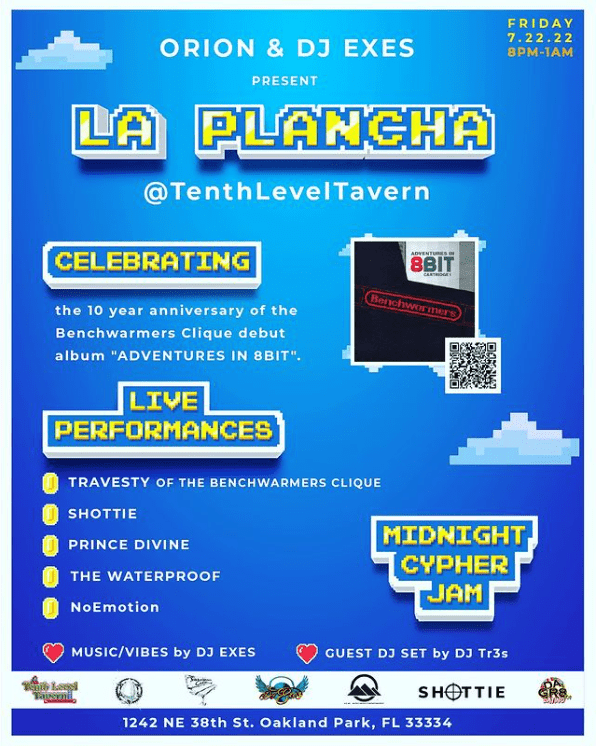 BEEDAKING – KINGS ALIVE
Written by: Presha
Nowadays every man claims to be king. But what does it truly take to be king? Being a leader comes with a significant burden. As they say, "Heavy is the head that wears the crown." Most of us will never wear an actual crown, but perhaps being king is more about facing challenges, practicing self-governance, and learning valuable lessons. Maybe experience is a crown jewel.
I believe that's the message of BEEDAKING's newest project "King's Alive." Though the journey has been long and arduous, the king is still alive, and that's worthy of being celebrated. There's a phone recording on "Trane" that expresses it best. BEEDAKING's mother beams with pride as she recognizes the man she's raised. A husband. A brother. An uncle. A son. The true crown jewels of a king.
For fourteen tracks, BEEDAKING demonstrates his durability. He has a malleable flow, like J. Cole, but with a St. Louis twang here and "thur." The timbre in his voice is Meek Mills mixed with Kodak Black, but with a doctorate. He is no doubt talented. My only gripe is the length of each track. Only three songs exceed three minutes, and mostly because those are the tracks with features. I found myself actually mad when "Dusty Ride" ended. For too brief a moment, the beat transported me inside dusty donk along a dirt road with BEEDAKING in the driver's seat snappin'. Then, skrrrt! It was over. More! I need more! Maybe this was done intentionally, but I wanted to see the king flex on 'em.
Overall, the project is fire. BEEDAKING has mainstream appeal with enough grit to touch traditional Hip Hop heads. With "King's Alive" he gives us a sample, just a taste, of what he's capable of, and it shines bright enough to decorate his crown.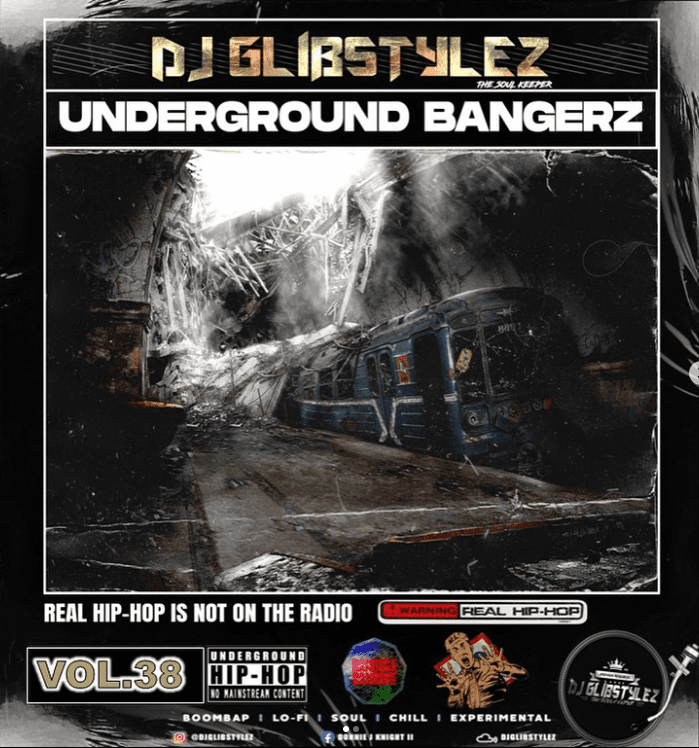 #CyphLyfe #SingleFiles
SHOTTIE – OL' DIRTY KANYE
SHOTTIE & TEV95 practicly owned 2021 in #SOFLOW with their MOSKVITCH Series. With the Release of MOSKVITCH 3 early 2022, featuring Indie Hip Hop Heavyweights like SKYZOO, & CRIMEAPPLE, they solidified that they were the Producer/MC duo to catch up to in the South Florida Underground.  With their rep growing beyond Local Artist status, having their singles played by Underground DJ's world wide, their album Reviewed by bloggers in other states, and their videos watched internationally, the Russian Car Salesmen are still pushing singles off of their last project. With the spanking new video for OL' DIRTY KANYE, they freshen up one of the hottest joints from MOSKVITCH 3 with some visuals shot by Miami film wizard JAKX of DIRTY LENZ. If the bars and confidence SHOTTIE & TEV95 exude on camera isn't enough, the footage of all of our generations' G.O.A.T.S, Living and Dead, will drive home the point. You're in the presence of greatness. 
Make sure you pick up that MOSKVITCH 3 pack and some MOSK MERCH while you at it at https://95labs.bandcamp.com/music
PARADOX – WAKE UP
This right here is some perfect alarm clock music. The latest single from Miami's PARADOX, "WAKE UP" is sure to wake up the N.Y. City crowd to this young spitters talent and drive. He's already proven his ability to rock over a myriad of production styles and genre's. On WAKE UP he shows he can ride the DRILL WAVE and doesn't have to threaten anyones life, rather he shares a message of motivation that can be compared to OUTKAST's classic "GET UP, GET OUT, AND GET SOMETHING". Save this on your favorite Spotify Playlist or follow the WVCC RADIO WEEKEND BAG PLAYLIST to hear it while you start your day, or your work out.
Our Audience in Miami will be happy to know that PARADOX will be rocking with us at the end of JULY for our next HOUSE PARTY. Looking forward to hearing this performed live. Make sure you stay tuned so you can get your tickets.
L'CITY – RICHARD PRYOR
When you hear that 808 Droppppp…You know its some raw Miami Shit!! Leisure City's L'CITY has returned with his latest single, RICHARD PRYOR to set the streets of SoFlow on fire. The new visuals, filmed by COMMON GROUND's SHOTTIE (MOSKVITCH 1,2, & 3, Yeah, that SHOTTIE), show L'CITY putting in that work in the lab, and takes you through the whole creative process from Writing , to Practicing, To Recording then Mixing. The production guarenteed to get you ticketed with these new Noise Ristrictions that go into effect on Friday, but the way L'CITY "Jumps in Screaming Cannon Ball" makes it worth risking the $150 fine. Turn this shit up on whatever tech you listen to your music on, and if your playing it in your ride, keep an out for them fuck boys. The knock on RICHARD PRYOR is bound to get you pulled over.
Memphis Reigns x Chima Anya x Odili Bambam – Walk Away [prod by Profound ]
Some things in life are wise to walk away from. A heated argument for example. Some things are better to be run away from, i.g, A first date with wayyyy to many red flags. Some things, on the other hand, are worth sticking around for. This new single from West Coast flame spitter MEMPHIS REIGNS however, is something real hip hop heads should be walking straight towards. The smooth vibe of WALK AWAY, produced by PROFOUND of STEP DOWN MUSIC, slowly rises like the sun at dawn, on the wings of a violin string loop, a sample clip of a soulful request "Don't walk away from me", And the hums of honey voiced special guest ODILI BAMBAM. This opens the floor for the U.K's CHIMA ANYA to drop a powerful verse about walking away from toxic relationships (We have all endured these a bit longer than needed). He writes "Every time I try to leave, you try to entice me / Give me just enough to make me think you might slight me / Give me just enough to make start to act unwisely / Keep me bound in your spell, Please I Beg, Untie Me/". I love CHIMA's accent over the beat as much as I love the beat itself, which is just a little less than I love Nigeria's BAMBAM singing the hook. Her voice adds just the right feminine touch to give the track some warmth, and her words open the song to even further interpretation. It is Cali's MEMPHIS REIGNS who attacks the writing from an angle that I can mostly relate to as an artist. He shared with WVCC Radio "I approached the verse using a, never "walk away" from complicated and soul draining situations in life, angle. The Overall message is that every situation in life can mean different things to different people. How we define them, is based on the different experiences and perspectives we have, and how much we are willing to endure to reach our desired goal." This Hip Hop game and Music Industry will beat you down til you want to "WALK AWAY" from your dreams sometimes. That might just be when you need to dig deeper and stick it out just a little longer. We've talked to many an artist on Cyph Lyfe Radio who have testified their Biggest Breaks came right when they were about to quit. Only you can answer, when is enough enough? When is it time to WALK AWAY.
Make sure you let your fingers walk over to MEMPHIS REIGNS link tree and check out all the great music he has been creating for his audience, and show CHIMA ANYA some love while you are at it. They promise to keep providing you with great Hip Hop that you won't want to turn your back on.
MARK 4D – ALFRED / LEGACY feat XP THE MARXMAN & THE KROOKED ONE
West Coast workhorse MARK 4D stays on his grind with his DMT Brand. DA MONEY TREE Records Family consistently drops MARK 4D Audio and Visual burners. The latest is a double feature video guest staring our Los Angeles family XP THE MARXMAN on the visuals for "ALFRED", a haunted single where 4D & The Big Mijo trade verses over a spooky score which isn't anywhere as scary as these 2 Heat Spitting Entrepreneurs when they combine their work ethics. "ALFRED" blends perfectly into "LEGACY", a more upbeat bop where THE KROOKED ONE joins the fiesta and dances all around the production on the 2nd verse. Get yourself a copy of the Limited vinyl available only in japan via: https://vandarude.bandcamp.com/ . For all DMT RECORDS merch and Vinyl visit: www.mark4ordtraps.com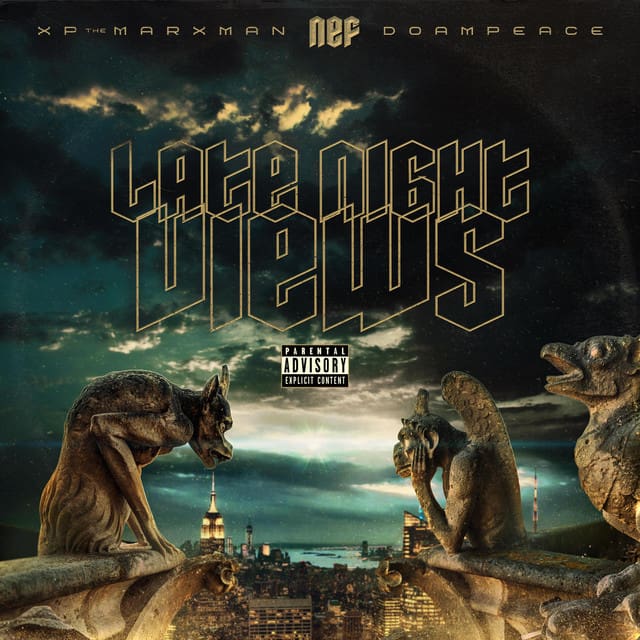 B-DOPE – HERE 2 ROCK / JOKES ON YOU / DON'T BE MAD
The Big Bro BOB IS HERE aka B-DOPE is enjoying the 4th of July weekend in NY, his city of birth. But while he enjoys his time in the Mecca of Hip Hop, he has sent WVCC Radio a New Single that shows he still repping the 305 with pride where ever he is at. HERE 2 ROCK is nod to how far in back in the game B-DOPE goes. He aint "Old", but he is old enough to remember when all 4 Elements of Hip Hop were represented. When we honored and learned from our OG's, and one of the 1st lessons we learned was "Be Original, No Biting Allowed". The Production on HERE 2 ROCK is def original, and immediately gives you that sense of nostalgia (If you from our class/era that is). BOB jumps all over the beat with a steeze and cadence that is all Him. No mimicking or imitating from the Kendall Pro. B-DOPES originality, bluntness and stubborn will to never conform to modern trends seems to make alot of people salty. He knows this all to well and addresses it on his latest Double Video for "JOKES ON YOU / DONT BE MAD" filmed all in house by wifey & Producer MZ. MELZ BANGAZ. 3 B-DOPE singles in the same weekend. As if the 4th of July Fireworks weren't enough explosives. Enjoy.
J.ROOTS – GOD LOVES ME
Written by: Presha
J. Roots' "God Loves Me" commands the listener to tap in. Tap into God? Yes. Tap into your dreams? Yes. But most importantly, tap into his sophomore project "Fashionably Late 2." The King Tomb track is eerily angelic, with DJ Glibstyles' twisted frequency fighting to be freed from its cage. The combination gives this song a RZA meets The Bomb Squad energy. The two minute video, directed by BMB Films, is urgent. J. Roots marches across the screen, toting a boom box, on a mission to keep the culture alive in Alabama. He prays to the Most High. He burns one. He even clones himself, which isn't a bad idea considering that he's also the owner of his own clothing line–Lifer Apparel. ("Lifer Apparel to the socks, so fuck a hater!") As part of our NUSOUF Family, (You can find JRoots featured on several tracks off the New SOUTHERN COMFY LP by WVCC's 8ch2Owens & DJ GLIBSTYLEZ) we support this talented and driven brother in all his endeavors. Make sure you tap into "Fashionably Late 2," and pick up some drip at Liferapparel.com.
TIYE PHOENIX – WHO WE ARE feat HAVOC & SAFA
In HIP HOP there are different levels of energy. There is the Busta Rhymes, O.D.B, ONYX, D.M.X Energy that can lift a crowd off its feet and get a whole party jumping. There is the Guru, Common, Nas Energy, that can make you lean in and listen, and unlock chambers in your mind that you didn't even know existed. There's the Boss Energy of BIGGIE, HOV, DRE, SNOOP, & DJ MUGGS, that quietly commands respect in any room, and there is the Revolutionary Energy of PAC, NIPPSY, KENDRICK, and PRODIGY that draws us, speaks to something deep inside of us, and Leads us to follow them in standing against our oppressors, especially when that Oppressor is OurSelves. Because without a doubt, there is also a very oppressive energy in Hip Hop. Using the music of our culture to promote and market the worst aspects of our Black and Latino communities. That is why when an artist like TIYE PHOENIX comes along, herself a flaming figure of positive cosmic energy, you can't help but take notice. On her new single, "WHO WE ARE", feat The Infamous MOBB DEEP's very own HAVOC, Madam TIYE turns heads on the streets of Miami. Not only does she make my city look more lovely, but her bars also attract all the right attention. Just as good energy attracts good energy, HAVOC opens the song with "Energy thats indistructible/ Aint a Substitute / Been through the Ringer once or 2 / Ain't gone front on you/ Blood of Zeus / Negativity, got to cut it loose / Immortality Balanced Me, I've become acute / ". Recounting how he moves as a Light Beam through this Dark World and Shady Industry, HAV passes the song off to Soulstress SAFA who declares "THEY CAN'T STOP US OR BREAK US DOWN, THEY KNOW WHO WE ARE", to which TIYE PHOENIX replies, "THE CALLED & CHOSEN FEW". My Sister KNOWS WHO SHE IS, and which side of the Energy she rolls with.
Follow TIYE PHOENIX, and get on her Energy Wave as she shares wisdom, Music, and Astral readings on her IG channel daily. This is the best way to know when the New Album featuring WHO WE ARE drops.
---
HI6H N00n – CHILL feat BOGEY, MIKE MOUNTAIN, MR. SCRATCH HOOKS
FortWorth Texas based producer HI6H N00N hit us with quite a surprise on Friday. His latest single CHILL is a funky break driving bop featuring 2 names that are no strangers to the CYPHLYFE playlist or the Weekend Bag. Both BLACK BOGEY & MIC MOUNTAIN have been covered in depth on WVCC Radio and our blog, and now they team up on this HI6H N00N hot rock. N00N is no stranger to the Miami Hip Hop Scene, being born and Brooklyn NY, but Raised in Kendall Miami Florida, a graduate of KILLIAN SENIOR HIGH (That's Kendally AF), so its only right he linked with the BLACK BOGART. BOGEY, another long time Miami Hip Hop Rep, ownes this beat in all honesty. Perfectly in pocket to start the song off and ending the song with a solid 3rd verse that closes the song strong. MIC MOUNTAIN does what he is building his rep on, bringing the Afro Latino/ Caribe party vibe to the track with his mix of high power bradgadocio mixed with that "ripiado" spanglish slang. MR. SCRATCH HOOKS cuts a clip from the Classic High School Musical Grease into the hook, making it a complete jam. Make sure you follow HI6H N00N, Add the single to your Spotify playlist like we did, or your favorite streaming site, and tune in to catch it in rotation for the next fews weeks on WVCC Radio.
Speak the Rebel x Sha-Elemental (SCUMLORDZ) – Pay Me w/ Meaghan Richardson (prod. DC the Midi Alien)
It's the beginning of the month. You know what that means. Time to pay them Bills. The SCUMLORDZ don't care if its 4th of July Weekend and two of your kids are celebrating their Birthdays (Happy Birthday to my Son Caleb who turned 18 on the 1st, and my Stepson Brandon who turnes 16 on the 4th. I pray you never have Land Lords like these two guys). Massachusettes Mic Masters SPEAK THE REBEL & SHA-ELEMENTAL aka THE SCUMLORDZ are out collecting rent with their new single PAY ME. The 1st single off their upcoming Duo project, PAY ME is a raucous time with both Emcees showing off why they are respected in their Local Scene and in why their names are growing in the National Hip Hop Underground convo. Featuring the sultry voice of MEAGHAN RICHARDSON on the hook and the production of DC THE MIDI ALIEN, PAY ME is the kind of single that make you take something out of your pocket, even if its up for free download, or streaming on your favorite site. Make sure you follow SPEAK THE REBEL & SHA-ELEMENTAL so you can get notices of the upcoming SCUMLORDZ releases leading up to the debut album. That's much better than an eviction notice from these guys. No one wants that.
Shaw Calhoune & Clypto – Amaryllis (Official Video)
Written by: Presha
We often speak of giving people their flowers while they're alive. Shaw Calhoune of Silver Springs, Maryland, chose to give the entire world a beautiful bouquet of bangers. "My Regards" is a five track EP with each song named after a flower. His newest visual for the single "Amaryllis" has that home for the holiday's vibe, like dusting off VHS tapes and reminiscing on family footage. He takes us to the barber shop for a clean up, to the stairwell for a smoke, and outside for a breath of fresh air. The Amaryllis flower has long represented pride, strength, determination, and radiant beauty. The peppering of Shaw Calhoune's Cappadonna-like cadence against Clypto's soulful backdrop is consistent with this flower's character and its star shaped petals. I'm glad I stopped to take a whiff. Take a minute to smell the flowers, and follow Shaw Calhoune. Don't forget to make sure you add his MY REGARDS EP to your Spotify Favorites.
SHOCMANE – BOO BOO IS MY WHY (Aleem)
This Bop was referred to us by our Good Brother ELOHIM THE ANOMALY. Knowing my brother's taste in hip hop and strict "zero tolerance for wack shit" policy, I gave it a play and instantly added it to the WEEKEND BAG SPOTIFY PLAYLIST. "BOO BOO IS MY WHY" by Pompano Beach recording artist SHOCMANE is a family affair. A feel good track you can proudly play during your 4th of July Cook Out or any family gathering. SHOCMANE goes around the room, giving flowers to all his family members, who have inspired him in one way or another. His biggest Muse. His Boo Boo.
I also sent the track to our CYPH LYPH BLOG Contributer PRESHA, and he wrote the following, which I feel sums up the sentiment of the single beautifully.
Written by: Presha
ShocMane's firstborn son lays comfortably in his crib with a musical carousel spinning overhead. Too young and innocent to fully understand the importance of his father's words, he still smiles and gurgles in delight as his dad's moving words warm and entertain him. Dad dances at the edge of his crib and recites his stirring tribute to "Boo Boo," his "why," and infuses his seed with love and knowledge of the Most High (Aleem). For now, dad's song, with its fun and infectious hook is mere entertainment to Boo Boo, but one day it will nourish his soul. His heart will smile knowing that he became his father's finest inspiration.
For more on SHOCMANE click the Hypherlink.
---
#BottomOfTheBag #RareFinds #HiddenGems
Daniel Son & 36 Cypher – Whale Fat
J ROB – SHAKE UP THE WORLD
J.RoB is an electrifying hip hop artist based and from Grand Rapids, MI. Telling his story and his message hoping to inspire and motivate those alike. You get to know J.RoB very well as he takes you on a lyrical journey through his path. jrobsmusic.com
[bandcamp width=350 height=588 album=620649995 size=large bgcol=ffffff linkcol=0687f5]
Curren$y & Alchemist – Carrollton Heist *Full Album*
---
DJ GLIBSTYLEZ – UNDERGROUND BANGAZ MIX
As always, we end the Bag with one of the best mixes of New Hip Hop in the Underground brought to us weekly by our resident Soul Keeper, DJ GLIBSTYLEZ. Follow Glibs on Mixcloud for his weekly mixes.