NEW HIP HOP TO FUEL YOUR WEEKEND
Happy Friday Fellow 88ers. Today is a huge day for us at WVCC Radio, as we host our first Post Covid Party, BODY ROCK at ROOTS MIAMI KAVA BAR. Open Dance Cypher with DJ BEN WORKIN Catering to all styles inside the Cafe, Emcee Cypher hosted by JAKX DIRTY 5IVE and CIPHER IN THE CIRCLE in the Back Patio, some great Live Artist, Vendors and Music by DIVINE DON JULIO, D.U.IVAN, and KING TETRUS & THE GARAGE SOUNDS BAND. Make sure you click that Hyper Link and get your ticket before 5pm when the price goes up to $15. Tickets are almost sold out so grab yours before they are gone. Now on to some New Hop.
Dave East x Harry Fraud – Hoffa
HARRY FRAUD is making a run for Producer of the Year. He has dropped so many classics already this year, including JIM JONES – THE FRAUD DEPARTMENT, BENNY THE BUTCHER – PLUGS I MET 2 . This time he teams up with Harlem Bar Runner DAVE EAST, who is ready to remind everyone he is more than just an actor on HOFFA. He's been official on the streets of NY since 2010 and has charted as high as 9 on the Billboard Top 200. Constantly dropping work, whether on record or on film, the new face of Young Method Man on Hulu's WU-TANG: AN AMERICAN SAGA works masterfully over FRAUD's "Scorsese Worthy" score. His colab with BENNY on UNCLE RIC is the definition of "Killing Um Softly". A host of made men join him on this latest chapter of HARRY FRAUDS Mobster Musical, including Jim Jones, French Montana, G Herbo, Cruch Calhoun, Kiing Shooter and Steven Young. This whole album surfs as EAST glides effortlessly over every wavey beat HARRY FRAUD sends his way like a disco sampling Poseidon.
Recognize Ali – Recognize Tha Light (Album)
After SEASON OF THE SE7EN with WUTANG affiliate Bronze Nazareth the prolific mc Recognize Ali is set to drop his second album of 2021, RECOGNIZE THE LIGHT! Strong Production full of different vibes from long time contributors, SULTAN MIR, EL MARYACHO, & underground Hip Hop Production Rising Star, REESE TANAKA. The Features are just as dope, including TONE SPLIFF, and some other folks of back up vocals that add alot of soul to the project.
Download/Support the Artist: https://recognizeali.bandcamp.com/alb…
Brisco & Ghostwridah – Te Amo (Special) 
Miami's GHOSTWRIDAH and the REBELLION RECORDS Production Team have dropped a gem on us this week. "TE AMO (SPECIAL)" Featuring Miami Street Rap Legend BRISCO is a genius reworking of the JILL SCOTT classic "HE LOVES ME". BRISCO shows the world that he is versatile with the styles, he could roll with the Trap Rappers and the Pen Punchers. GHOST takes the second verse further solidifying the fact that he can hang with anyone on a track and adds he own flare to the vibe with his excellent sentence runs. The track is a whole vibe that can be played in the ride with your shorty, in the club to make the ladies move or when you warming up for that work out. TE AMO hit over 5k Views in 24 hours and is streaming everywhere. GHOST writes about the experience of making the record and it taking off in the following FaceBook Post:
"Woke up today feeling amazing! If you knew my story, like what I really went thru to go from rapping in the hallways of my high school (South Miami High School) against Pitbull to waking up to a phone call years later that Dr Dre had a plane ticket for me to come join the writing team for Detox and then 6 month later ending up in Jay Z's office rapping for TyTy and almost signing my dream deal, having it snatched away then having the top majors make offers for you that your label continuously unintentionally sabotage then feeling like you had enough of the ups and downs after having your first child, while being terrified that your success might take you away from the very son you prayed for, then quitting and picking up a camera to do something creative cause you know a 9-5 won't cut it because you have more to offer, then getting a call that would give you an opportunity to come back and provide for your family by writing songs for tv & movies then realizing you nearly wasted your God given talent so you start a record label (Rebellion Records) and a clothing company (Rebellion Clothing Company) and you make up your mind that you WILL NEVER PUT YOUR DREAMS IN THE HANDS OF ANYONE WHOS NOT GOD, then you come back to music and in 3 months of you returning you do a deal with the guy who so happens to be your favorite player in the world Dwyane Wade to use your single (HUDDLE) as his summer campaign song, and one month after that you end up on ESPN and your little boy hears his daddy's voice on National television in your living room! Then you realize that you're probably one of the best to ever come out of this state but you never say it publicly because God has taught you that being humble is a necessary characteristic of long term success! Then you silently make the best music of your life and began releasing it to the general public (TE-AMO: https://ampl.ink/XE8po) only to realize that the 16 year old kid who use to beat on the tables in the lunch room and write raps on napkins during class and would tell people he was going to make history in music WAS RIGHT ALL ALONG! I'm special, doesn't matter who believes it or who doesn't cause I KNOW WHERE IVE BEEN, BUT MOST IMPORTANTLY I FINALLY KNOW WHERE I'M GOING! NEVER QUIT! ITS YOUR LIFE, NOBODY ELSE GET TO LIVE IT BUT YOU! Thank you Esteban Trujillo for capturing this moment. It sums up everything I just said. TO THE MOON WE GO! GOD WILLING!" *Drops Mic*

GhostWridah on FB
Make sure you add TE AMO to your Streaming Playlists and join the REBELLION RECORDS team as the Rocket gets ready to launch with the release of GHOSTWRIDAH's highly anticipated album coming soon.
ISAIAH RASHAD – THE HOUSE IS BURNING
The streets been waiting for this one. I could tell you what I think, but there is a really dope article and interview of the Tennessee Rapper known as ISAIAH RASHAD who cats harold as the next wordsmith of the South, comparable with the likes of BIG K.R.I.T., DEVON THE DUDE, and ANDRE 3000. https://www.gq.com/story/isaiah-rashad-the-house-is-burning-interview
DU IVAN – MIAMI BIH Feat SALAZAR EL TABAQUERO
D.U. Ivan, JAY SANTANA and "EL PIPO", SALAZAR EL TABAQUERO tore down the venue last night at BODY ROCK and got the crowd jumping with this new DADE COUNTY ANTHEM. Check out @duivan on IG to find out the details on his new I'M FROM MIAMI BIH challenge for a chance to win $500, and represent the Home Team in the process. Remember WVCC RADIO played it for you first when you start hearing this song on all the major Local Radio Stations. Official Video dropping soon and you know we going to premiering it on CyphLyfe Radio, but for now enjoy the latest Single all weekend long.
ULYSSIS – THE GUANTLET
It seems like an Infinity ago that me and the monster once known as L.M.S faced off on a stage in Hialeah for the first time, but not the last. Over 20 Years later and he is one of the Members of our South Florida scene that I consider a brother in arms, even though he has been living in CANADA for close to 3 years now. Today on the 1 Year Anniversary of his sobriety, he drops his long awaited EP, THE GUANTLET and this Titan is snapping hard enough to kill off half of the Underground Hip Hop and Battle Rap population. He has dropped each of these songs as singles leading up to this release, each of them an exhibit of his mastery of a multitude of styles, and homages to the Emcees who inspired him to pick up the microphone. Even though he gives you the feeling of so many classics and New Bangers, his story is unique to him, as he takes you through a no bull shit, no exaggerating, rough ride through his life over the last 2 years. To wrap up the EP ULYSSIS includes a heart squeezing rendition of COLD SUMMER written at the height of the year of Covid, in honor of FRED THE GODSON who we mourned together in 2020 as a Hip Hop Family on WVCC RADIO. Thank you for the shout out to the station on such a banging album L. After winning the BEAST MODE RAP BATTLE CHAMPIONSHIP, this album should prove to all his new followers up in Canada that he is not just a one sided Battle Rapper, he is a God on the Mic.
Support the Artist and get your Copy Here. https://lms305.bandcamp.com/
MANIFESTO EVOLVE – WARLORD ELITE: STRENGTH
The strong tower known in SoFlow as MANIFESTO EVOLVE is back with a full LP by the name of WARLORD ELITE: STRENGTH. Warlord Elite: Strength is the first of a two part album, the other is the soon to come, Warlord Elite: Honor. This is an eight song musical journey of Hip-Hop with that Iron Twist boom bap dna. One half of the dangerous Dade Duo S & M with SERUM, MANIFESTO is no stranger to rocking stages large and small, or penning masterpieces. This is one more body he adds to the resume as he skills and styles continue to evolve, as his name implies. With Production by DJ HERON, OZNY, MISTA POOL and EXCEL. MISTA POOL provides one of the illest canvases on the project for MANIFESTO to follow SERUM & GRIDLOCK RIZZO into battle swinging fist clad in FOUR FINGER RINGS. MY PLACE produced by HERON is a banger, and the story telling on BLUE BUBBLE JACKET is superb, making it one of my favorite joints on the album. Manifesto Evolve, shares some of his most inner dimensions and leaves us wanting the next chapter in the WARLORD ELITE SAGA, just like a good author is supposed to.
Support the Artist and Project Here – https://manifesto71.bandcamp.com/
PH8 – DR PH8
My brethren from out in New Mexico Cody Maribal aka PH8 of the legendary PO-10-CEE crew has blessed us with a basket of great music on his Birthday Week. His New album DR PH8 is full of Audio Holistics that feel good from the first song LETS GROW, which makes me want to learn how to plant and grow my own food and teach my family to do the same, to the Outro, SANGRE DE CRISTO which deals with PH8 finding his freedom by escaping the bustle of Big City Life. All Self produced, this is a great vibe for the weekend. Once again, this brother decided to collect all the thoughts about what has been strengthen him daily over the past pandemic filled year, and blessed us with it on HIS Birthday Week. I'm proud to consider PH8 a fellow crew member as our VCC/ Natlive Slang/ PO10Cee Family expands. So since its his Birthday and he is Crew…Make sure you copp a copy of his New Music. Trust Me…Its Just what the Doctor Ordered.
WHICHCRAFT – FACE THE MASK
This Artist has been suggested to me by several members of the HIP HOP LIFERS group on FB which has been a pleasure to be a part of. WHICHCRAFT has been dropping single after single, and has gotten play on WVCC RADIO just on the strength of the amount of material he has been releasing. Once you see someone's name over and over again, it peeks your interest. Boy am I glad I gave this a chance. FACE THE MASK, the latest LP by NY emcee WHICHCRAFT is a fully exposing piece of art. Where some artist and Lyricist hide their emotions, insecurities, short comings, and weaknesses behind the beauty or grit they create, WHICHCRAFT is perfectly comfortable letting you get a peek into his dark past, and the long road he has been traveling to be a better human being to benefit those around him rather than hurt them. With a name like WHICHCRAFT, I must admit at first I assumed this dude would be on some Horror Core, Bafamit rap angle, but he is actually very grounded in his personal faith and shares it with the listeners expertly as an emcee without coming off as preachy. Dealing with topics like substance abuse and the Journey to get and stay clean, Faith, Gratitude & Believing in yourself even when the world tells you other wise, WHICHCRAFT delivers messages of Hope in the midst of the struggles. As I listen to the project I am caught by surprise when I finally realize, WHICHCRAFT is a member of the infamous NY Underground Crew MONEY HUNGRY BASTARDS who I have been following since the Myspace days. Now, my attention is at a 150. Some dope features on this project, from some names I wasn't well acquainted with, but am now interested in hearing more of, like 1 TO DIAL, K MASON, RANDY MASON, KEEF WOOKIE, along with our family from NY, fellow MHB member NICKELL KILLS MICS on the BBoy Anthem FLOURISH, and everyone's favorite Asiatic PLANET ASIA blessing the banging QUANTEM LEAP with its Off Kilter beat pattern. A little lengthy by todays standards, but it is a great listen full of messages to build you up rather then fill your head with self destruct orders. Lyrics, Production, and Topics he tackles are all on point, and make this album and artist one to listen to over and over again.
Support the Artist and Album here – https://whichcraft.bandcamp.com/album/face-the-mask
BoFaat -The Hateful 8
One of my favorite overseas Producer. The Humble German Giant who will put a beating on you if you ever cross the line, BO FAAT, has contracted some of the Undergrounds deadliest rising stars for his new posse cut, THE H8FUL EIGHT. Bloodier and Wordier than a Quinten Tarantino flick, THE H8FUL EIGHT combines the Production Skills of BO FAAT with a few of his best past calibrators, Denku, Mo Rukuz, G Fam Black, Kenneth Masters, Elad Authority (Broken Toyz), Urban Legend and RamBunxious. This a joint release between BoFaat and Black Buffalo Records and is a precursor to fully produced albums by BoFaat with Denku, Mo Rukuz, G Fam Black, Kenneth Masters, Elad Authority (Broken Toyz), Urban Legend and RamBunxious…also some projects with Enels are in the planning stages… Download the hateful 8 for free from here
The Hateful 8 | BoFaat | Black Buffalo Records (bandcamp.com)
Follow BoFaat on IG (@bo_faat_beatz)
THE ROYCE VS LUPE FIASCO
I aint got all the time to break down the origin stories of this beef, but you can do some reasearch on Youtube by searching Lupe vs Royce 59. All the IG Live Back and forths are on there, and I will tell you, its best to see them all to understand all the bars in the songs. With that said. Below, in chronological order, we have the Latest BEEF In Hip Hop History that has the potential of changing the landscape of Hip Hop. We talked about the whole beef last night on WVCC RADIO with OLD HEAD ED from BREWS BEATS N EATS, DJ TR3S of THE ARKETICS, AND ULYSSIS aka LMS of ART OF WAR. You can see the conversation on Twitch before it disappears in 2 weeks. Nuff Said…
While Royce took to IG to rant about how LUPE disrespected him by getting loud with him on IG live, Lupe went on his IG LIVE and started sharpening his sword. Here is the 9 min all off the top Freestyle before he dropped his STEVE JOBS official diss track. After Lupe dropped this that night, and Royce spoke his "Truth", Royce delivered the first official Punch with SILENCE OF THE LAMBDA.
After Royce and Lupe went back and forth, 6 Plus Minutes each, both over smooth beats, we had a surprise contender enter the ring. Stung by 5'9's reference to his "Big Gums and Small Teeth" on LAMBDA, MICKEY FACTS dropped a flaming drop kick off the top rope with WRAITH. On this banger of a Diss Track MICKEY not only shows ROYCE that he can hang with him bar for bar, but also borrows RJ PAYNES, & RANSOM's styles to attach 5'9 on the 2nd verse to give him a taste of what he is dodging by not stepping in the ring with RJ and RAN who he has claimed arent at his level. He then Proceeds to beat ROYCE using his own style. In my opinion, this is the best complete song in the battle so far.
AFter this Royce spent the last two days on Live crying about how he's getting jumped. While Royce crys online, LUPE has dropped 4 Freestyles taking shots at him in 24 Hours. Enjoy WHALE WIT, REPO PE/ SBA LU, And the Dedication to JAY ELECTRONICA'S MOM? ON YOUR LEFT.
What this battle could lead to is something that Hip Hop Nerds drool over. A Civil War between Hip Hops Elite Lyricist would wake everyone up and push them to step up their pen game. It can only make for better Hip Hop in the years to come. If only ROYCE would respond. We wait.
G Fam Black & Crack Sizzlack – Brocky Marciano (EP)
Few have grown their stock in Underground Hip Hop over the past few years as the Brockton Mass 'Bar Boxer' G FAM BLACK. He has been relentless in his writing, recording and releases of raw, filthy Street Hop, dropping at least an EP every other week. Whether its a Solo Project or group Projects like his recent releases with his KNUCKLE DRAGGUZ crew, or his 1692 Colab with GRIMEWAV. CoFounder & MASTERMIND STUDIOS Head Honcho ENELS, G FAM has been consistent with his shot/kill ratio and always finds a way to stand out on a Feature, over any beat. Now he gives us a peek into the gym as he trains with his Corner Man, fellow KNUCKLE DRAGGUZ member CRACK SIZZLACK, 1/2 of the CLOAQ & DAGGER Production duo. On BROCKY MARCIANO the "Black Mask from Mass" goes to work on the SIZZLACK produced sizzlers like they are Punching Bags in the Gym, or Slabs of dead cattle hanging in the Freezer Locker. The Ep is laced with Audio New Clippings about the wild life of legendary boxer ROCKY MARCIANO, which ironically seem to match BLACK's own reckless life story. Witness as G FAM trains with sparing partners CA$ABLANCA & D.R.E. COLOMBIAN RAW on MACH 3, King Author, Chuck Chan & Squeegie O on the first leaked single GAME CLINCHER, and I dare you to look away as he trades punches with GRIMEWAV.'s MO RUKUZ & fellow KNUCKLE DRAGGA P-RO on SLAP YOU TOUTHLESS. You might not see G FAM BLACK on SHOWTIME'S FIGHT NIGHT, Or a Pay Per View Card anytime soon, but any album you play of his will introduce you to a Punch Fest that could slump the hardest Hip Hop head. Play BROCKY MARCIANO on loud and it might just knock your head clean off your shoulders.
Ru$h & Jay NiCE – Famili 2 (EP)
Ru$h & Jay NiCE new project "Famili 2 " with Tha God Fahim, Stove God Cooks & Estee Nack. Purchase: https://nicesupreme888.bandcamp.com/album/famili-2 . THE FAMILI' DUO IS BACK. COUSINS RU$H & JAY NiCE aka the 'Fendi Don & Flair Jordan RETURN WITH ANOTHER CLASSIC NEW FILM called 'FAMILI 2' CO-STARRING Tha God Fahim, Stove God Cooks & Estee Nack. COVER ART BY THE LEGEND FREAKO RICO. This shit is smooth fire. Great Production, great features from some of the best shooters in the sewers of hip hop. Take this speed boat for a spin with the Famili.
Cas1 & Celphi – Die Happy (LP)
Producer Cas1 (Joell Ortiz, Stevie Crooks, Trizz, Keisha Plum, Bodega Bamz, Flee Lord, Eto) teams up with Fontana California's Celphi with a Raw and Honest Album. Die Happy dives into Celphi's truths about pursuing his passions despite life's struggles & oppositions. A balanced tale of hope and despair. The 13 Track project is fully Produced by CAS1 and is a Boom-Bap Connoisseur's Dream. Raw and straight to the point from all angles. Are you doing everything in order to Die Happy?
Scuare – Alphabet Soup (Album)
Never heard of SCUARE before, but HIP HOP ON THE HOUSE on YOUTUBE is becoming a great source of catching up with albums I slept on in the past, or the news just never traveled down this far South. This album dropped back in 2013, but it has aged wonderfully and sounds like it was just dropped this week. SCUARE's Pen, Cadence control, and Syllable stacking ability on ALPHABET SOUP is top notch and the production and Features are all fire. Listen and introduce yourself to another Mic Master that you might not have heard of before, but deserves your attention.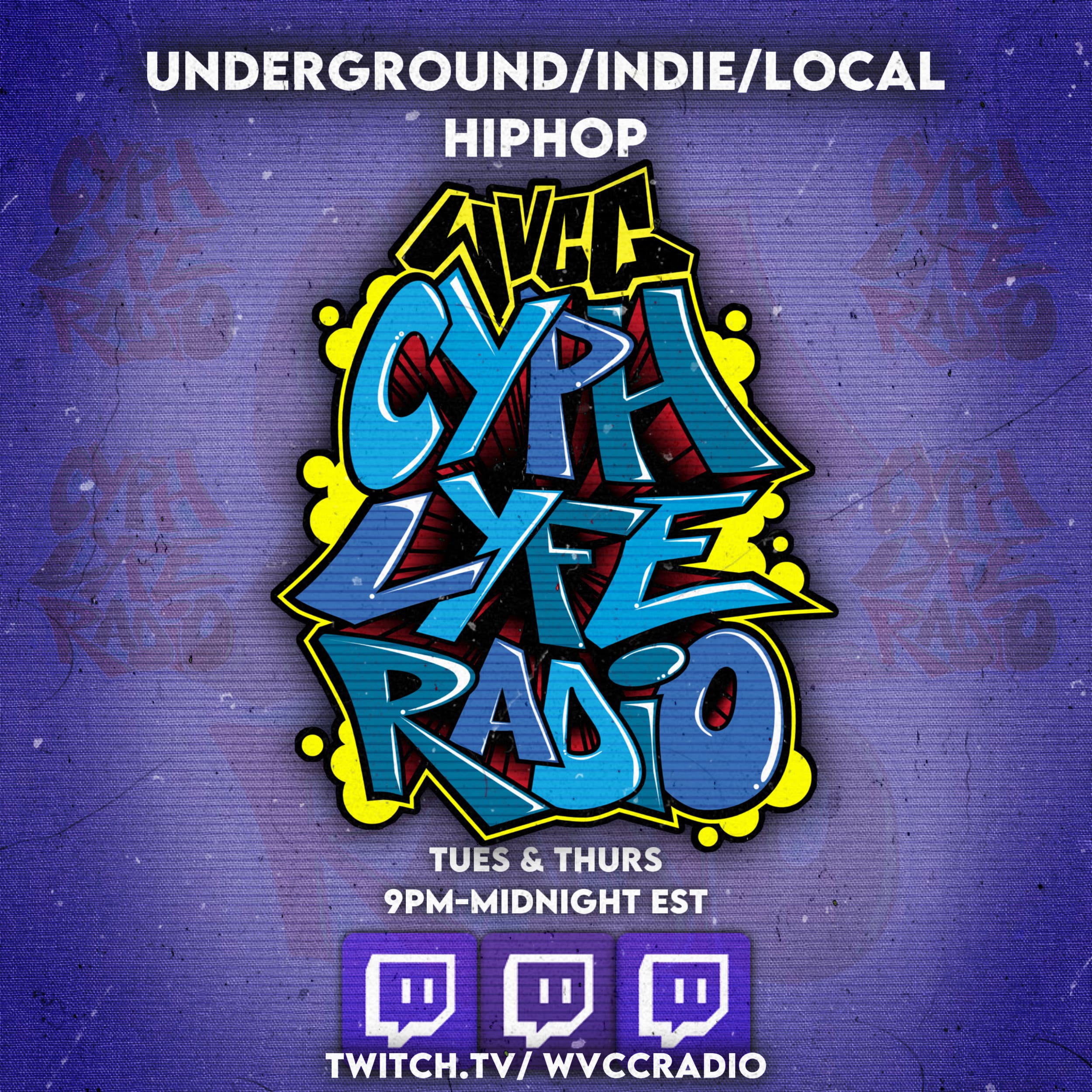 FOLLOW US ON TWITCH.TV/WVCCRADIO
LIVE SHOWS on Tuesday, Thursday, and Friday Morning.