#WVCCRadio takes a deeper look into the "KNIGHTSKYE" by CINO THE GOD.
Not only do we have a vibrant Indie Hip Hop Scene in Miami, we also have a lit Battle Community. Going back to the days of Freestyle Battles Over Beats in the 90s where names like B-DOPE, MR. MIC RIPPA, INFINITE, J-PURE, SERUM, JIN, WREKONIZE & PARABLE were feared and respected, to the new Era of Accapella Battles where leagues like ART OF WAR 305 have raised up savages like DROPZ 30, DON MARINO, GODDI LUMINATI, L.M.S. and more who have traveled around the Country repping Miami as they graced some of the biggest stages in Battle Rap. One such word warrior, by the name of CiNO THE GOD, has been earning his stripes the hard way, Face to Face, Bar for Bar in the ring since his start with AOW305 in 2017. Since then he has battled in leagues all over Florida and across state lines to prove that a young Latin/Egyptian can stand toe to toe with the best of them.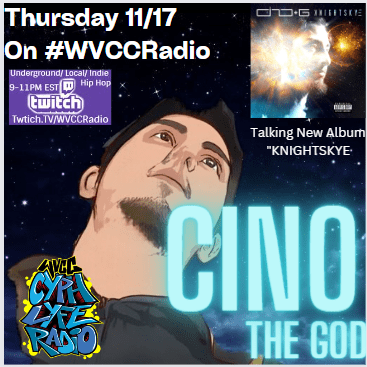 CINO has spent his early years in the game being underestimated due to his age, his look, his skin tone or subject matter which ranges from Anima Metaphors to Battle Rap Gun Bars, to Divine Geometry, to Consipiracy Theories, to calls for Revolution. If there is anything that CINO lacks, it sure aint knowledge or charisma. I have followed this brother since his 1st battle on ART OF WAR and he always comes with bars jam packed with info nuggets, at an enery level that is usually unmatched by his opponent or any other contender on the card. So when he claims I AM THE ENERGY on his 1st Full Length solo release "KNIGHTSKY", I can attest that this is true. I have witnessed it with my own two eyes.
Not to say that CiNo is flawless as an Emcee or song Writer. He is still relatively new to the craft and has a ways to grow before he reaches his final form, but in this new Era where young rappers are putting out Sound Cloud Singles and Albums from the comfort of their own rooms without ever having moved an actual crowd or even rhymed in public, CINO definitely has a leg up on the Competition who has been at as long as he has. The Accapella Battle Arena has prepared him to perform in front of crowds, even hostile crowds who have no idea why he is on the mic. Once he starts spitting joints like THIS IS SPARTA, DONT START WITH ME (Video Shot by LOGOS OCTAVIO found above), & CINO BACK, the listener quickly finds out there is more to this kid than meets the eye. This isn't a lazy rapper, wasting our time with Monosyllabic Rhyme Schemes and simple Dr. Seus raps. This is a student of the art of emceeing who studied at the school of Slaughter House and pushes his pen to come at any topic from all angles. Just check what he does with cadences on the Album opener NEW NIGHTMARE, and 2DOPE feat Battle Rap Icon DAYLYT. Or on KING FLOW featuring JESSIE POISE, MONEY MILLION MICS, and former AVENGERZ Crew member WELLZ. ULYSSES aka L.M.S aka Founder of ART OF WAR 305 joins his protege on CIVIL DISOBEDIENCE and not only lends a stellar 3rd verse to the song but also lays a hook that most of the country could sing along with right about now. The album features production by KNOWLEDGE MEDINA, GHOST THE YOUNG SAGE, LEANDDRO (2DOPE, CIVIL DISOBEDIENCE and SANDRA feat CIERRA FLORES which is one of the most moving songs on the album), MANI KNOCK, and ZAIDON BEATS, just to name a few. They sculpt the album into 3 parts with their audio vibes, 1. TWILIGHT, 2. NIGHTSKY, and 3. SUNRISE (See Back Cover below for full Trak List and Credits).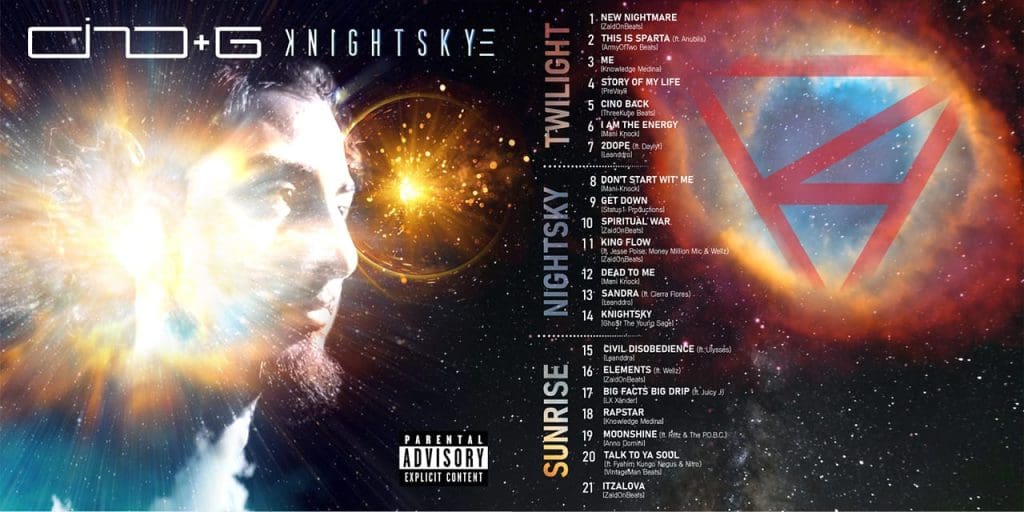 CiNO prides himself in being more than a Punch Line Emcee or "Trap Rapper". It's like he's allergic to the shallow and is obsessed with taking his listener way into the deep end. Not the deep end of the pool, the deep end of the Mariana Trench. On joints like the KNOWLEDGE MEDINA produced RAP STAR he fills the 1st 2 mellow produced verses with encrypted secrets, only to turn it up with a tongue twisting tirade on the 3rd verse after a bouncy beat flip. TALK TO YOUR SOUL feat FYAHIM KUNGO NEGUS, & NITRO is another smooth bop full of food for thought and soul. Def worthy of rolling up, lighting up, and meditating on. As I mentioned before, "KNIGHTSKYE" is not without its faults. For one, it is a bit too long to enjoy a full listen in one sitting. CINO could have easily split this album up into 3 parts, helping to deliver the Twilight, Nightsky, and Sunrise concept of the project. I personally don't like STORY OF MY LIFE, & SPIRITUAL WAR, but having only 2 skippable tracks on a 21-song album isn't a bad average at all. All in all, CiNO has shown his hometown and his fans nothing but love and growth as he works on his skills daily and grows his brand along with his knowledge and reputation as a Miami Artist.
Enjoy the latest visuals from CINO below, for his New Single, "DON'T START WITH ME", Shot and Edited by LOGOS OCTAVIO, who also Shot Cino's past video for CODAX PURP. Make sure you tune in to WVCC RADIO Tonight as we welcome CINO as our special guest and dive deeper into the "CinoVerse". Make sure you add CINO-KNIGHTSKYE to your favorite Streaming Site Playlist …Here is the Apple Music Link to get you started. https://music.apple.com/us/album/knightskye/1653477850?ls